London in September; Chelsea and beyond
Last week I was working at the Chelsea Flower show, and took my bicycle into London to explore the horticultural offerings of the city during my downtime.
Being at Chelsea all day every day allows the chance to look and re-look at the gardens and displays, and find yourself in conversations with people from across the industry, and across the globe. Volunteering at an RHS flower show is a great way to get that same experience, you can find opportunities here. One highlight was meeting Dan Heims, who runs Terranova Nurseries in Oregon. He was showing me photos of some breathtaking red and purple-flushed hostas he has bred.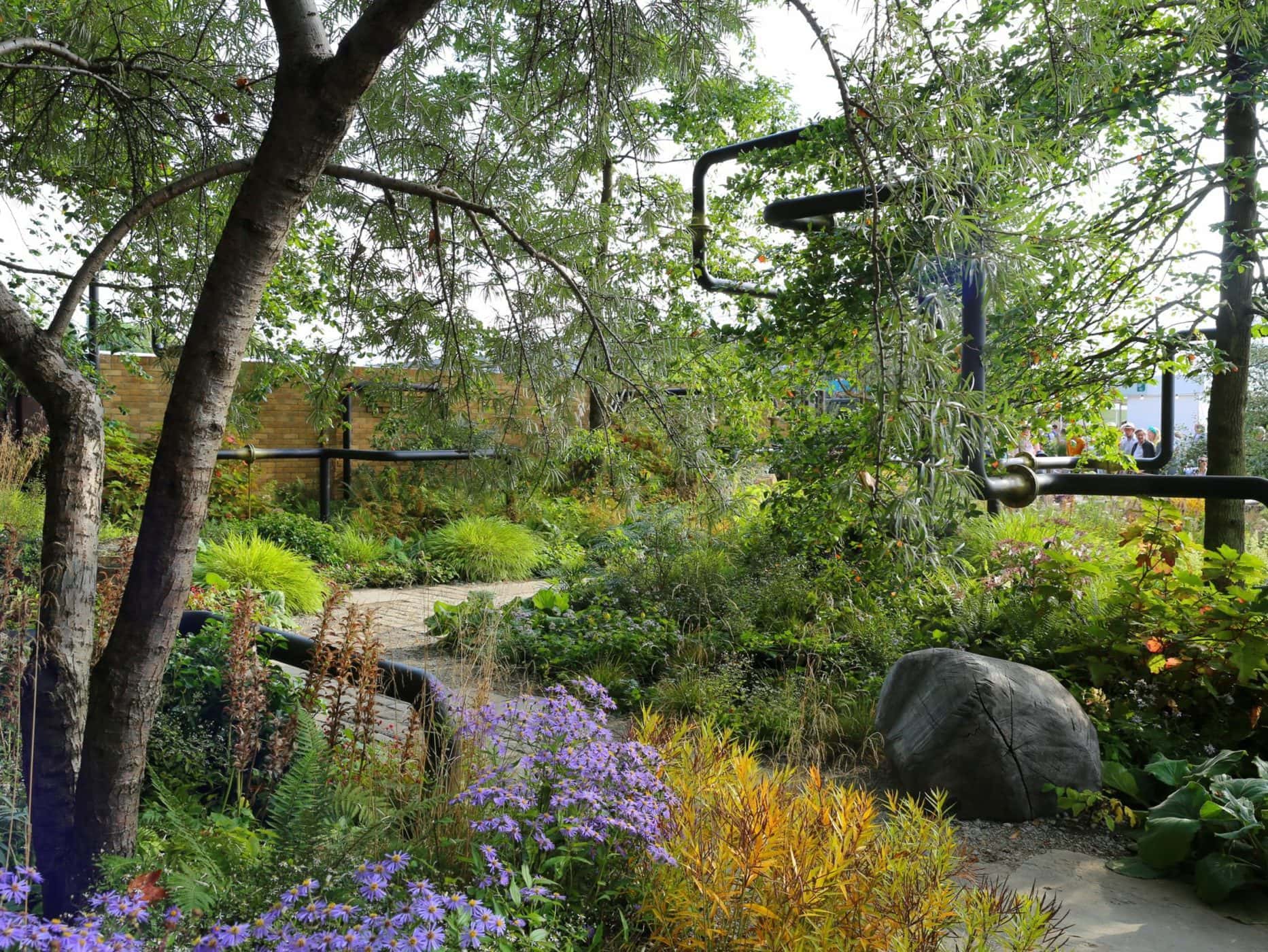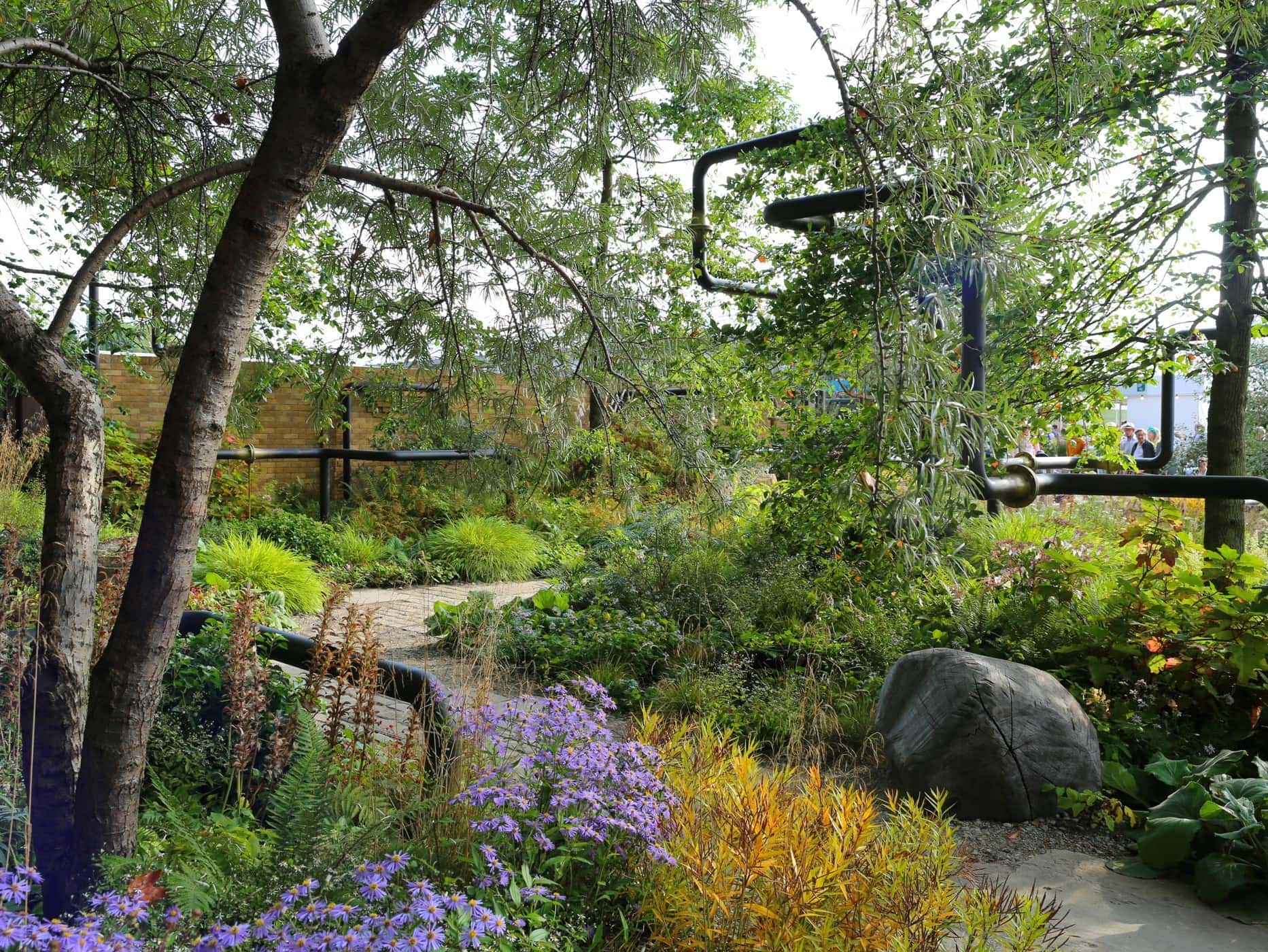 The show was set to happen in spring, but for the first time in its 108 year history, it was moved to autumn. From the show gardens, the highlight for me was without doubt the M&G garden by Harris Bugg Studio.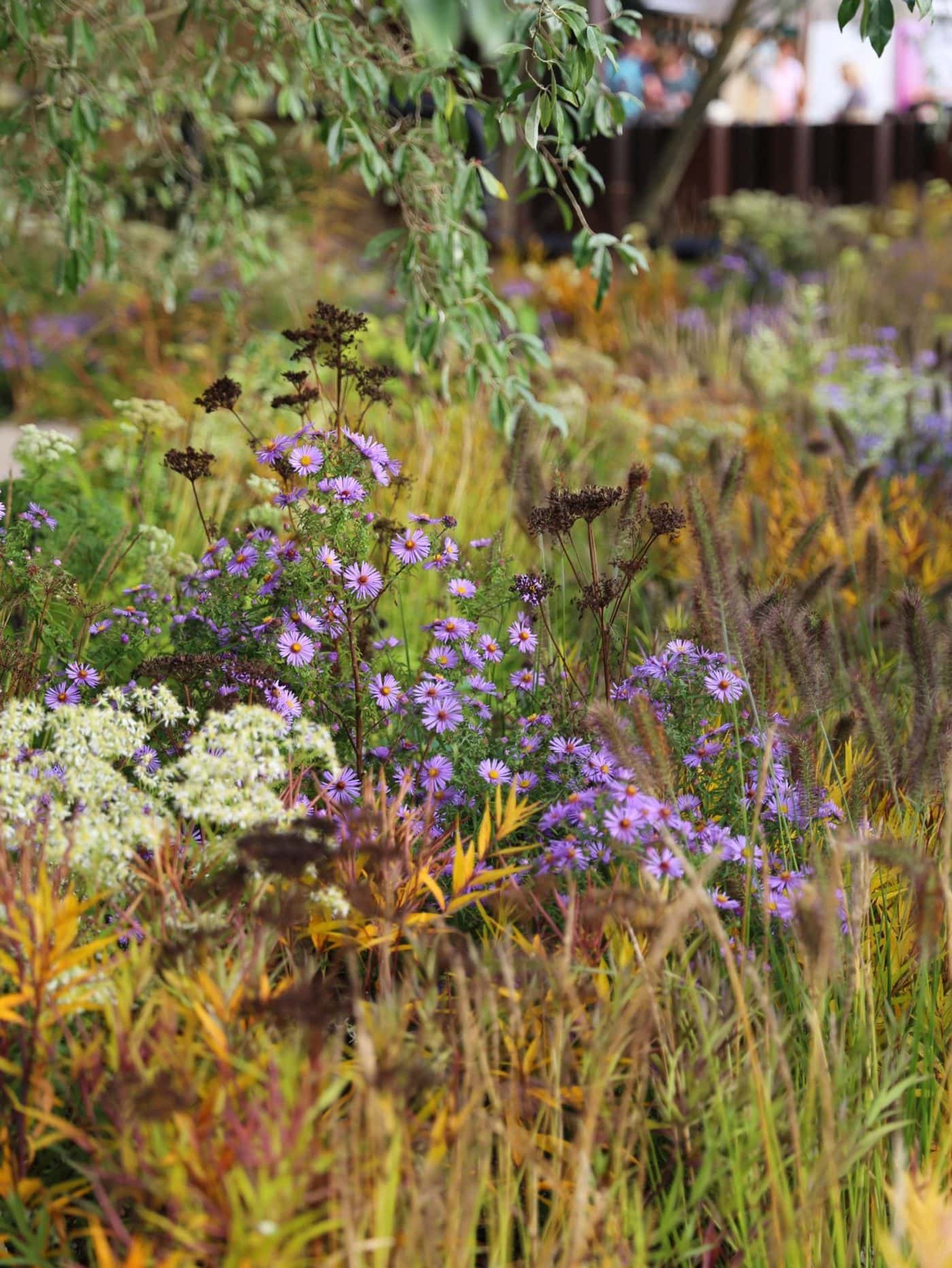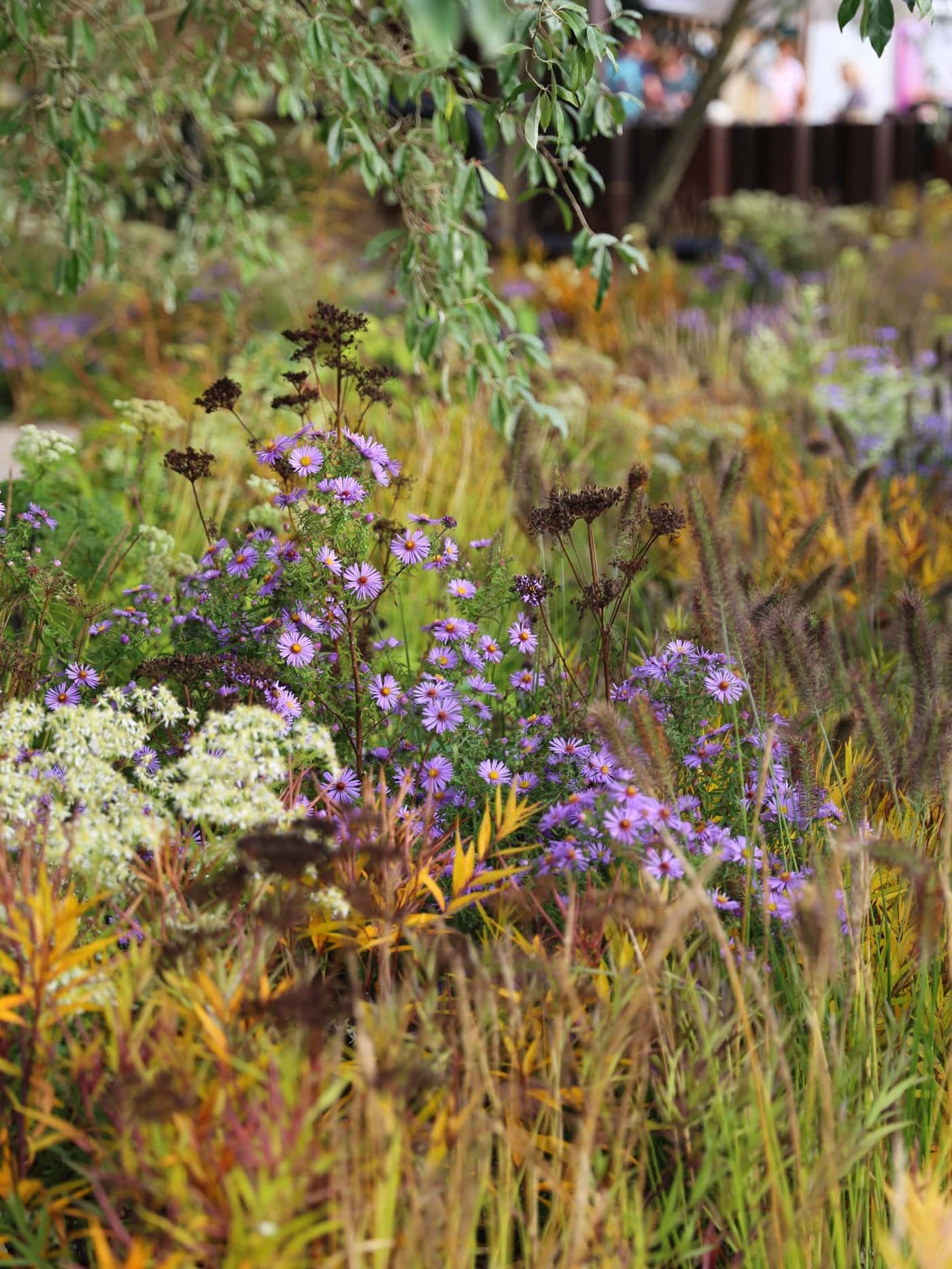 In the floral marquee, Torc Pots and Form Plants joined forces with a really dashing display of huge specimen trees and formal evergreen topiary in giant containers and pots, in a froth of grasses.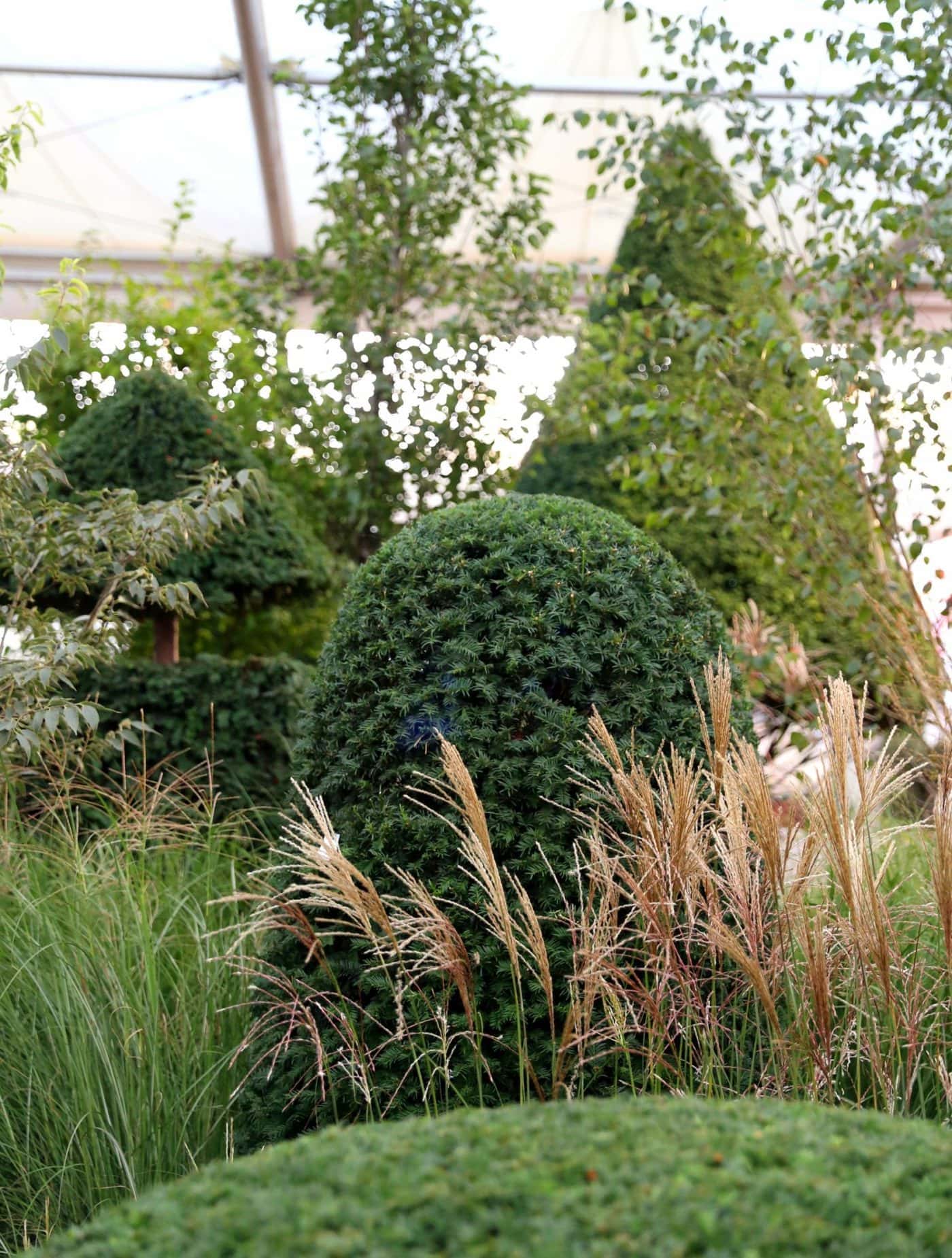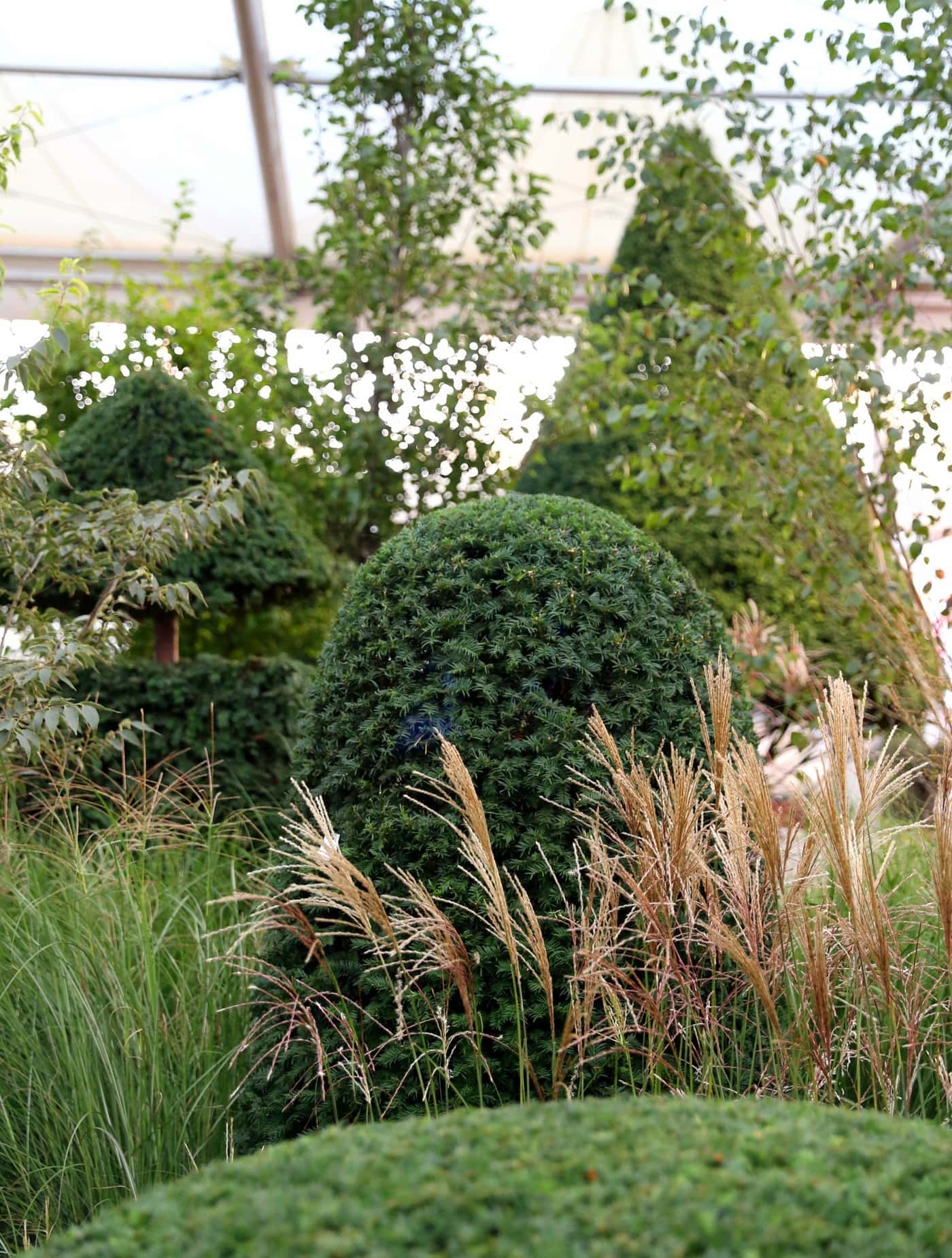 This was an aesthetic and practical gardening style easily translated to smaller scales. It was nice to see conifers being embraced at Chelsea, and Form Plants showed off some mature beauties of Pinus densiflora 'Umbraculifera' and Pinus strobus 'Blue Shag' that looked really fabulous adorned with their cones.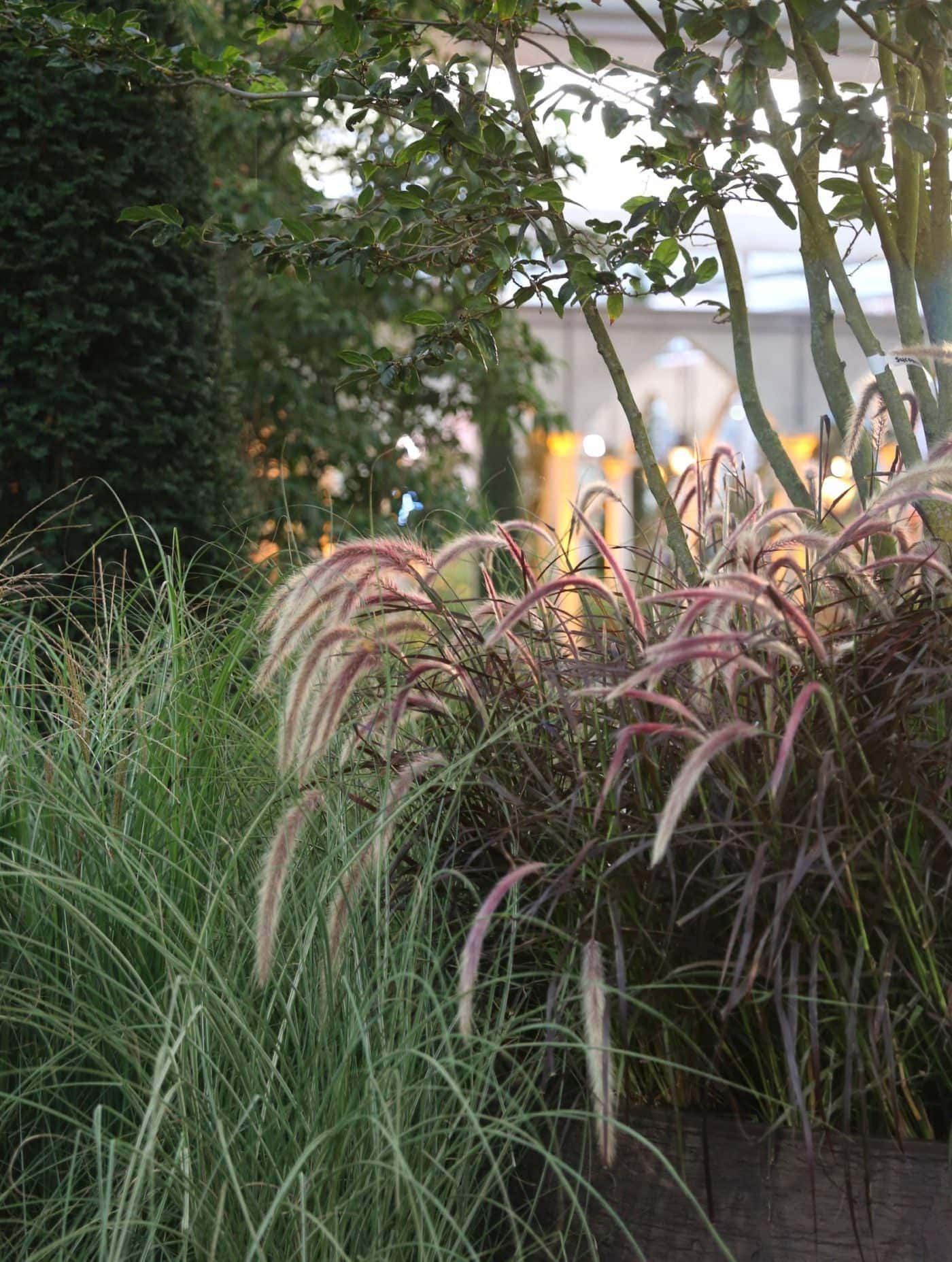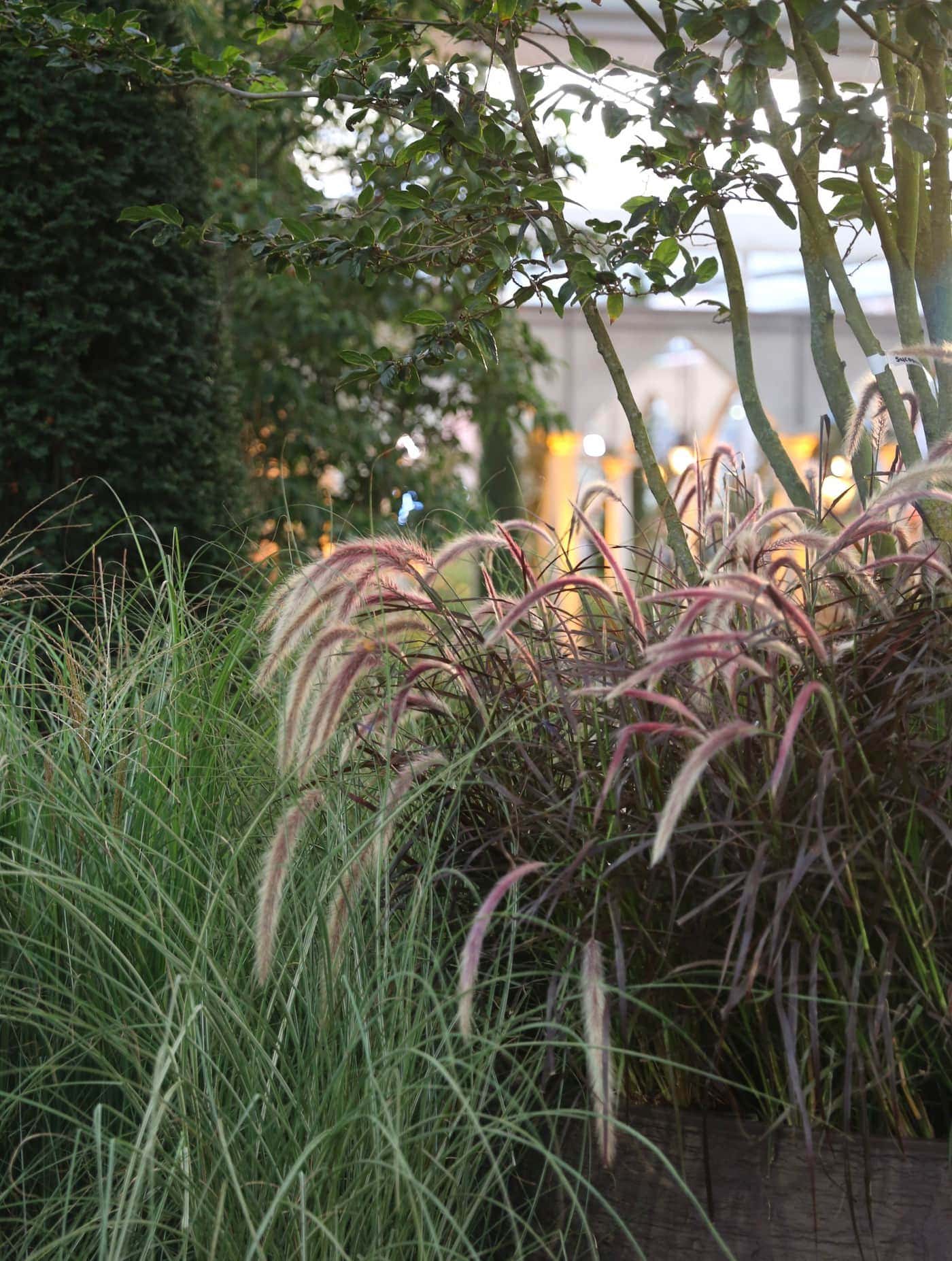 The new container gardens category at Chelsea was great to see, seeing as so many people are growing that way. The IBC Pocket Forest was a highlight, designed by Sara Edwards. I use an IBC (Intermediate Bulk Container) on my allotment to collect rainwater from the neighbouring stable. Old ones are are often available for free, and can be moved using pallet trucks even when they're full. I'd often thought about making a container garden with them, planting some, stacking others and placing lights in them to create giant cubic lanterns. There's a lot of fun to be had here.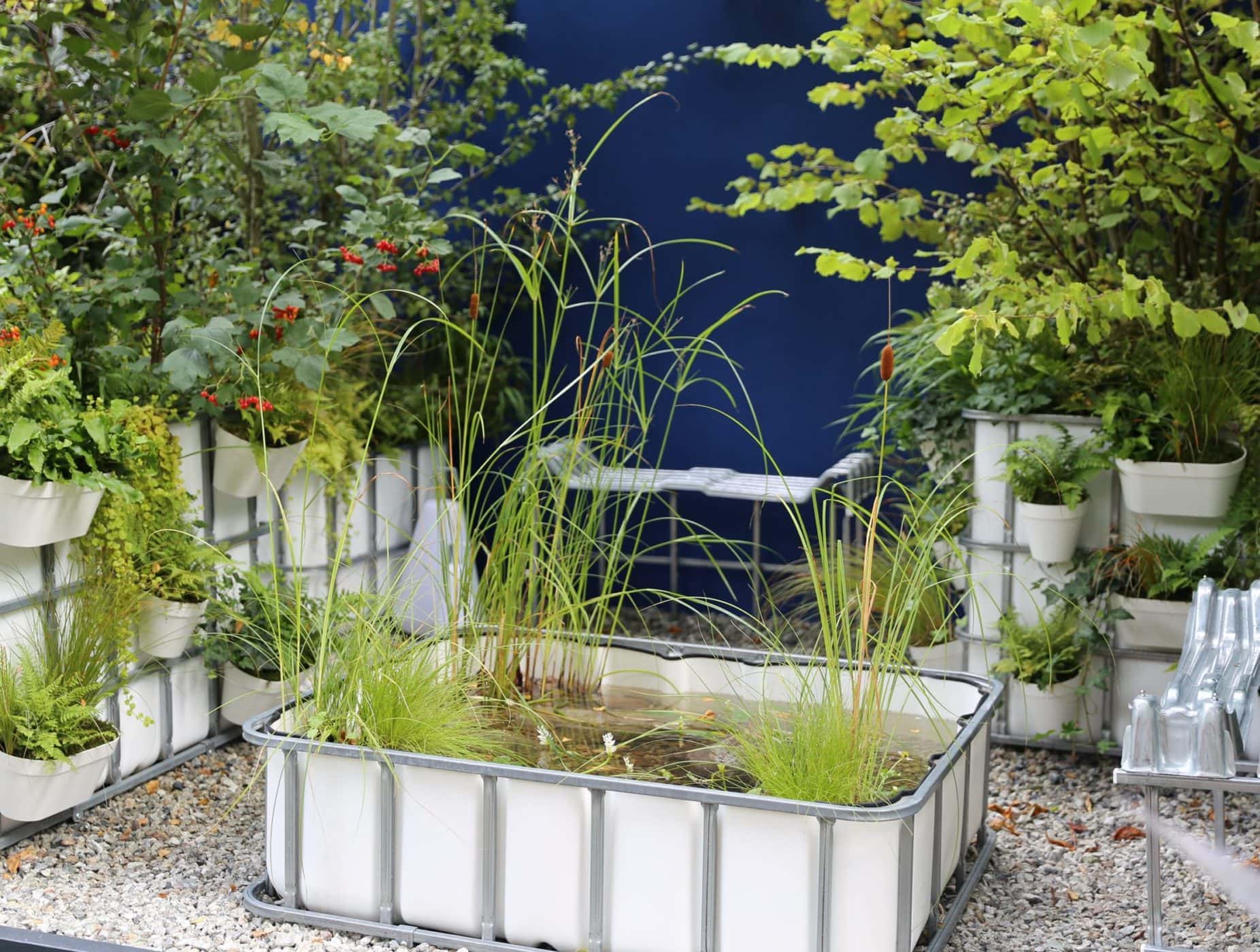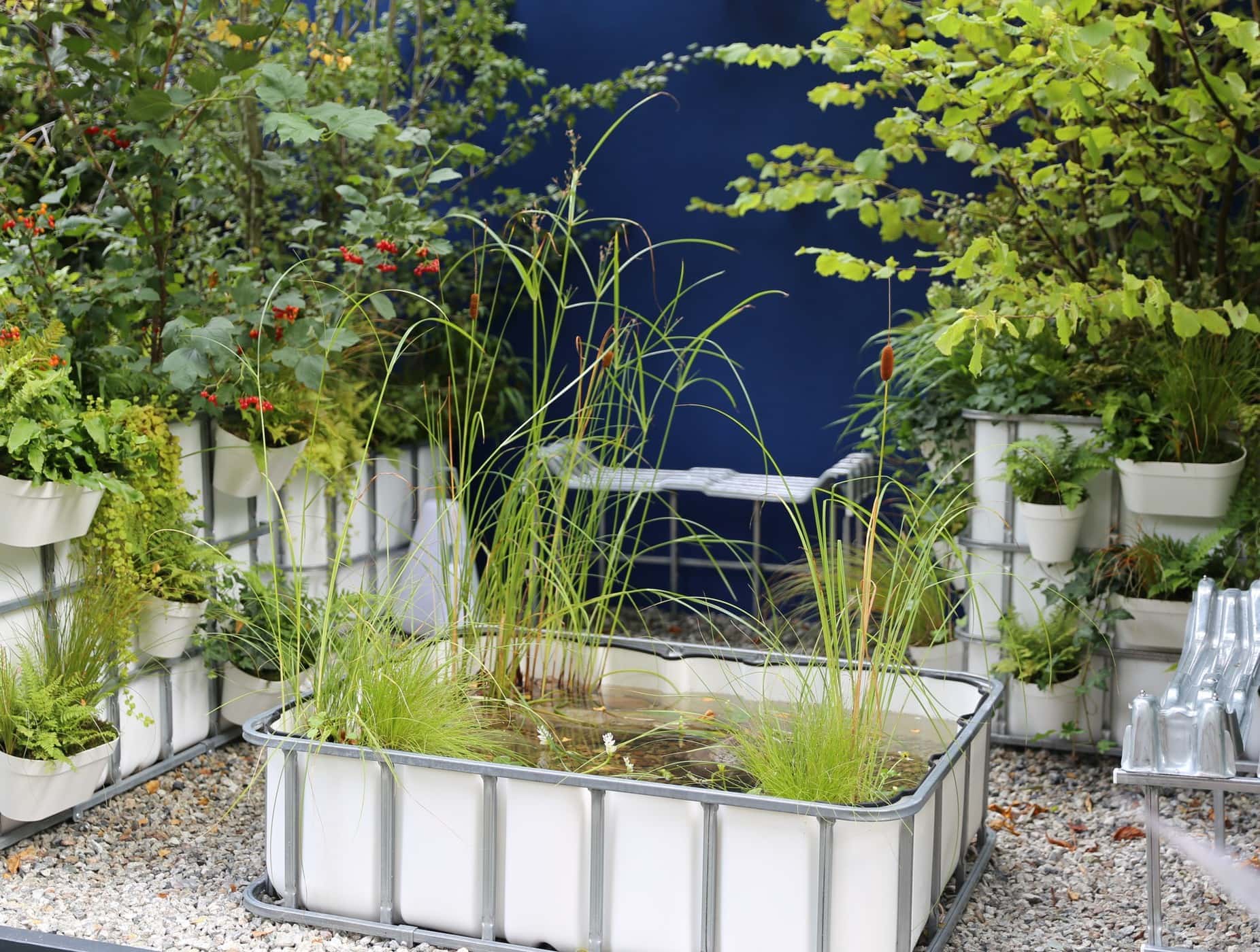 Talking of fun, the Pop Street Garden by John McPherson provided a refreshing two fingers up to the good taste brigade. This garden showed the blurred lines  between houseplants and container gardening, supplementing hardy outdoor displays with tender perennial 'houseplants' that come indoors for the winter. And just around the corner, the new House Plant Studios area was very well received.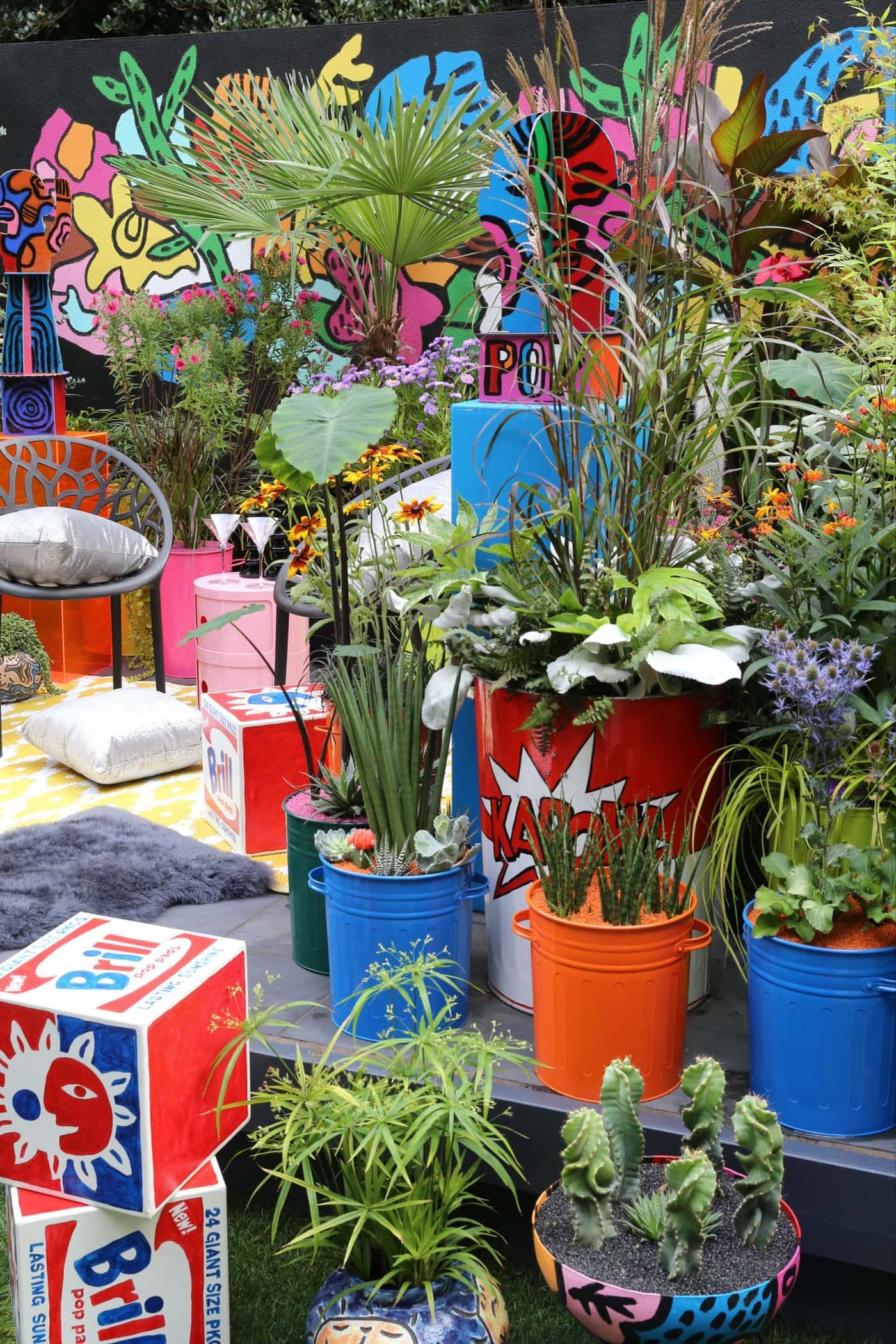 Although the streets and retail areas around Chelsea have become well known for their floral displays during Chelsea week, London in general has so many hidden horticultural gems to be discovered at street level. From my bike saddle I spotted some really remarkable container and pot displays around pub and restaurants outdoor seating areas. All manner of long-season interest plants are skillfully combined, probably boosted by additional nutrients from a steady supply of fag buts and dregs.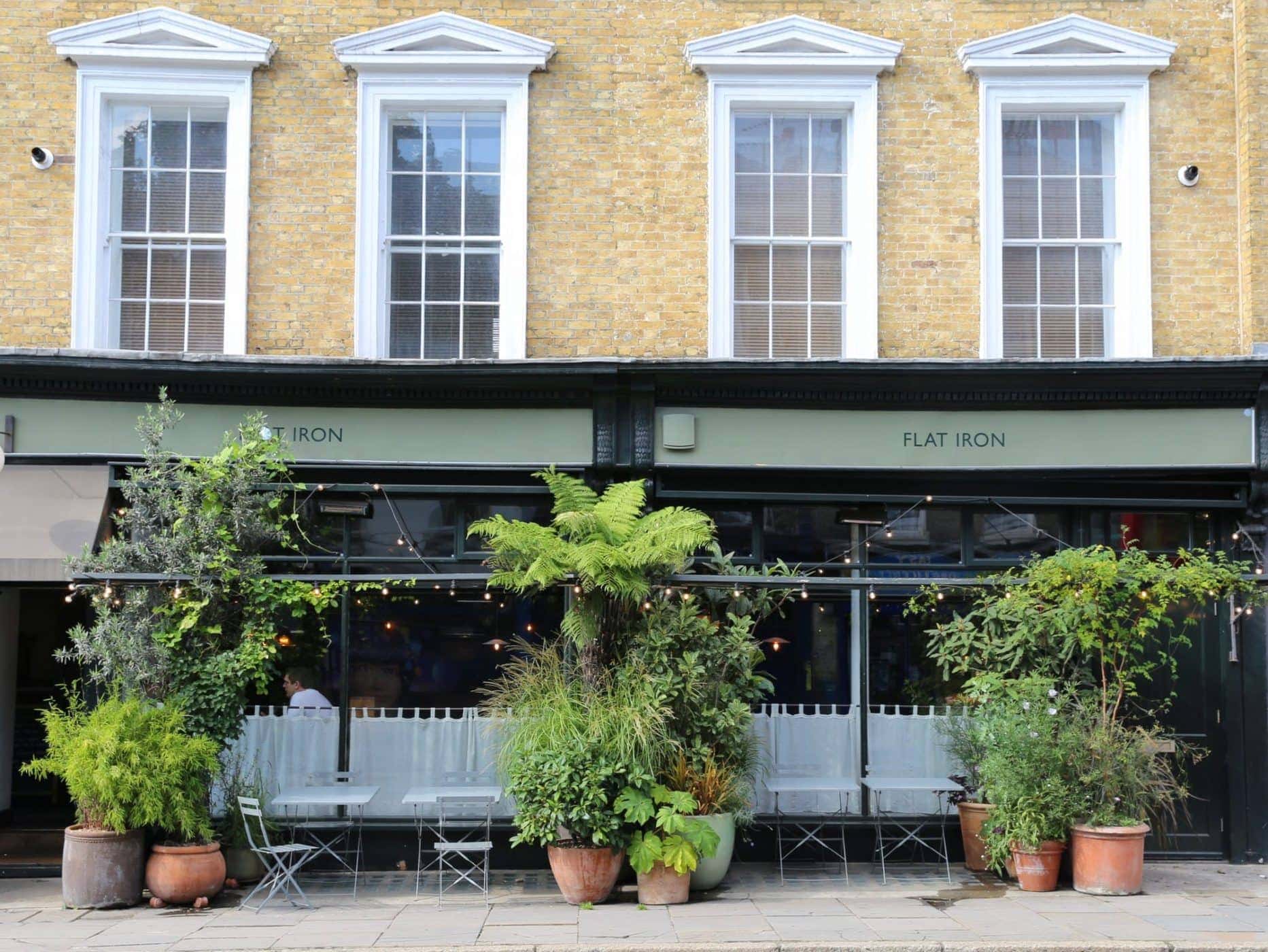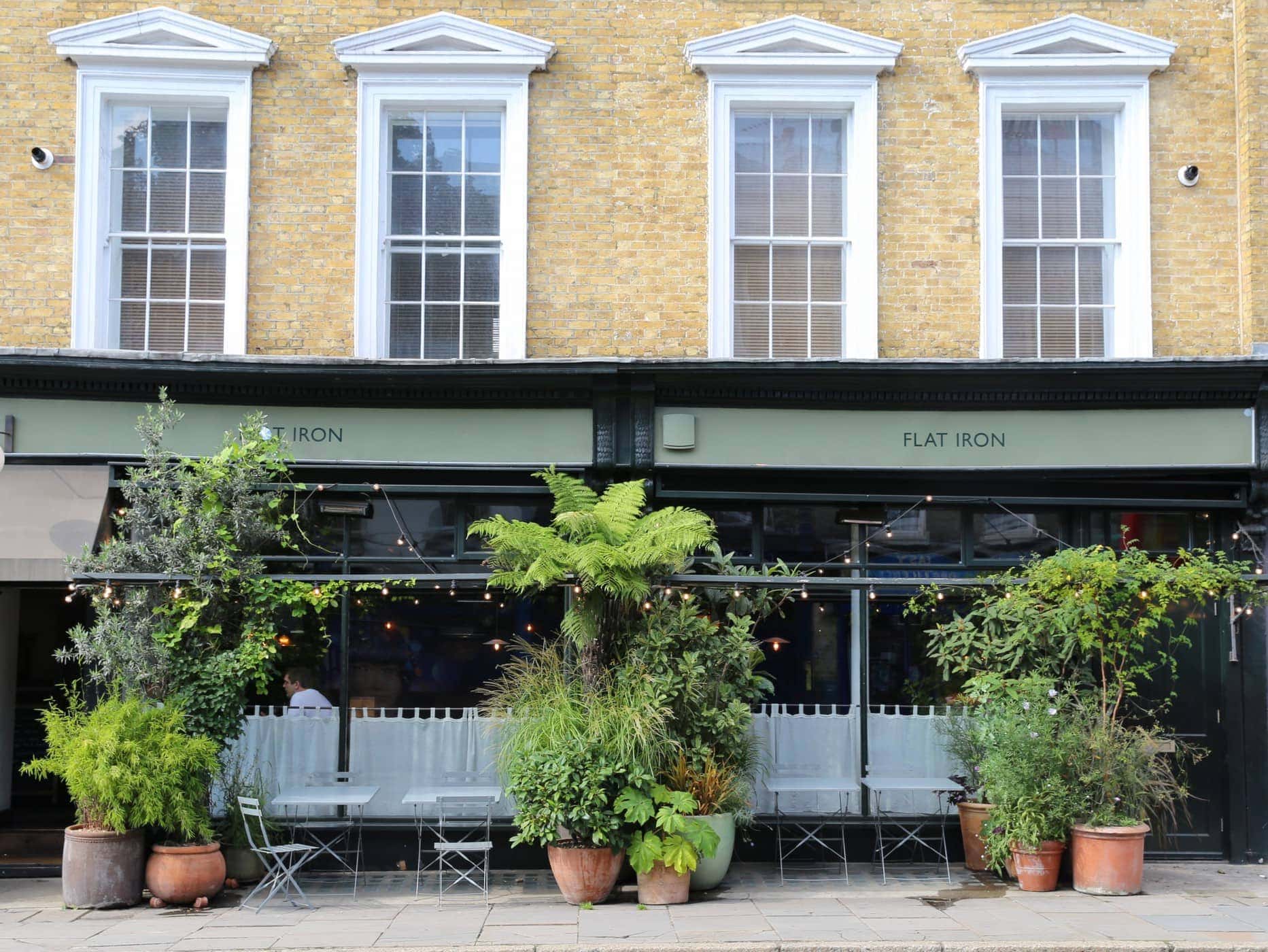 Over at the newly redeveloped Battersea Power Station, large meadow-like perennial plantings designed by Nigel Dunnett are starting to frame the colossal building. Just under half of the 42 acre Battersea estate will be public realm once completed, with some quite interesting examples of modern landscape design there to be explored already.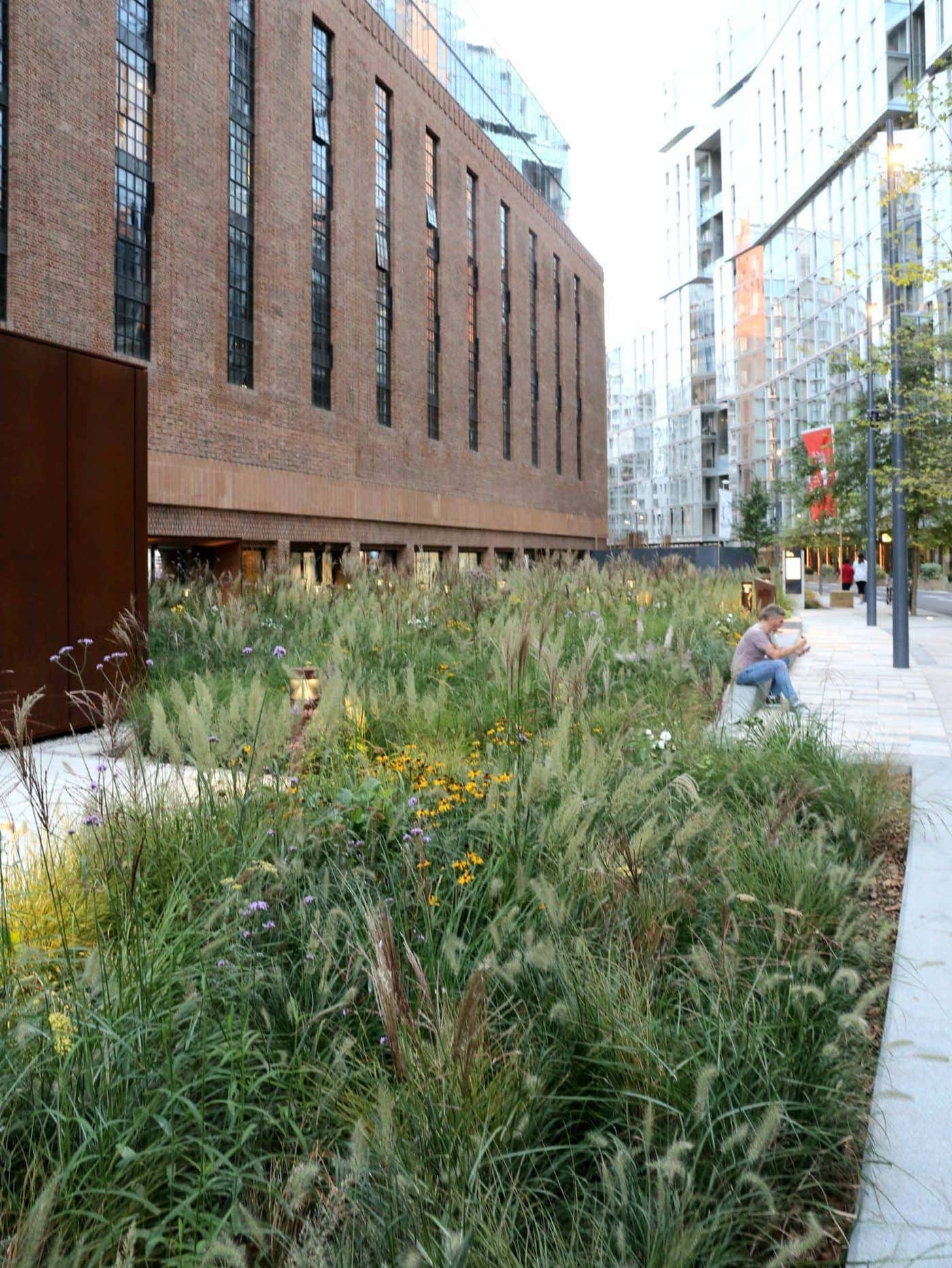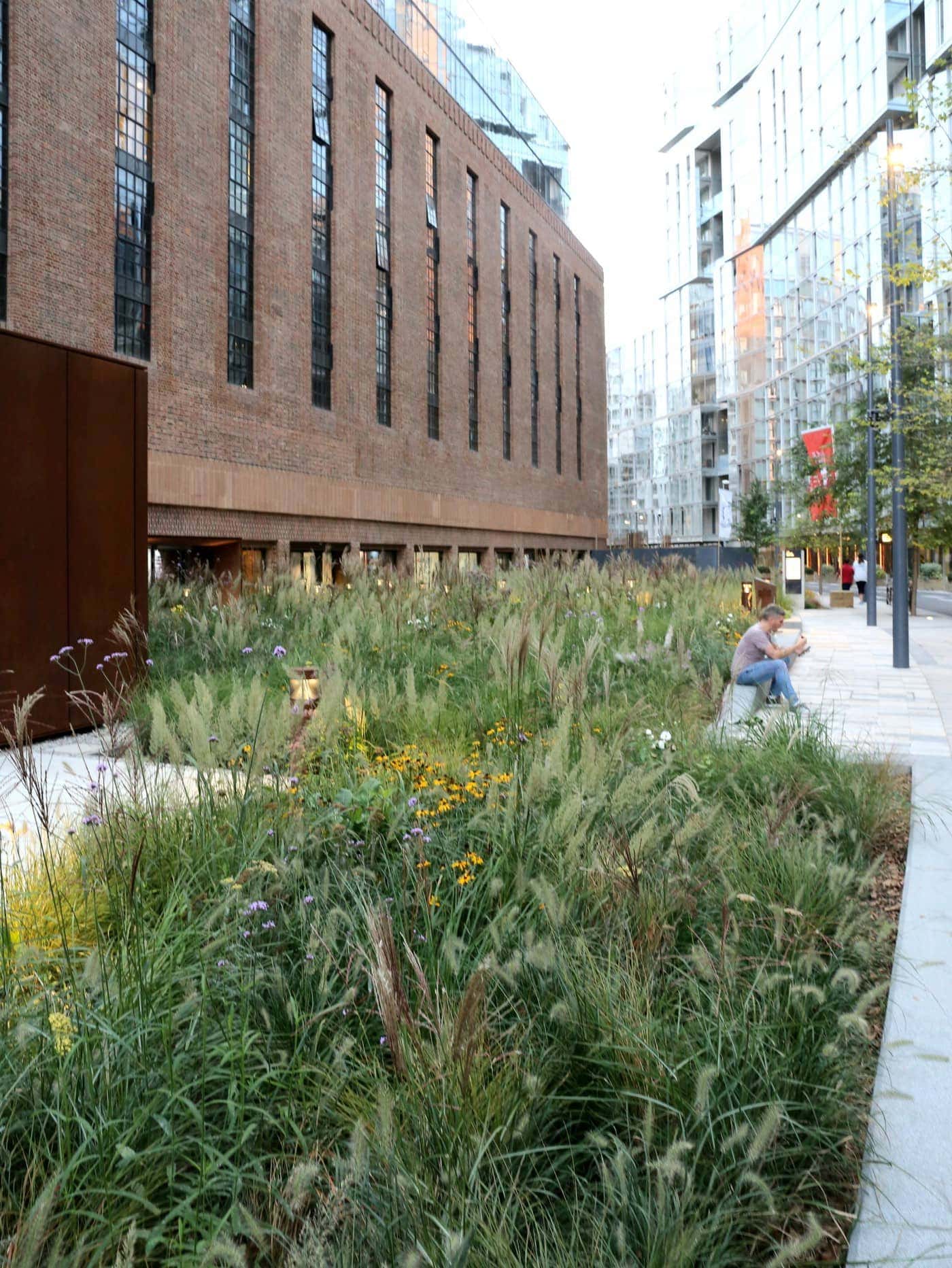 The new US Embassy nearby also has some major planting and landscape framing it, designed with sustainability and security in mind. The hedge conceals anti-ram bollards, as the walls and mounds provide plants and seating while also being anti-ram, and the huge pond acts as a moat, while also collecting storm-water. Much of the planting showcases plants native to the US; it will be interesting to see how these designed communities change over time. Unlike their old embassy at Grosvenor Square which was particularly hostile to passers by, this space felt fairly welcoming to pass through.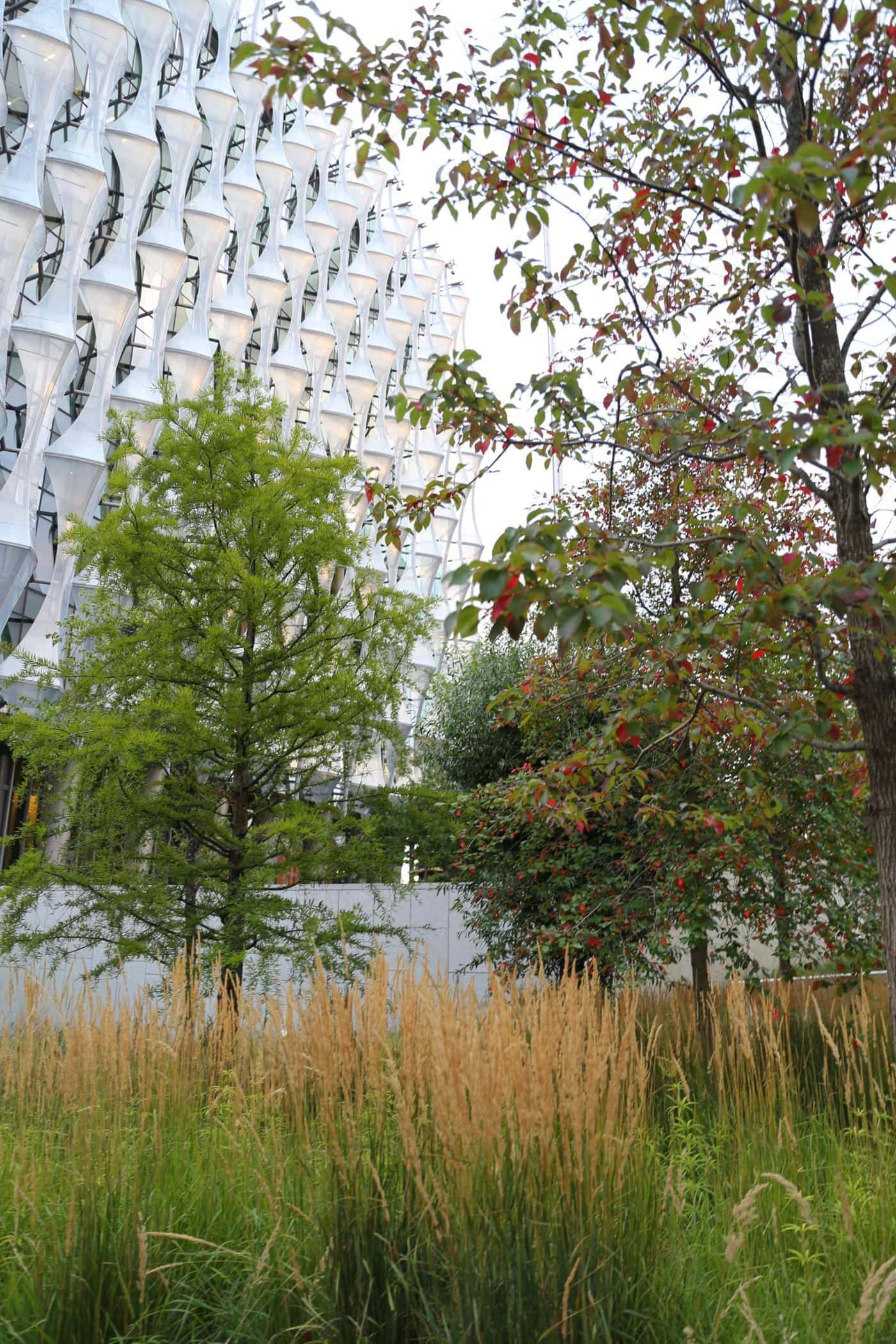 The Canon Street pocket garden designed by Tom Stuart-Smith was a delight to find. This sits at the historic nucleus of London, between St Nicholas Cole Abbey and St Paul's Cathedral, just out of view of the main tourist routes of the city. This really is an urban hideaway, a cool and shaded mini-woodland of birch trees and abundant greenery and foliage, nestled safely between high walls dripping in climbers. It was nice to see less common evergreens used, like Schefflera taiwaniana and Viburnum cinnamomifolium.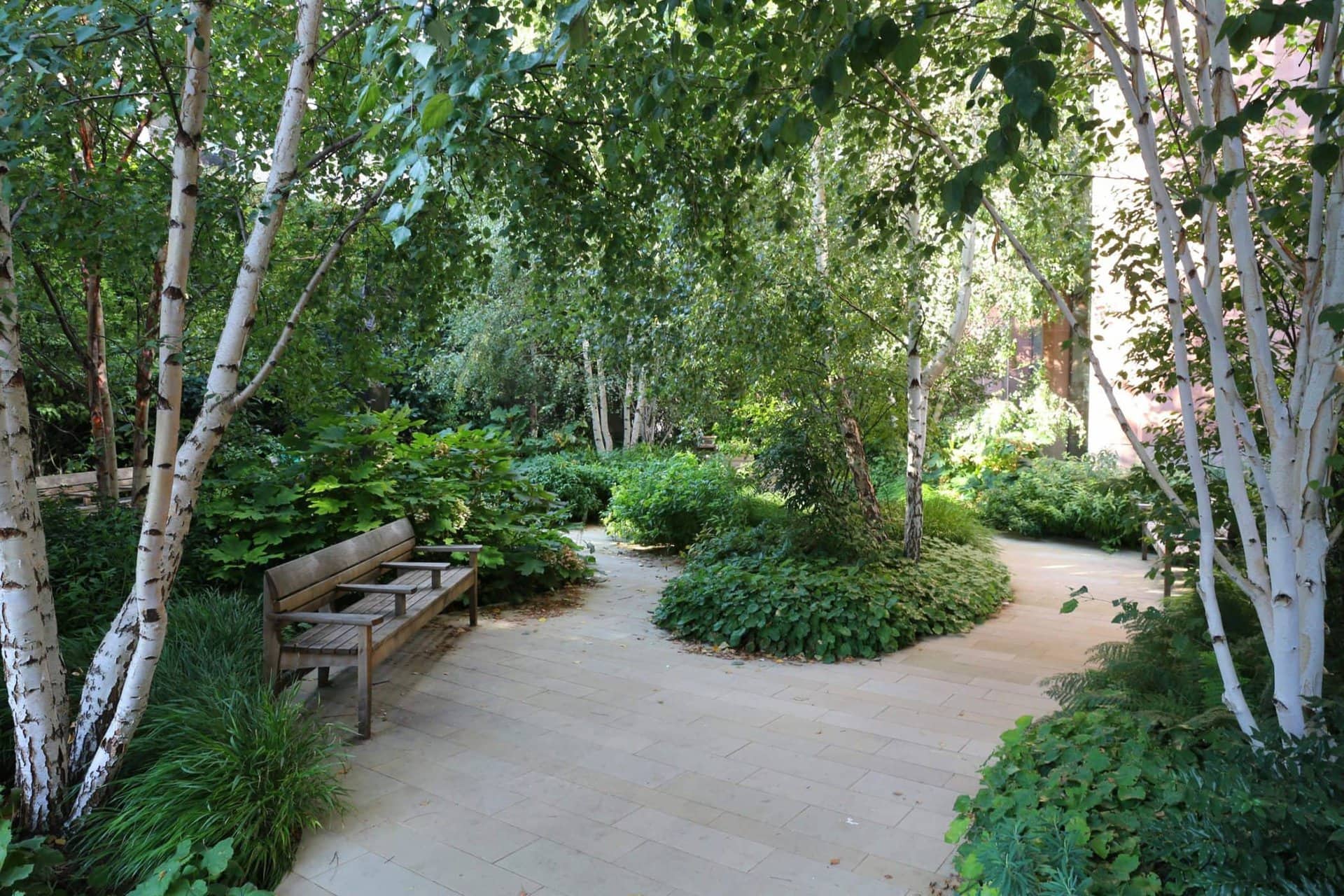 We finished the week with a trip to the Garden Museum in Vauxhall, to see the Constance Spry exhibition, detailing the life and works of this very influential mid-20th century florist. The courtyard garden in the museum is always a special place to visit too.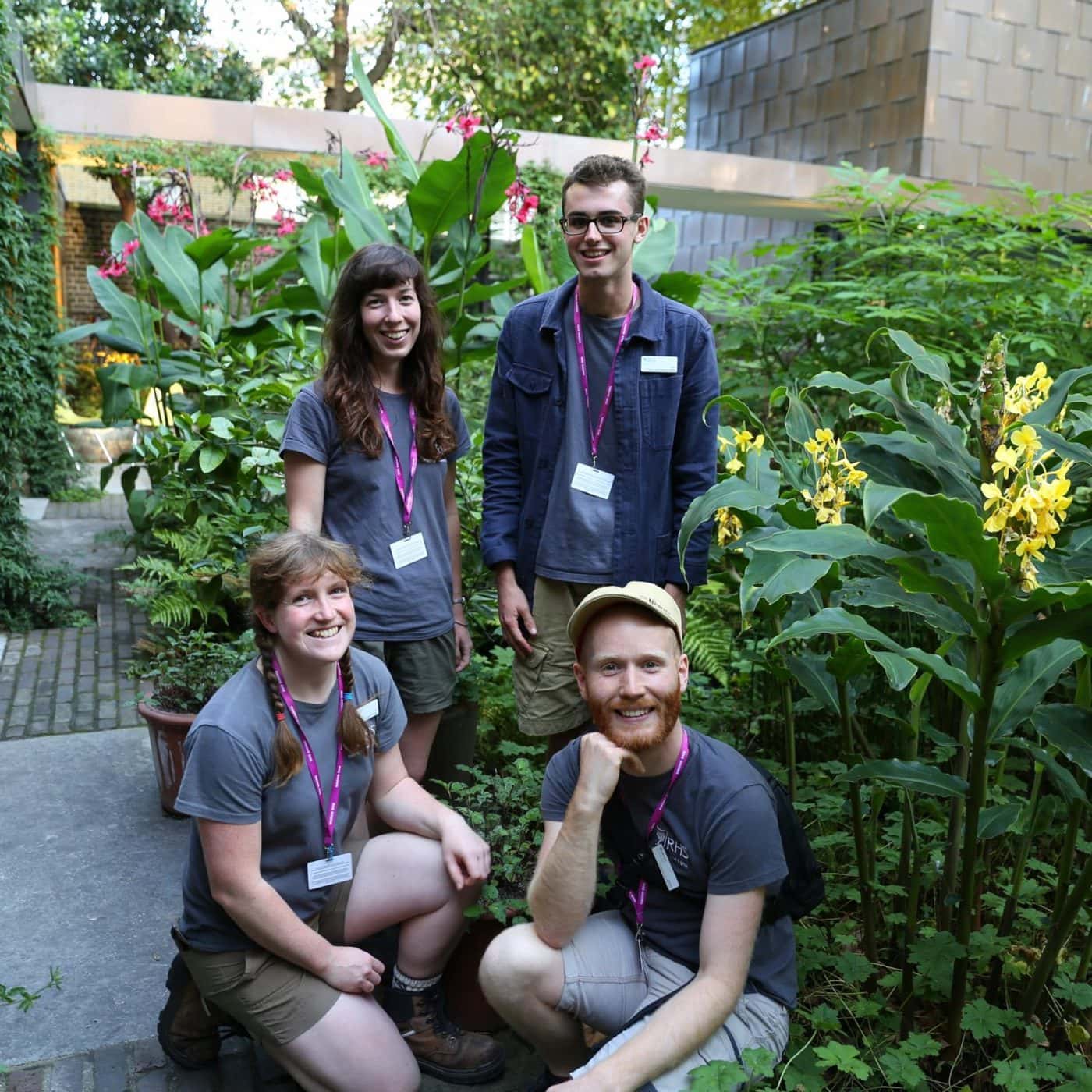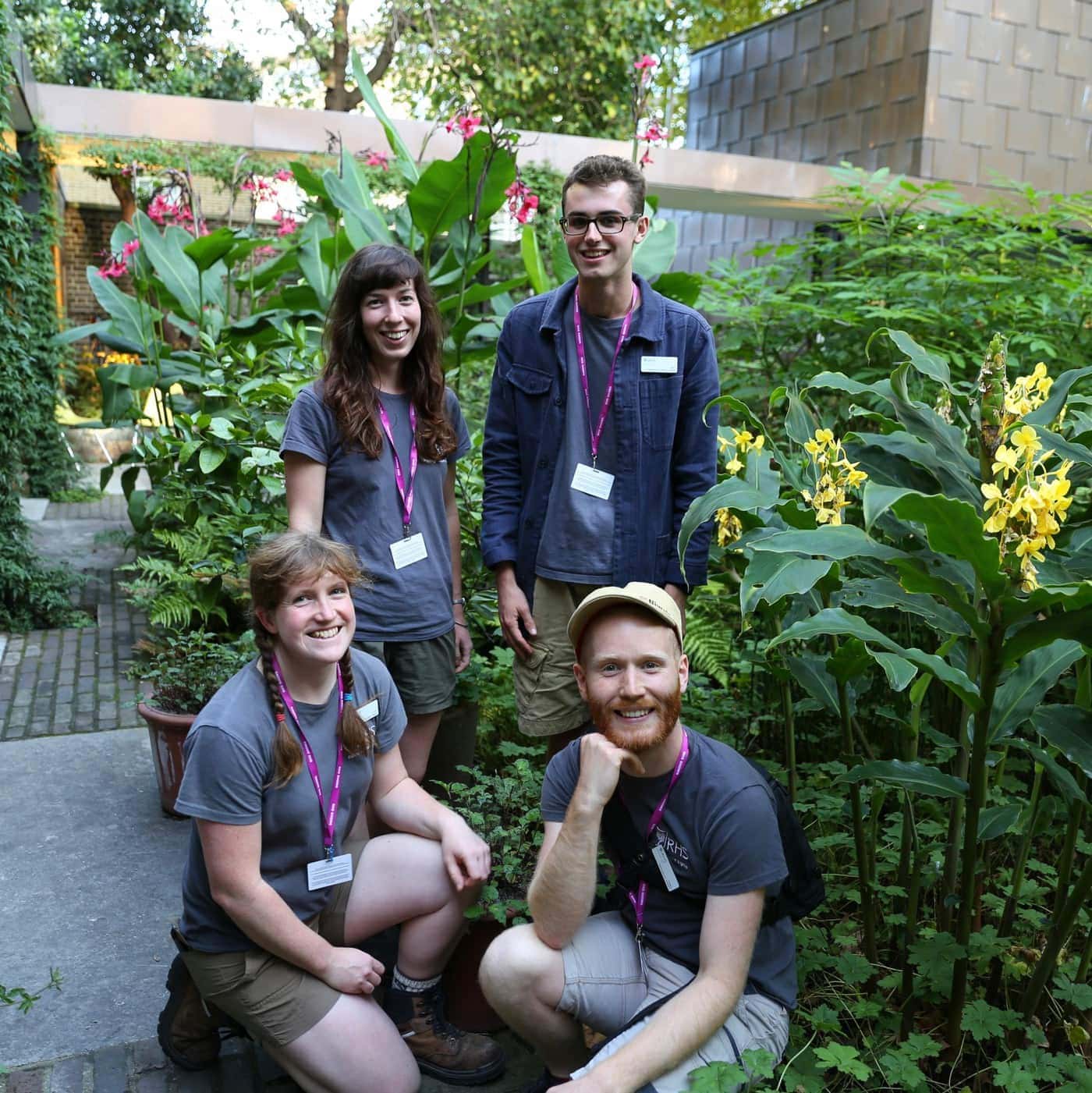 The impact of Constance Spry's work is so clear even today, visible in the gorgeous arrangements at Chelsea by Arthur Parkinson. Those bouquets summed up the mood of the show and much of what I saw around London; the need to have nature close by, and a desire to embrace what feels wild.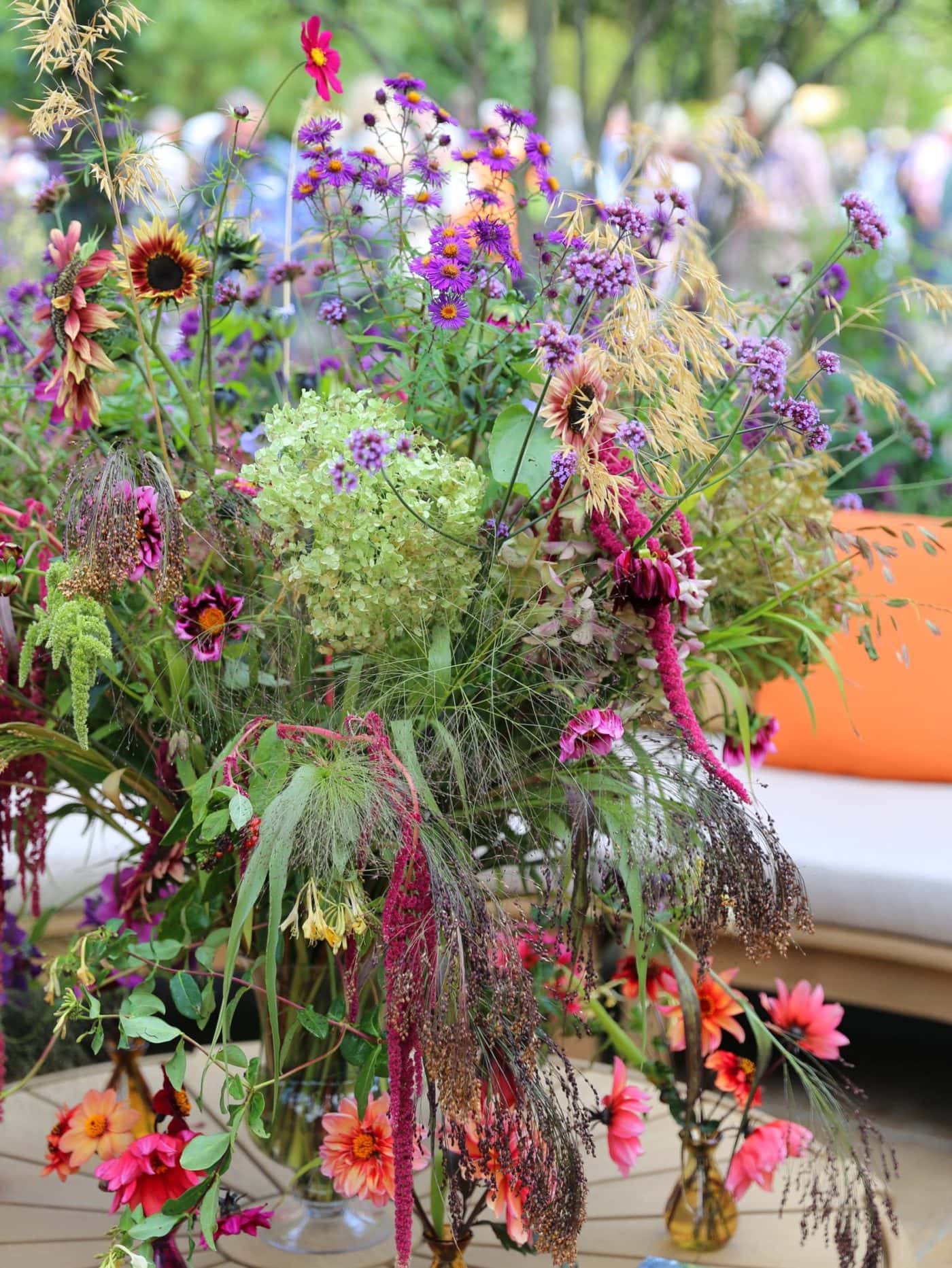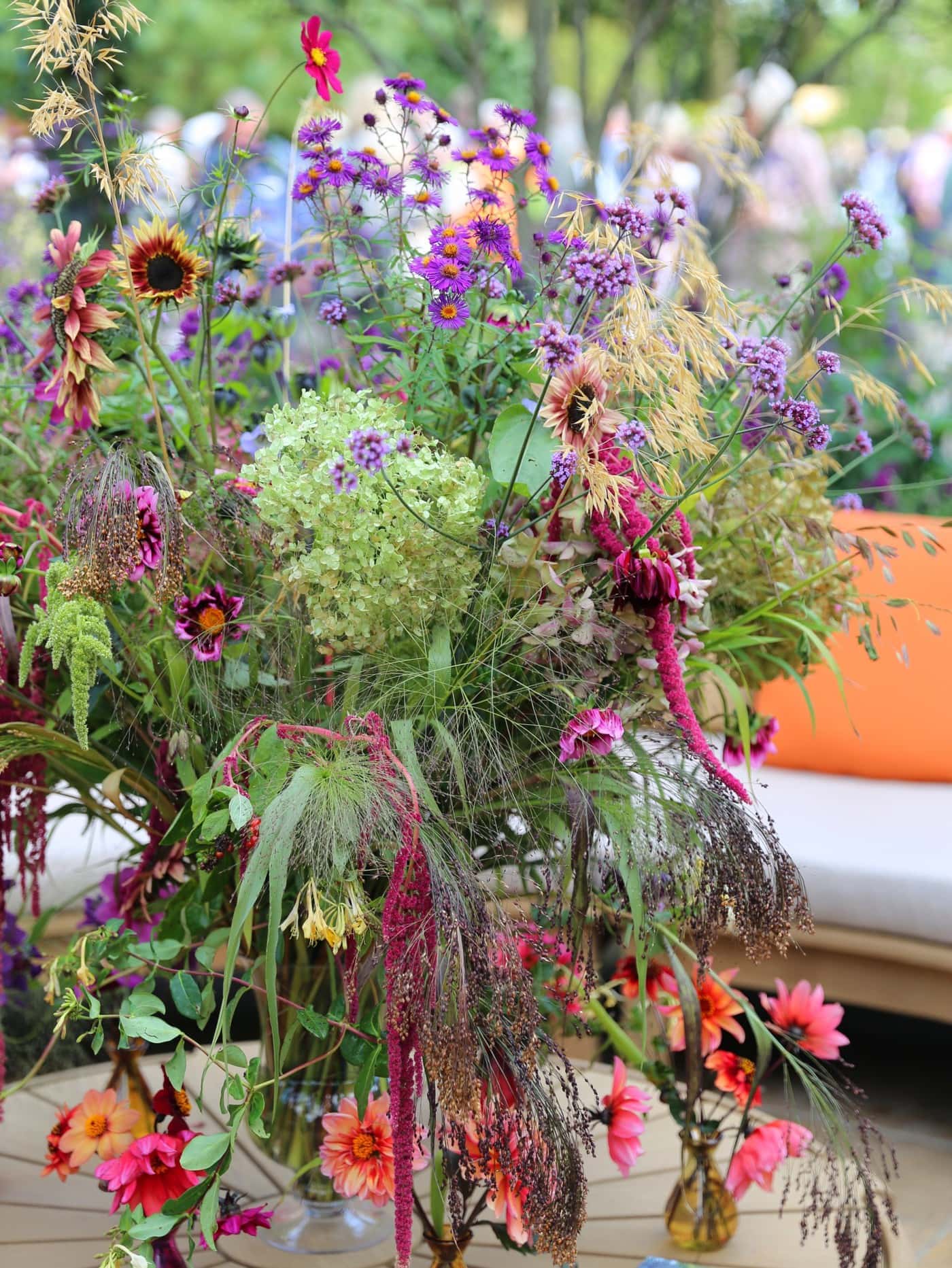 All photos by Owen Hayman
---

Owen joined the Bestall & Co planting and aftercare team in spring 2019. He is an RHS qualified horticulturist, holding a full Level 3 Diploma in Horticulture, and recently came in the top 3 at the Northern Regional Final of The Young Horticulturist of the Year 2019. After first doing a foundation diploma in Fine Art, he went on to gain a degree and masters in Plant and Soil Science from the University of Sheffield in 2014. Owen worked as a researcher on various field research projects in Alaska, Panama and Borneo. When not away in the field, he became obsessed with visiting gardens and nurseries across the British Isles and the Netherlands, developing his own garden, and then taking on a walled allotment garden as a personal project. He realised his true passion was in horticulture, and so moved away from academia and into the world of specialist plant nurseries and professional gardening.
Owen is now studying the Wisley Diploma, but continues to write articles for us on a monthly basis, and we're delighted to maintain contact with such a passionate and knowledgable plantsman.
All author posts