Urban-inspired ground cover plants for shade
Many of the best ground cover plants for shade are generally stress-tolerant 'good-doers'. These plants are adapted to growing in the dry shade beneath mature trees. This makes them well suited to urban locations in the shade of street trees and large buildings. The urban micro-climate and aesthetics of contemporary city spaces provide opportunists for exciting and exotic plant combinations. We recently created an outdoor garden room in a very shady spot for a client in London, making use of Ophiopogon bodinieri as a ground cover beneath multi-stemmed trees.
Handyside Gardens
At Handyside Gardens in Kings Cross, ground cover plants for shade are planted seemingly randomly and left to form an intricate intermingled mesh.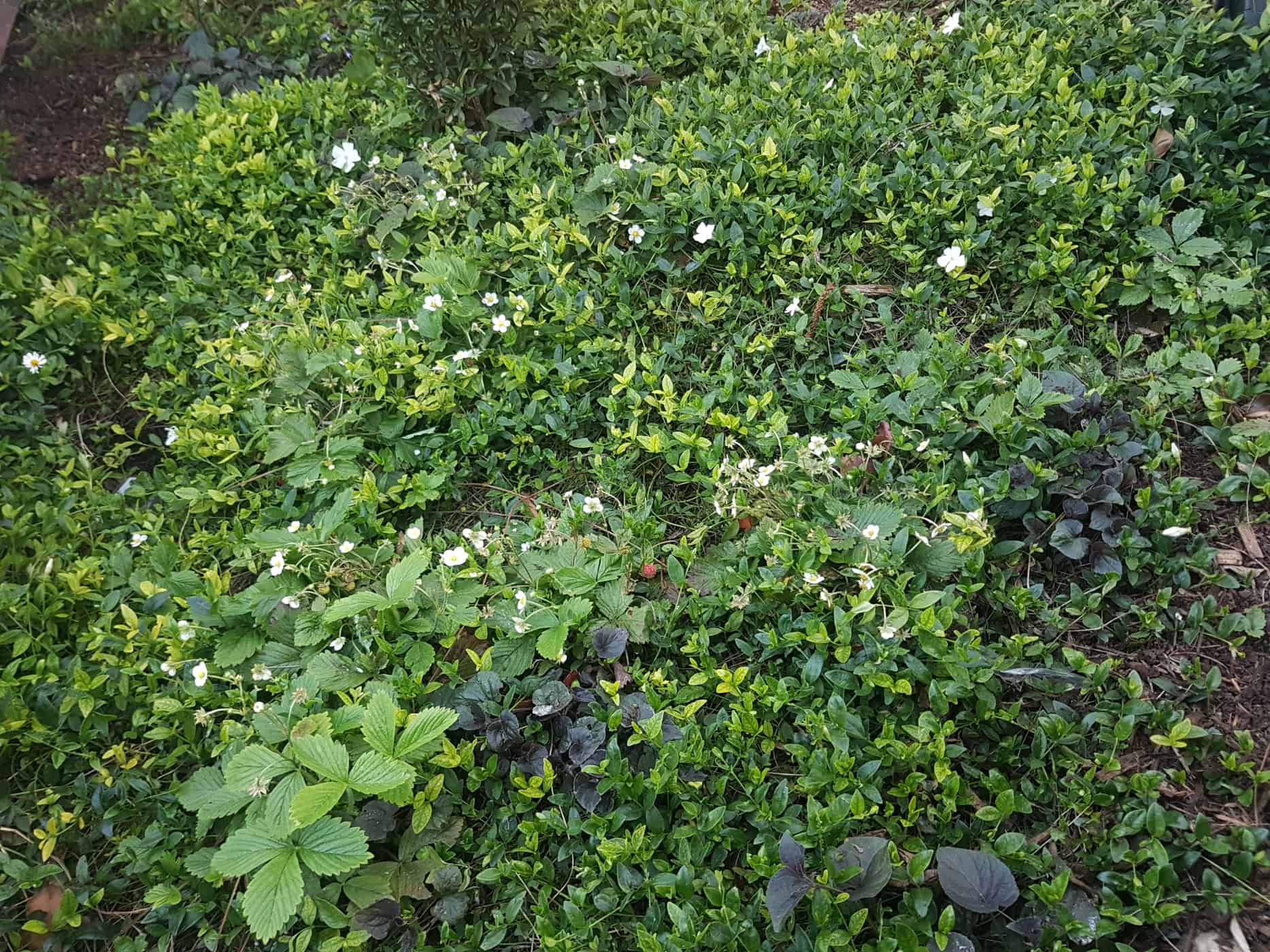 Viola labradorica (American dog violet) has the dark purple-green foliage, with violet flowers in spring. There's Vinca minor f. alba with the small glossy leaves and white flowers, and Fragaria vesca (wild or alpine strawberry) in there too, which will have ruby red fruits through summer for colour, wildlife and great eating too. As many of these are evergreen, they provide interest and habitat wile suppressing weeds year round. They form a dense mesh tapestry. In sunnier spots Erigeron karvinskianus (Mexican fleabane) overflows the beds with a profusion of white and pink daisy flowers. This is a public planting designed by Dan Pearson Studio. Photos taken in late May 2019.
NEO Bankside
At the foot of the NEO Bankside development in Southwark, an immaculately maintained residents garden showcases a wide range of shade-loving trees, shrubs, perennials and ground cover plants for shade. The mind-bogglingly named Soleirolia soleirolii, more commonly known as mind-your-own-business, forms a lush green carpet through which other evergreens grow. Pachysandra terminalis (Japanese spurge), ferns and an array of less-common Hellebore species emerge through the green froth. As simple as it looks, this isn't a low-maintenance option; mind-your-own-business can quickly spread out of control, so growing in a confined area is key. And don't confuse it for a lawn, it does not respond well to being walked on.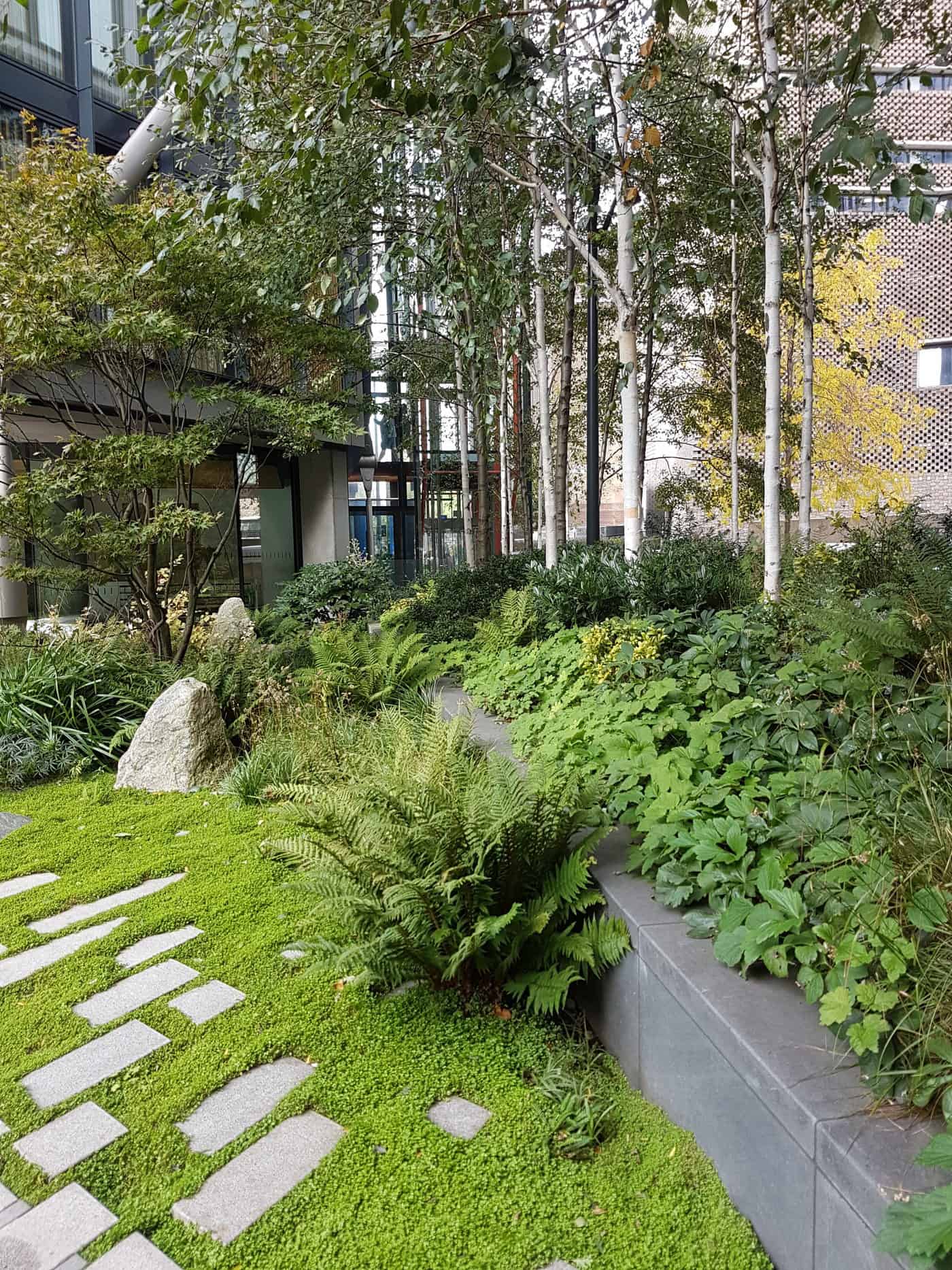 Epimedium x versicolor provides voluminous lush green ground coverage in the dappled shade of a stand of black bamboo (Phyllostachys nigra). Epimediums are a large group of ground cover plants for shade, with many subtle differences that inspire the urge to collect them. They have a very unique quality, with thin wire-like stems holding tough but graceful slightly waxy leaves that catch the breeze. Many have foliage that changes colour over the course of the year, with red and orange markings. Epimediums have generally small and dainty enchanting jester-hat shaped flowers in early spring. Cut the overwintered foliage off at ground level as the flowers emerge, and then watch the flowers rise followed by a fresh flush of foliage. Photos taken in late October 2019.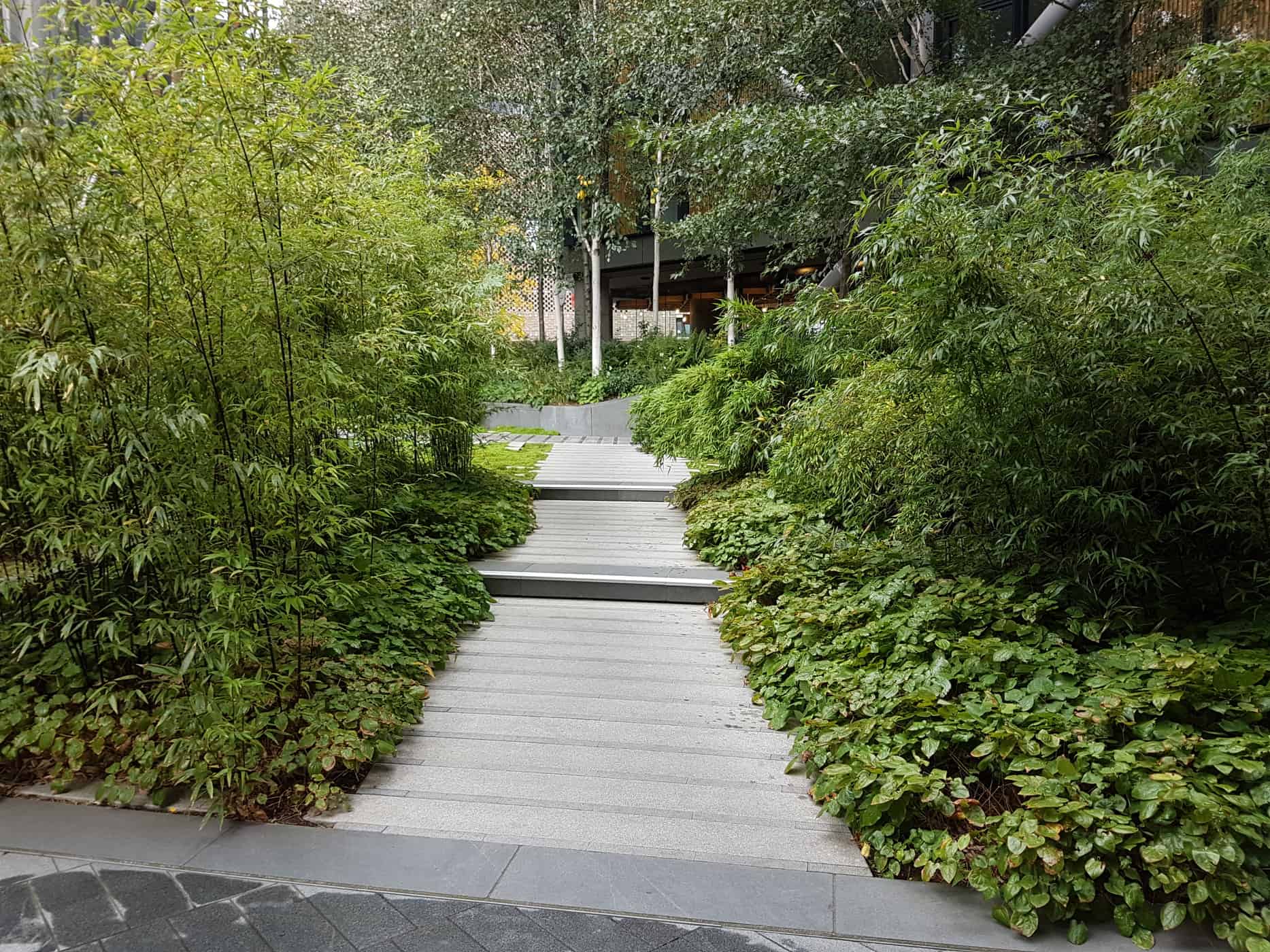 The Diamond Garden
In the dry shade of mature London plane trees outside The Queen's Gallery in London is The Diamond Garden, deigned my Professor Nigel Dunnett. The planting is a rich tapestry of tough and dependable ground cover plants for shade planted primarily in blocks and waves, with individual ferns scattered through. A high proportion of evergreen or semi-evergreen plants with highly diverse foliage form and colour are used. Interest is held through 12 months of the year, beyond the main flowering period of spring and early summer. Weeds struggle to establish through the dense mostly evergreen mat of foliage.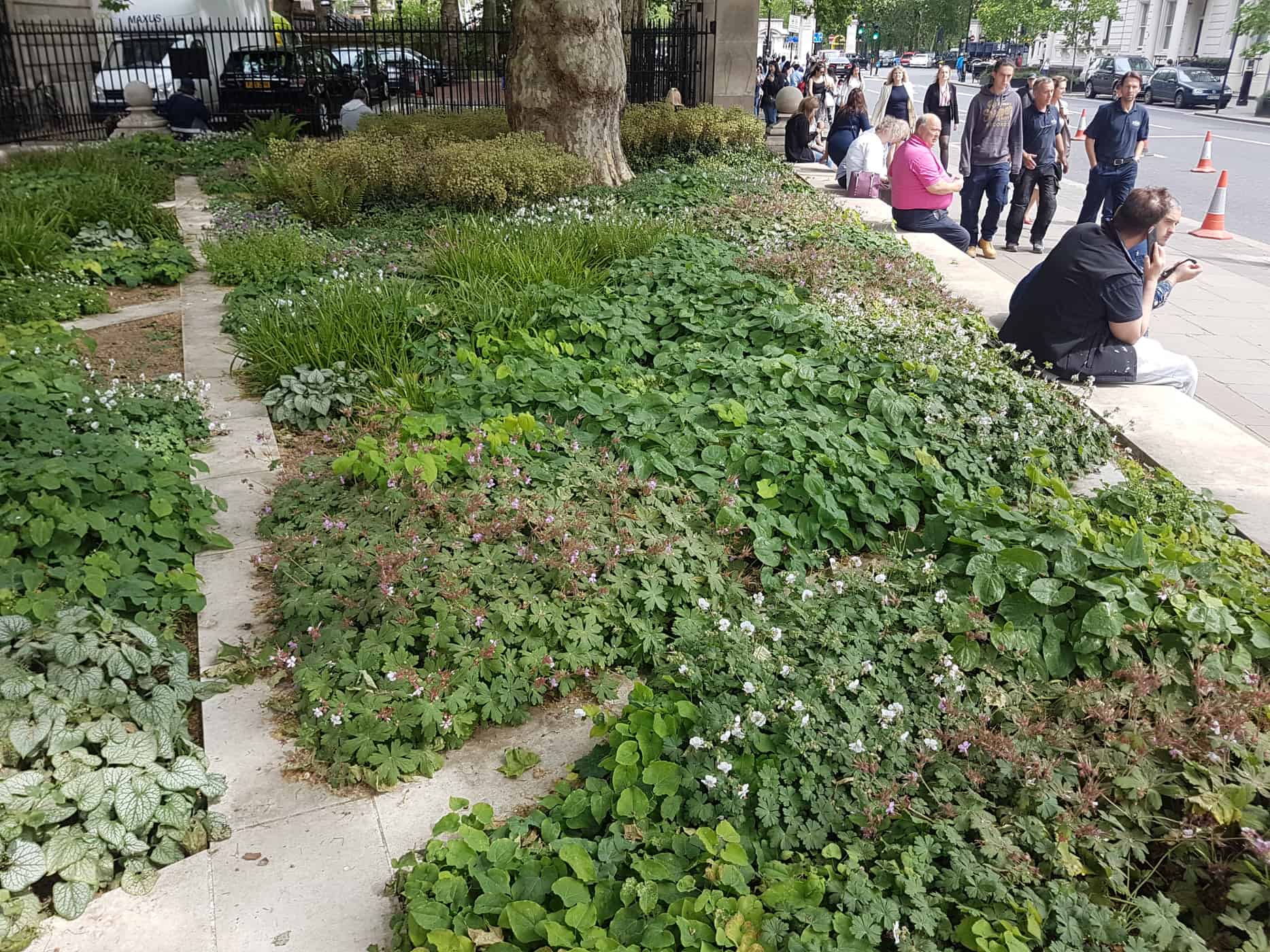 There are evergreen grasses Luzula sylvatica and Luzula nivea, and the fern Polystichum setiferum dotted throughout. Lamium maculatum 'Beacon Silver' and Brunnera macrophylla 'Jack Frost' provide long-lasting striking silver foliage. Primula veris (cowslip) emerge through winter to bloom in spring coinciding with the blue mist of Brunnera flowers. Galium odoratum (sweet woodruff) and Epimedium (barrenwort) also flower early. Campanula portenschlagiana (wall bellflower), Persicaria affinis 'Superba'  white Geranium x cantabrigiense 'St. Ola' and pink Geranium macrorrhizum 'Pindus' lengthen the flowering season of this vibrant collection of ground cover plants for shade. Photos taken in late May 2019.
Urban opportunities
In rural or suburban locations the planting scheme will generally needs to sit sympathetically with the surroundings. In modern urban settings you will find you can be adventurous. Plants that would seem awkwardly alien in a more natural rural setting may work well in your space. The generally milder more sheltered conditions of the city also means that a wider array of ground cover plants for shade are suitable for use. So make the most of your urban shady spot, create something special that defines the space. 
---

Owen joined the Bestall & Co planting and aftercare team in spring 2019. He is an RHS qualified horticulturist, holding a full Level 3 Diploma in Horticulture, and recently came in the top 3 at the Northern Regional Final of The Young Horticulturist of the Year 2019. After first doing a foundation diploma in Fine Art, he went on to gain a degree and masters in Plant and Soil Science from the University of Sheffield in 2014. Owen worked as a researcher on various field research projects in Alaska, Panama and Borneo. When not away in the field, he became obsessed with visiting gardens and nurseries across the British Isles and the Netherlands, developing his own garden, and then taking on a walled allotment garden as a personal project. He realised his true passion was in horticulture, and so moved away from academia and into the world of specialist plant nurseries and professional gardening.
Owen is now studying the Wisley Diploma, but continues to write articles for us on a monthly basis, and we're delighted to maintain contact with such a passionate and knowledgable plantsman.
All author posts