Winter flowering camellias
Camellias don't just flower in spring. While the blousy blooms of Camellia japonica create a crowd-drawing spectacle in March, a suite of lesser known species and hybrids flower freely from autumn all the way through winter. I took a walk through Oakwood and Battleston Hill at RHS Garden Wisley, to see what was looking good on the last day of January.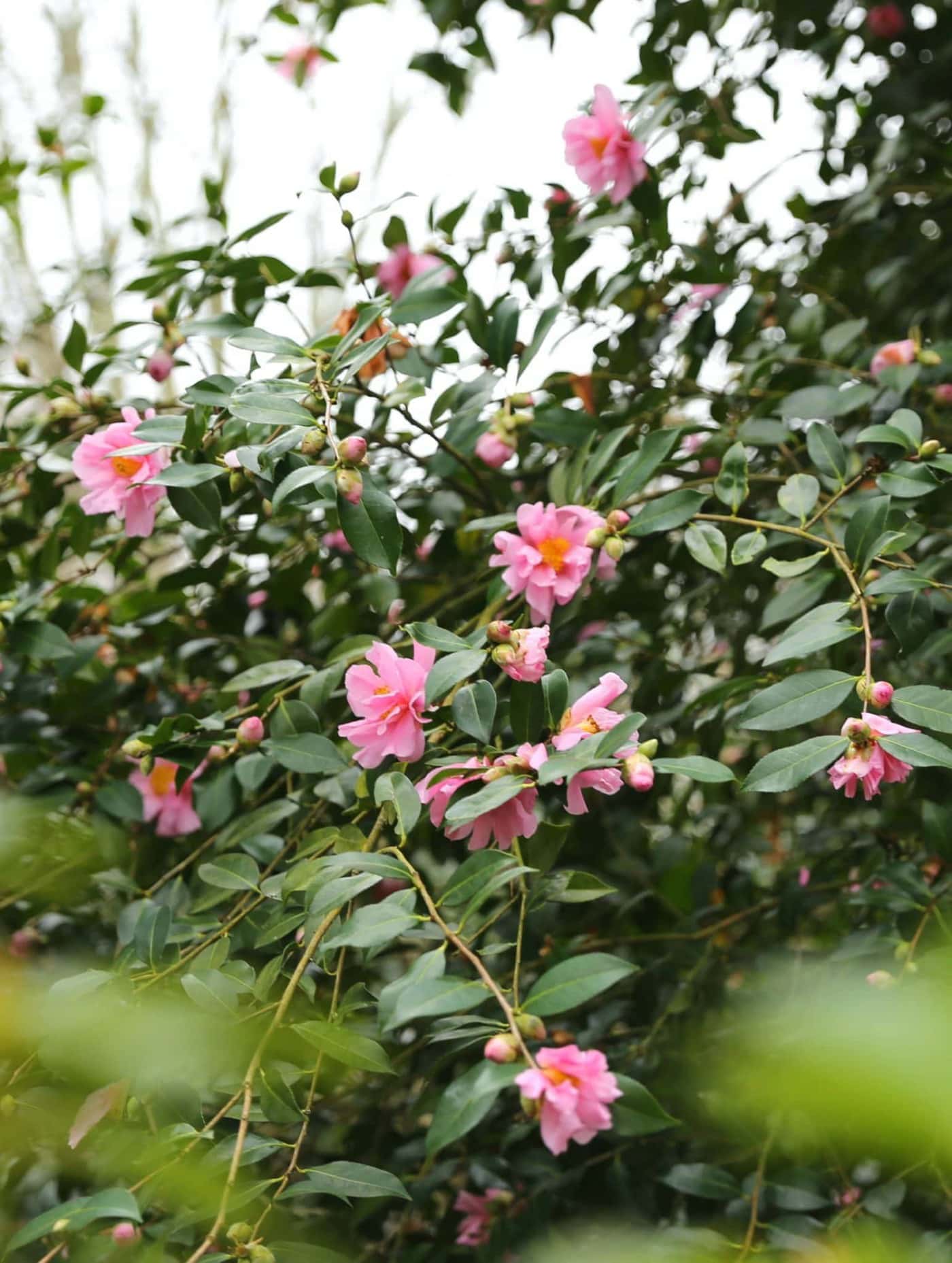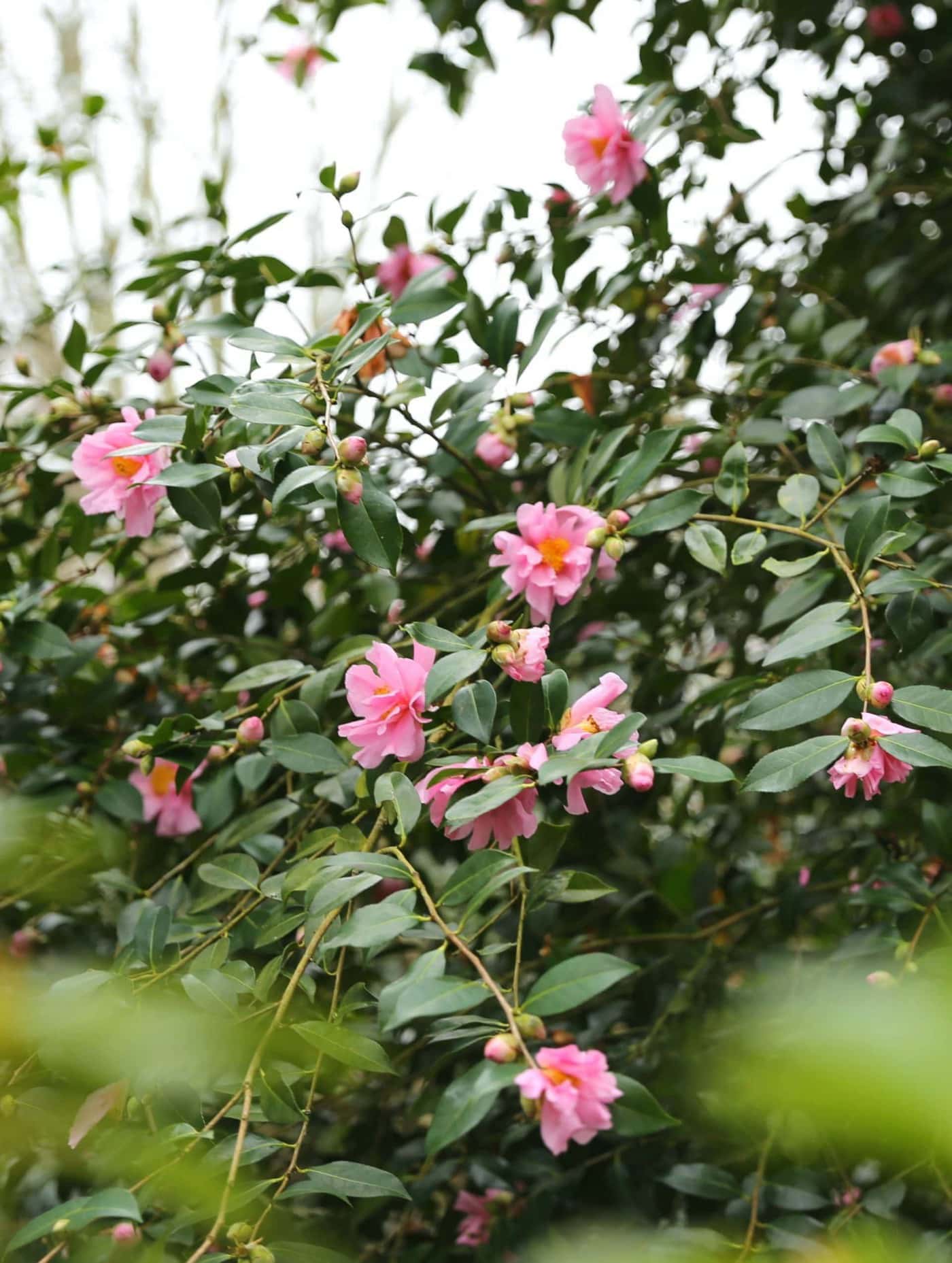 Camellias need acidic soil. You'll know if you're in an acid area because hopefully you'll see rhododendrons and blue hydrangeas doing well in nearby gardens. A westerly or northerly aspect is best for winter flowering camellias, as there is a risk of flower damage as the sun hits frozen petals in the morning on south or east facing sites. Dappled shade is ideal, but the autumn and winter flowering camellias appreciate a bit more summer sun to form juicy buds before the summer is out. Avoid winter water-logging or very windy spots and you'll have a happy plant. They can benefit from light formative pruning, but require no regular attention.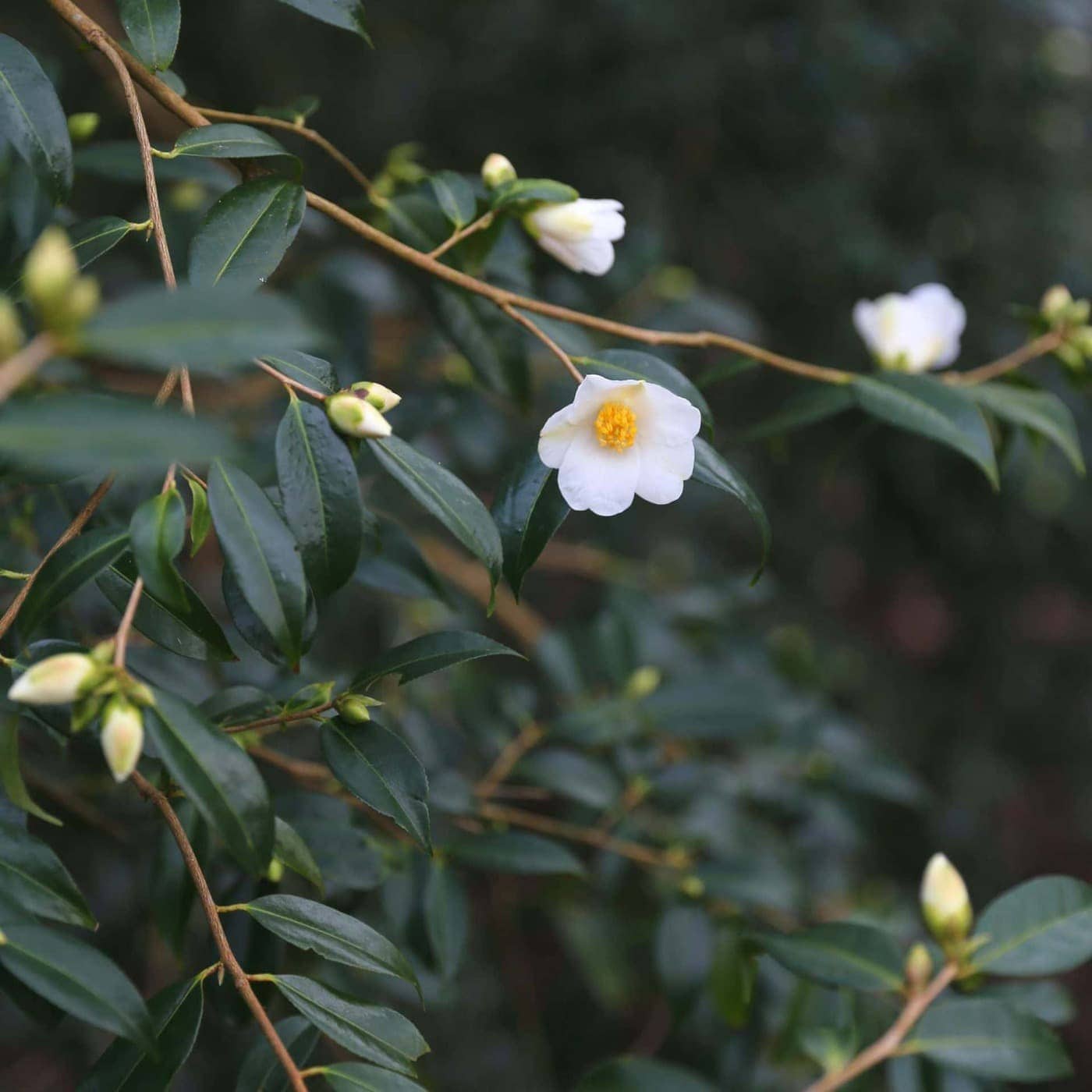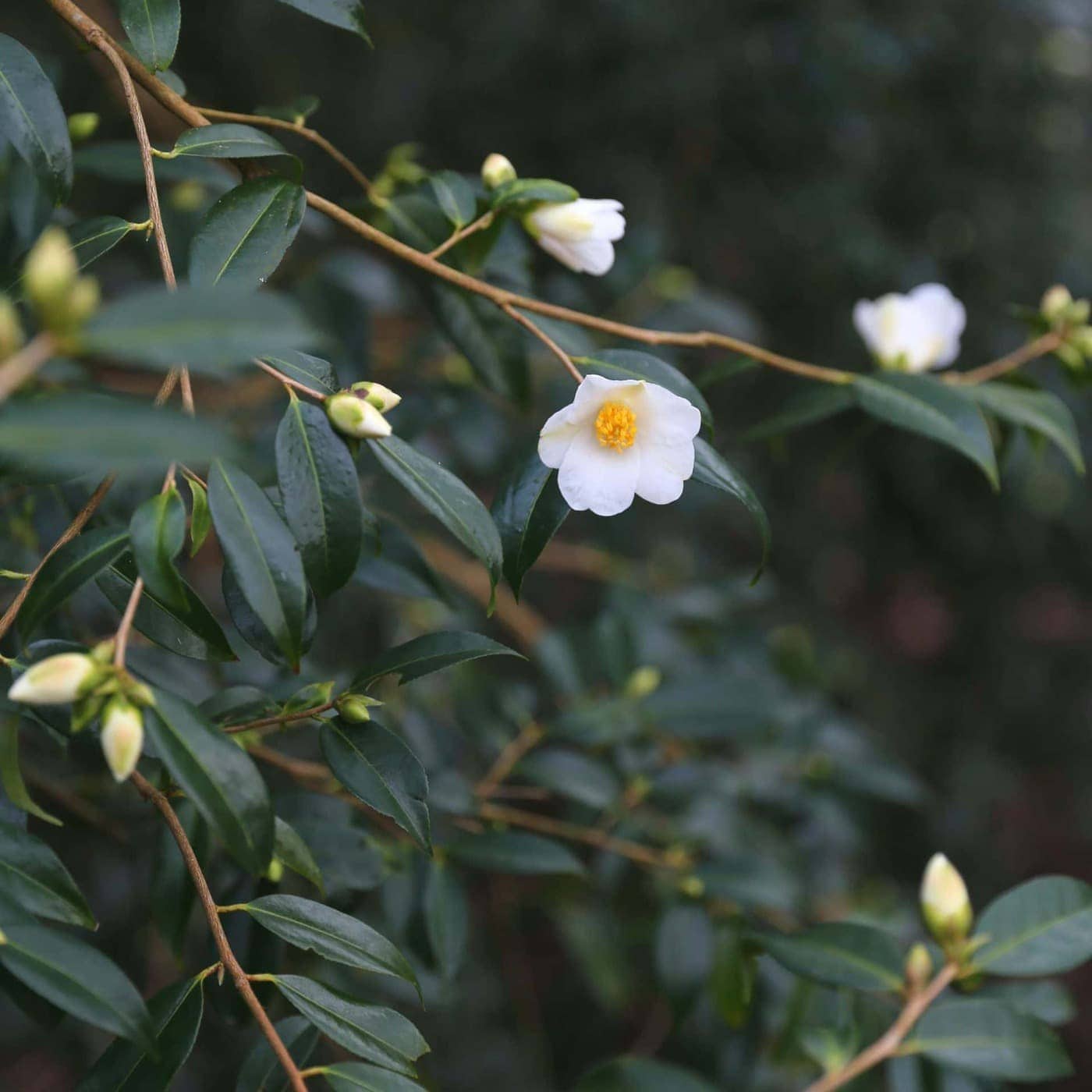 Camellia cuspidata x saluenensis 'Michael'
Originated at Caerhay's Castle in Cornwall in the early 1900s, by John Charles Williams. The Williams family funded many plant hunting expeditions in China, and a branch of the family is still in the trade today; the very reputable Burncoose Nurseries. 'Michael' is one of the Cornish Snow Hybrids trio that originated at Caerhay's, with flowers appearing in January through into spring. The distinctively smaller leaves and relatively understated flowers give this winter flowering camellia a particularly elegant quality.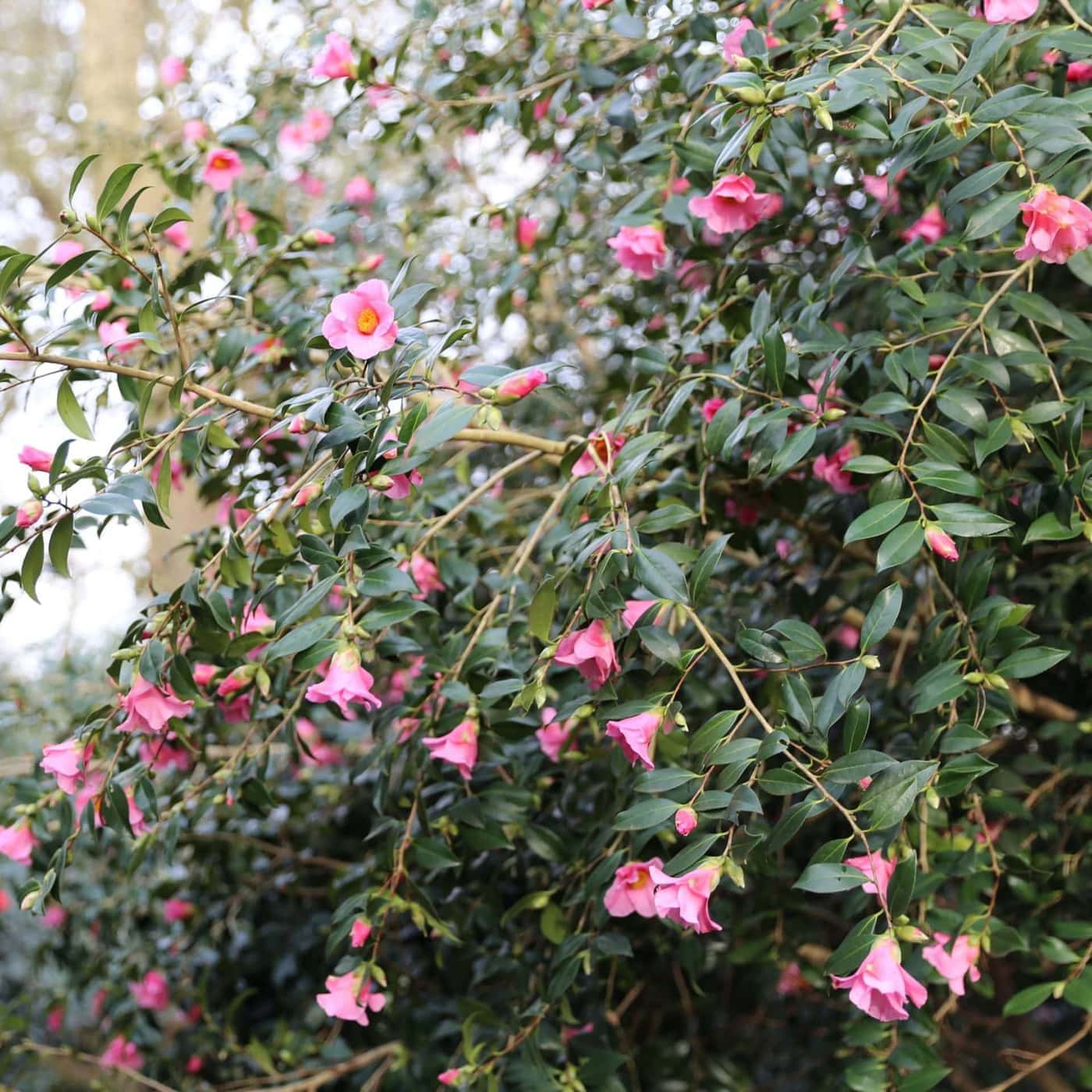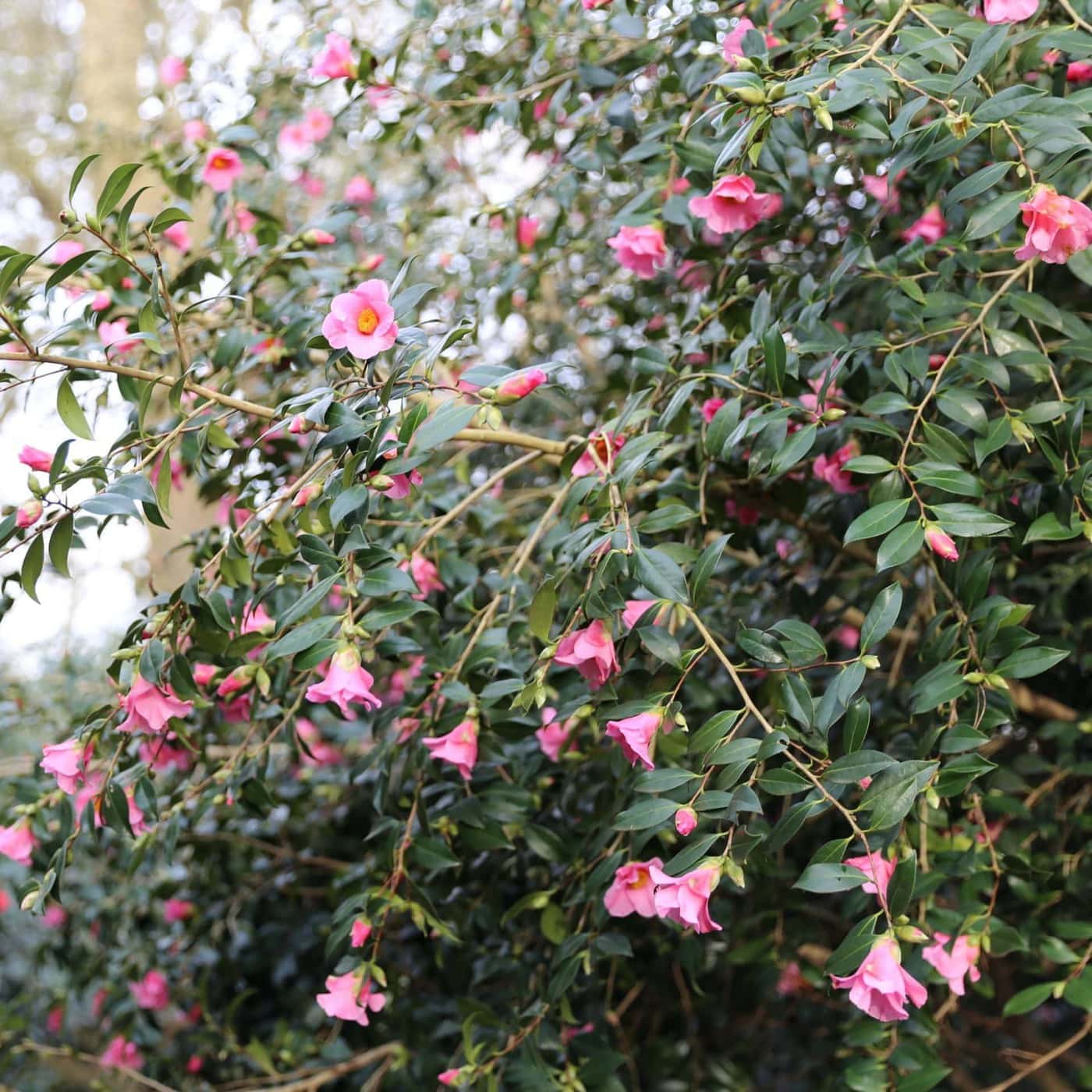 Camellia saluenensis 'Bartley Pink'
Pink single flowers with rich golden centers adorn the tree like strings of bells. I can not find much information about this cultivar, other than it originated from Mr Dalrymple, in Southampton, England. Mr Dalrymple, if you're reading this, or if your great grandchildren are, please get in touch and tell us more about this delightful plant.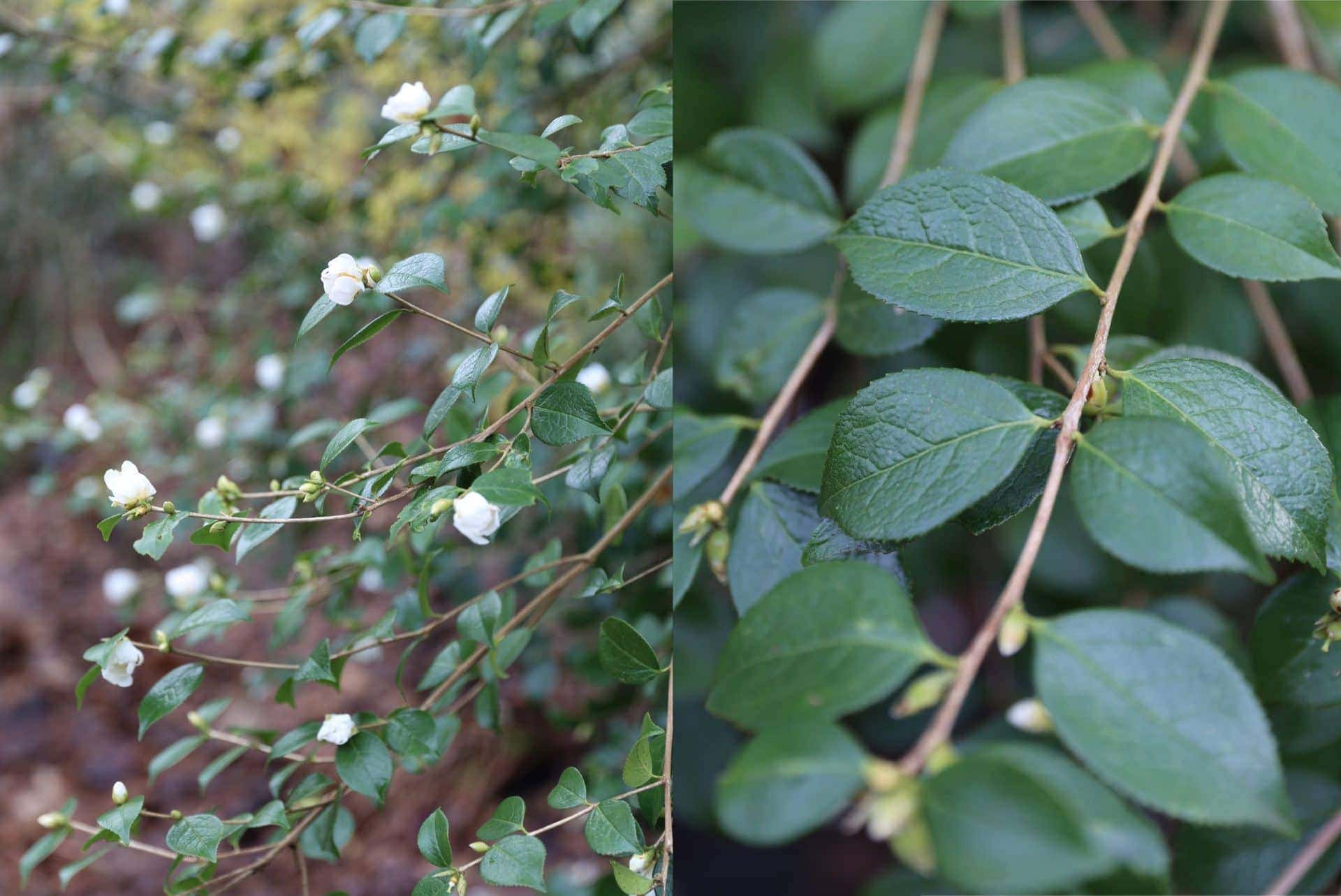 Camellia grijsii
Many highly fragrant small white flowers and relatively miniature  coarse-textured leaves give this species camellia a wild and untamed quality. This winter flowering camellia was discovered in 1861 in the Fujian province of China, where it is currently threatened by habitat loss. Flowers January to March.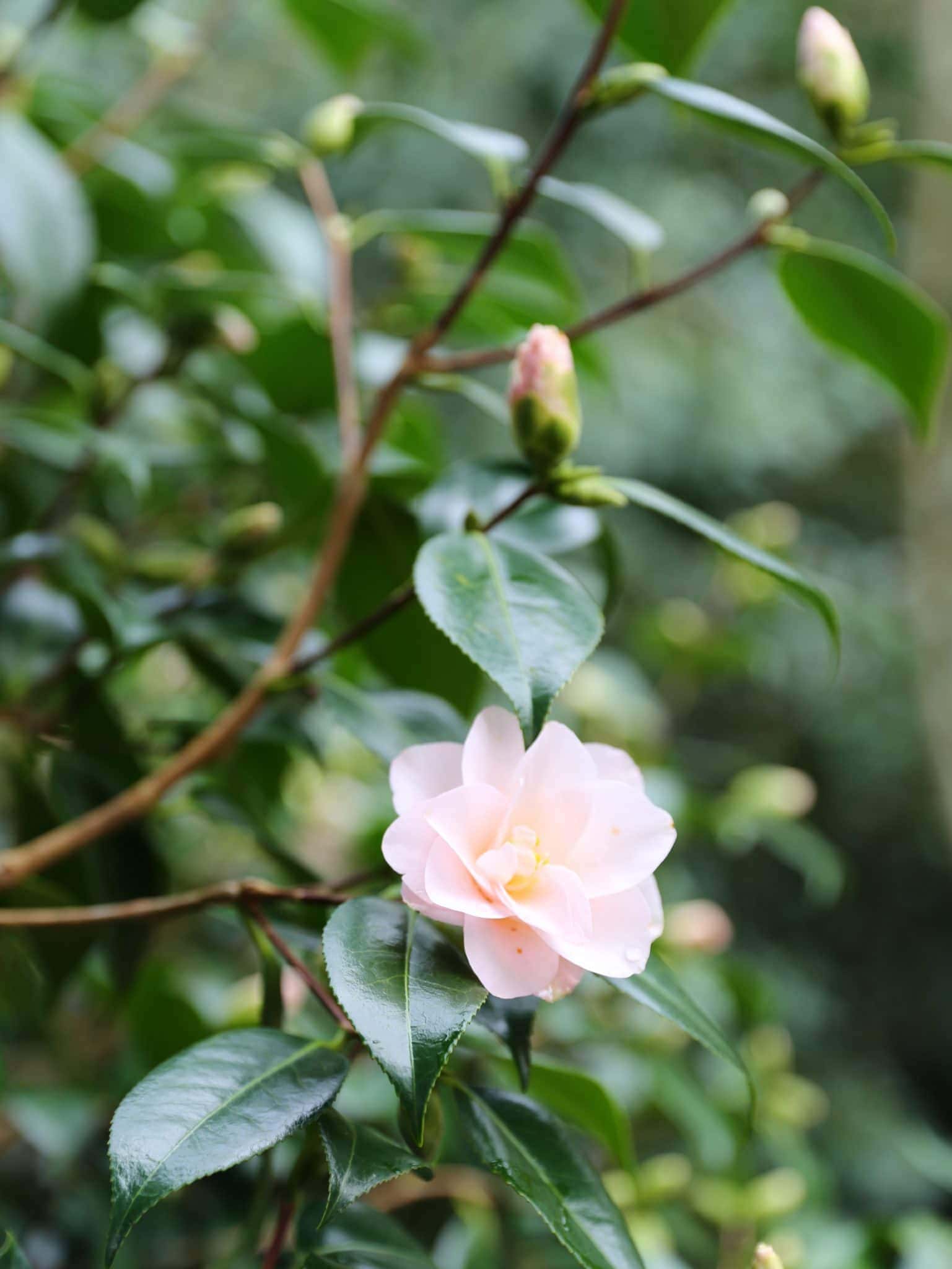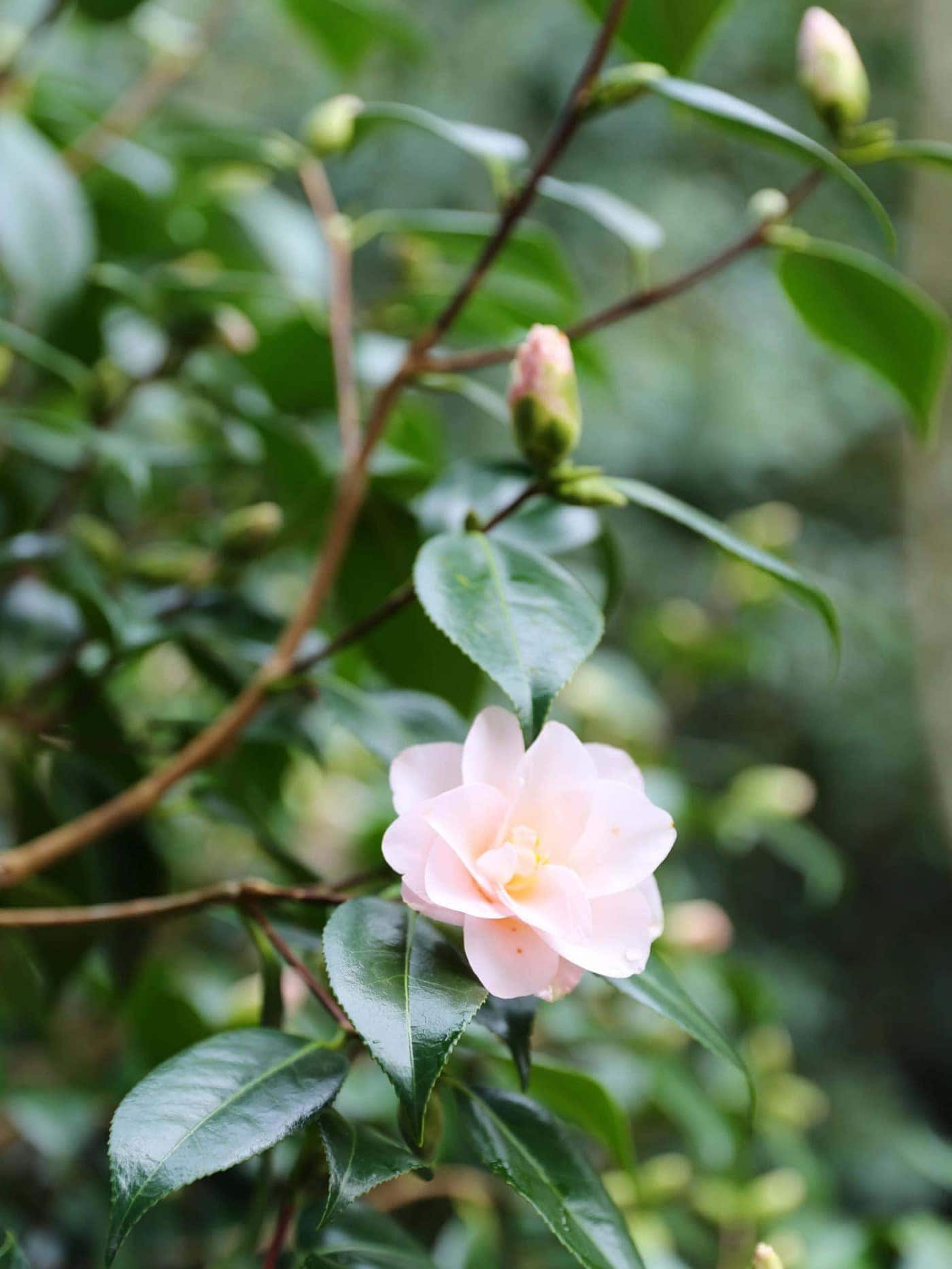 Camellia japonica 'Hagoromo'
A Japanese variety of antiquity originating in Kantô, Japan. In the west this variety is also known as 'Magnoliaeflora'; the name it was given when it first arrived in Europe in 1886. Semi-double flowers of refined blush pink re-curving petals, from February to April.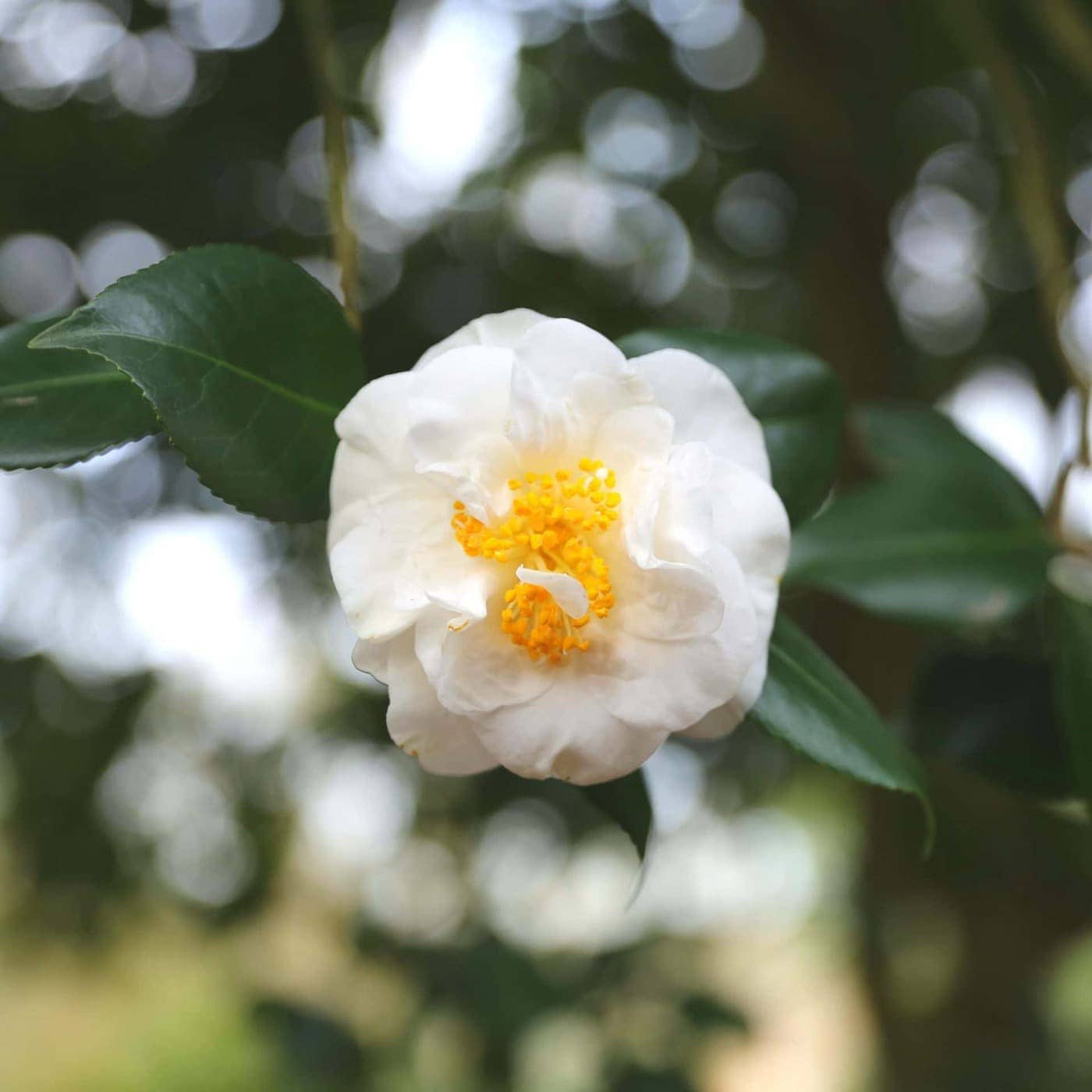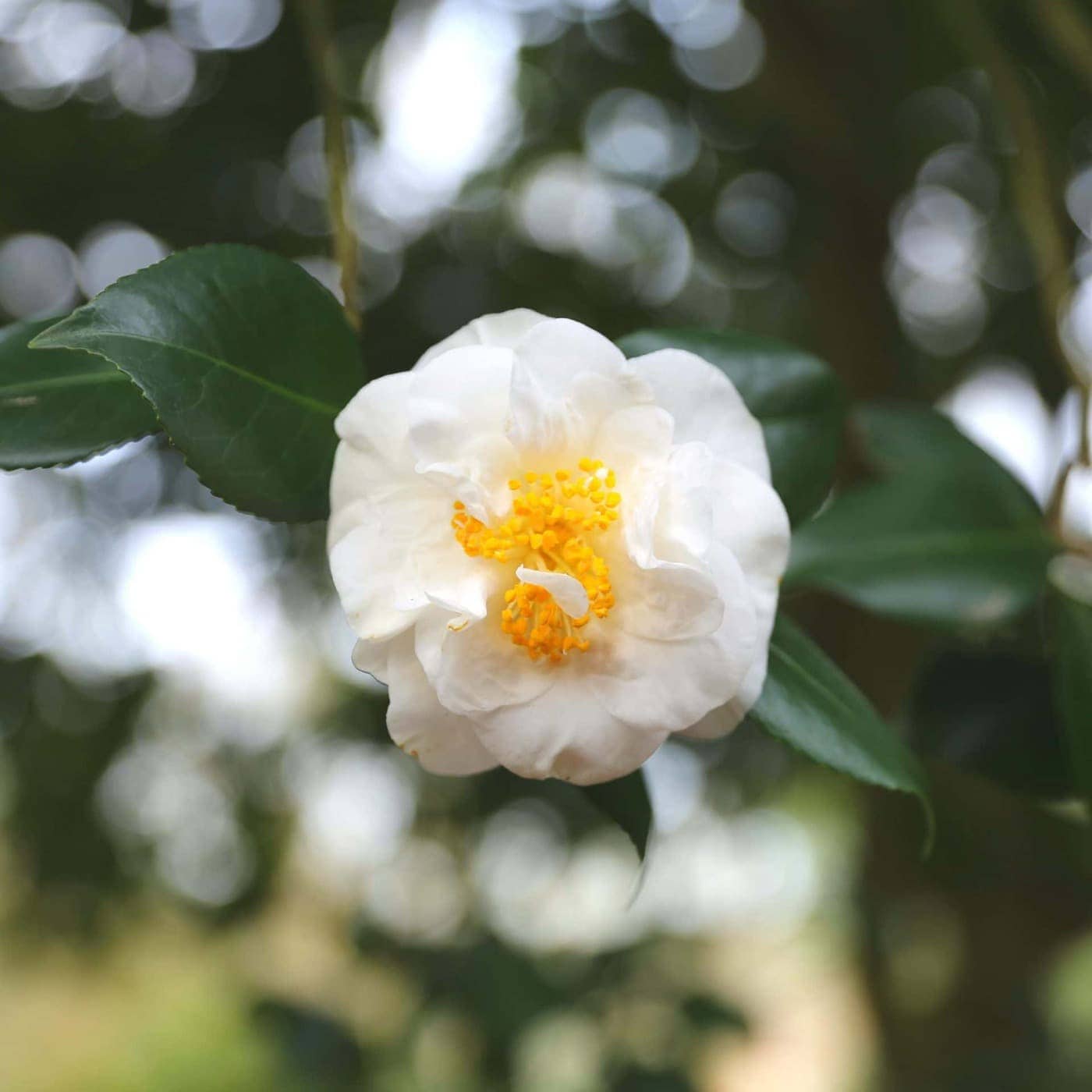 Camellia japonica 'Hakurakuten'
An old Chinese variety named after a T'ang Dynasty poet, with strong upright growth and peony-like white flowers of curved and fluted petals appearing from February through to April.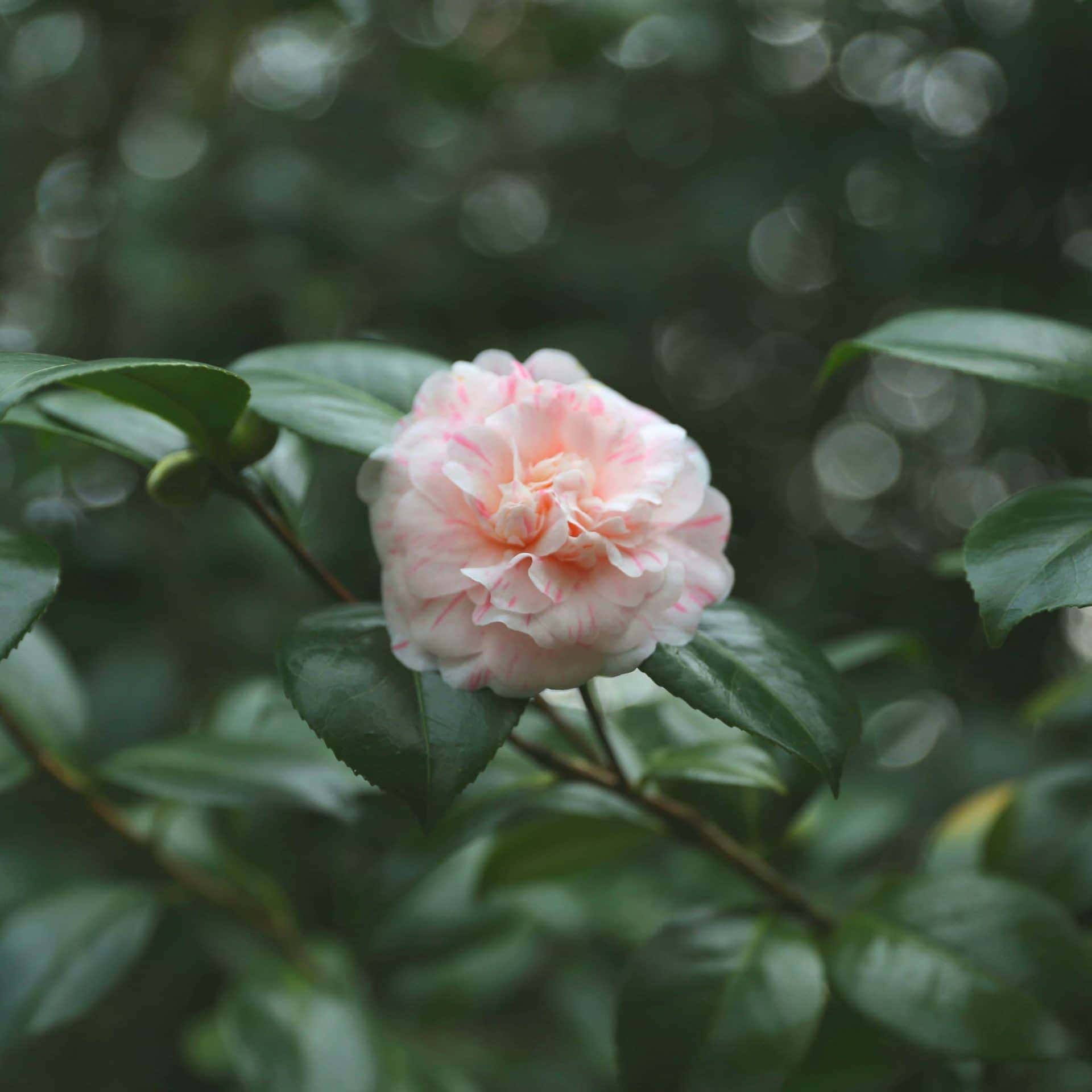 Camellia japonica 'Marguérite Gouillon'
I will always think of this as the raspberry ripple winter flowering camellia. Raised about 1840 on a nursery in Nantes, France, and named after the nurseryman's daughter.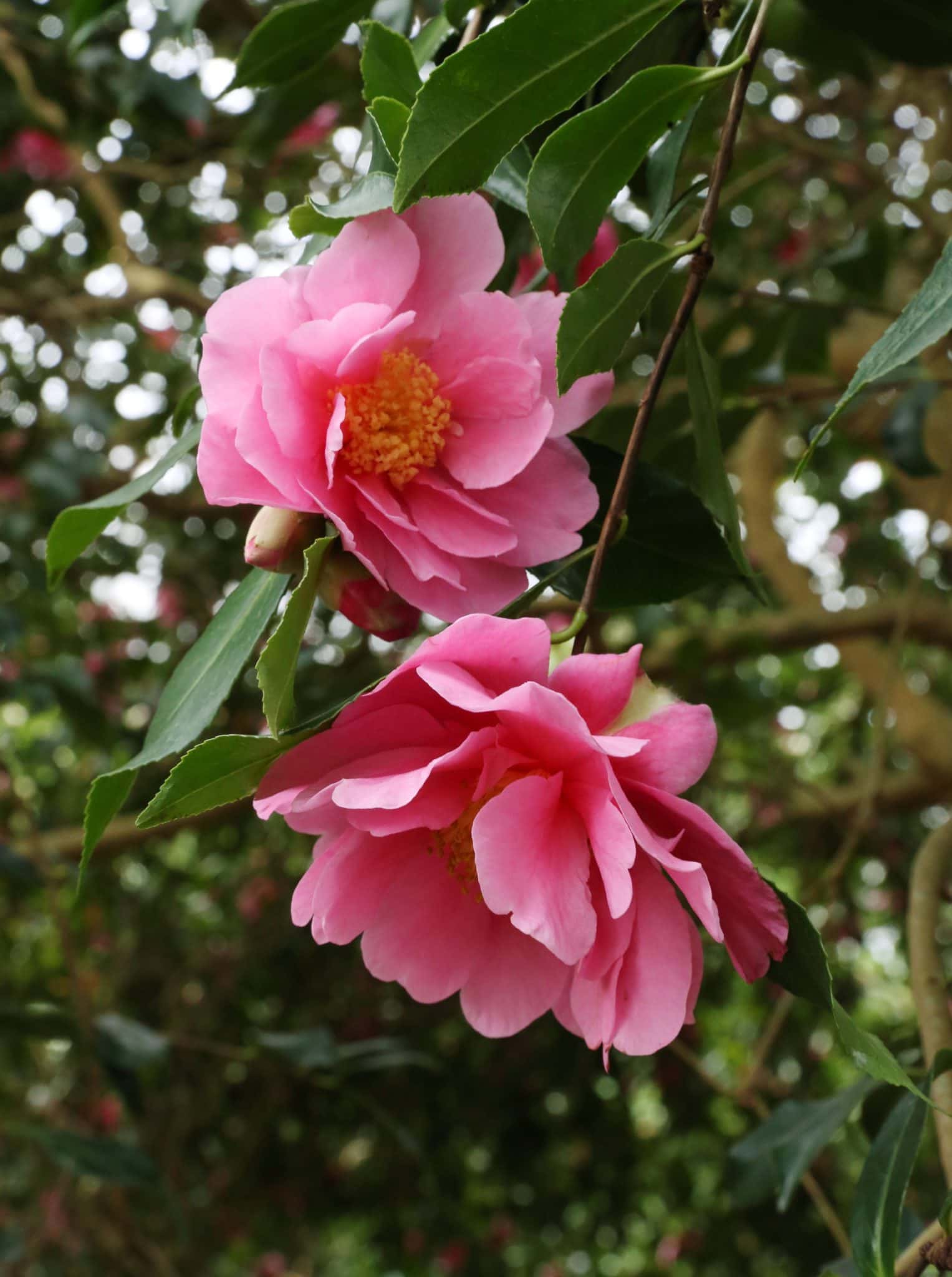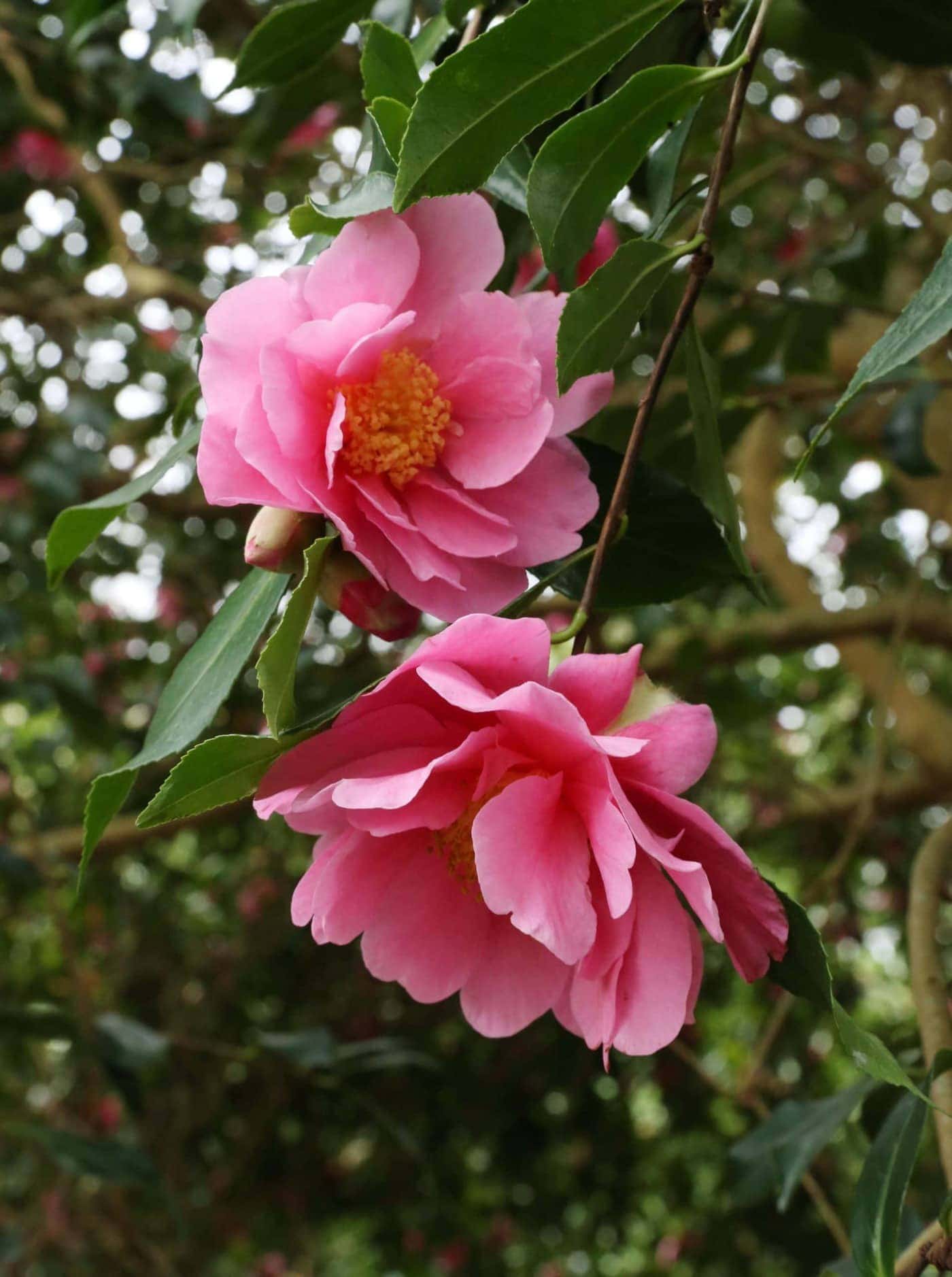 Camellia reticulata × sasanqua 'Dream Girl'
An american cultivar originating in California in 1966, a hybrid between C. sasanqua 'Narumigata' and C. reticulata 'Damanao'. The sasanqua parentage means that 'Dream Girl' starts flowering before Christmas. A good one for wall training, with vigorous open spreading growth. Narrow textured leaves make a nice change from typical C. japonica.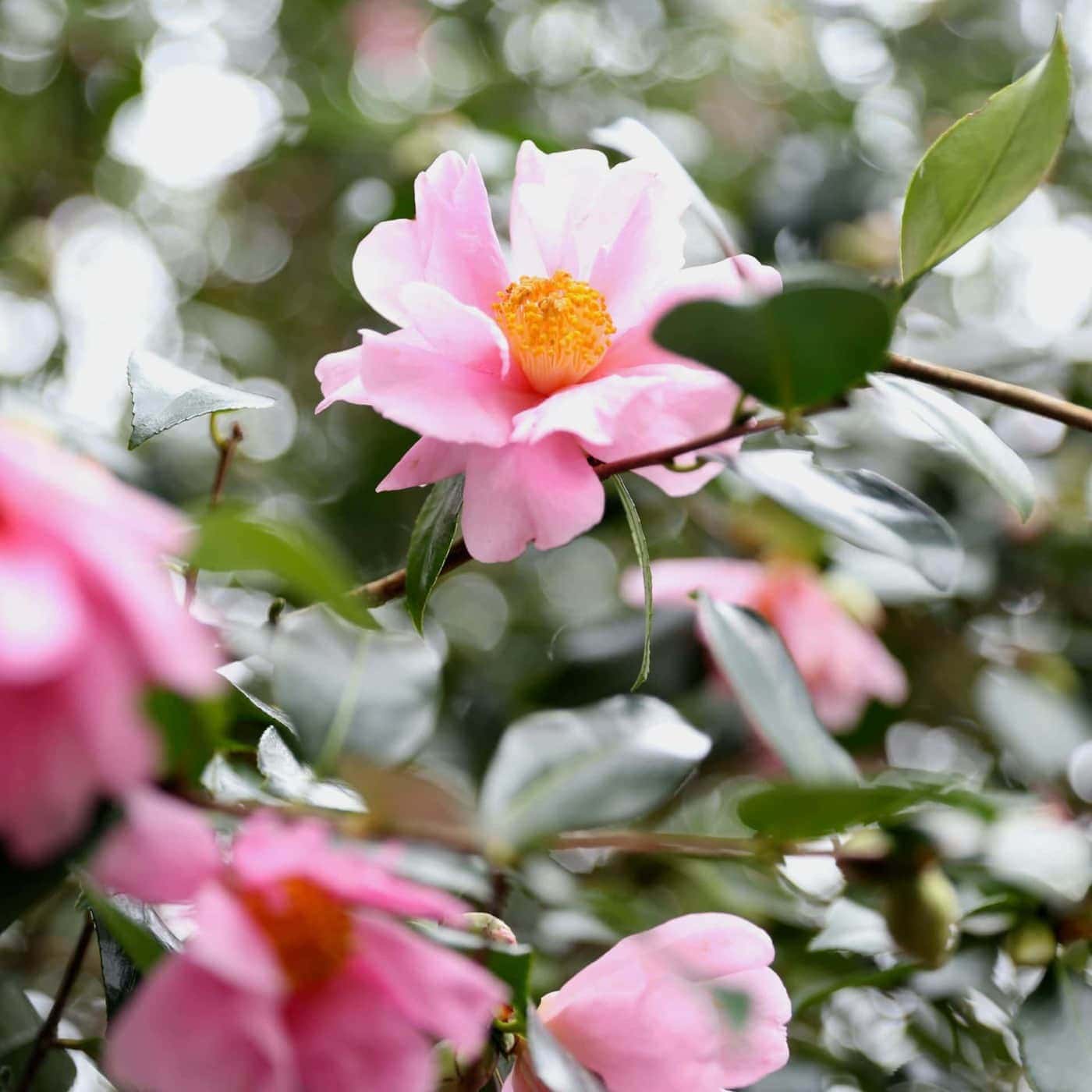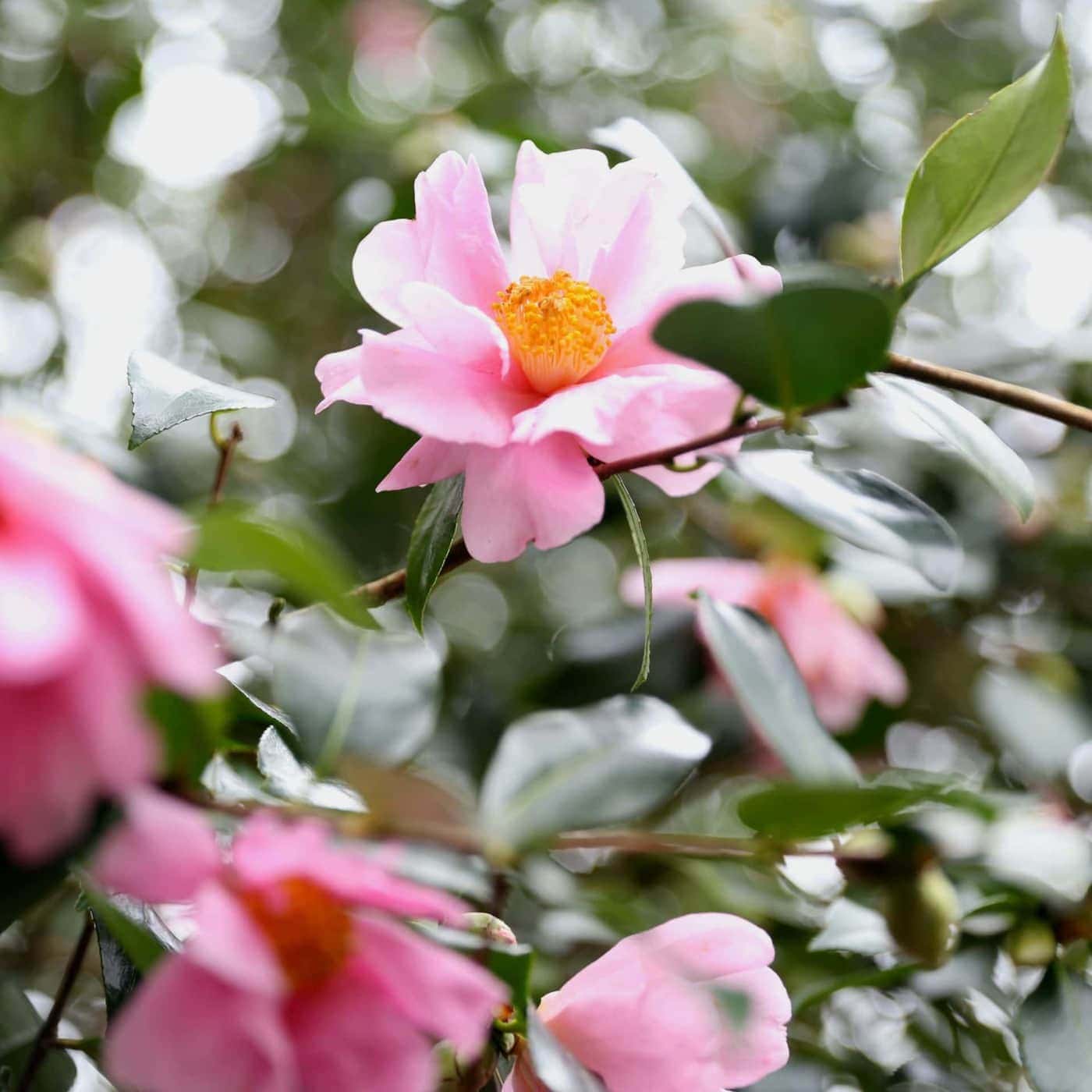 Camellia reticulata × sasanqua 'Show Girl'
One of a trio of seedlings, alongside 'Dream Girl' and 'Flower Girl', from Howard Asper in California. Large and blousy open semi-double peony form blooms making an appearance around Christmas, on open upright growth. Mid-season blooming. A hybrid between C. sasanqua 'Narumigata' x C. reticulata 'Schizitou'.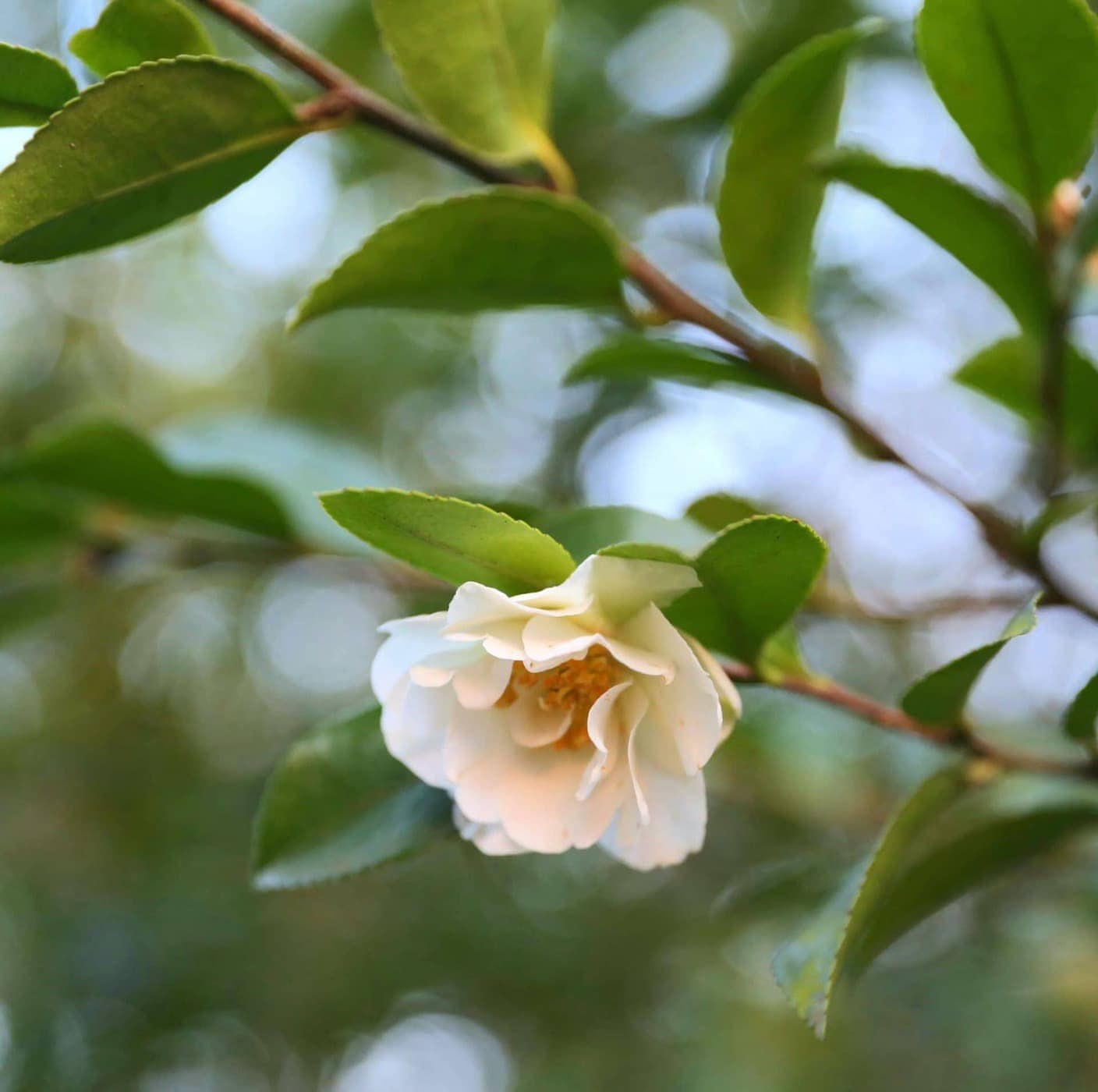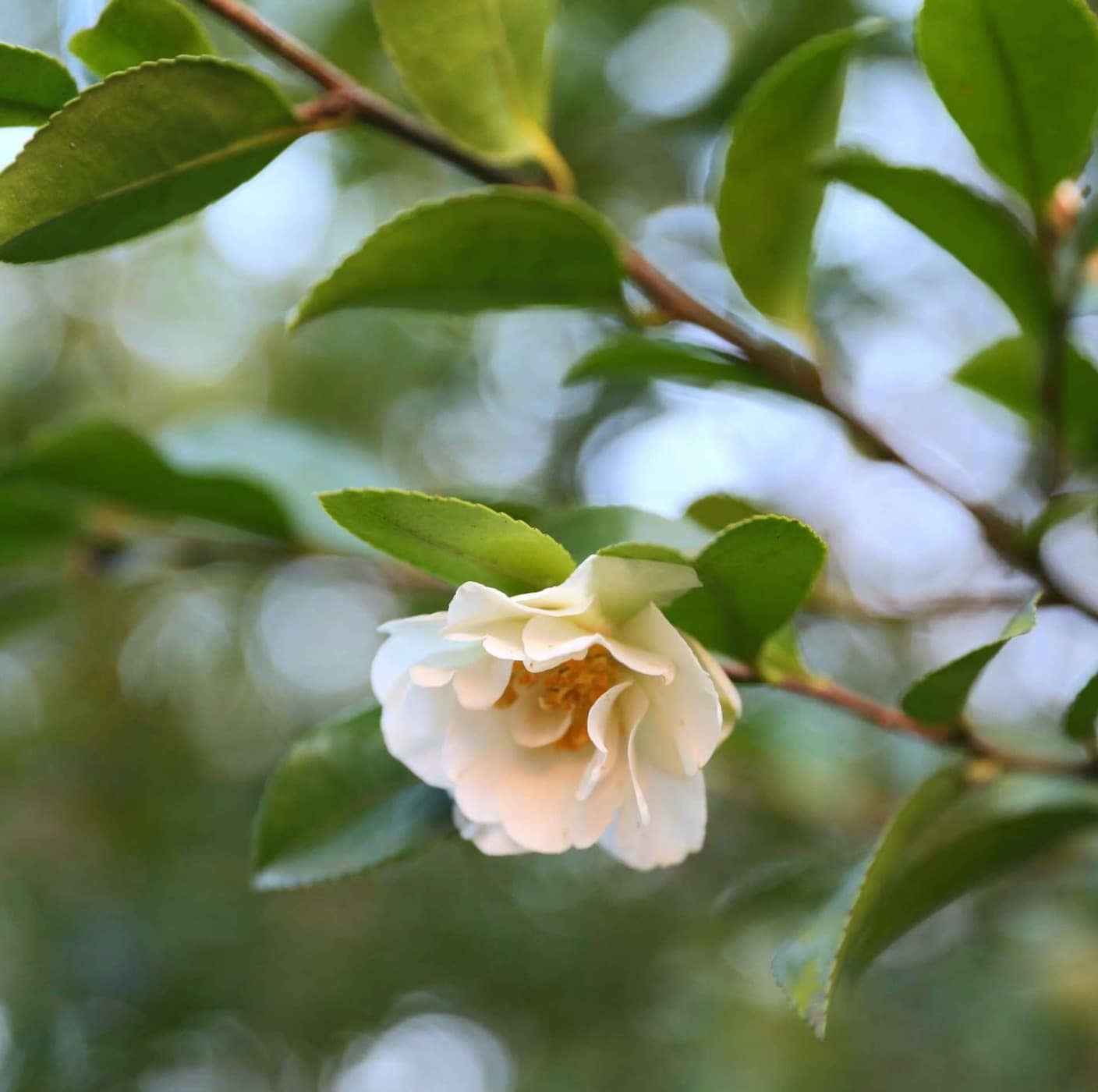 Camellia sasanqua 'Gay Sue'
A chance seedling of C. sasanqua originating in New Zealand. Buds tipped with pink, open to loose and frilly white flowers from October through to February, emitting a strong musk scent. One of the strongest scented sasanquas. Upright dense growth. Sasanquas generally need good autumn sun to help them bud up, but this cultivar is so floriferous it can tolerate a slightly shadier spot.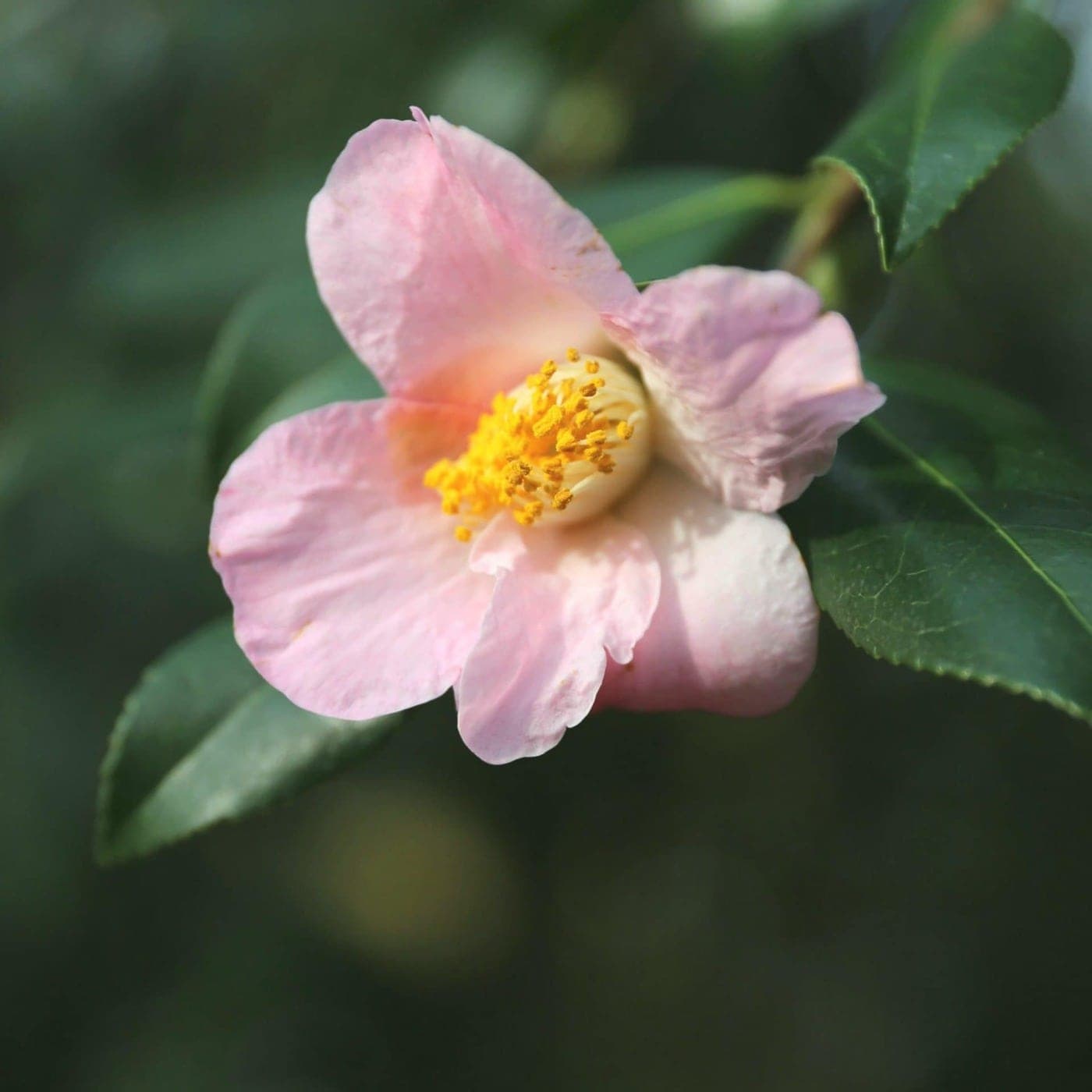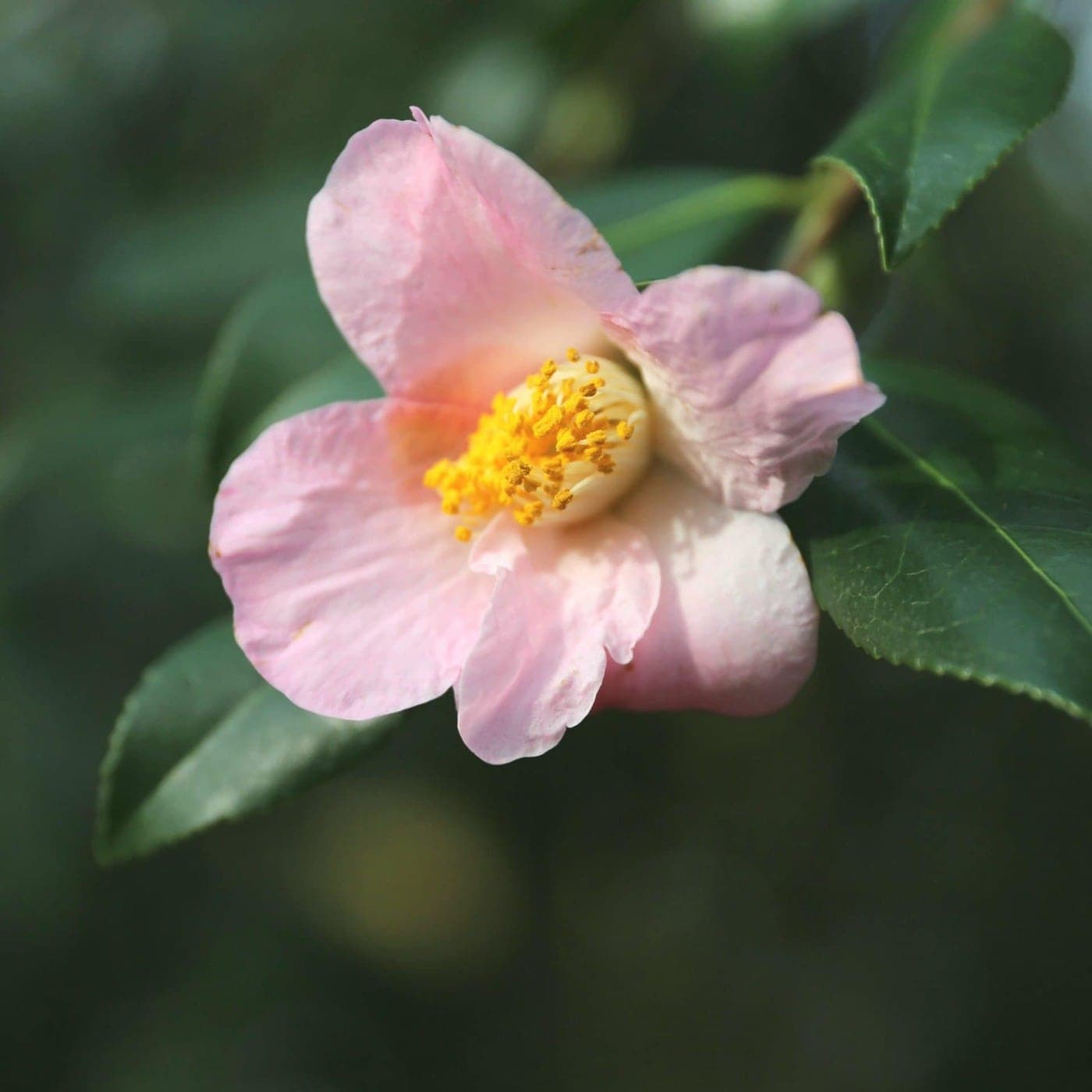 Camellia x williamsii 'J.C. Williams'
Of one the first varieties from the crossing of C. saluenensis with C. japonica. Some winter flowering camellias struggle to bud up well without really good levels of sunlight in late summer. However, the williamsii hybrids have a good reputation for reliable winter flowering even in areas with short cool summers, so well suited to northern Europe. The plant's name is eponymous to it's breeder, aforementioned.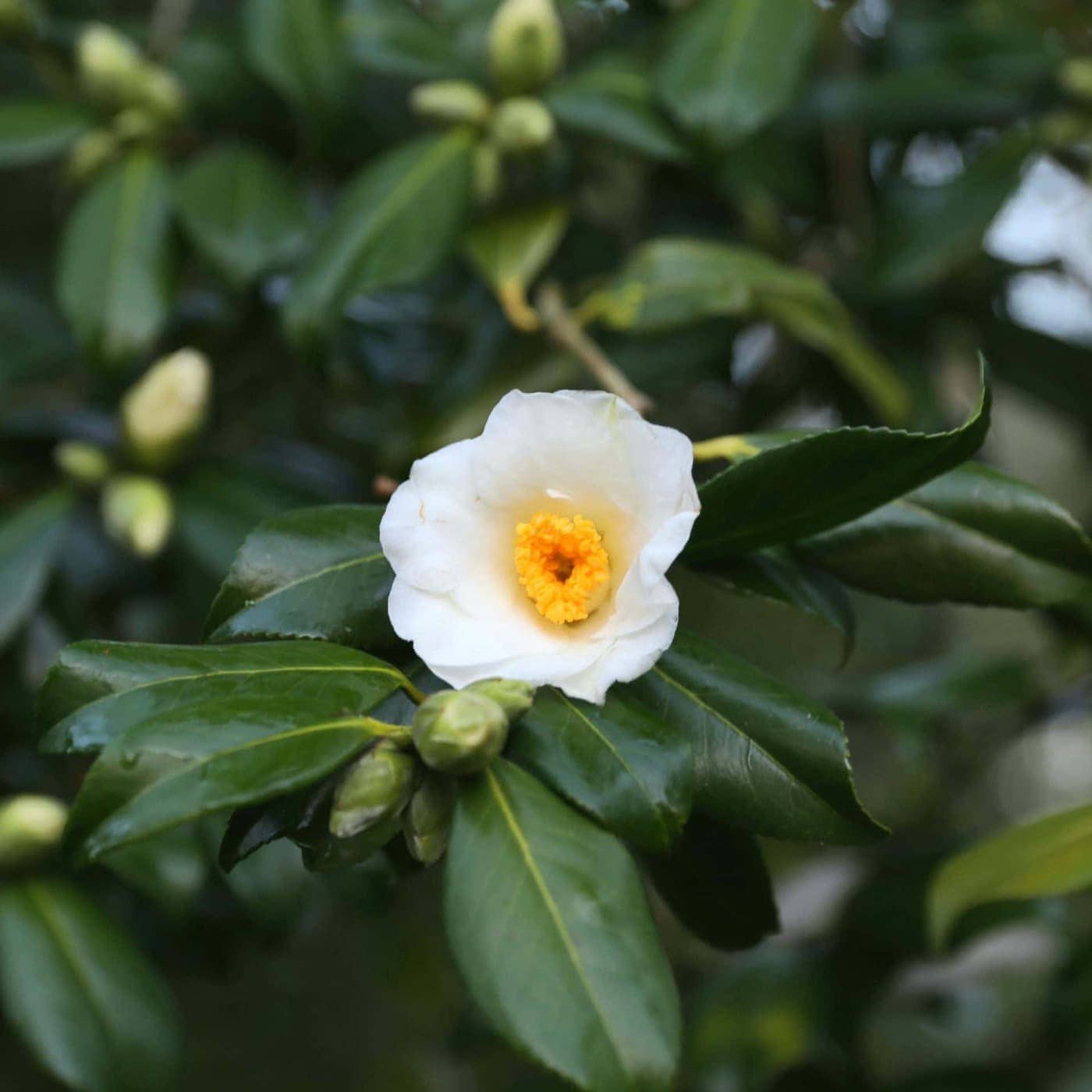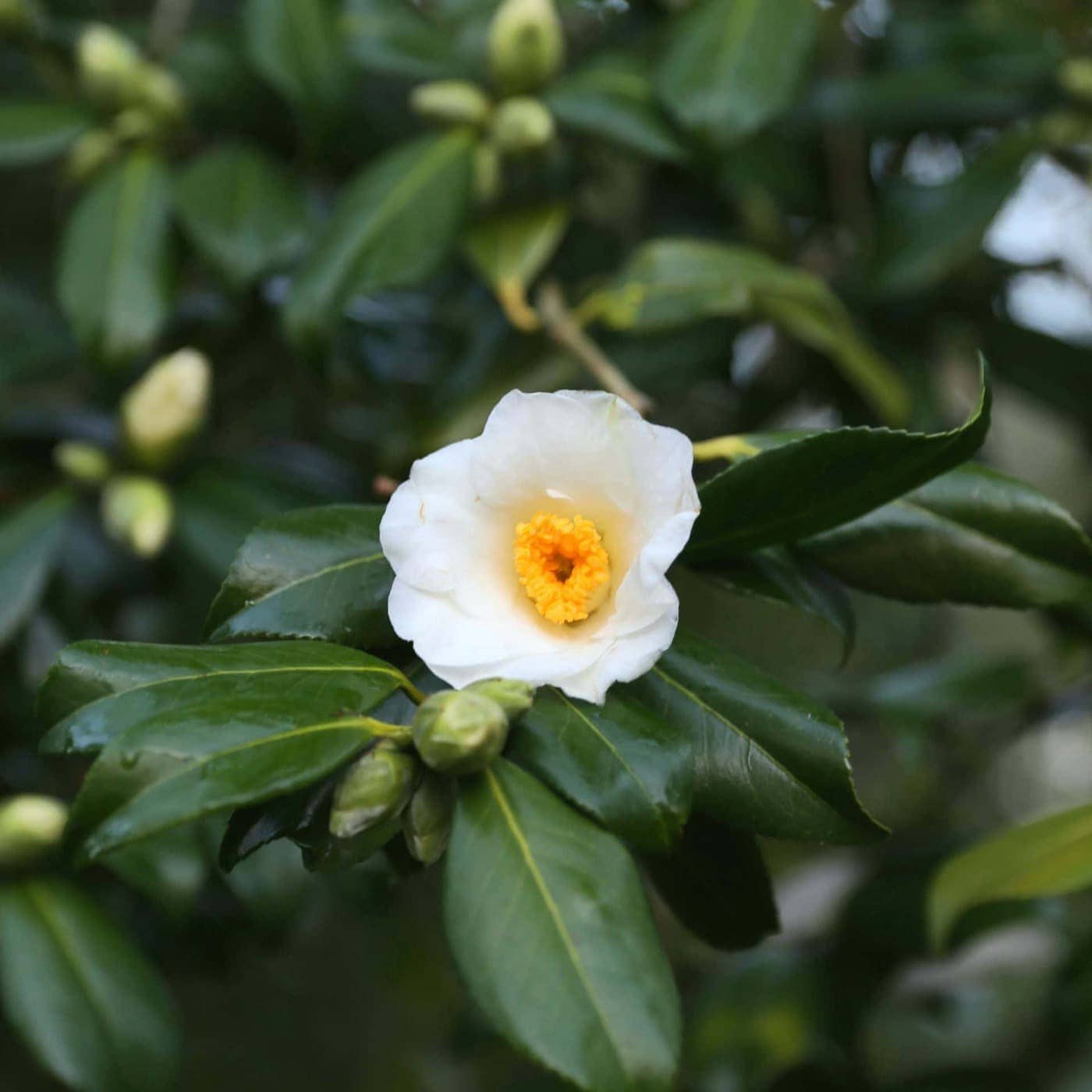 Camellia x williamsii 'Francis Hanger'
A cross between C. japonica 'Alba Simplex' and C. saluenensis, made at Wisley in 1946 by Francis Hanger himself. This variety is slow growing, with a compact round and bushy habit, perfect for small gardens or container growing.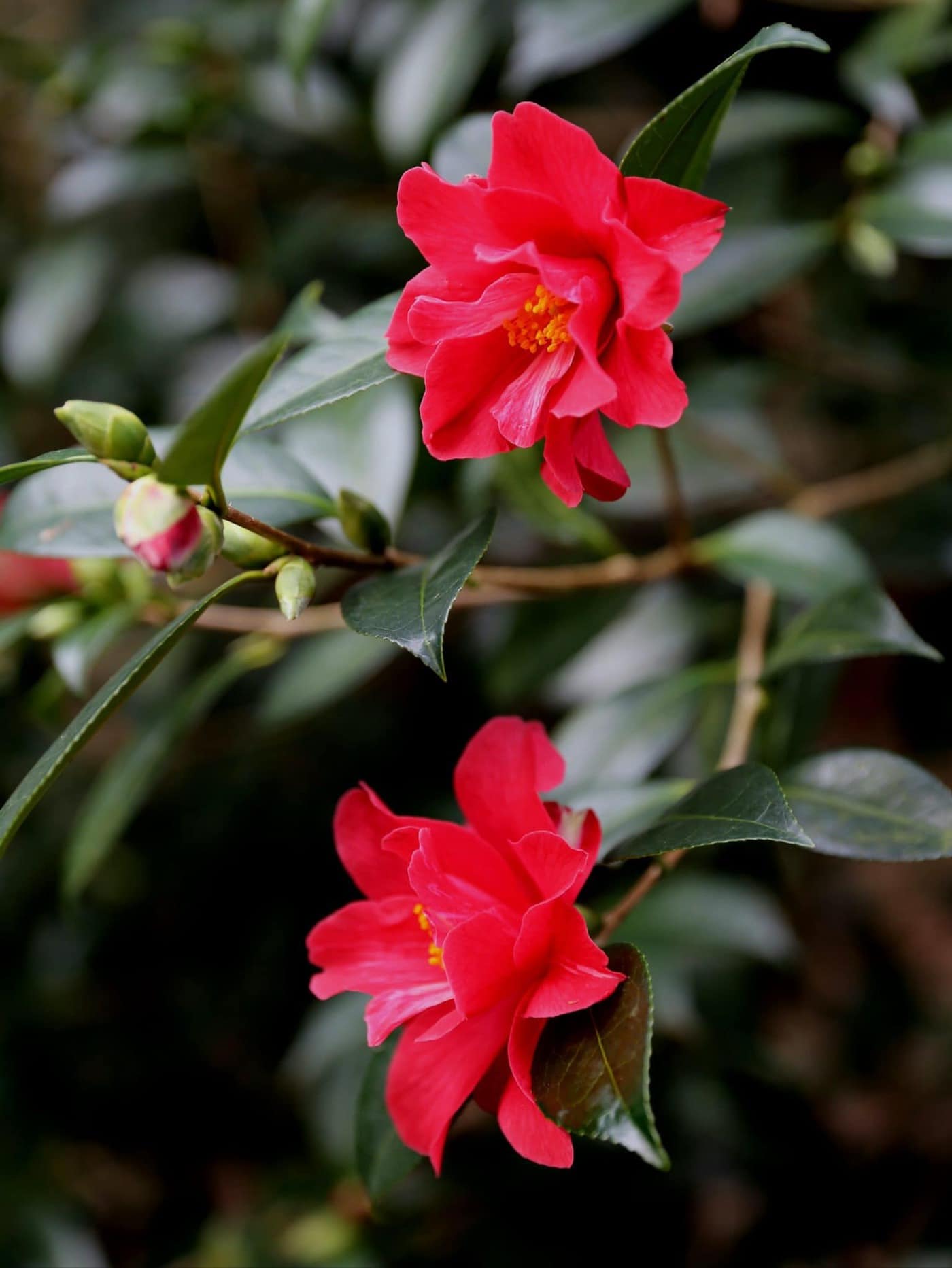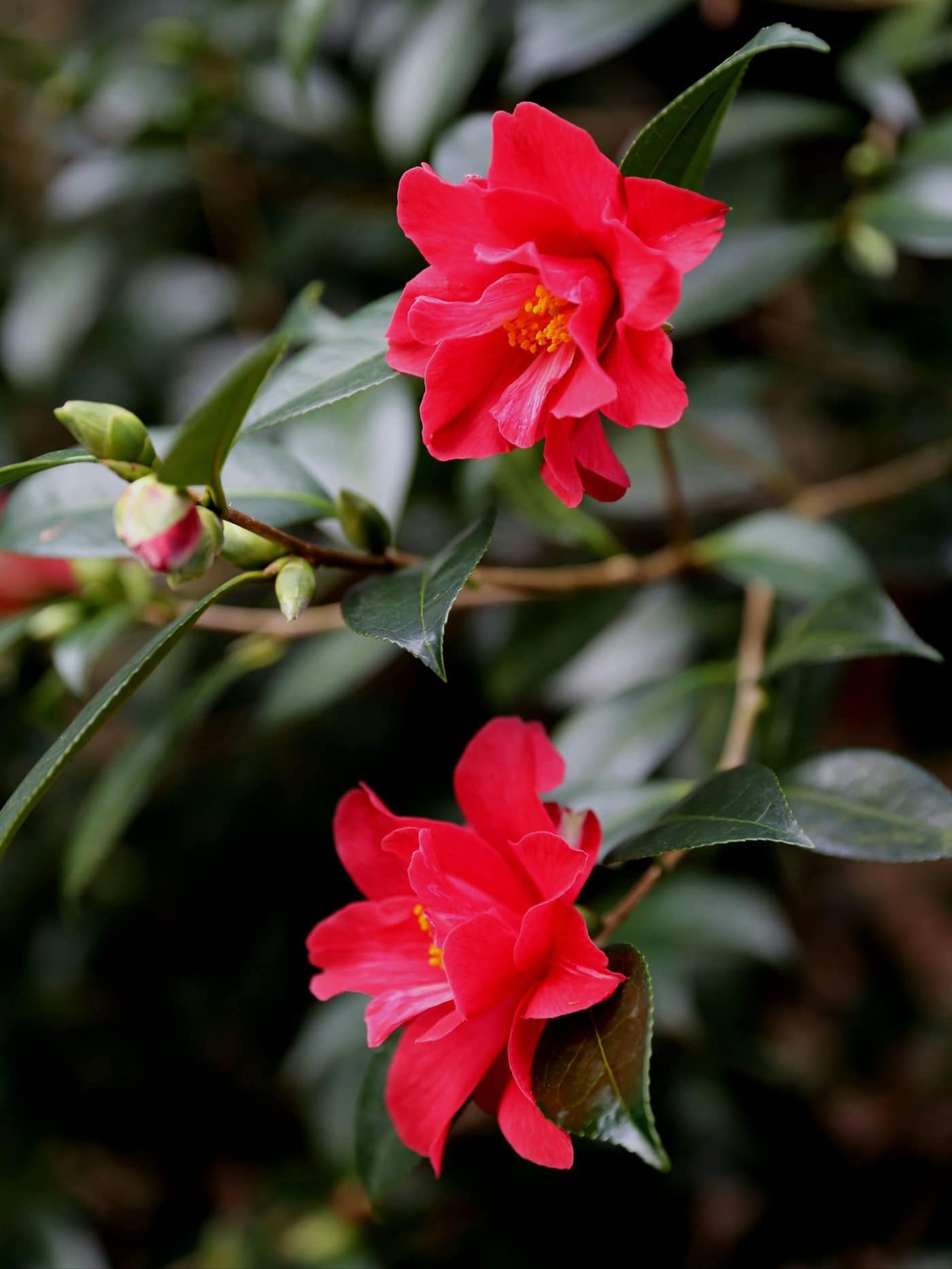 Camellia x williamsii 'Freedom Bell'
There is something gloriously gothic about this plant, first coming onto the market in 1965 of unknown parentage. Deepest pinky-red semi-double bell flowers in steady supply from November to April. There's a variegated form too, if you dare.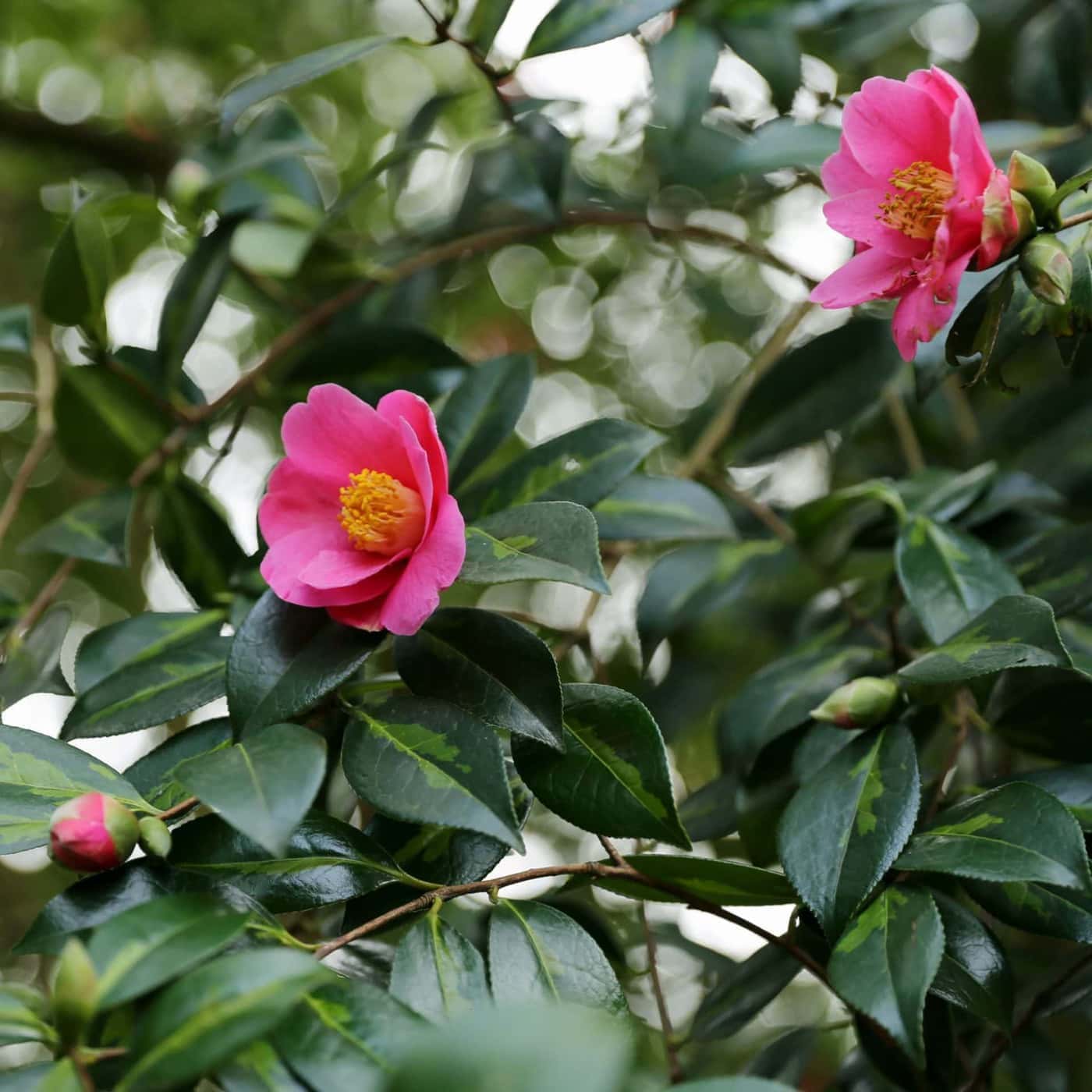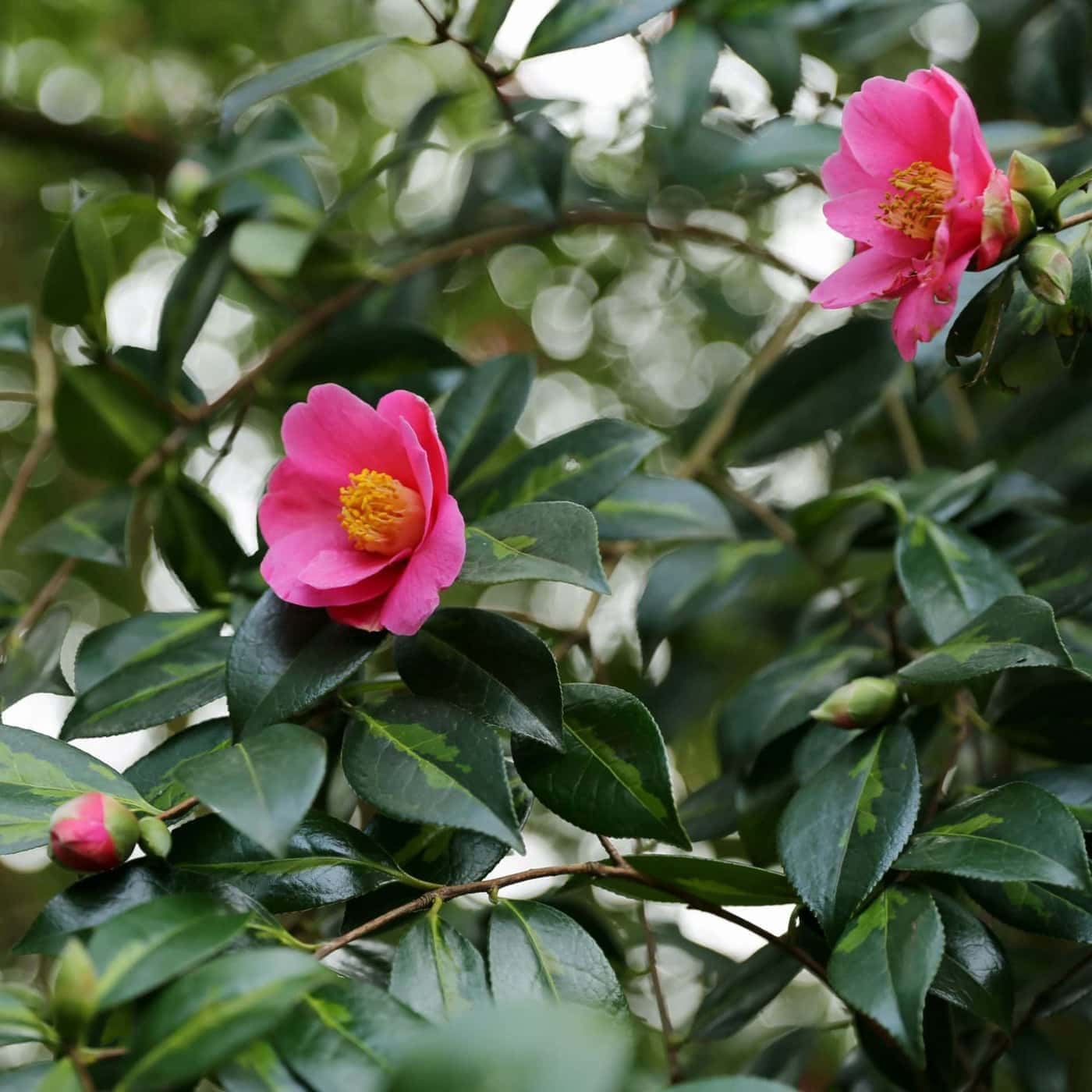 Camellia x williamsii 'Golden Spangles'
Pink single flowers from January through to April, set off against subtle golden-green variegated foliage.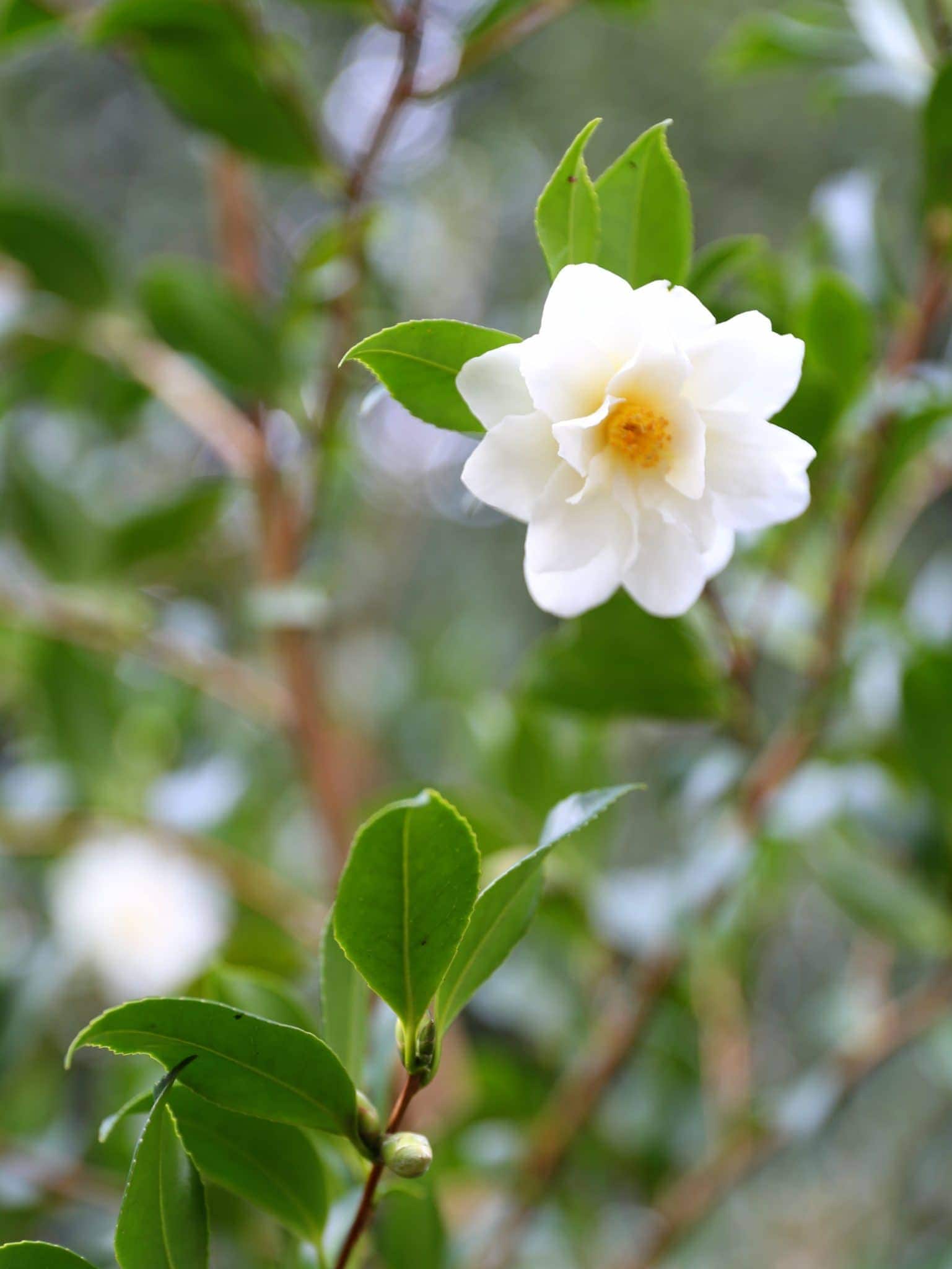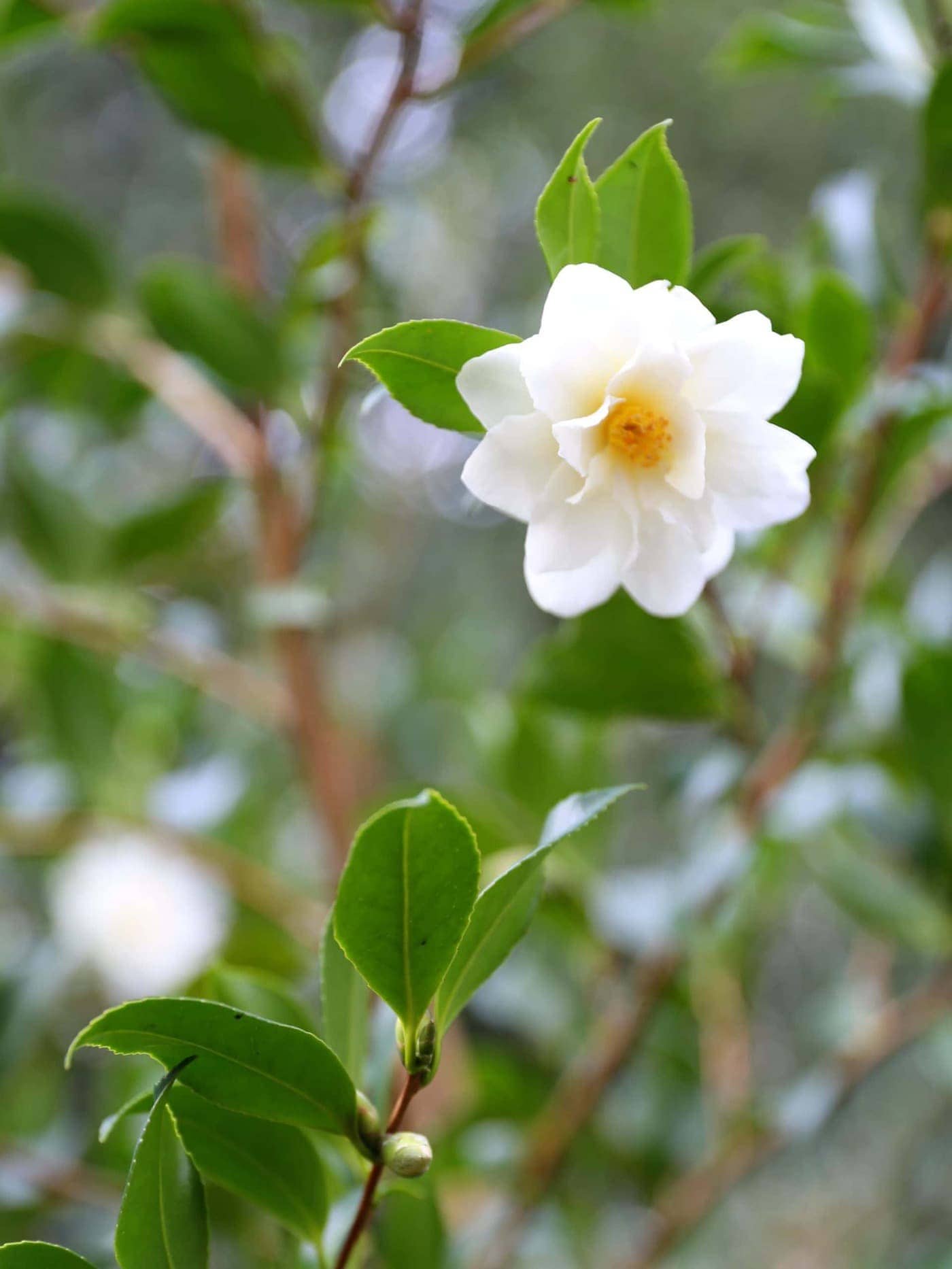 Camellia x vernalis
The name Camellia x vernalis is assigned to many ancient hybrids with uncertain parentage and origin, all expected to be hybrids of C. japonica and C. sasanqua. Many are spring flowering, but will flower all winter long in milder areas.
Many of these cultivars can be found at Trehane Nursery. 
Photography by Owen Hayman
---

Owen joined the Bestall & Co planting and aftercare team in spring 2019. He is an RHS qualified horticulturist, holding a full Level 3 Diploma in Horticulture, and recently came in the top 3 at the Northern Regional Final of The Young Horticulturist of the Year 2019. After first doing a foundation diploma in Fine Art, he went on to gain a degree and masters in Plant and Soil Science from the University of Sheffield in 2014. Owen worked as a researcher on various field research projects in Alaska, Panama and Borneo. When not away in the field, he became obsessed with visiting gardens and nurseries across the British Isles and the Netherlands, developing his own garden, and then taking on a walled allotment garden as a personal project. He realised his true passion was in horticulture, and so moved away from academia and into the world of specialist plant nurseries and professional gardening.
Owen is now studying the Wisley Diploma, but continues to write articles for us on a monthly basis, and we're delighted to maintain contact with such a passionate and knowledgable plantsman.
All author posts