Towards the end of late summer colour in borders can often start to look a bit sparse, many herbaceous perennials are beginning the process of dyeing down ready for dormancy but some are making preparations to become the stars of the show. Many of these plants seem to reflect the warmth and the tones of early autumn with their glowing colours.
Many red hot pokers flower early in late spring and early summer but Kniphofia ruperi produces large, broad spikes of glowing rusty orange flowers on tall stems in September and October (giving great late summer colour) Kniphofia 'Alcazar' bears its more narrow glowing orange/red spikes from July to September. These tall spikes add a bold accent to herbaceous borders and prairie style planting schemes for late summer colour.
Crocosmia 'Lucifer' lifts its stiff stems of bright red upward facing tubular flowers to the sky from late July through to September. It is easy to grow if planted in a sunny position in a free draining soil but avoid planting the dry corms straight into the soil in the autumn, they are best started off in a pot. Plant a handful into a 2 litre pot in the autumn and wait the green shoots are well developed before planting out. After flowering C. 'Lucifer' produces attractive copper coloured seed capsules which extend the display and as it 'comes true' from seed it is worth saving a few and sowing them to build up your stock.
Daisies such as Rudbeckia 'Goldsturm' and Helenium 'Ruby Thuesday' also take these warm glowing harvest time colours through August and September and blend superbly with the buff tones of mature ornamental grasses planted together in drifts … even more late summer colour!
It doesn't get more 'autumn' than Chrysanthemum, there are a wide variety of different flower types, many of the large, blousy cultivars have been developed for cut flowers and for showing but the single and semi double varieties are just as at home in the border. Chrysanthemum carinatum 'Sunset' is the perfect colour scheme to complement an Indian summer. They are easy to grow from cuttings; take basal cuttings from the young stems in spring and treat them like a softwood cutting or divide plants in late winter/early spring to proliferate your collection.
It's no accident that we get this late summer display from certain plants. Plants that flower in the shortening days at the end of the growing season are known as 'short day plants'. They are only triggered into producing their flower buds and entering the reproductive phase of their annual cycle by the relative length of the night and day. In the case of short day plants it is usually when the hours of darkness extend beyond around 14 hours a day that this phase is triggered within the plant. These natural circadian rhythms can be manipulated by growers – to produce cut flowers all year round for example, it is quite easy to fool a chrysanthemum into believing that it is still summer – growers just put the lights on in the evenings.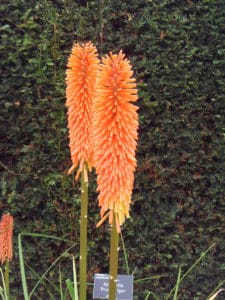 ---
Caroline brings decades of horticultural experience, both practical and theoretical. Having lectured at Brackenhurst Horticultural University for many years, Caroline has now relocated to France and is following her passion for growing plants and teaching. Caroline and her husband Paul run the plant nursery, propagating all of the plants themselves and lead a wide selection of fun and interactive horticultural and craft based courses.
All author posts