It's easy when designing a garden to consider the hard landscaping, the beds and borders and the furnishings. Many people then opt for architectural containers holding one specimen. This can be particularly effective, especially if the effect is repeated along a line of planters.
But how about some seasonal style? Why not bring a combination of zingy colours into your garden for July through to October? Want to follow this with a mixture of warming tones for the winter period? You can achieve such showstoppers relatively easily by implementing "the Art of the Planter".
There are some caveats to container planting. They involve extra effort on your part. Whether it's wet or dry weather, you should water your planters at least every other day, especially terracotta pots. You'll also find that potted plants need regular feeding to keep them at their best for longer. Monetarily, planters changed with each season will cost you each time you purchase new compost and plants.
Let's just say though that the advantages of having seasonally-appropriate, stunning, abundantly overflowing planters far outweigh these negative points. It just takes a little care and consideration. Below we're giving you three simple rules to follow that will make planting up your container spectacle so much simpler.
Rule #1: Appropriate planter and position
Before all else, choose the right planters for your garden if you don't already have them. If you have a smart, contemporary space, choose unfussy matching pieces. Alternatively, if yours is an Italianate or cottage garden style, why not splash out on elaborate stone or terracotta urns? You can mix and match sizes and details in a less formal garden too. Bigger planters work better as effective statement pieces.
The position of your planters also influences your container planting. Make sure to site them where they'll have most impact without detracting from other features such as ponds, sculpture or flower beds. Front doors are ideal spots, as are long unadorned walls or hidden corners.
By the way, will the planters be in the middle of a space, or will they have their backs to a wall? The image below demonstrates the difference this makes: A. is visible from every side, whereas B. is approached from just three sides. There's no point putting smaller plants round the back of pot B. as you'll never see them. Additionally, they'll barely receive any light and will most like die off quickly.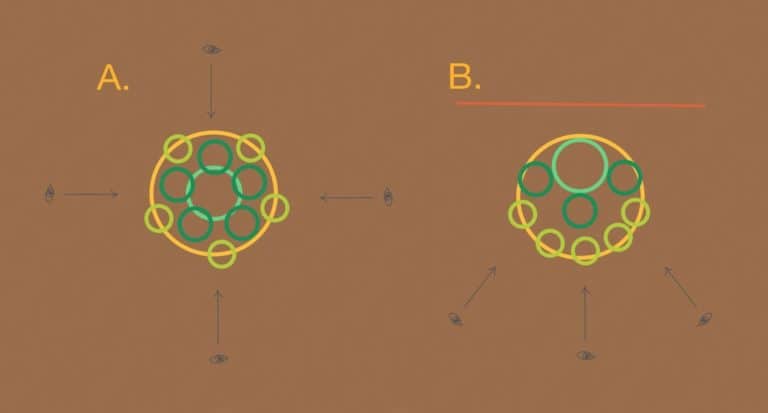 Rule #2: Thriller, filler, spiller
'There's a classic recipe for mixed pots, which requires you to select three plants that each fulfil a different role' – so writes Sarah Raven in this article for The Telegraph. The three roles are the thriller, the filler and the spiller:
Thriller: that wow plant which instantly seizes your attention. It should be taller than the other two characters and preferably have an interesting feature like dazzling foliage or wonderful flowers
Filler: the medium-sized plants which encircle your thriller and pack out the space
Spiller: trailing or creeping specimens that soften the edges of your containers
The beauty of container planting is that you don't need to give each plant its usual spacing – this is temporary accommodation. You don't have to worry about how well the plant will fare over the longer term.
Just because there are three roles, don't feel you must stick to just three species either. For example, you can use one thriller, two types of filler and three types of spiller. For a wider planter, how about three thrillers, one filler and two spillers? Plan, but also play around with ideas.
For some ideas on ideal plants, check out this online document from Port Kells Nurseries.
Rule #3: Concord or chaos?
The final rule to bear in mind is the interaction between your thrillers, fillers and spillers. Do you want calm comparison or complete contrast? The former works well in formal, minimal settings. Use varying shades of blues or pinks for tranquillity. Conversely, for a dazzling display, choose hues from opposite sides of the colour wheel and more intense tones like orange, red and yellow. Another advantage of a planter is that if it doesn't quite work, it'll be over by the end of the season and you can start again. Learn from any mistakes and have fun.
What we would really emphasise is the need to vary your foliage. Avoid the same greens and similar leaf shapes to bring an extra level of interest. The examples below – two for spring and three for summer – show what we mean here, with some commonly used Bestall & Co plants.
Spring planters
Summer planters
---
Kevin joined Bestall & Co in late 2017 and brought a range of skills with him from a varied background. He gained a degree in French and Italian from Lancaster University in 2009 before successfully completing a PGCE at the University of Sheffield in 2011. He built on his communication skills through secondary language teaching, before working in healthcare administration.
Ultimately though it was his passion for plants and gardening which brought him to Bestall & Co as a member of the planting team, and although he's now moved back to an office based role, the articles he wrote whilst he was still with us live on.
All author posts