Pittosporum are a genus of evergreen shrubs that are grown mainly for their foliage although their flowers are highly scented in late spring and early summer. Flowers grow on the stems in the leaf axils and mostly hidden by the foliage. It is not until you get up close on a warm day that the heady vanilla scent catches you out. The flowers are dark and close to the stem. It is not obvious here the scent is coming from at first, you have to look closely!
Pittosporum benefit from some protection and more suited to growing in a sheltered spot. They are ideal for city and courtyard gardens where they get protection from cold winds. They benefit from the 'heat Island' effect that urban areas bring. Prolonged spells of cold weather can be a danger to pittosporum. Heavy snow frozen on the foliage can cause serious die back. This extreme weather happens rarely in UK winters so with a bit of thought about their planting position these handsome shrubs are well worth considering.
A common species is Pittosporum tenuifolium. This evergreen shrub is medium in vigour and size. It makes a large, broadly conical shrub or small tree when mature given 10-15 years in a good planting position. The oval green foliage is wavy around the margins. The fresh green colour makes a striking and dense backdrop to contrasting colours and textures. The cultivar 'Golf Ball' makes a nice, compact and very rounded shrub up to 1-1.2 metres and lacks the wavy leaf margins. It makes an excellent low hedge or topiary piece and is a good alternative to Box.
The most hardy of the cultivars is 'Tom Thumb' which, as the name suggests is a more dwarfing variety and  makes a lovely compact rounded shrub with striking deep purple foliage.  The new growth is bright green when young and the margins of the small, oval leaves are heavily wavy and this gives a wonderful texture to this colourful shrub. Neat and low maintenance, an ideal choice for smaller, city gardens.
Pittosporum 'Silver Queen' and Pittosporum tobira 'Variegata'  are variegated cultivars with silvery white splashes along the leaf margins. 'Silver Queen' makes a fairly tall, conical shrub. A super choice towards the back of a shrub border, specimen shrub or even a formal hedge in a more sheltered spot. P. tobira 'Variegata' is more rounded and bears its flowers in terminal clusters. The flowers are visible at the ends of the branches and are sweetly scented.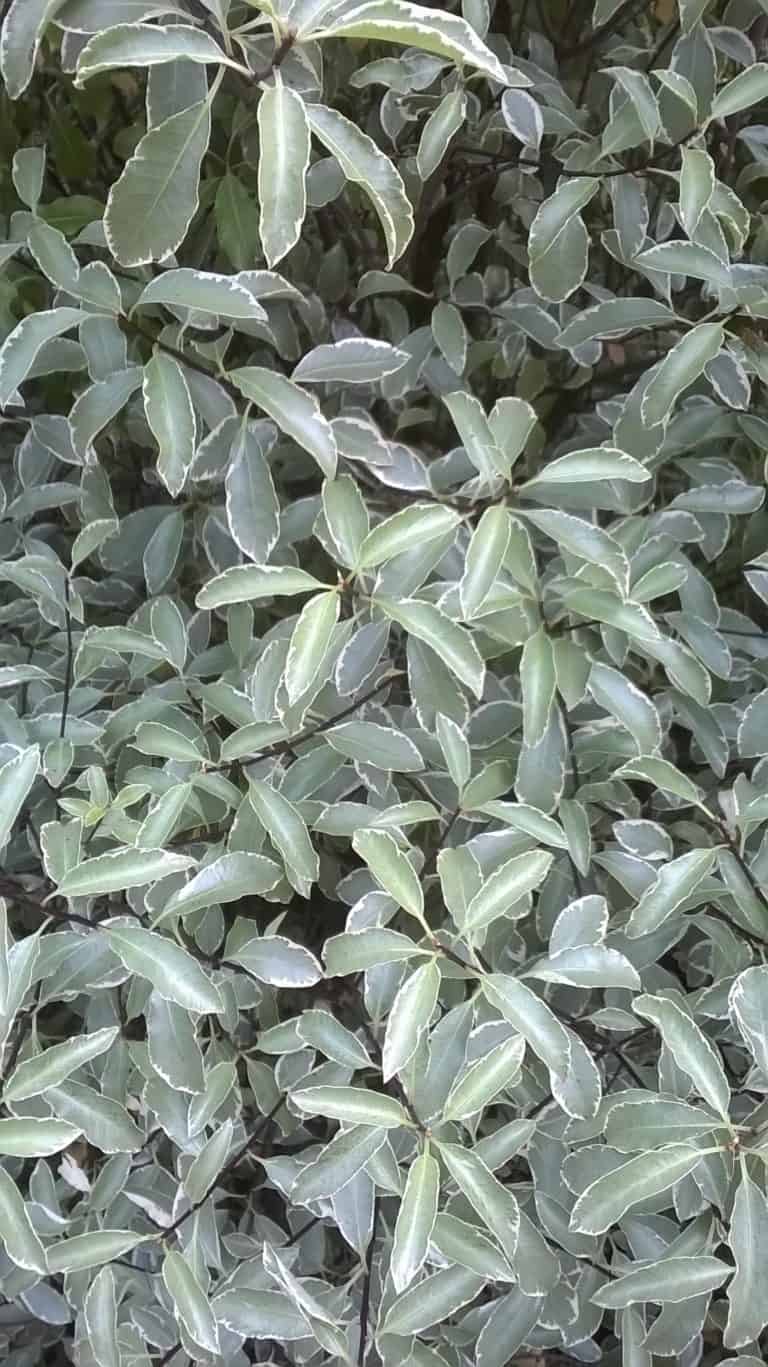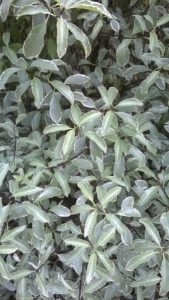 ---
Caroline brings decades of horticultural experience, both practical and theoretical. Having lectured at Brackenhurst Horticultural University for many years, Caroline has now relocated to France and is following her passion for growing plants and teaching. Caroline and her husband Paul run the plant nursery, propagating all of the plants themselves and lead a wide selection of fun and interactive horticultural and craft based courses.
All author posts