When I was travelling in America we stayed in a great hotel in Las Vegas and to either side of the (outdoor) reception were two huge 'clouds' of Pittosporum tobaria. They were perfectly formed and clearly loving the intense heat the desert environment provides. Plus of course a good dose of artificial irrigation. When we returned to Europe, one of the first things I did was bought one from a Dutch nursery on a plant trip around the continent and it's thrived in my sheltered courtyard garden near Sheffield for over 2 years now.
I'm aware Pittosporum tobaria don't like very low temperatures (as don't the other Pittosporums). I could lose it if we had a harsh winter, but for some reason that makes it more desirable and makes me appreciate it even more.

It's currently in full flower (end of June) and although that's not really the reason for owning one. The creamy white waxy flowers do make it even more beautiful.  The flowers are highly scented and smell delicious, like a peppery sort of Jasmine.
The plant has a natural domed shape when young, if left to grow, it will produce quite a large shrub.  I saw one growing in the deep shade of the Artisan garden area at Chelsea this year. Presumably it had been part of a show garden many years ago and has now become part of the backdrop to the late spring flower show.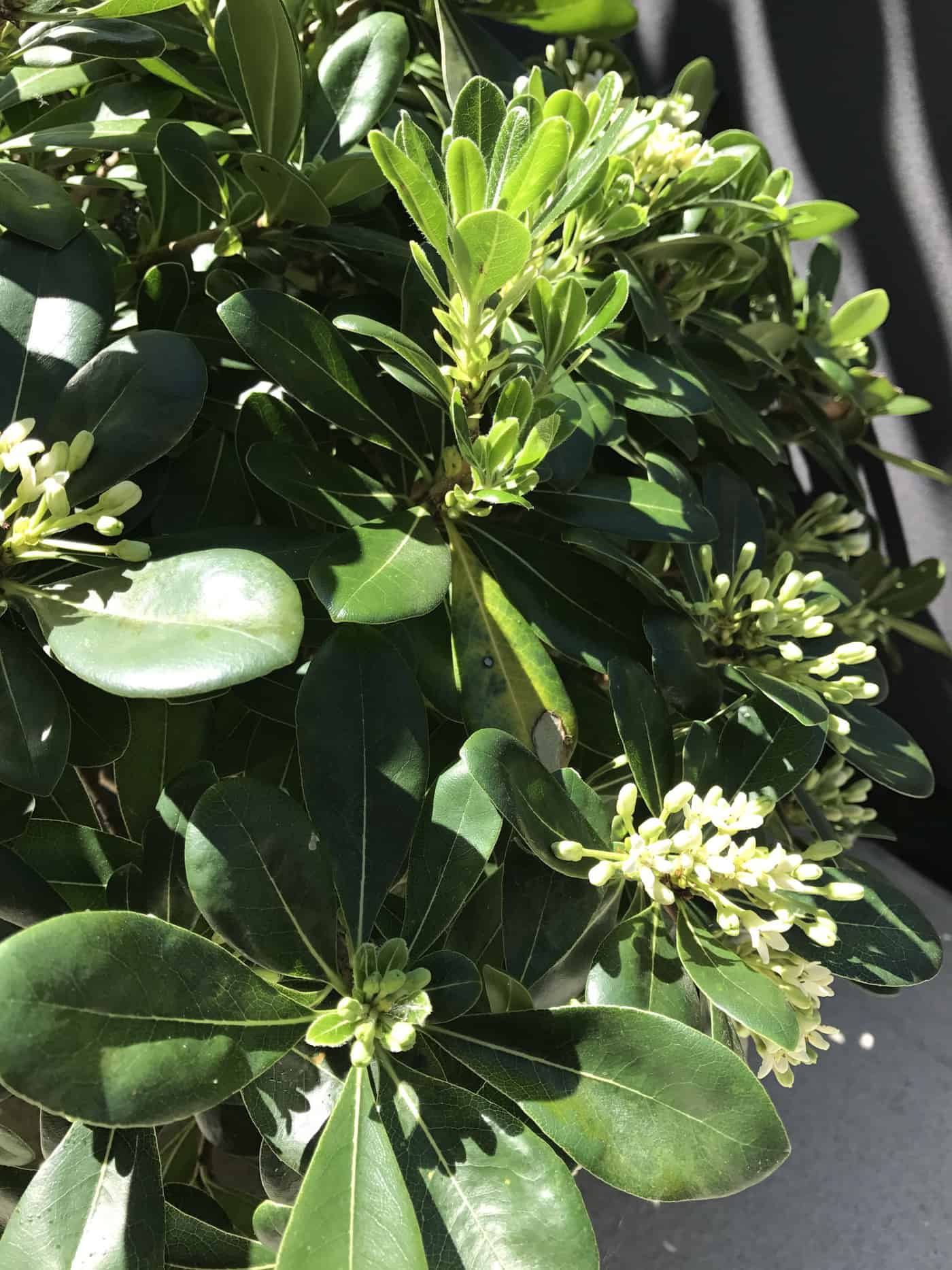 The glossy dark green leaves of Pittosporum tobaria are quite thick and a beautiful shape. Growing a little each year but still maintaining a natural looking dome shape (with gentle pruning in mid summer).
All in all, Pittosporum tobaria is worth a shot I'd say. It looks great in a pot and has the added advantage of moving it somewhere sheltered in the winter. And if we have a harsh one next year, then I'll buy another! After all, it probably only costs the same as a decent bunch of cut flowers.
---

Recognised as one of the best garden design companies in the North & Midlands of England, my objective in life is to design and build fabulous gardens and sculpt beautiful landscapes which enhance the natural beauty of the world, and also the lives of the people who employ us. My personal mission is to build my own home around a central courtyard garden. My goal in business is to create a nationwide design consultancy which can support my dream. Read more >> or Connect with Lee on LinkedIn >>
All author posts