Winners of the Northern Design Awards 2017 Announced
Northern Design Awards 2017
Friday 24 November saw Bestall & Co win big at the prestigious Northern Design Awards 2017.
The event was held at the lavish Principal Hotel in Manchester, described as 'a refuge in the capital of cool'. It was compèred by Wayne Hemingway MBE. The successful fashion designer, educator and member of the Design Council Trustee Board also sat on the judging panel. Another judge in attendance was renowned interior designer and television presenter Linda Barker. Founder of Bestall & Co Landscape Design, Lee Bestall took his place among over 400 other entrants and their guests.
"We'd entered the Residential Landscaping Design category, in which the judges seek 'captivating entries of exceptional spaces created on any budget'. The judges had selected eight finalists, but it was our design for Bay Tree Farm in North Yorkshire which took the top spot.

Our winning entry is a family garden designed for entertaining and relaxing, as well as supplying a selection of fresh produce to the health-conscious family. It consists of three specific spaces: a spa garden, a sunken patio, and a picturesque yet productive vegetable garden.

The spa area is closest to the house, allowing family and friends to get outdoors quickly for a spot of relaxation. There's a cedar hot tub and outdoor kitchen-bar incorporating a hurricane-proof fridge and barbecue. For something a bit more energetic, there's an outdoor swimming pool too. The sunken patio sits amidst lawns and perennial flower beds with views stretching out to the hills beyond.  The focal point for the vegetable garden is a stunning 8m long black greenhouse This is a truly efficient plot with large composting bays, a potting shed and cold frames. There's a small orchard, raised beds and poultry for fresh eggs. We even installed an ericaceous bed for the cultivation of blueberries."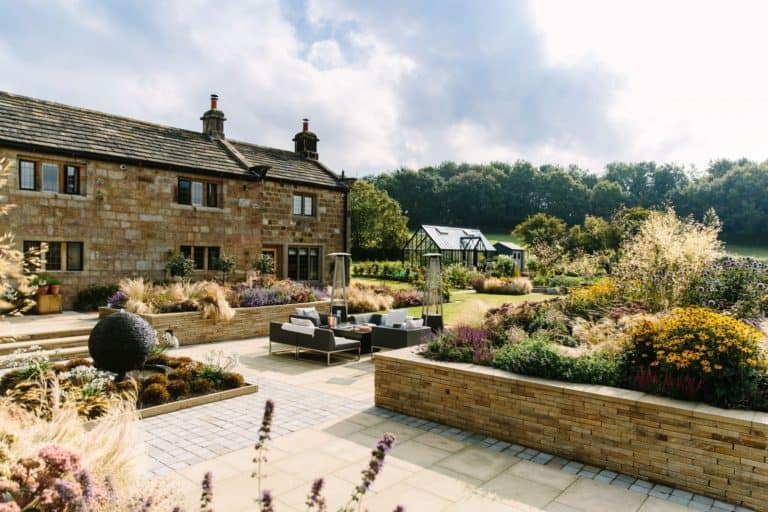 Lee Bestall commented "It was such an honour to collect this award on behalf of my team on Friday evening.  We were competing against some of the best names in the North of England and to be crowned winners was a major scoop for the practice.  I'm passionate about creating gardens for people to enjoy, and to be rewarded for this is a very proud moment."
Some images from Bay Tree Farm can be found here, but for more, don't hesitate to contact us via [email protected] or on 01246 439340
It's an exemplary design showing beauty and utility can be artfully combined. We're immensely proud to have been recognised for achieving such a feat.
Winners of the Northern Design Awards 2017
When: Friday 24th November 2017
Where: Principle Hotel Manchester
Bestall & Co Landscape Design has a team of 6 designers and plants people who individually make up a fantastic team of knowledgeable and enthusiastic people.  Founded in 2004 (originally as Inspired Garden Design), Bestall & Co was re branded this year to reflect the style of the gardens they create.  Modern, classic outdoor entertaining spaces which are sympathetic to their locations.
---

Recognised as one of the best garden design companies in the North & Midlands of England, my objective in life is to design and build fabulous gardens and sculpt beautiful landscapes which enhance the natural beauty of the world, and also the lives of the people who employ us. My personal mission is to build my own home around a central courtyard garden. My goal in business is to create a nationwide design consultancy which can support my dream. Read more >> or Connect with Lee on LinkedIn >>
All author posts