2017 was a busy and momentous year for us here at Bestall & Co, and so we'd like to present to you our review of those exciting 12 months. We'll look at what we've achieved, and also what's been going on in the industry as a whole. We often consider trends a key part of fashion or technology rather than horticulture, but there have been some interesting developments in the world of landscape and garden design. 
RHS Flower Shows
2017 saw us entering two of the RHS's flower shows, the renowned Chelsea in May, and the inaugural Chatsworth hot on its heels in early June. It was a busy few weeks, ensuring two show gardens were completed for the thousands of guests! 
We designed the 500 Years of Covent Garden space for RHS Chelsea. A combination of formal and informal elements evoked the iconic location's ancient origins as an apple orchard, before developing into a thriving marketplace. We used the same cobbles as those of Covent Garden to really capture its feel. Conversely, the seating was more contemporary, yet reminiscent of apple storage crates. The design gained us useful exposure via BBC coverage and won us a Silver medal. 
Our Experience Peak District & Derbyshire garden for RHS Chatsworth built upon this; we received a Silver-Gilt medal and the great appreciation of the public. The design pulled together elements of the Derbyshire locale. Formal features represented the area's magnificent stately homes. Juxtaposed were aspects conjuring the parklands and pastures of its dales. Cows – sculpted, of course – completed the look, lending an extra talking point. 
Northern Design Awards 2017
We also built on this year's victories with a stupendous success in the Northern Design Awards, held in Manchester. Bestall & Co clinched the trophy for Residential Landscaping Design of the year, for our idyllic project at Bay Tree Farm in North Yorkshire. A buoyant Lee was present to accept the award, along with an overjoyed property owner. 
Company expansion
Success has enabled progress, with two new additions to the team. We now have a second dedicated office-based designer, fresh from her studies in France and valuable apprenticeship with ourselves. Furthermore, we're training a graduate with a passion for horticulture to work both in the office and outdoors. This expansion will lead to greater efficiency when dealing with ever-increasing numbers of clients, as well as the expert maintenance of past projects.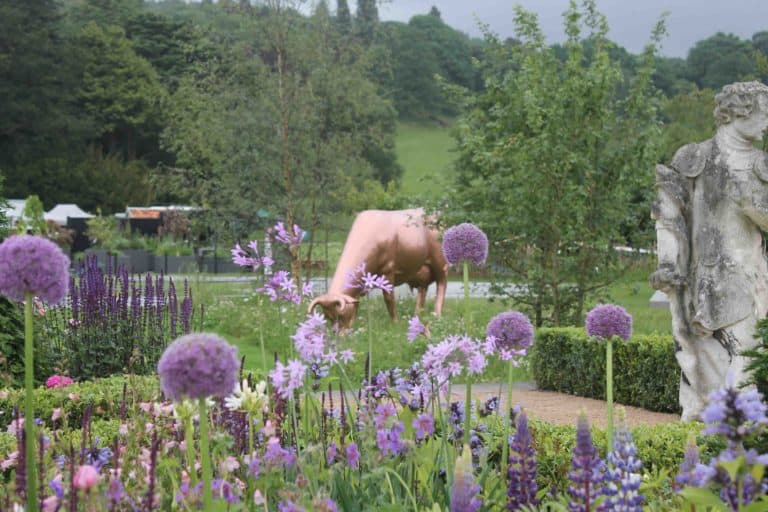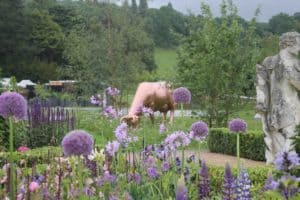 What the 'Garden Design Journal' had to say
The 'Garden Design Journal' has recently reviewed 2017 for the industry, and highlighted a number of significant points. 
Several themes have dominated thinking:  
The importance of green spaces and improving air quality, for their positive effects on health and wellbeing

 

Increasing use of organic materials such as porcelain, rather than plastics

 
The threat of new plant problems, like the bacterium Xylella fastidiosa

 

What role gardens will have in younger generations' lives, which increasingly revolve around experiences and renting

 
Reflecting on the RHS flower shows again, the 'Garden Design Journal' made some key comments: 
Chelsea witnessed a drop in the number of show gardens, adding to the dominance of James Basson's landscape-based design. A similar situation arose in 2015

 
Chatsworth had a welcome change in its unjudged Freeform category of gardens, but otherwise was a little underwhelming: 'the show promised the shock of the new, although most exhibits displayed a sense of the familiar with a few flashes of inspiration'

 

Hampton Court brought a thought-provoking and innovative new category of its own – Gardens for a Changing World. These entries reacted to issues around society and the environment

 
International shows get a mention too. Excitingly for our industry, these are increasing in number. A new show, Radicepura, took place in Sicily, and the New Zealand Flower Show was held in Auckland. Hopefully these and future additions will help answer some of the questions raised in the course of 2017. All of these developments certainly make for interesting foundations for 2018! 
---
Kevin joined Bestall & Co in late 2017 and brought a range of skills with him from a varied background. He gained a degree in French and Italian from Lancaster University in 2009 before successfully completing a PGCE at the University of Sheffield in 2011. He built on his communication skills through secondary language teaching, before working in healthcare administration.
Ultimately though it was his passion for plants and gardening which brought him to Bestall & Co as a member of the planting team, and although he's now moved back to an office based role, the articles he wrote whilst he was still with us live on.
All author posts