Flowering cherries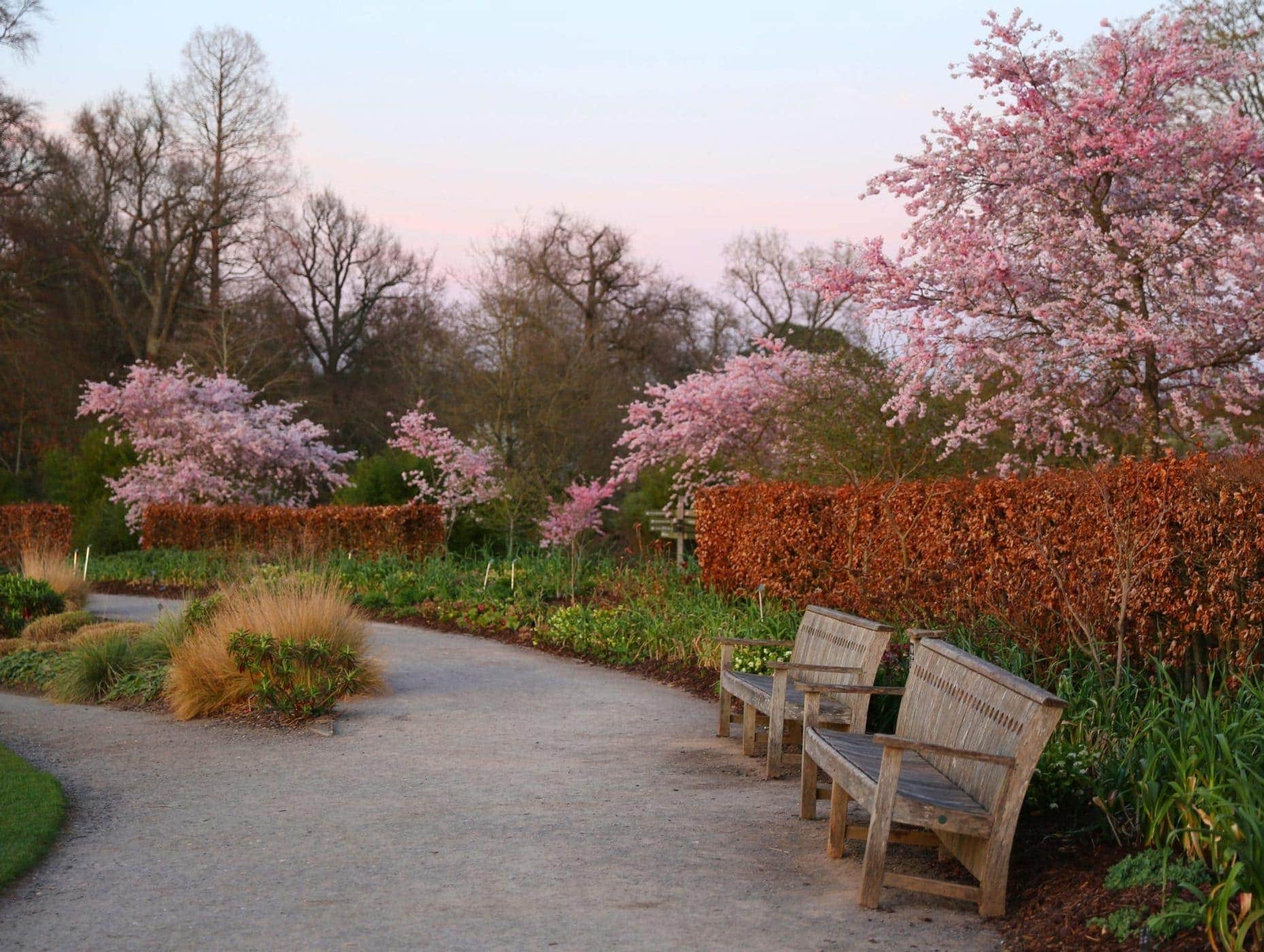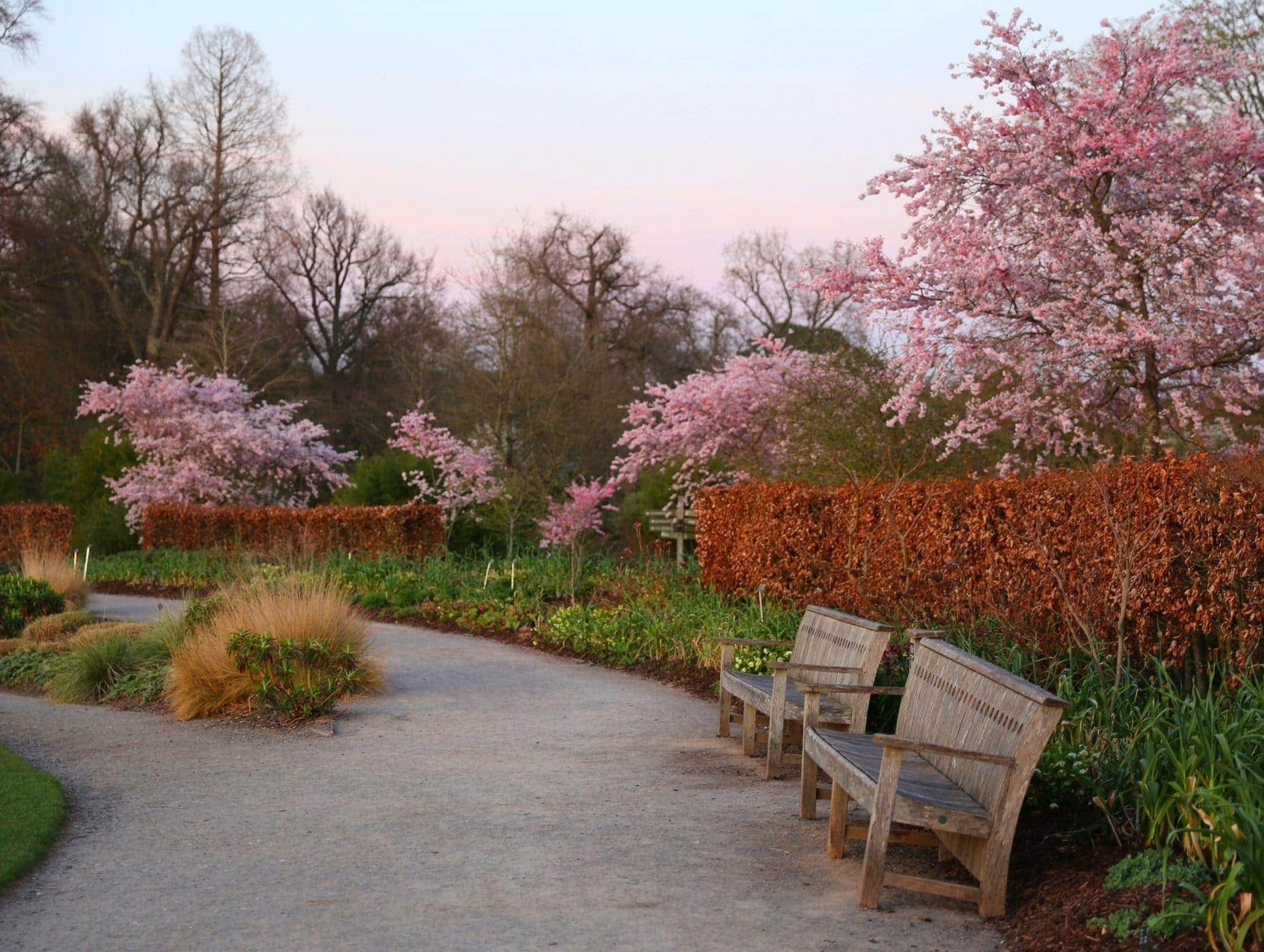 Grown for their graceful form, life-affirming early spring blossom and electrifying autumn colour, flowering cherries are some of the most loved trees. Their rich history of cultivation and celebration in Japanese culture brings great depth to their story. The mass planting of cherries as street trees throughout modern British housing developments over the past four or five decades surely contributes to the firm connection many people feel with these magnificent trees. I explored the RHS Wisley collection of flowering cherries in late March and early April, from huge wild trees to miniature cultivars.
Prunus avium
Before we get stuck into the wonderful world of exotic ornamental flowering cherries, one of our native wild cherries must first get a mention. This fast-growing tree springs up in our native woodlands, hedgerows and verges, but it can be found across Europe, western Asia and even north Africa. A small isolated population is even found in the western Himalaya.  Most cultivars below are produced by grafting a side branch, often causing them to lean and arch gracefully. If grown in the open, Prunus avium has a clear straight central trunk, with a very satisfying cone-shaped symmetrical crown. Their branch structure and steely bark alone will hold your gaze on a bright winters day.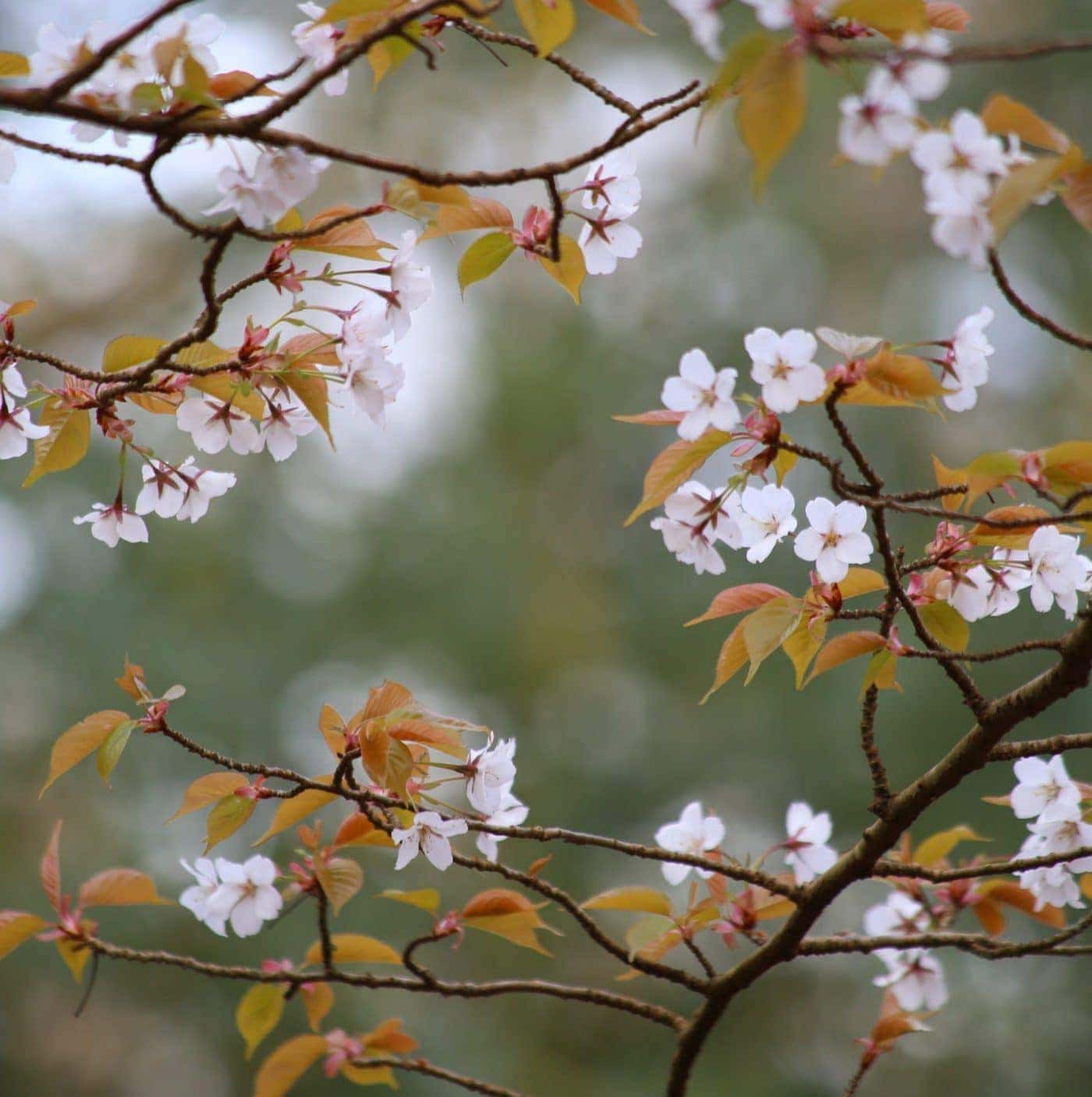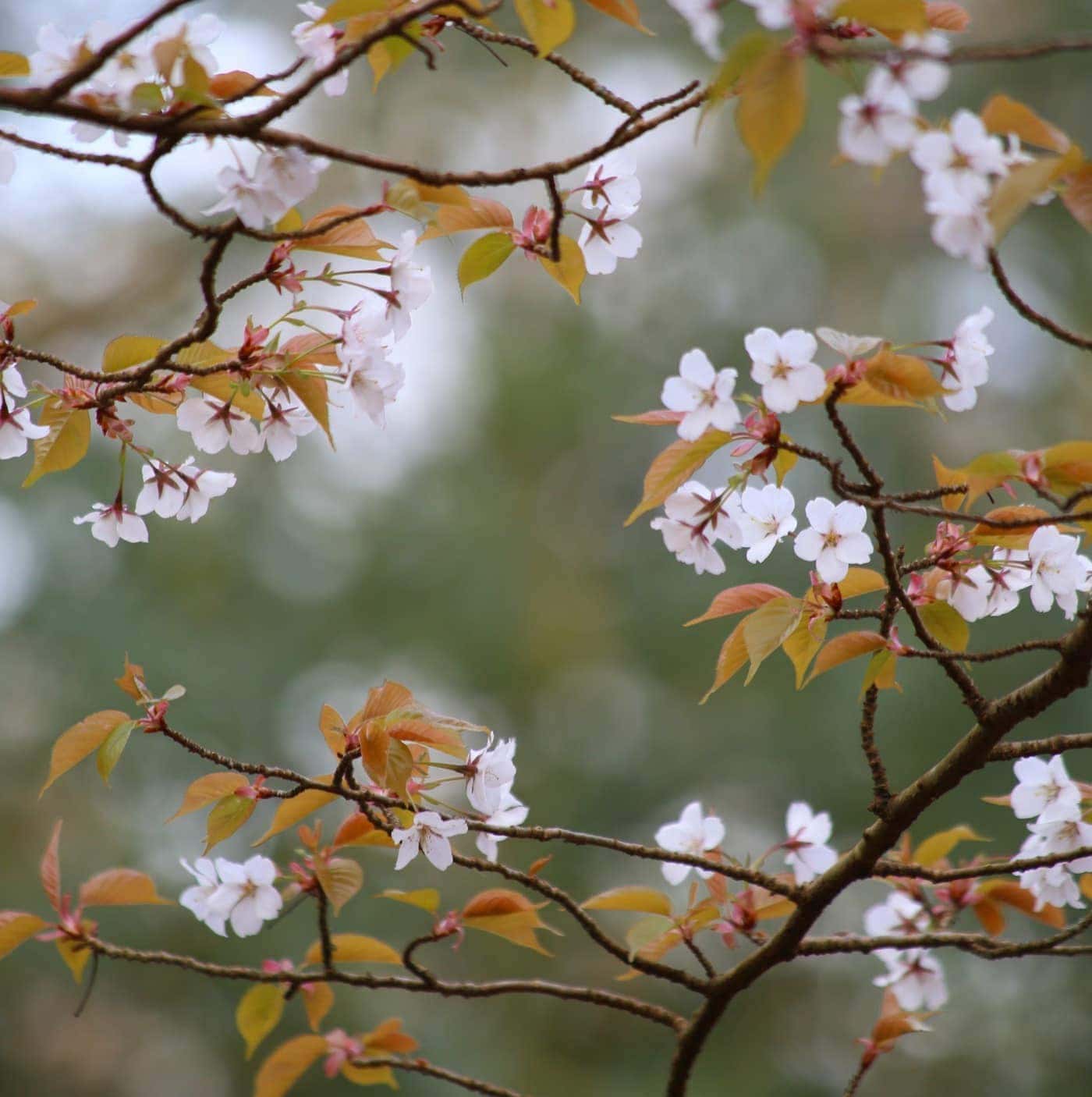 Prunus 'The Bride' (AGM)
Dense and spreading habit, relatively small for a flowering cherry. Pure white flowers with deep red stamens, in April.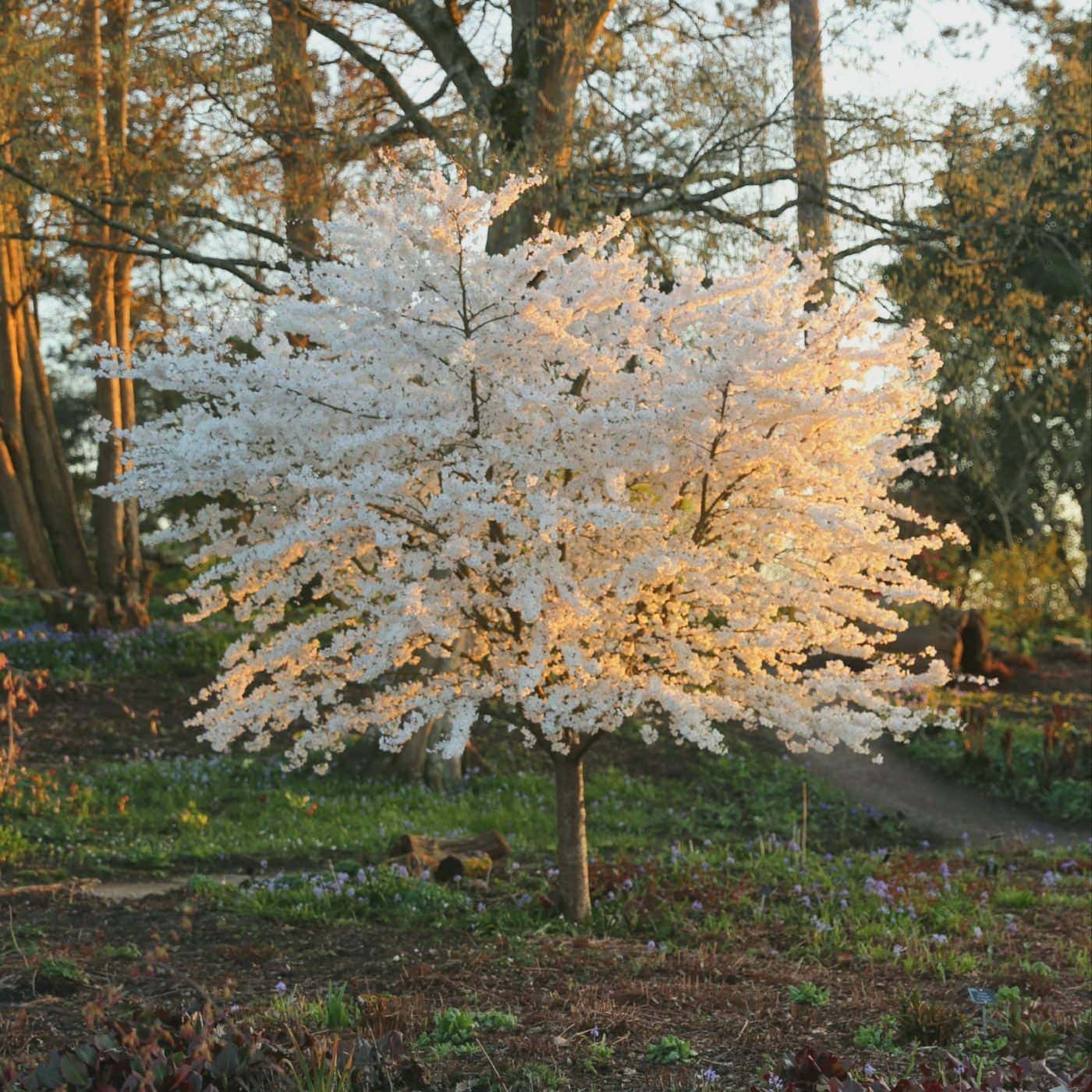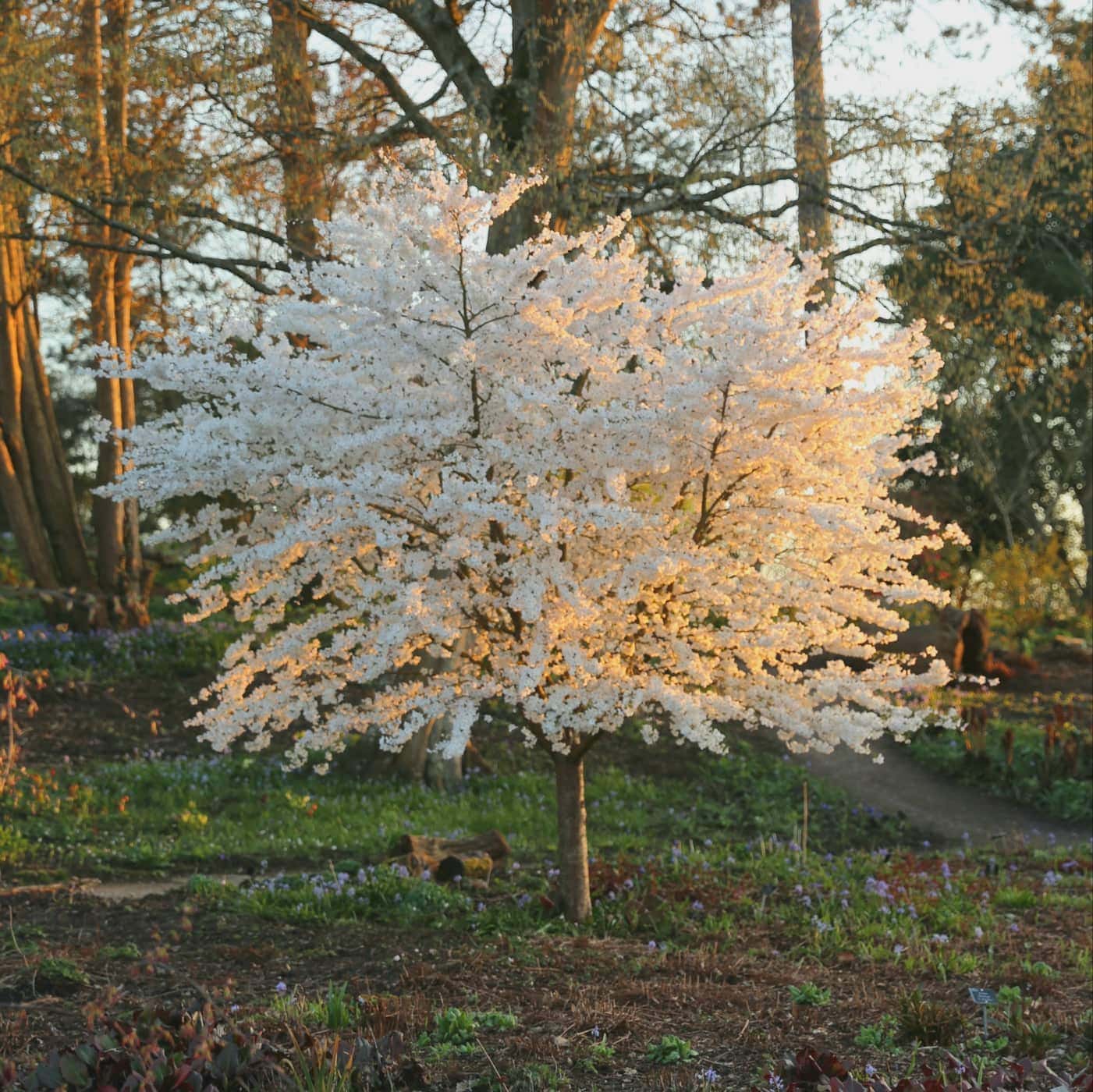 Prunus 'Accolade' (AGM)
In late March through to early April, semi-double mid-pink flowers adorn this relatively small spreading tree. 'Accolade' is a cross between P. sargentii and P x subhirtella.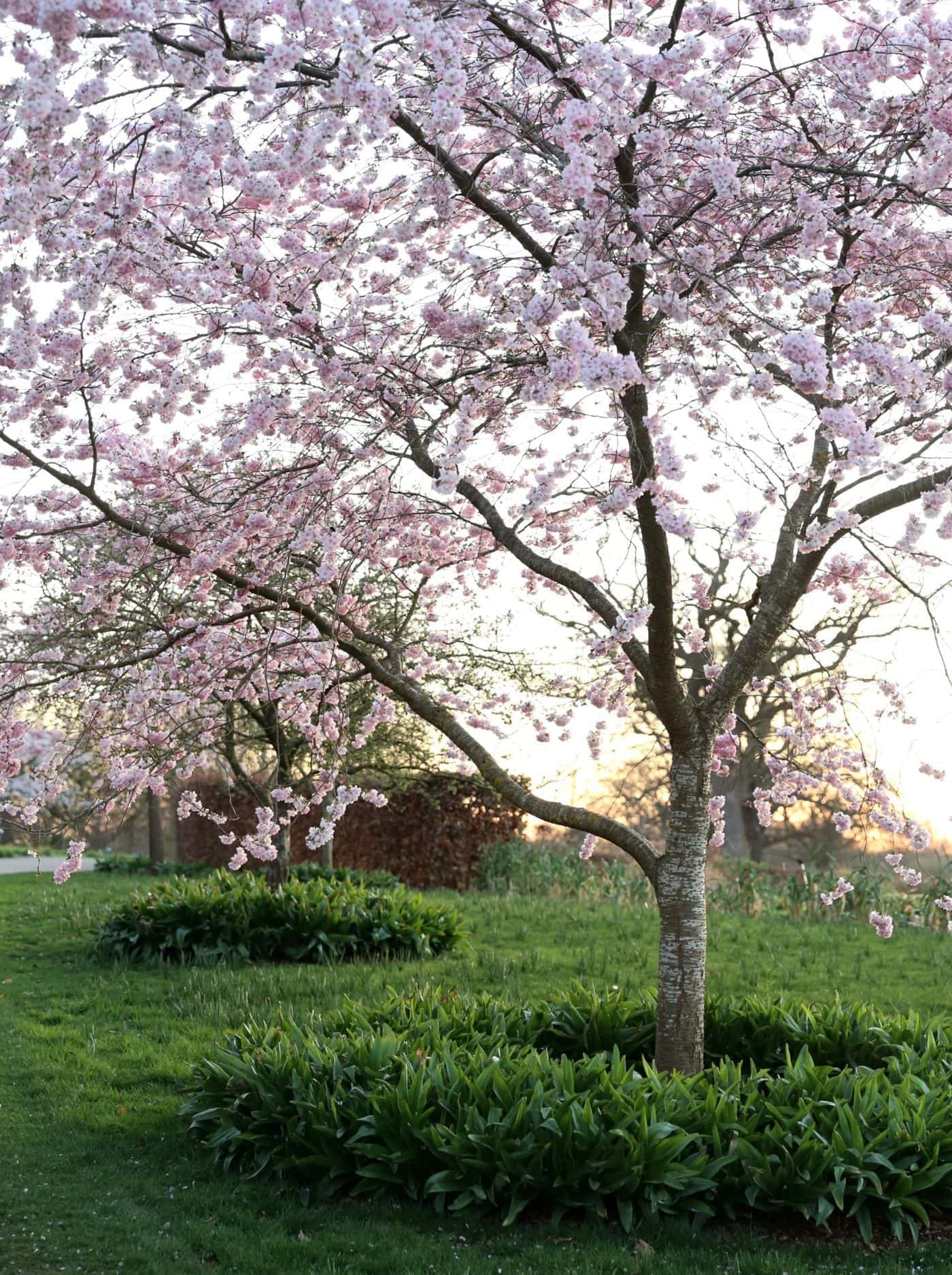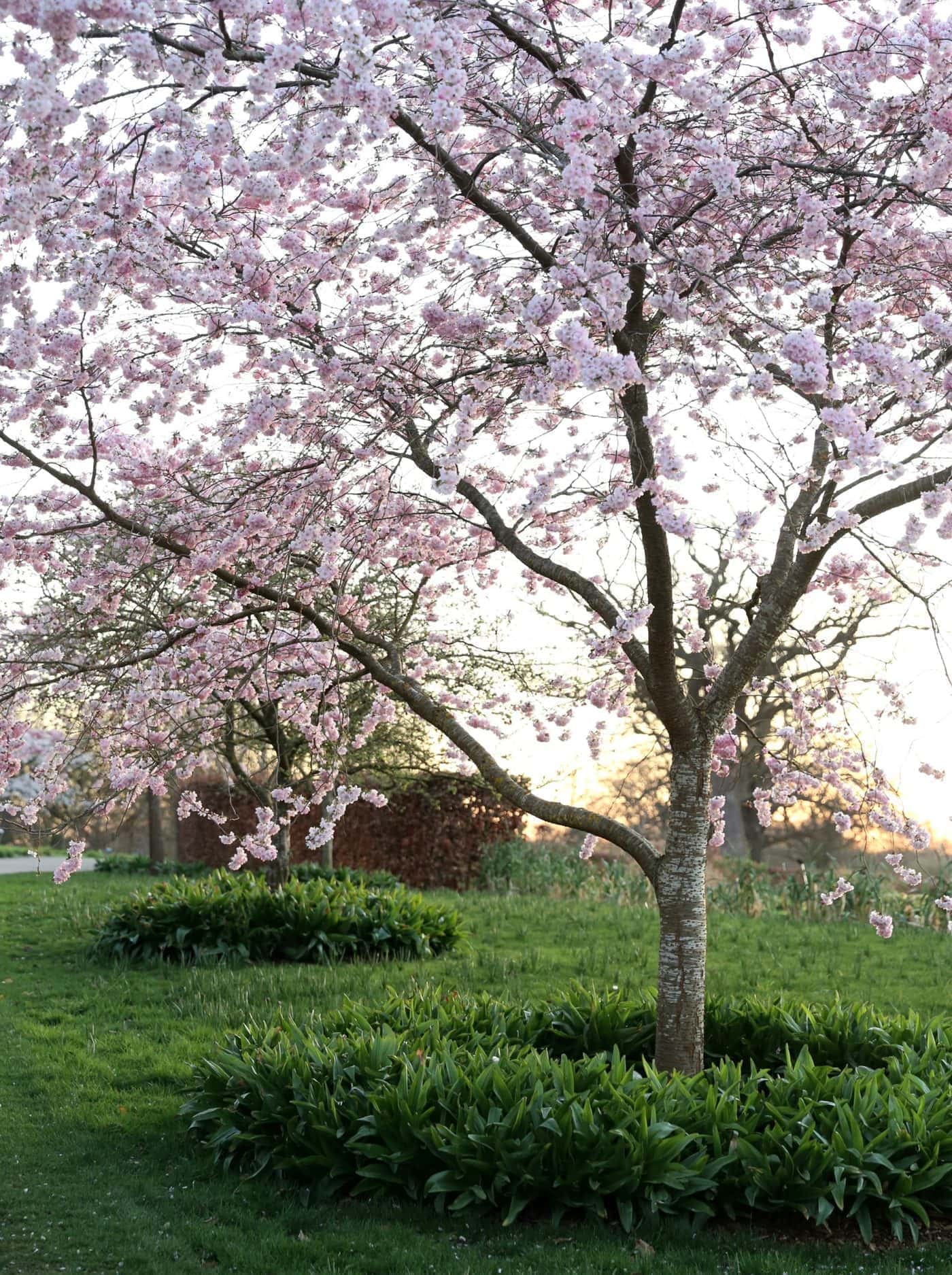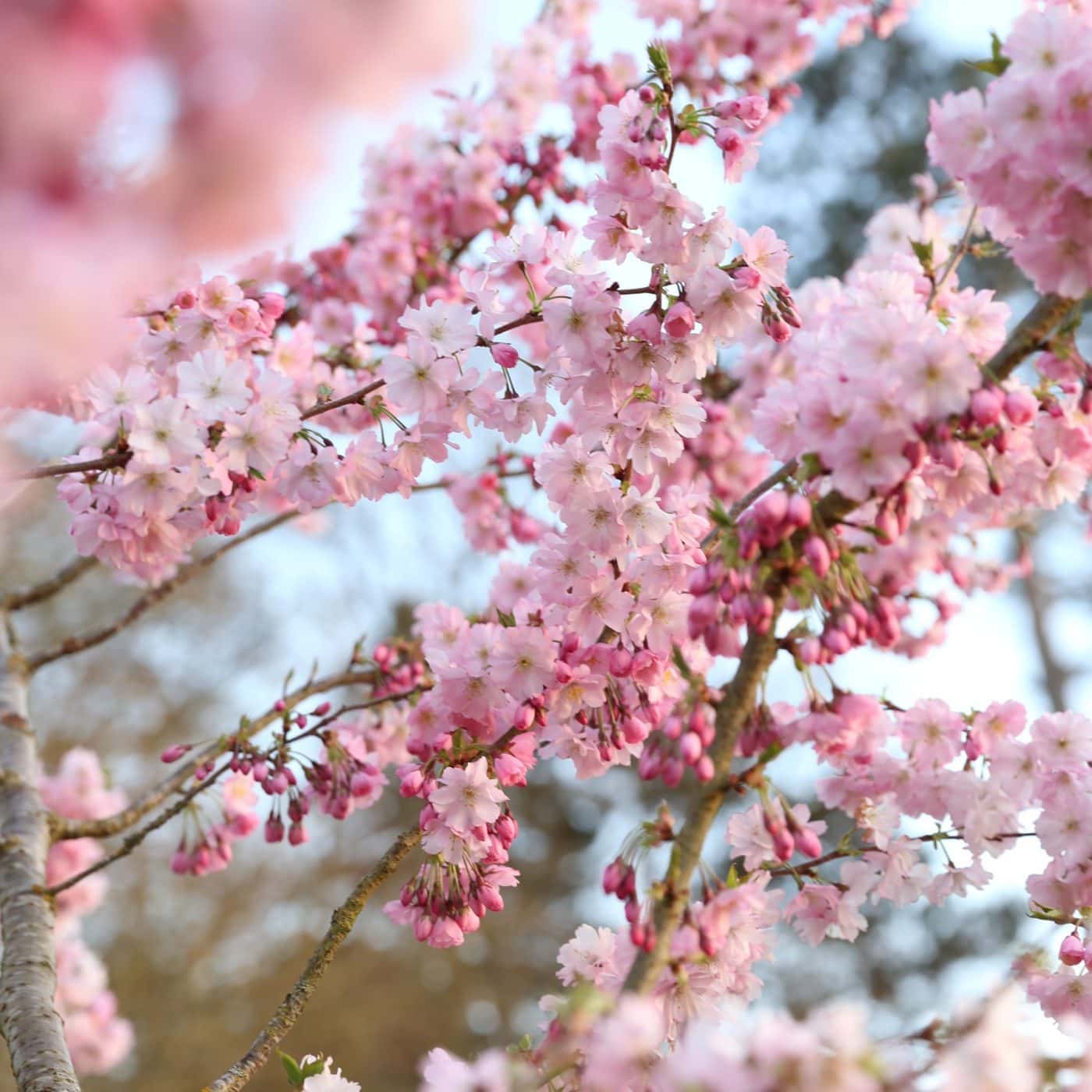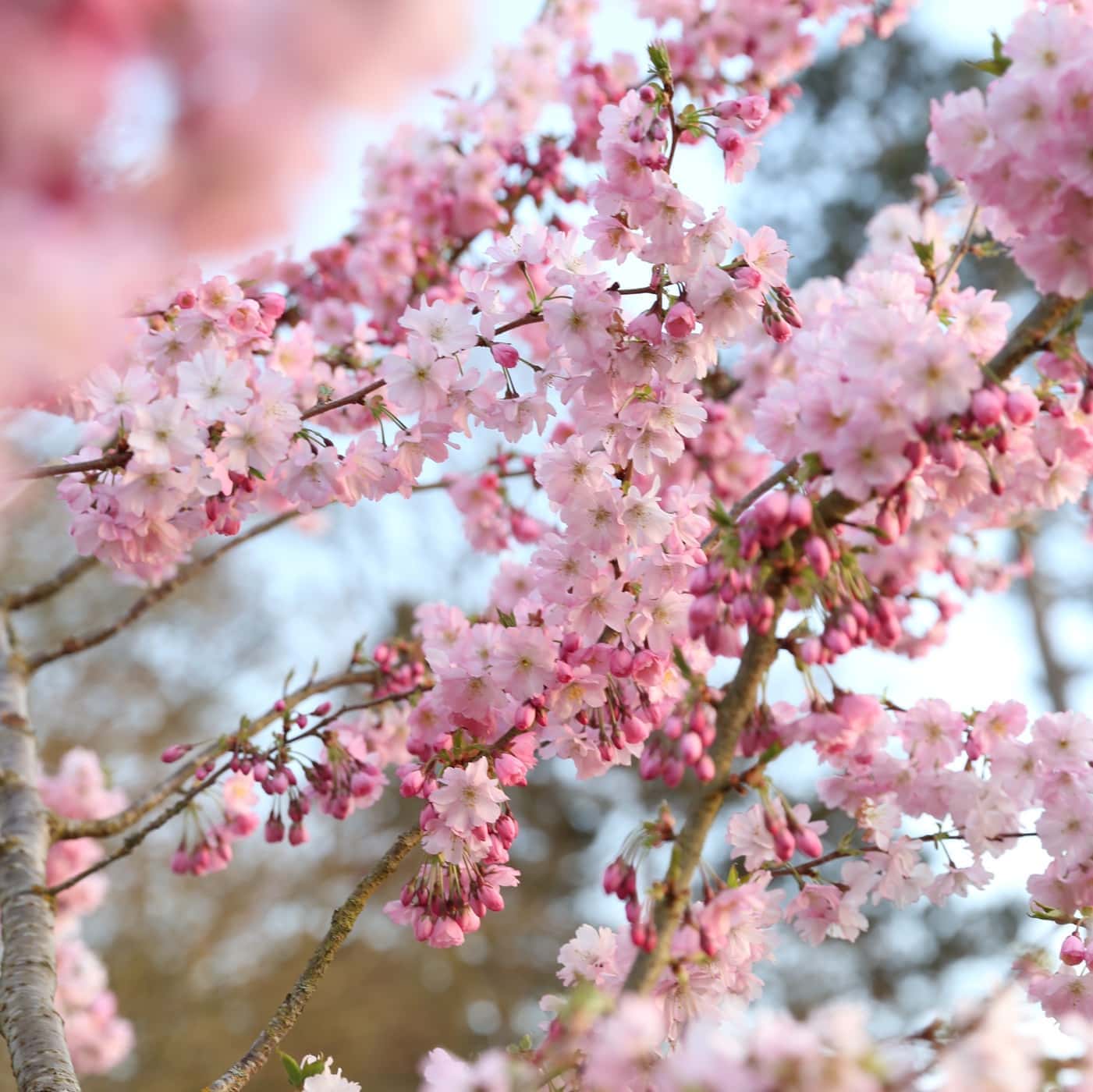 Prunus incisa 'Kojo-no-mai' (AGM)
A deservedly popular small and slow-growing variety of this shrubby small-leaved species, flowering freely in March. Often available in garden centres as miniature standard (single stem) aimed at pot displays and rockeries. Also available as a larger upright form, with distinctive zig-zag stems.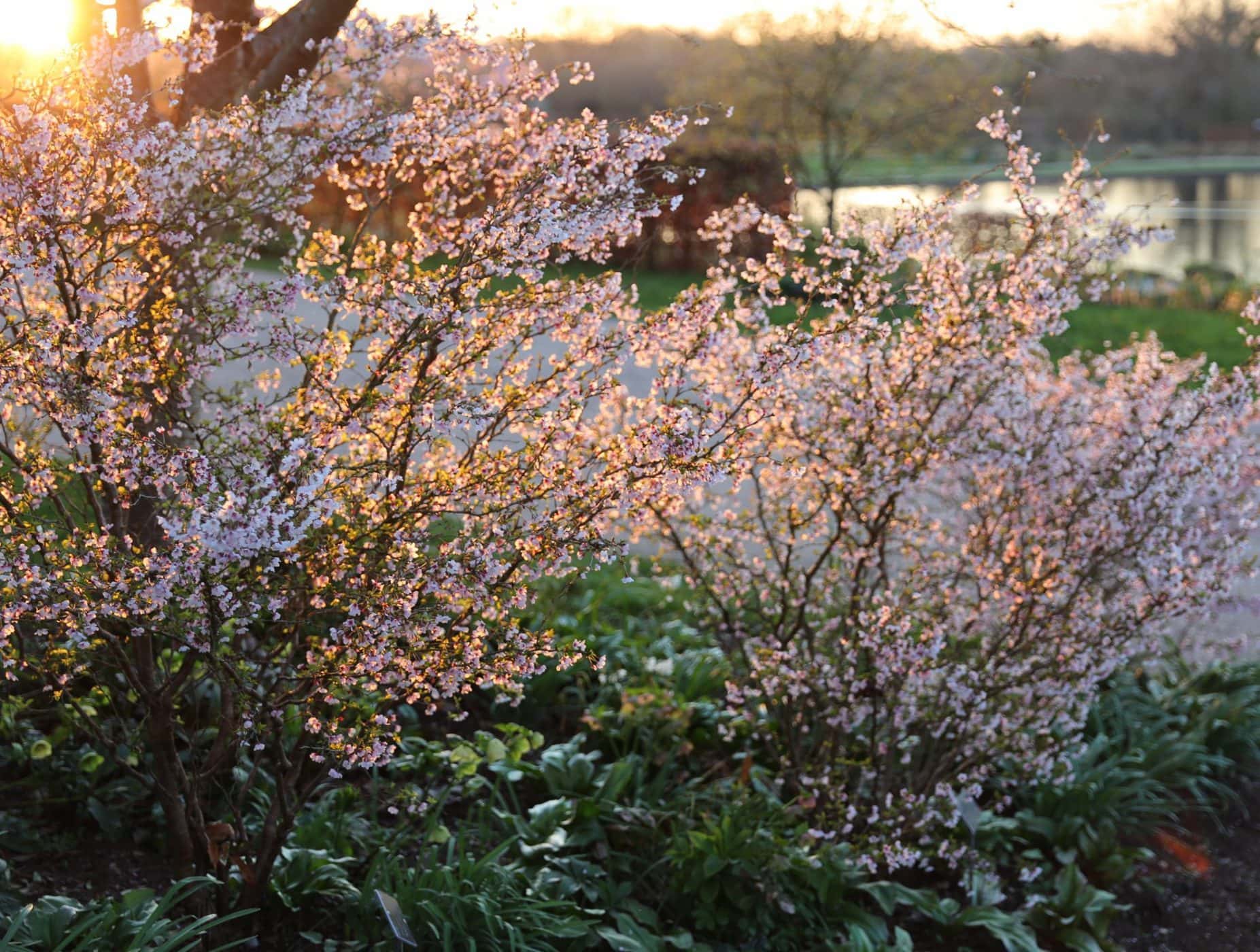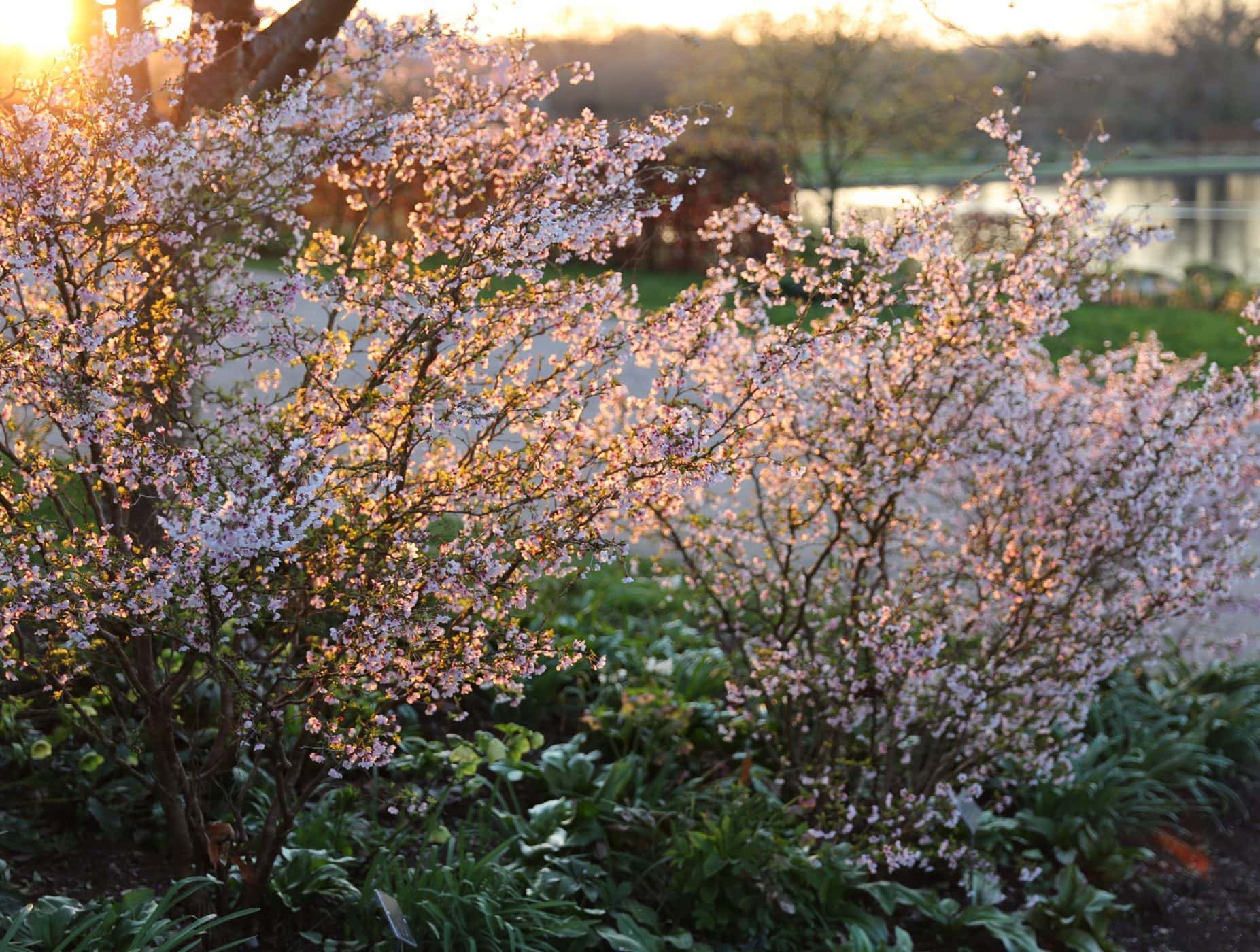 Prunus incisa f. yamadei (AGM)
A wild form discovered near Mount Fiji in 1916, with pure white flowers lacking any pink colouration even in bud. The many small flowers give this cherry a distinctly wild look compared to larger-flowered cultivars.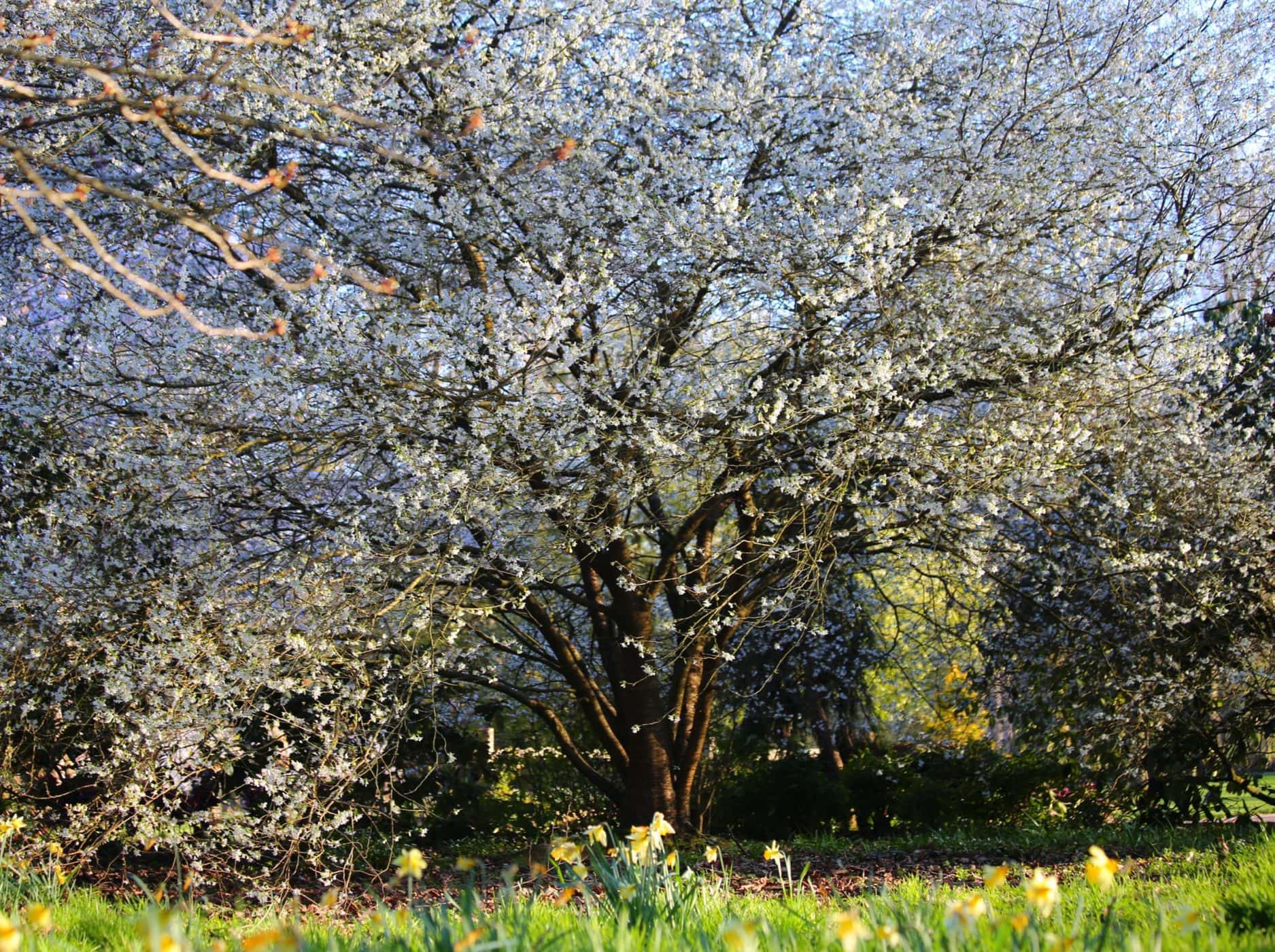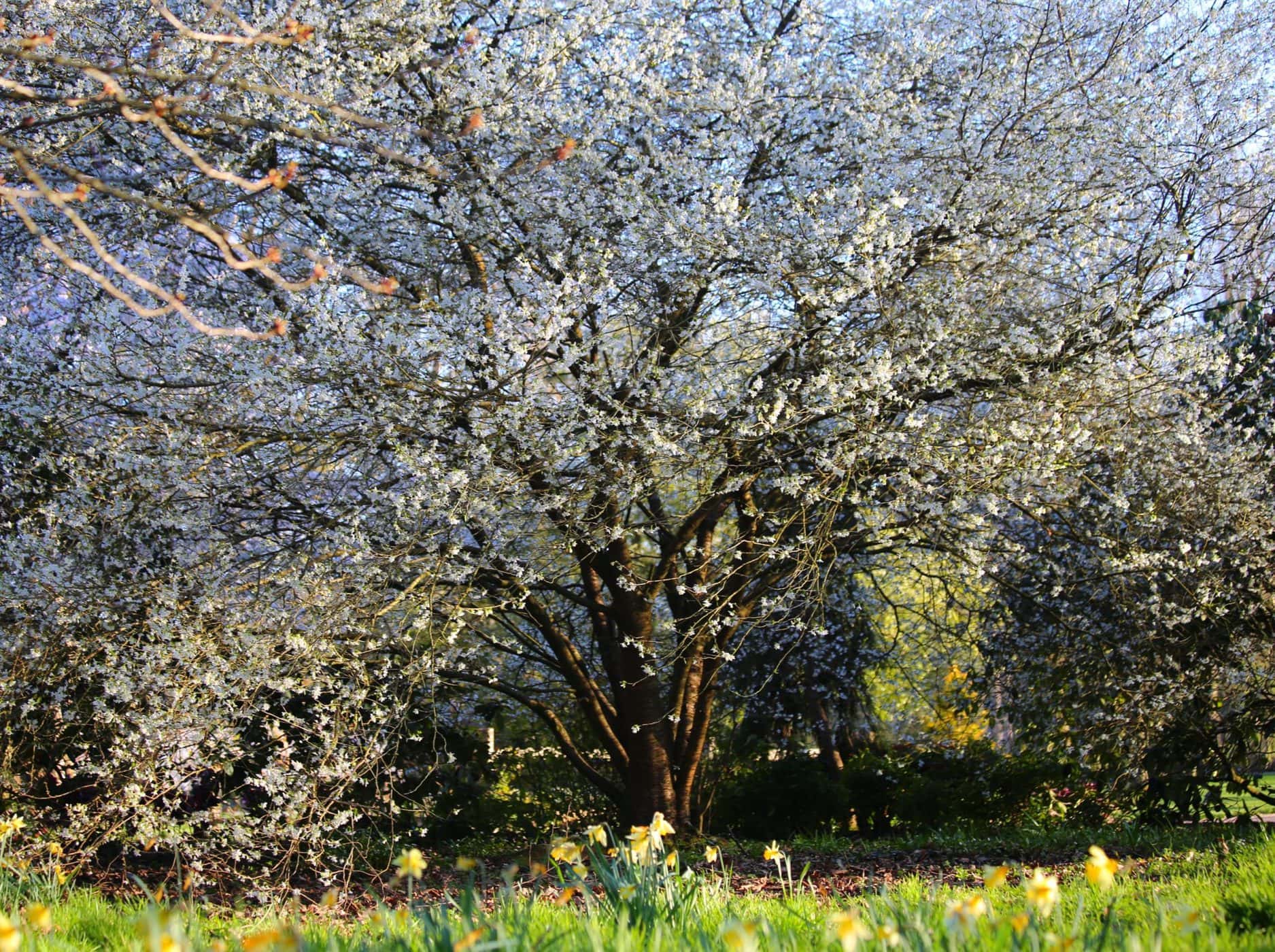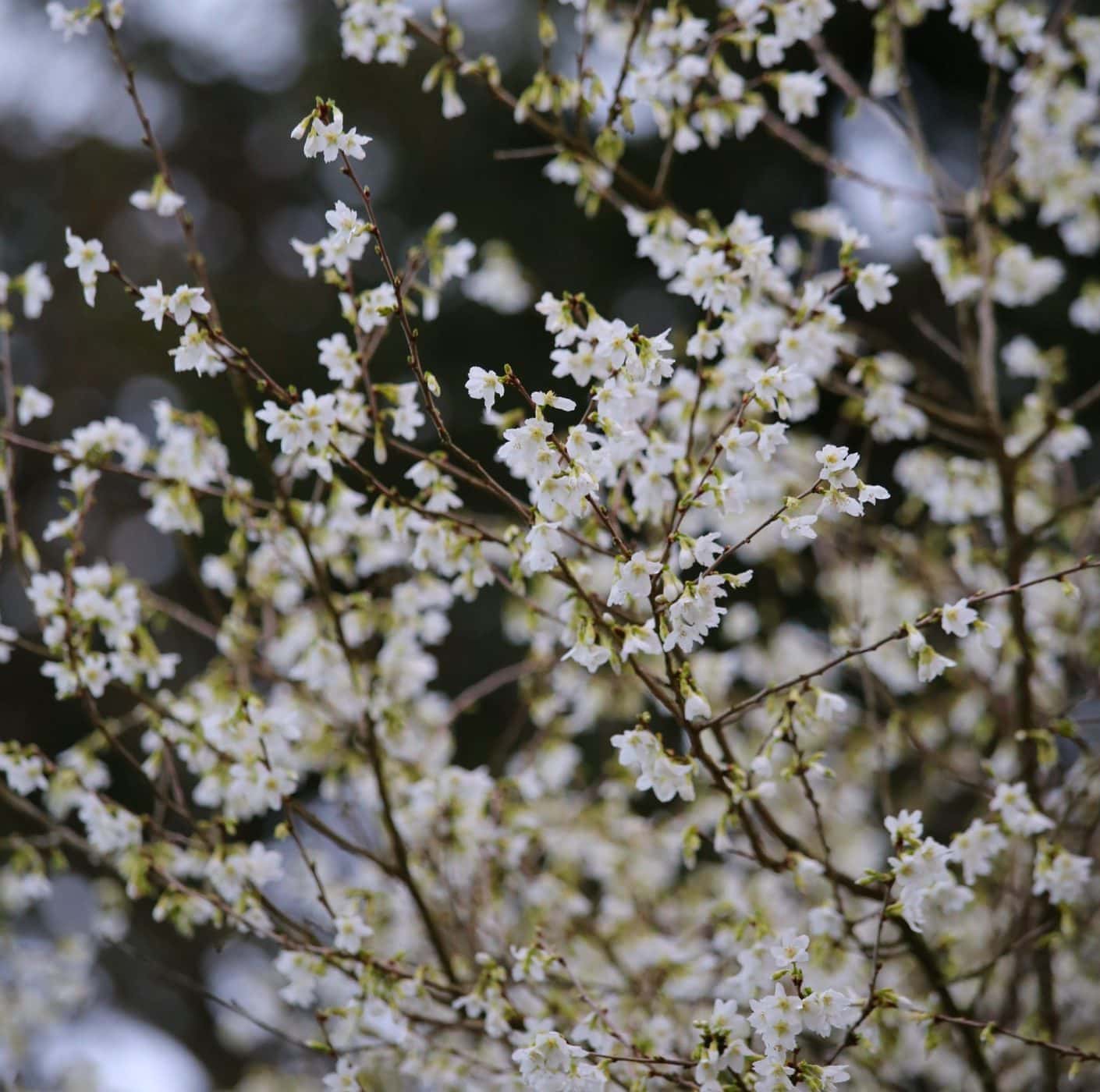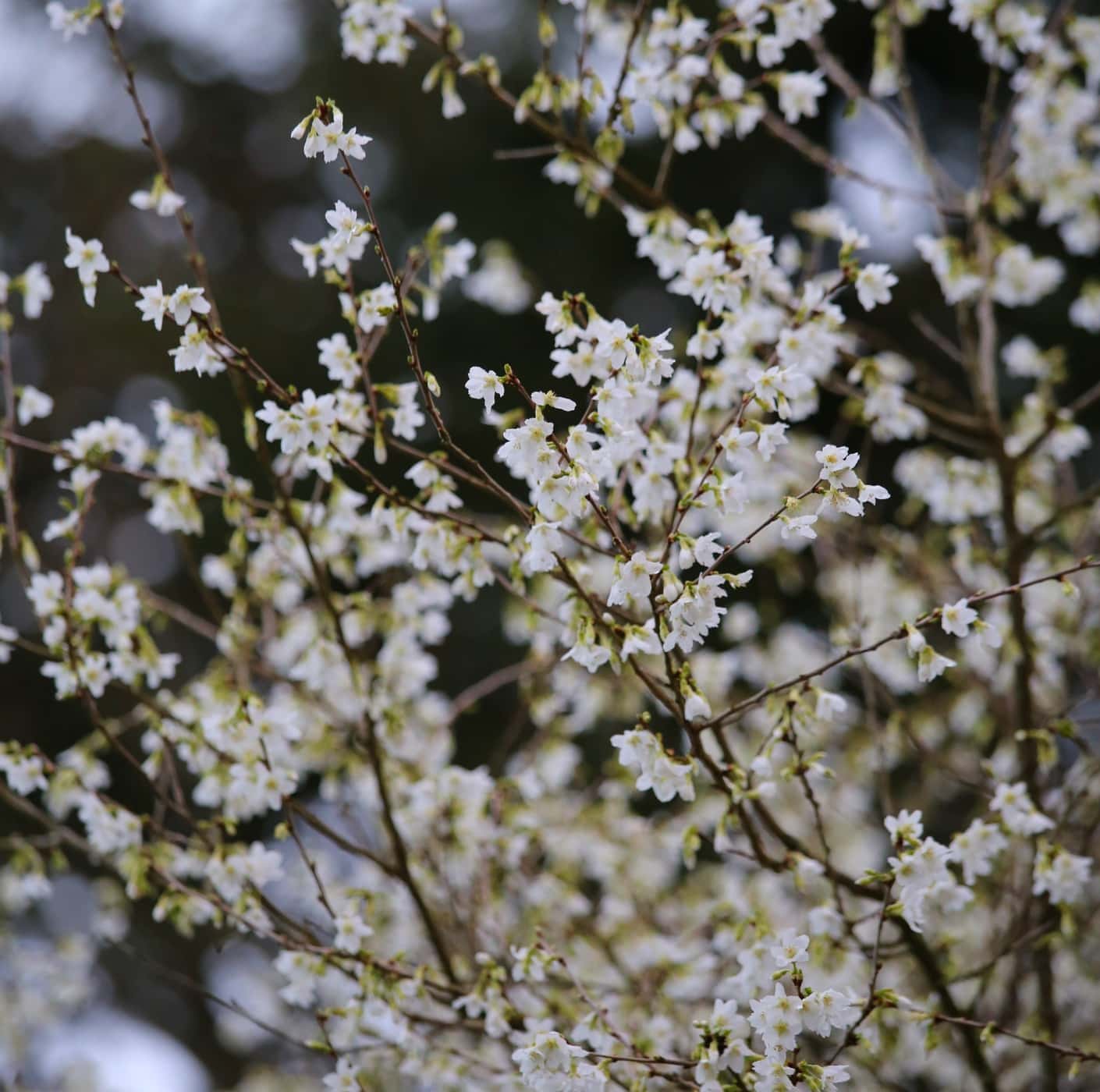 Prunus pendula var. ascendens 'Rosea'
One of the earliest flowering of the spring cherries. This variety is a relatively small tree in the UK, seen much larger in Japan.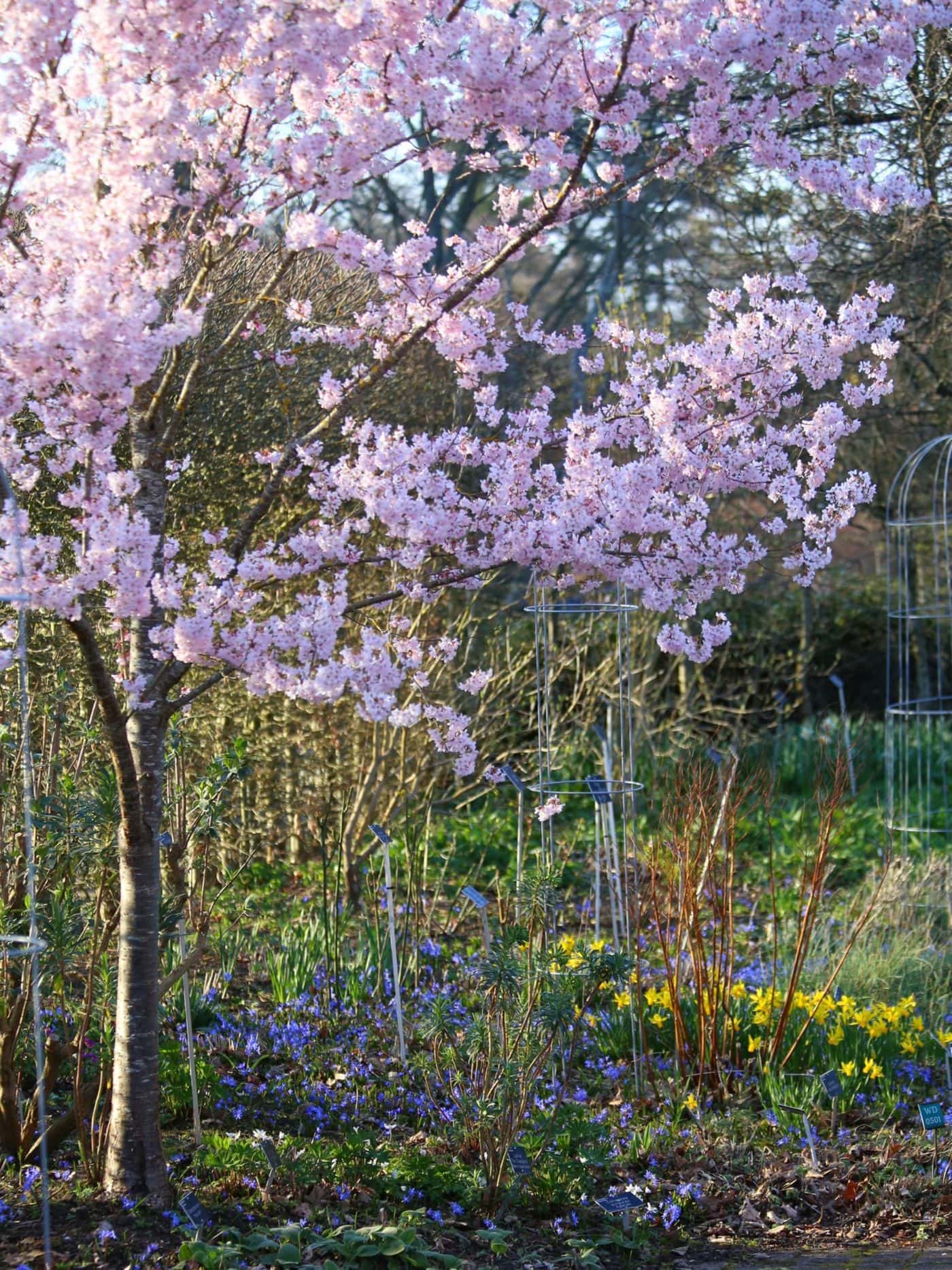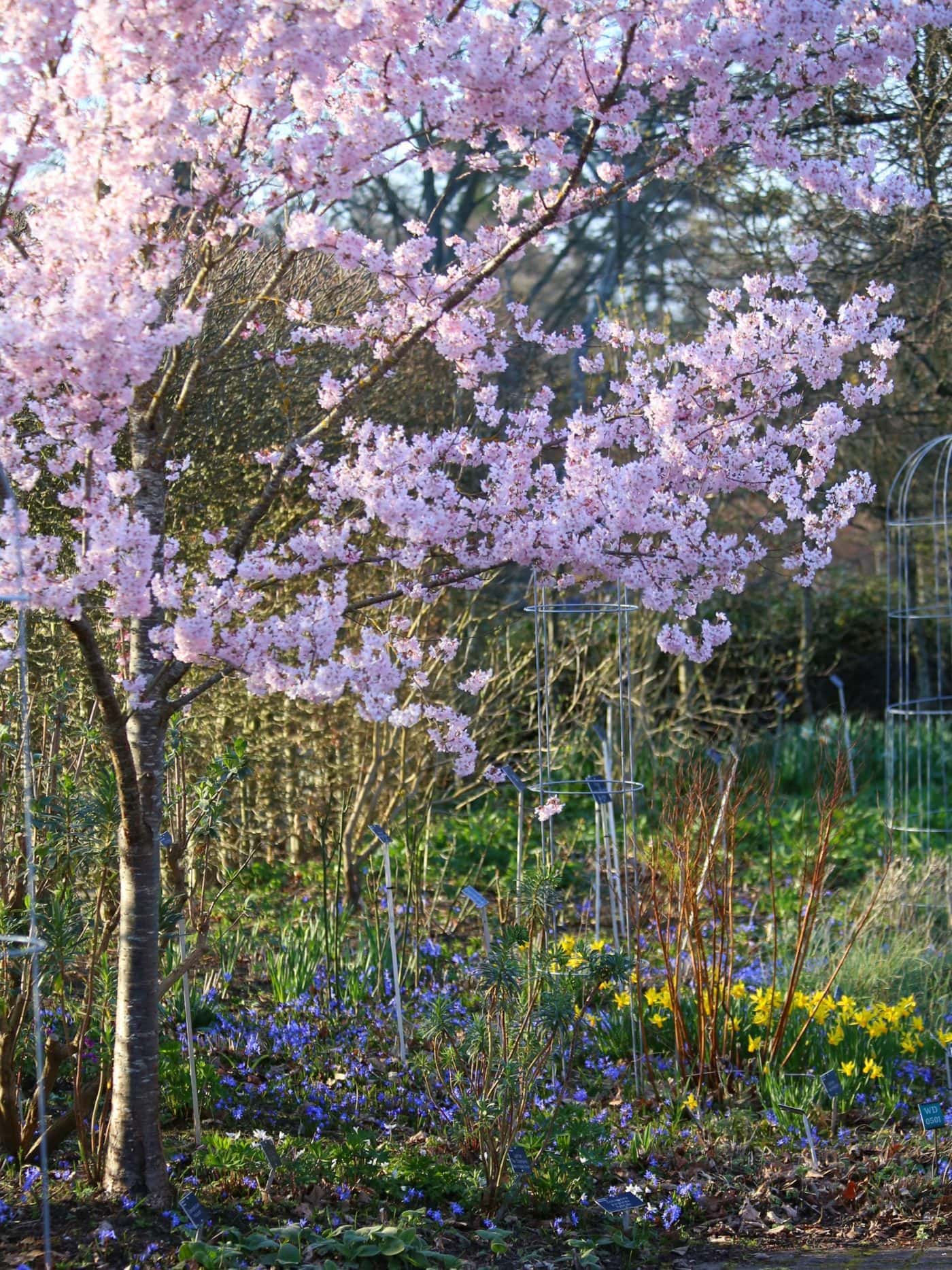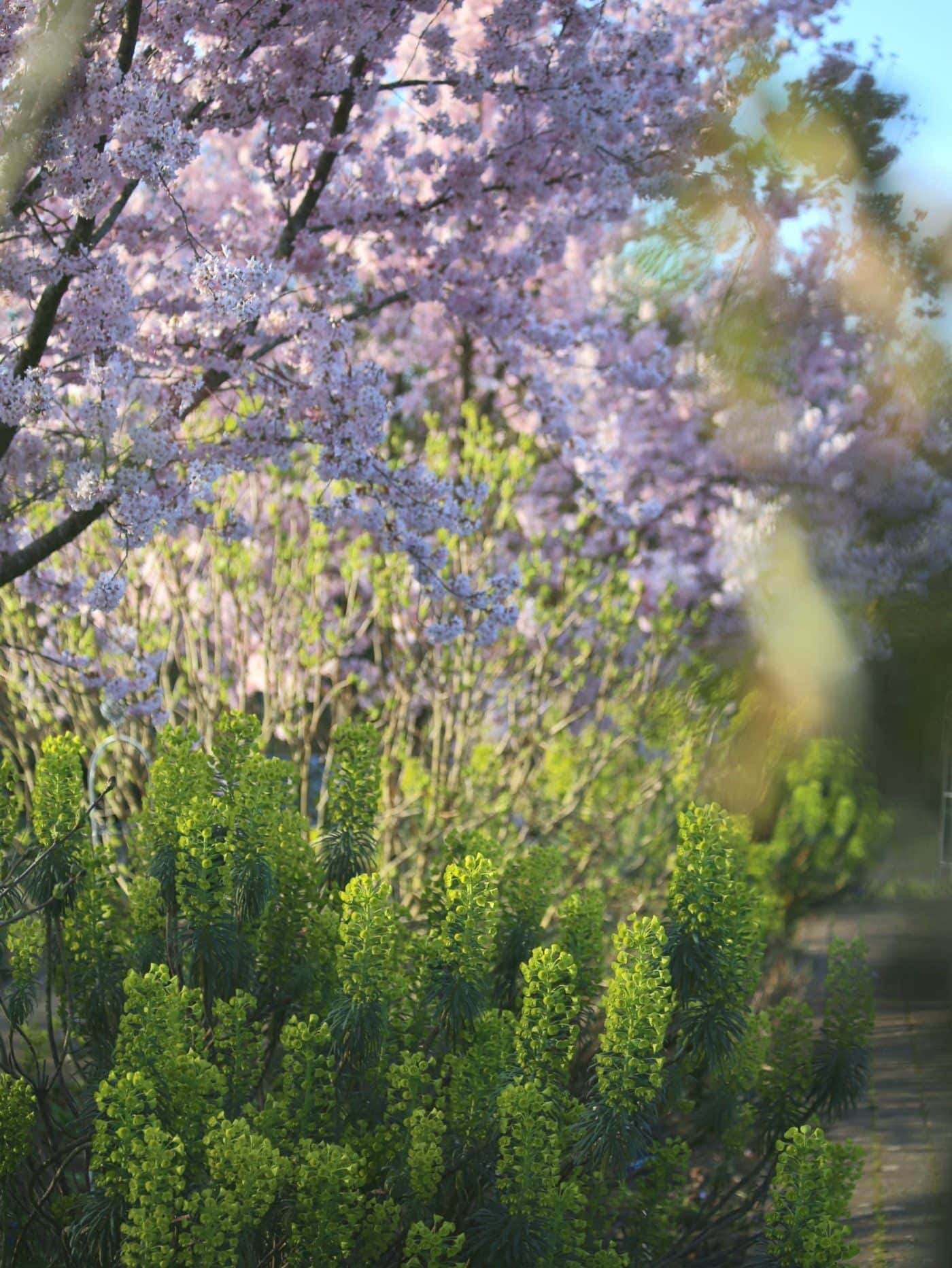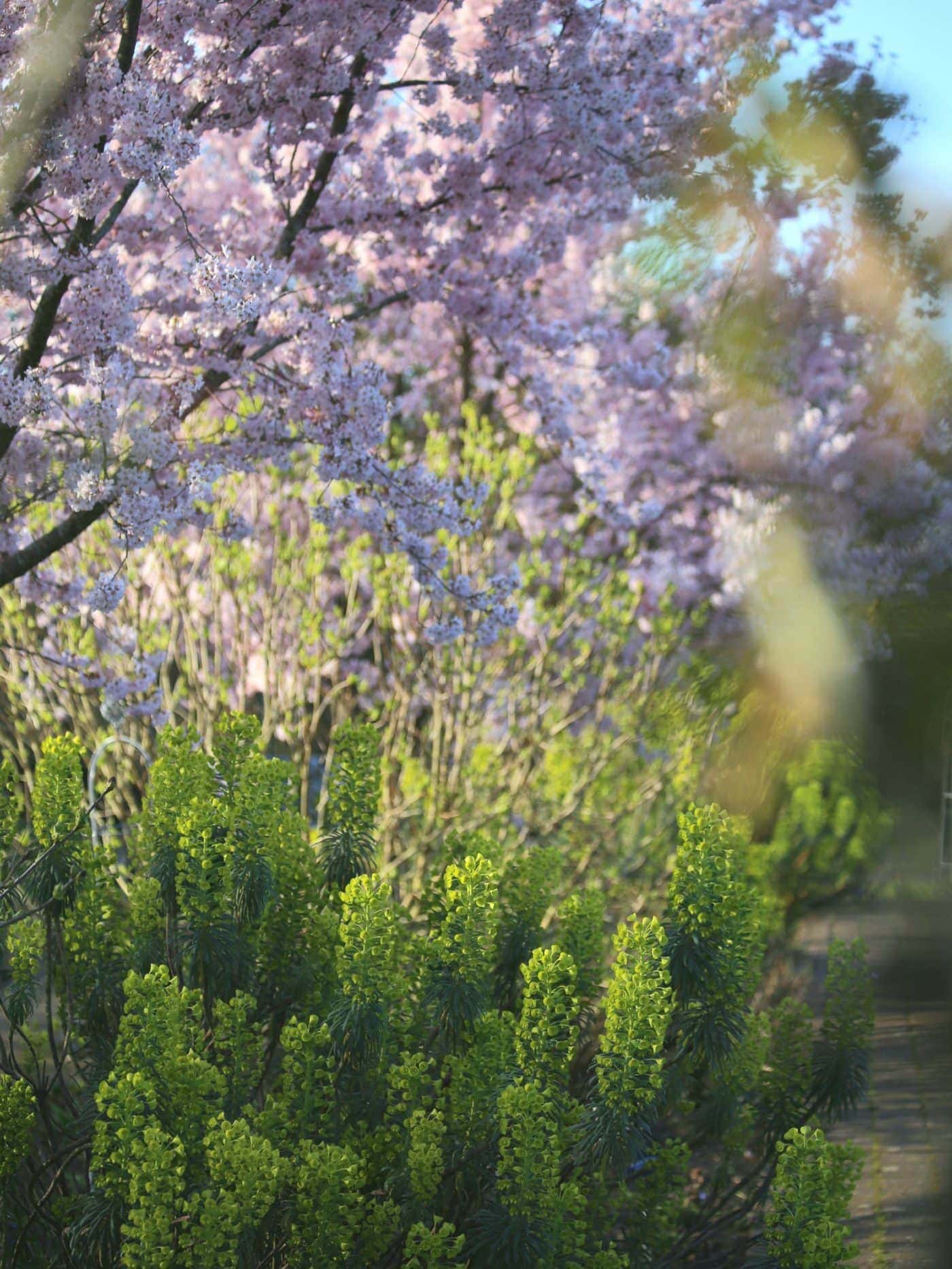 Prunus pendula 'Pendula Rosea'
A small dome-shaped weeping tree, with leaves turning orange through to striking red in autumn. Available top-grafted at a wide range of heights.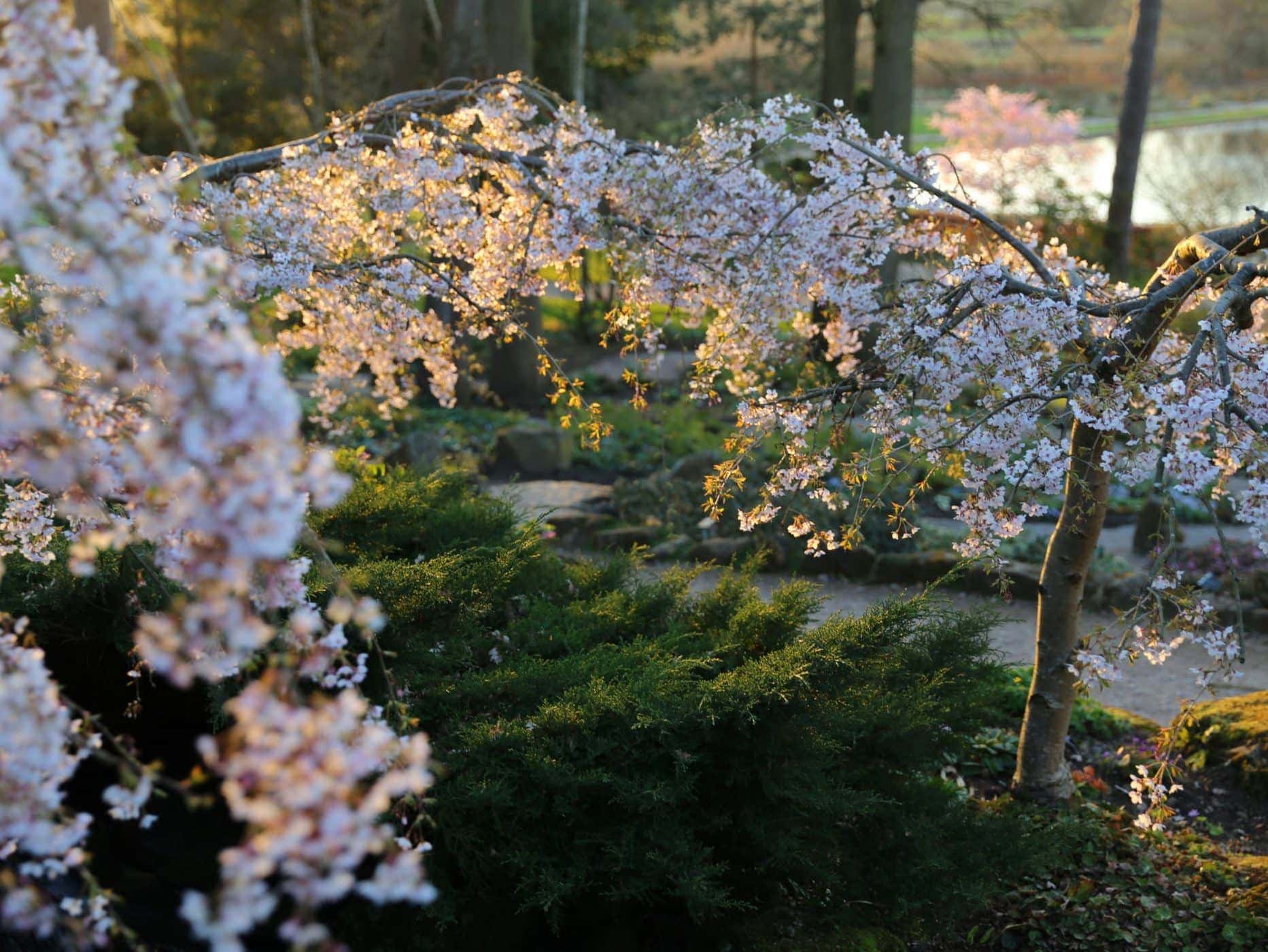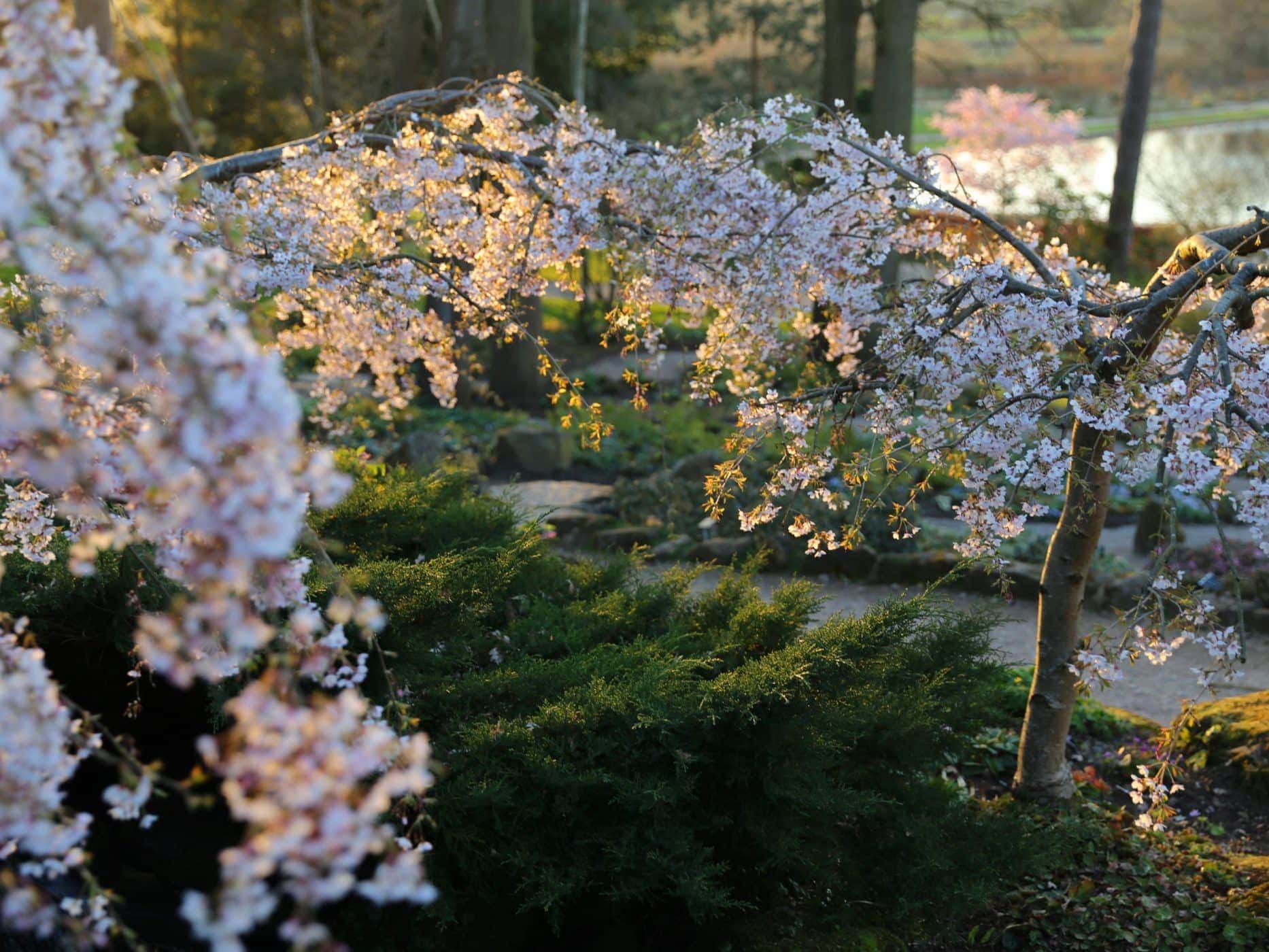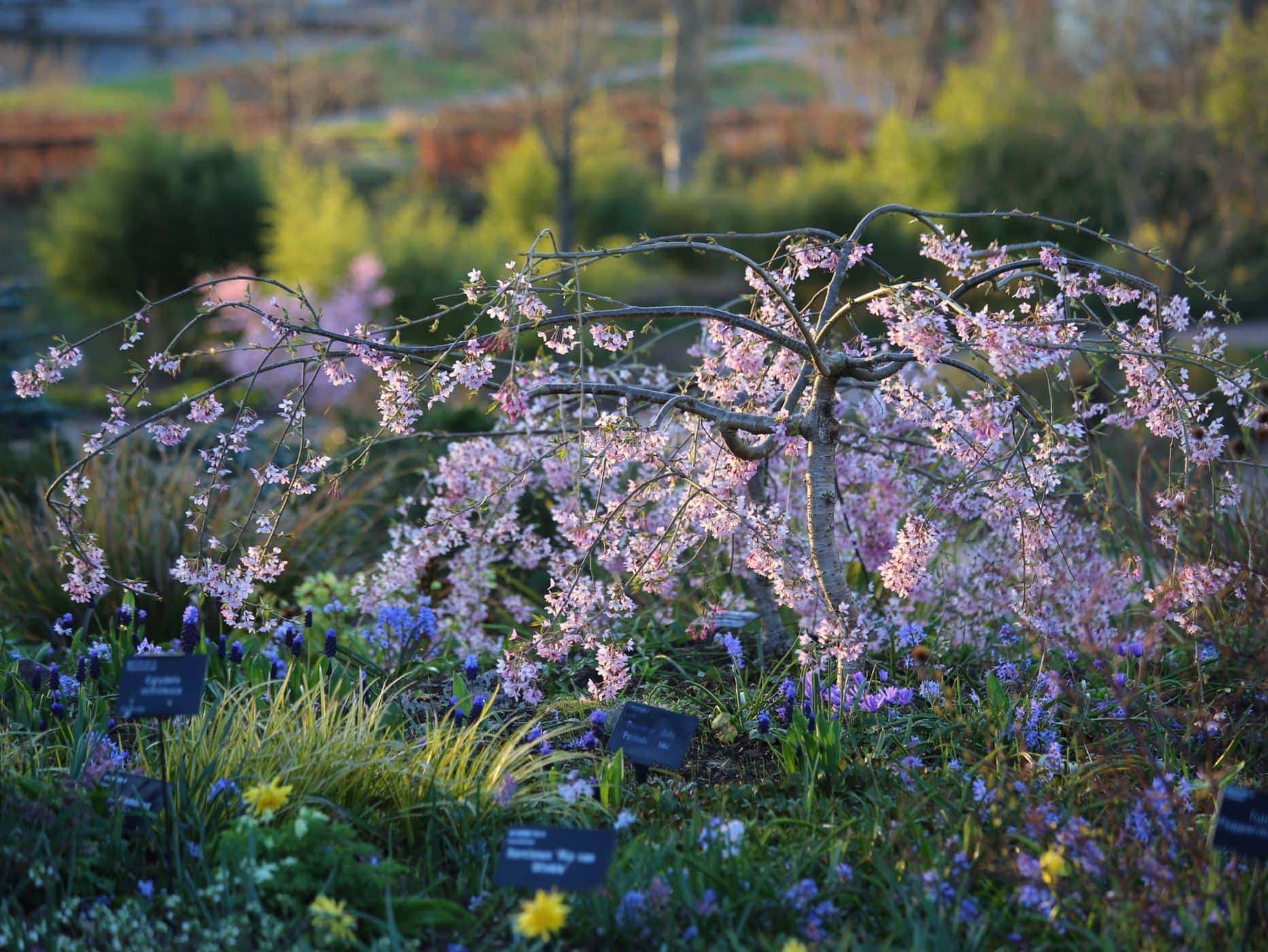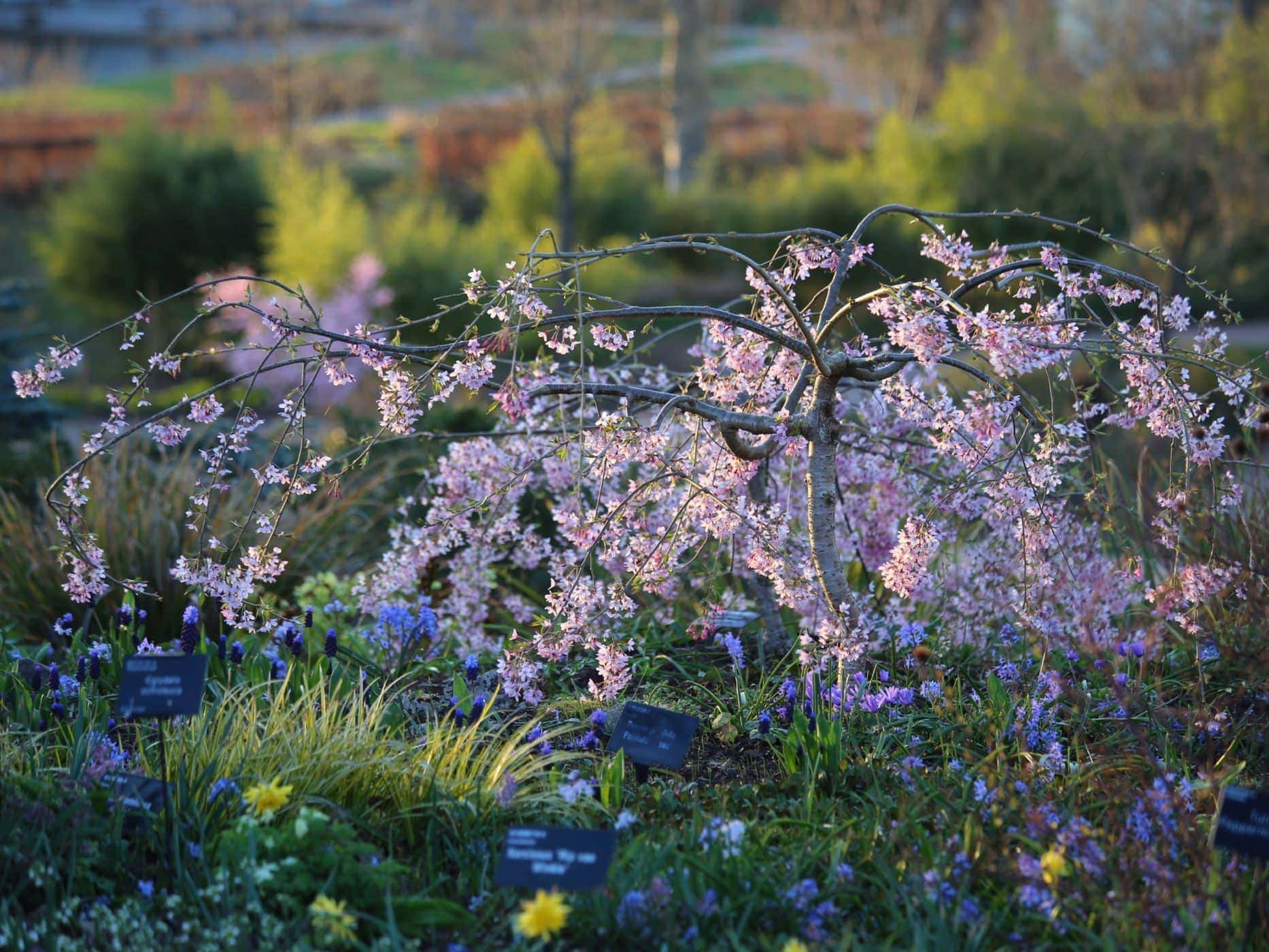 Prunus x juddii
A cross between P. sargentii and P x yedoensis, originating at the Arnold Arboretum in Boston, USA in 1914. Pale pink flowers in spring are followed by rich deep red leaves in autumn.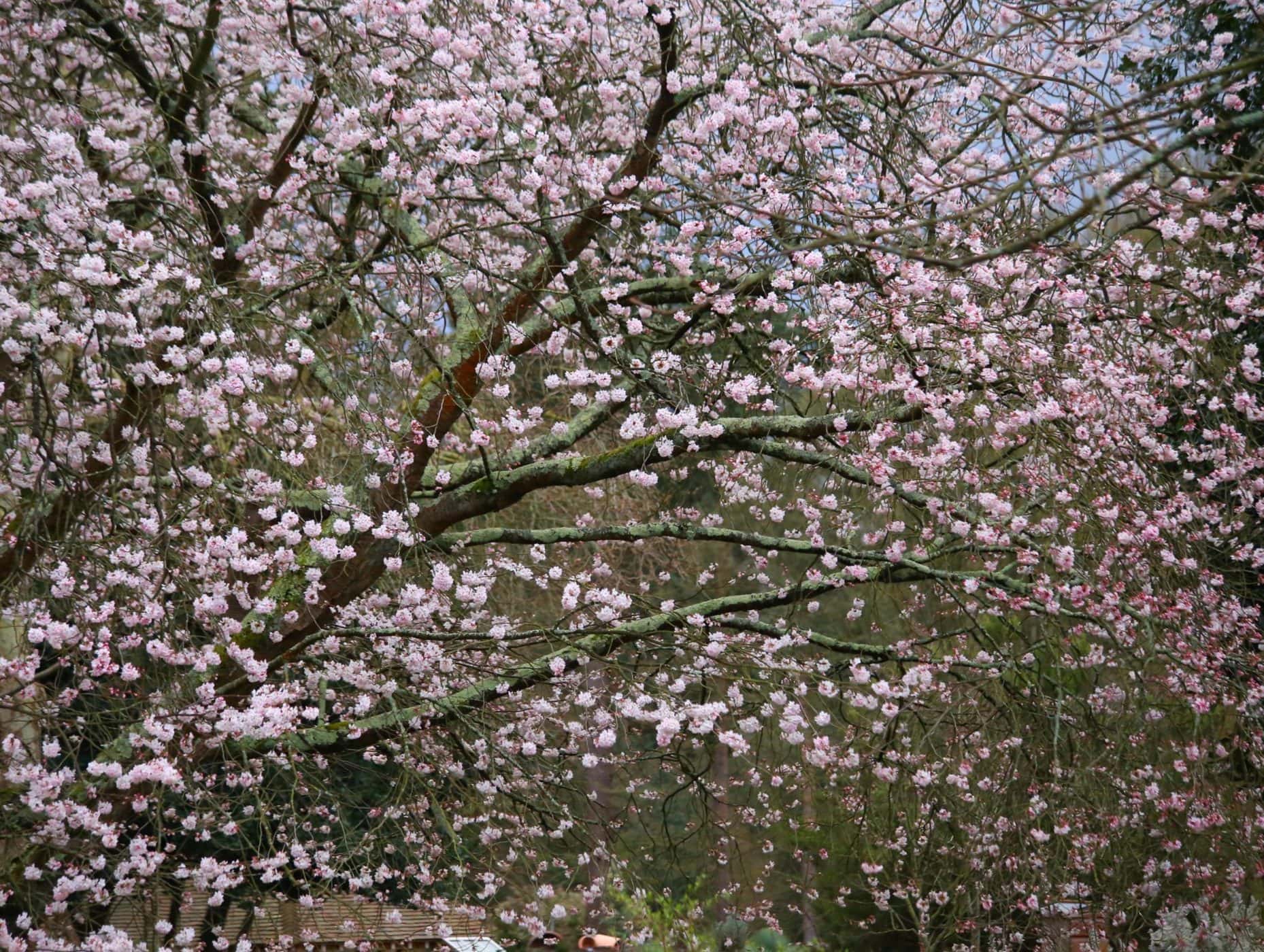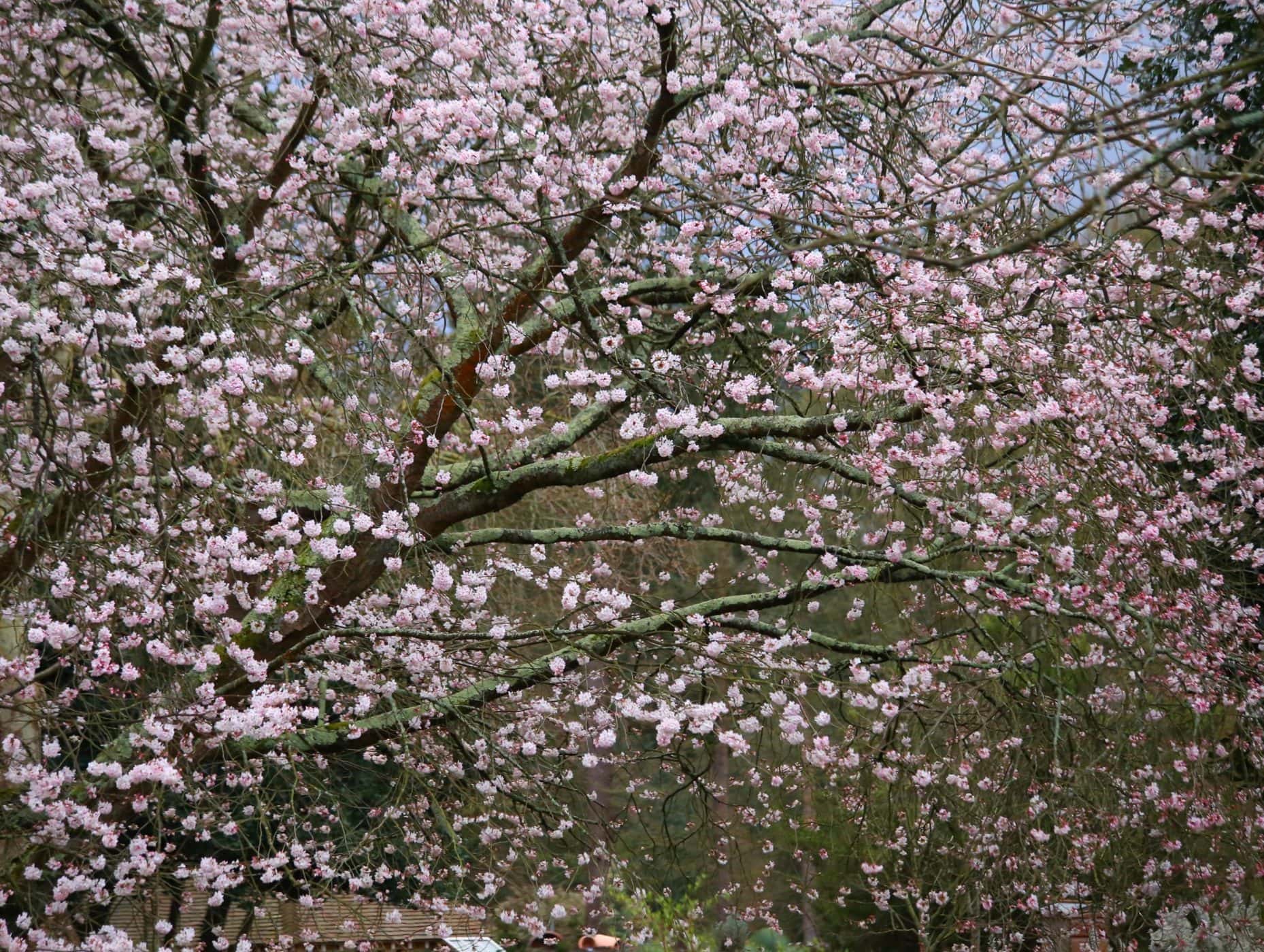 Prunus x yedoensis (AGM)
The Yoshino cherry. A stunning small to medium sized tree, introduced from Japan around 1902. Arching branches bear a profusion of blush-white almond-scented flowers, from late March to early April. This is a hybrid cherry unknown in the wild. It is the product of a cross between P. speciosa and P. x subhirtella, which itself is a cross between P. incisa and P. pendula.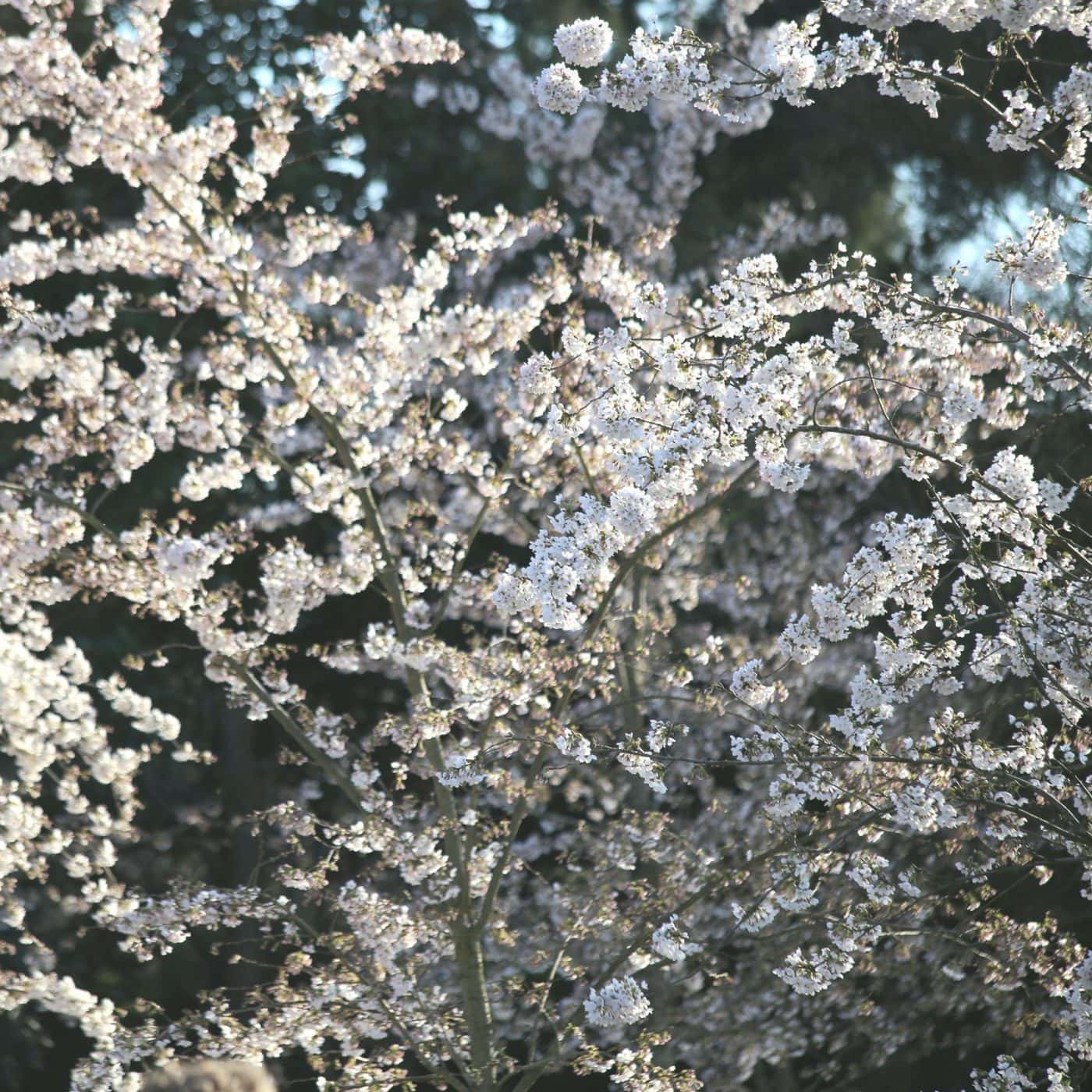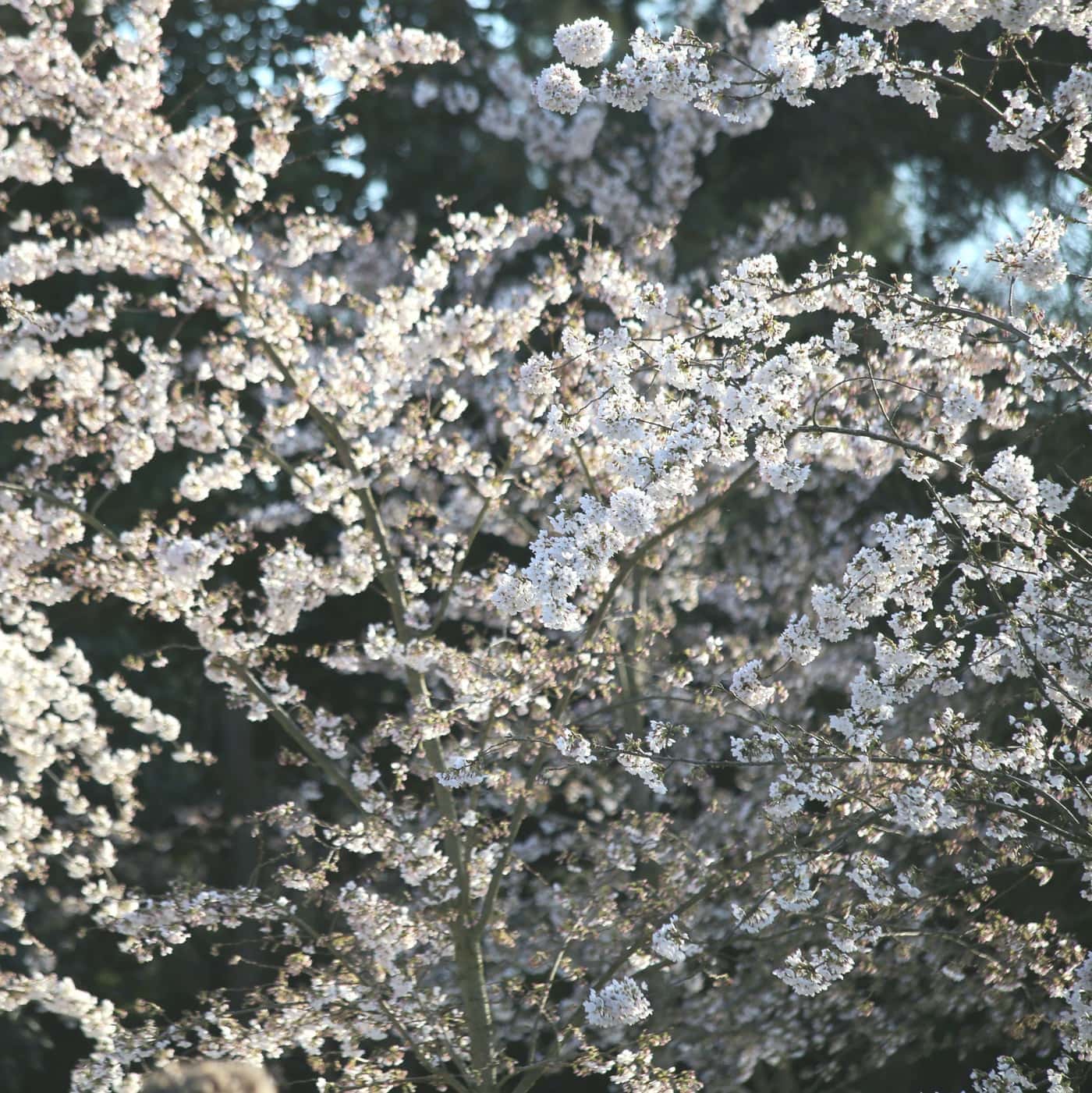 Prunus × yedoensis 'Moerheimii' 
A pendulous shrubby tree, often as a weeping form if top-grafted. Characterful wide spreading dome habit. Pink buds open to form blush-white flowers in late March to early April, with foliage turning deep gold and crimson in autumn. This variety is sometimes allocated to P. incisa.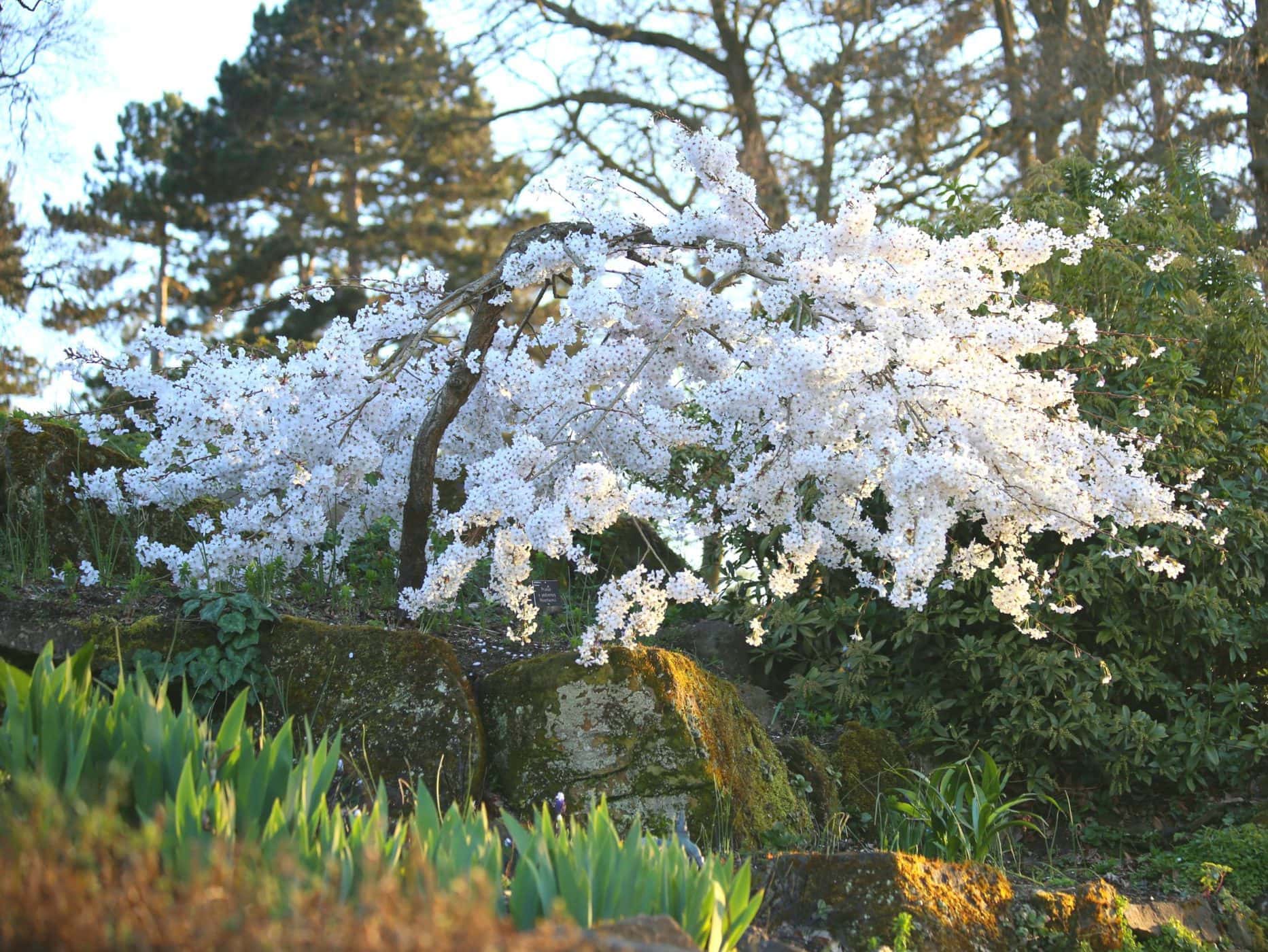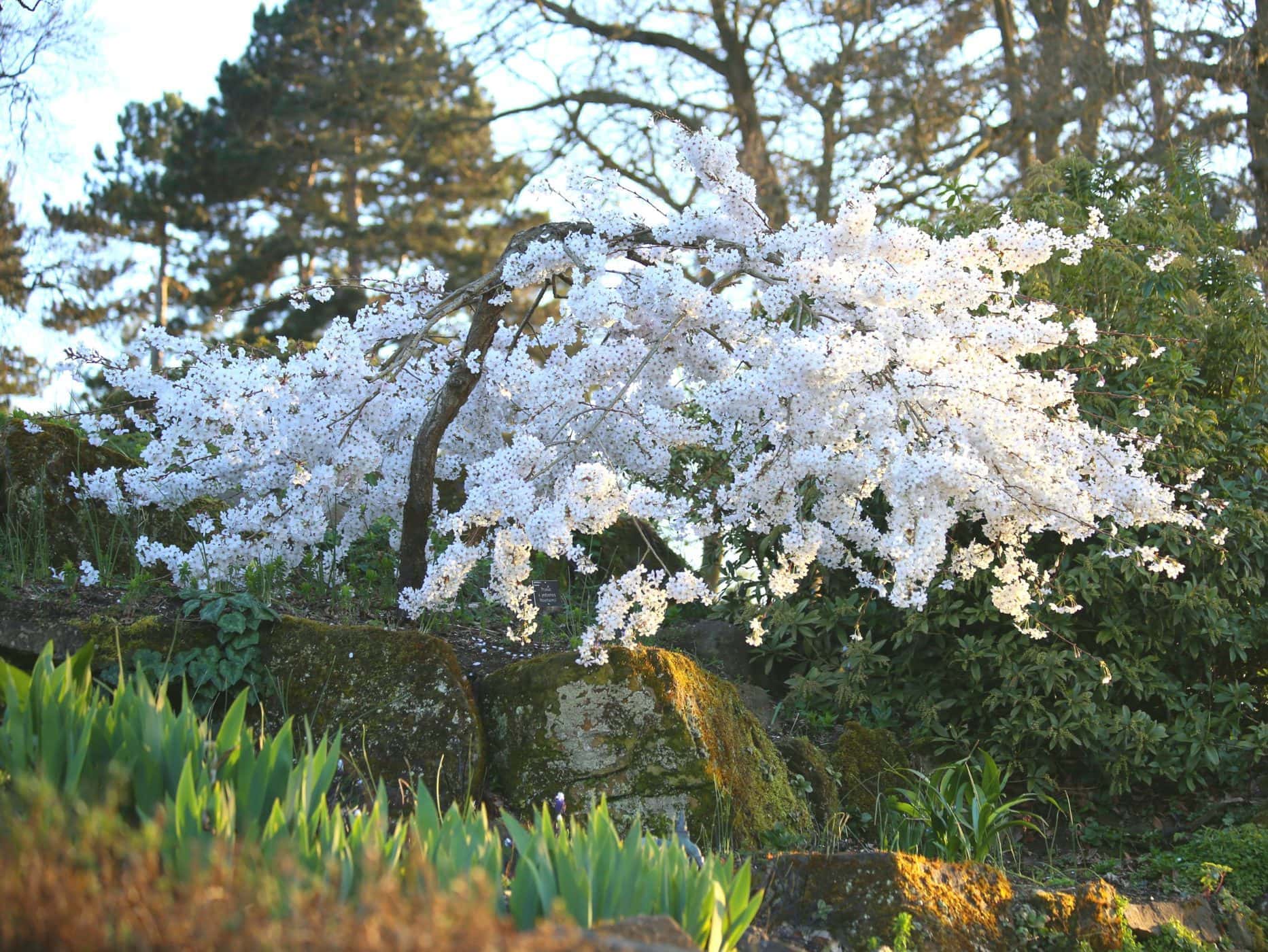 Prunus 'Snow Showers'
Fully weeping, with single white flowers in late March through to early April. Particularly good autumn colour.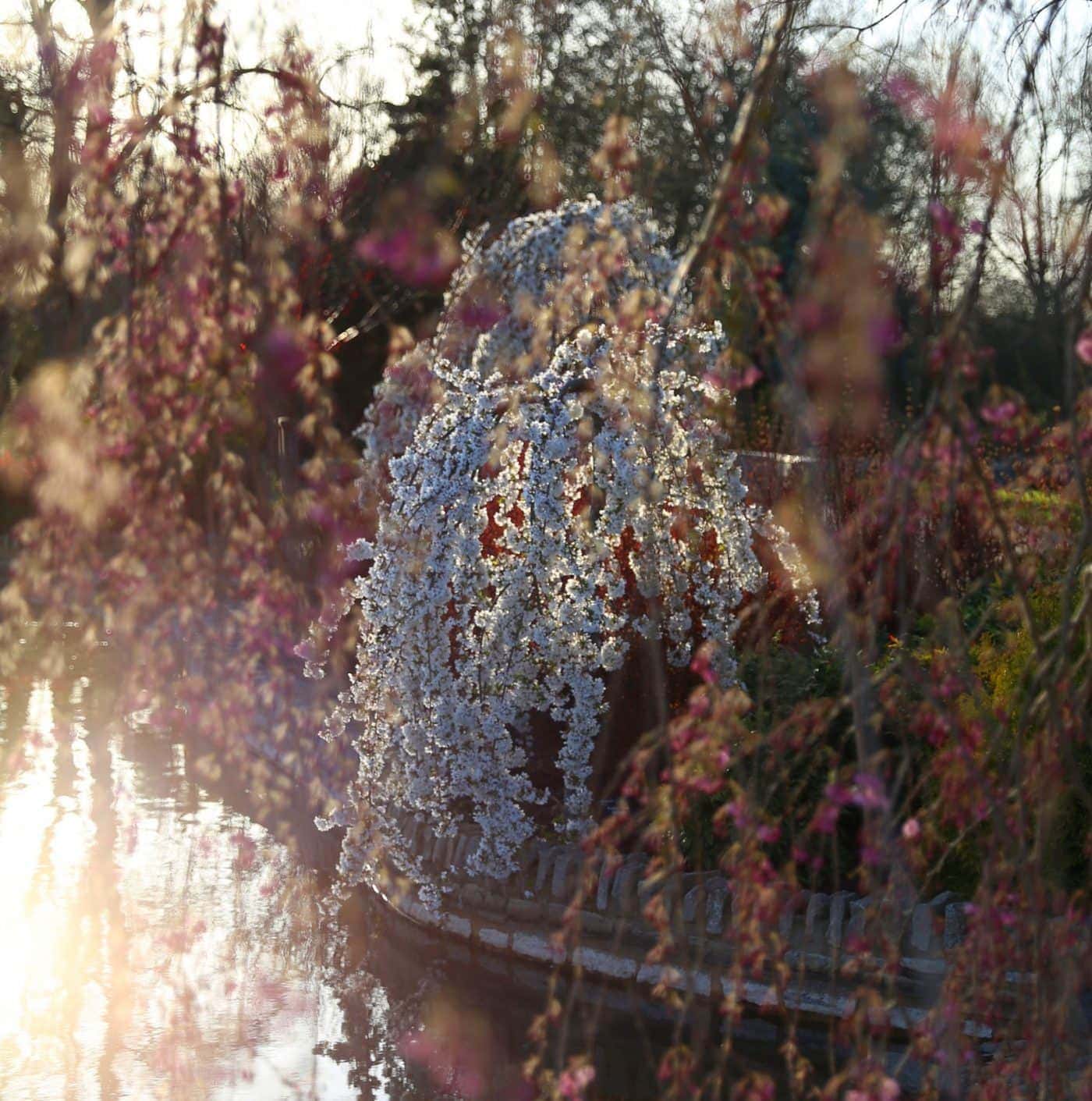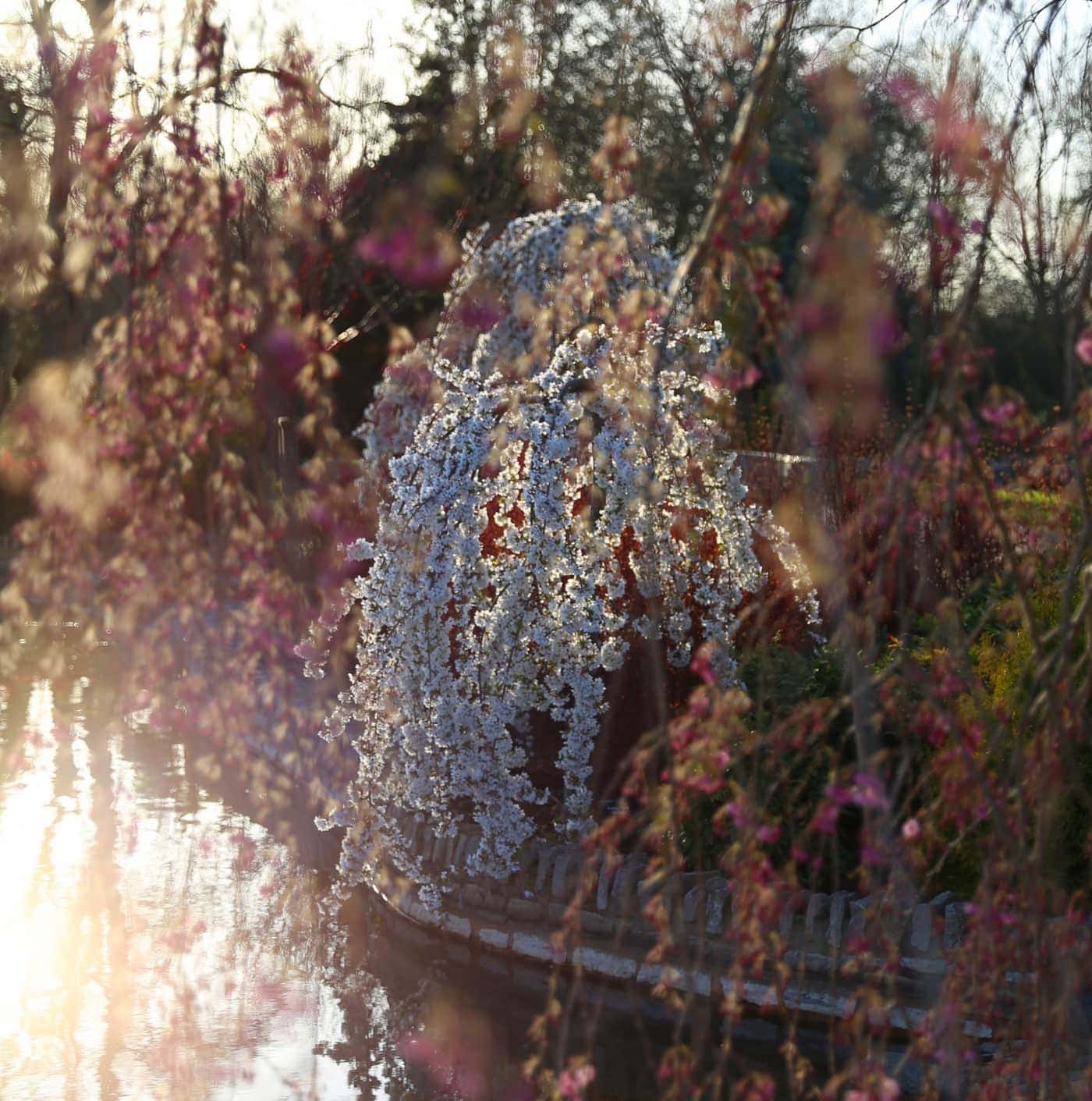 While here we have explored earlier-flowering cherries that have mostly now all faded, many more are soon to break bud. Mid-May generally marks the end of spring cherry blossom season until autumn-flowering cherries start to sparkle in the later end of the year.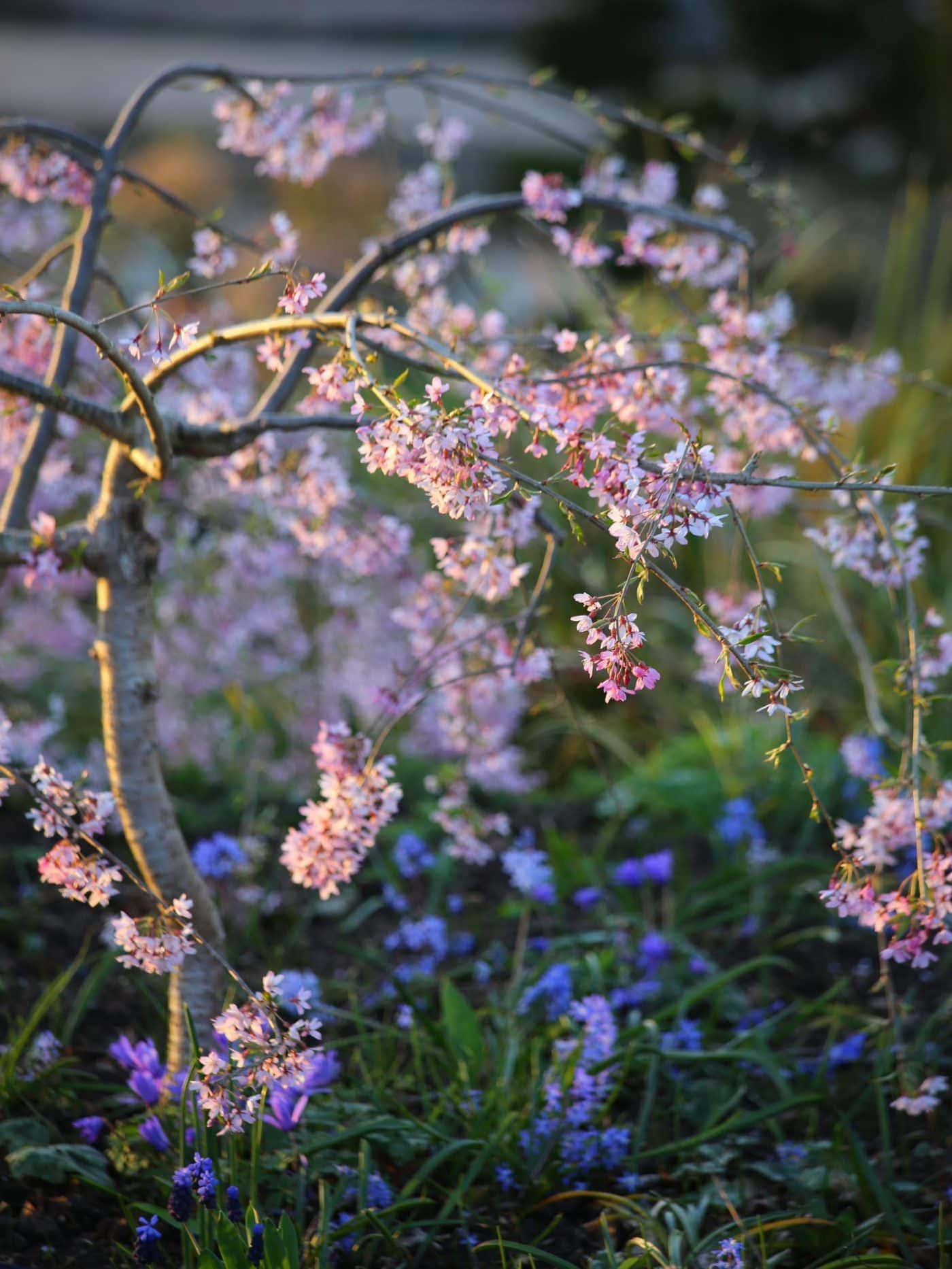 All photos taken by Owen Hayman between late March and early April, 2021.
---

Owen joined the Bestall & Co planting and aftercare team in spring 2019. He is an RHS qualified horticulturist, holding a full Level 3 Diploma in Horticulture, and recently came in the top 3 at the Northern Regional Final of The Young Horticulturist of the Year 2019. After first doing a foundation diploma in Fine Art, he went on to gain a degree and masters in Plant and Soil Science from the University of Sheffield in 2014. Owen worked as a researcher on various field research projects in Alaska, Panama and Borneo. When not away in the field, he became obsessed with visiting gardens and nurseries across the British Isles and the Netherlands, developing his own garden, and then taking on a walled allotment garden as a personal project. He realised his true passion was in horticulture, and so moved away from academia and into the world of specialist plant nurseries and professional gardening.
Owen is now studying the Wisley Diploma, but continues to write articles for us on a monthly basis, and we're delighted to maintain contact with such a passionate and knowledgable plantsman.
All author posts