Perennials with outstanding autumn foliage colour
Understanding how plants look and perform through 12 months of the year is key to creating a garden that is uplifting and exciting all year round. Increasingly people are looking for plants that flower all summer long, and hold attractive structure and seedheads through the winter. Autumn foliage colour seems somewhat of an overlooked topic in the world or perennials, and we'd like to change that.
Blazing autumn foliage colour
Goat's beard (Aruncus) are statuesque rhizomatous perennials with typically white frothy flowers, somewhat similar to that of the more commonly seen false goat's beard (Astilbe), which is shorter and usually in shades of pink. Aruncus 'Horatio' is particularly notable for it's stunning autumn foliage colour, including blood-red stems and foliage that runs from lime green through buttery yellow to pale orange.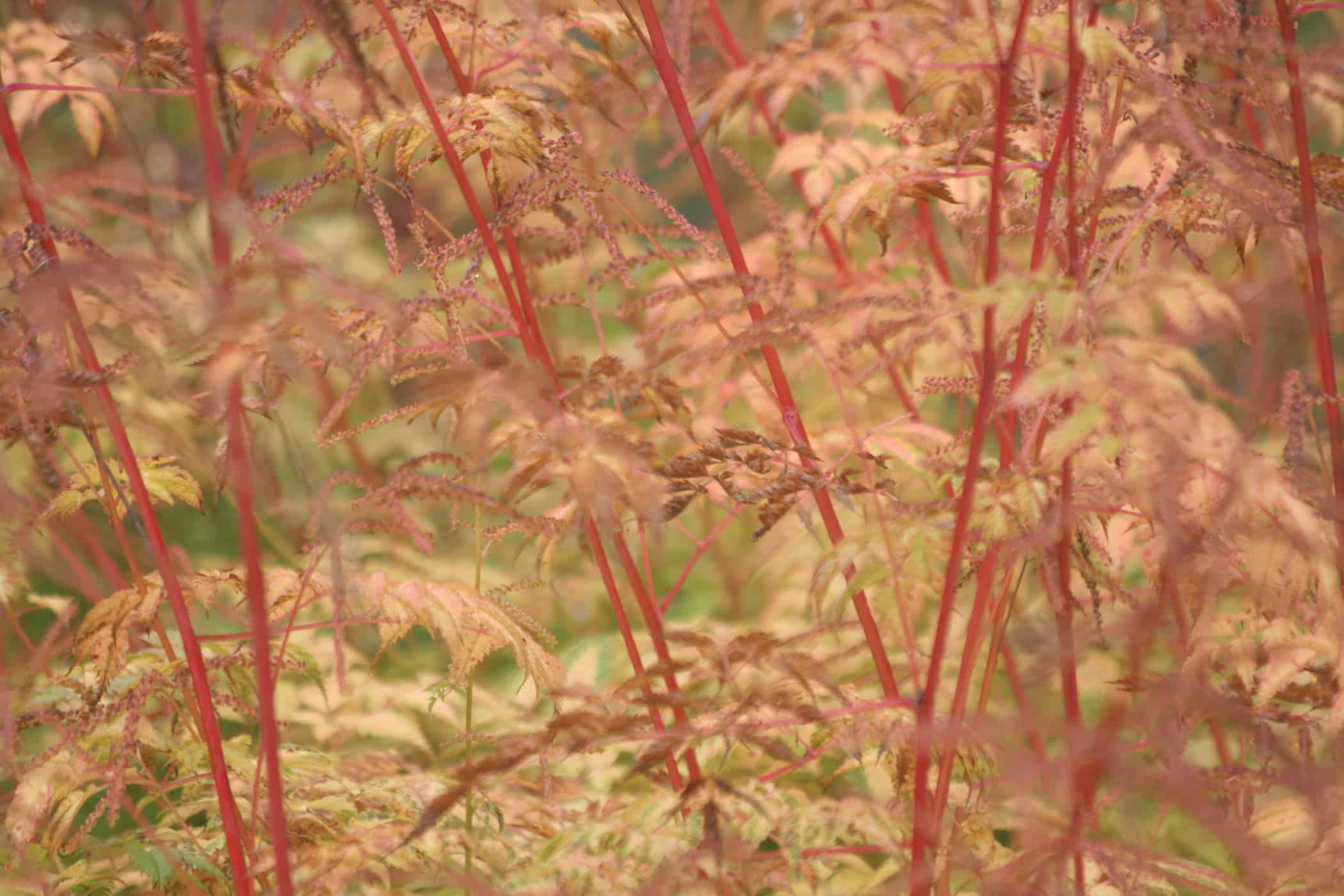 Aruncus generally like life on the damp side, but really anywhere that doesn't dry out completely will do, from full sun to part shade. They have a woodland feel to them, working well with large ferns such as the alpine wood fern, Dryopteris wallichiana. Pictured here at Pensthorpe in Norfolk in mid-October, 'Horatio' partners will with the prairie dropseed grass, Sporobolus heterolepis. Fine foliage and refined seed heads with a gentle scent of coriander, this grass has beautiful autumn foliage colour as it turns from green into bronze that lasts through the winter.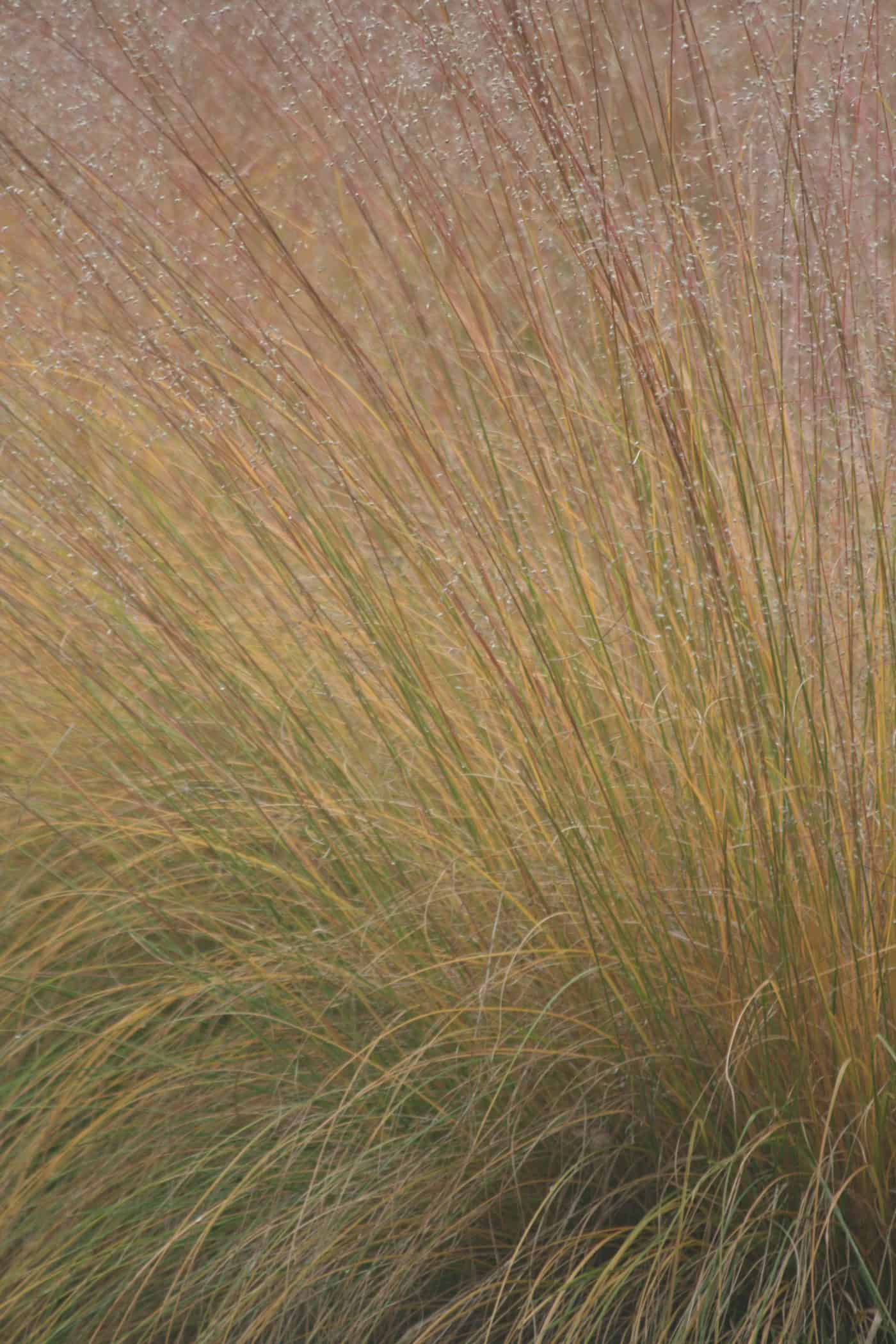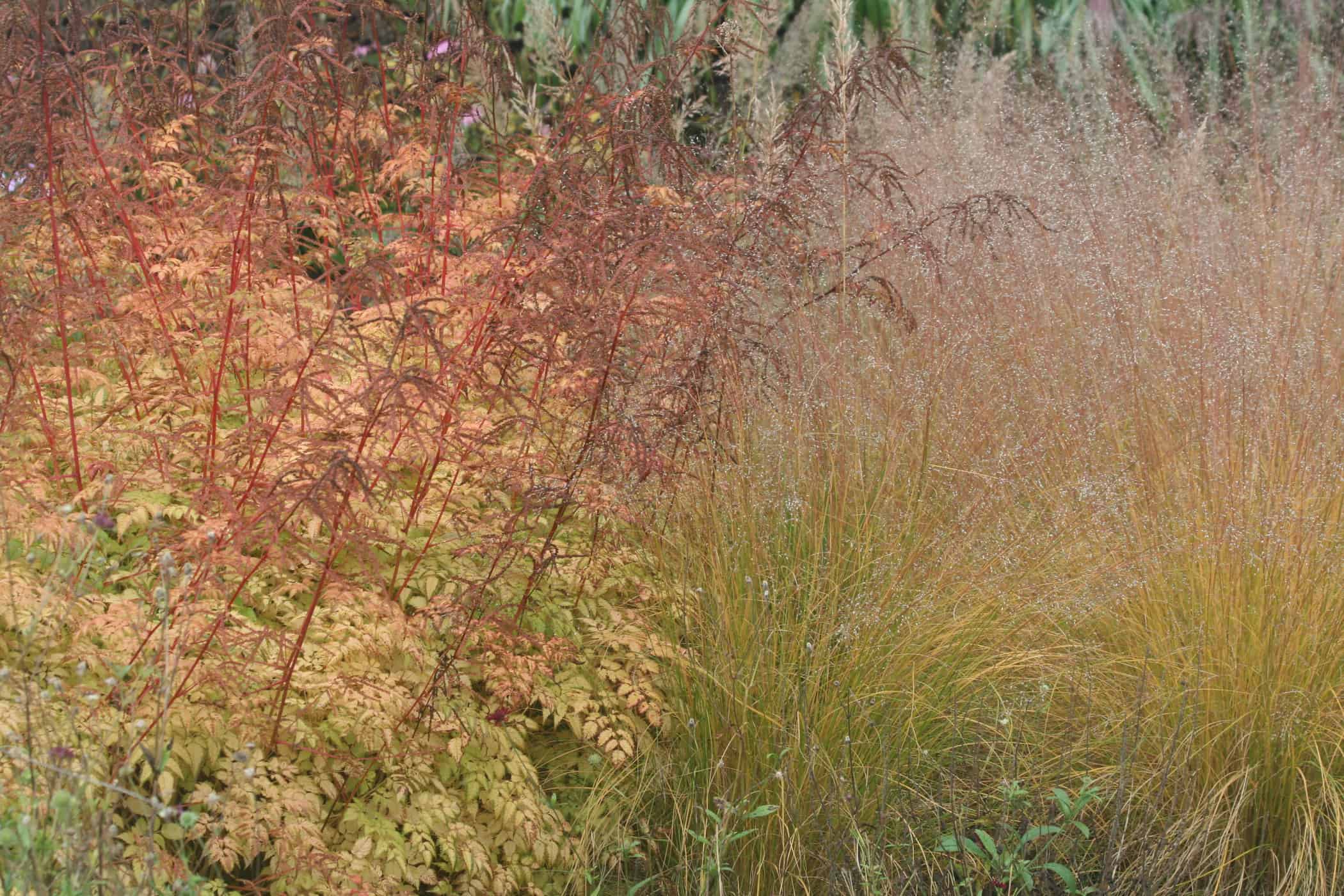 Aruncus 'Horatio' (goatsbeard), with Sporobolus heterolepis (prairie dropseed)
Autumn foliage colour; beauty in decay
Darmera peltata (the umbrella plant) has pink flowers rising in spring before the foliage emerges. The large rhubarb-like leaves have particularly striking autumn foliage colour, bringing big-scale colour, equally as beautiful up-close. As the big leaves suggest, this plant needs a damp spot to thrive.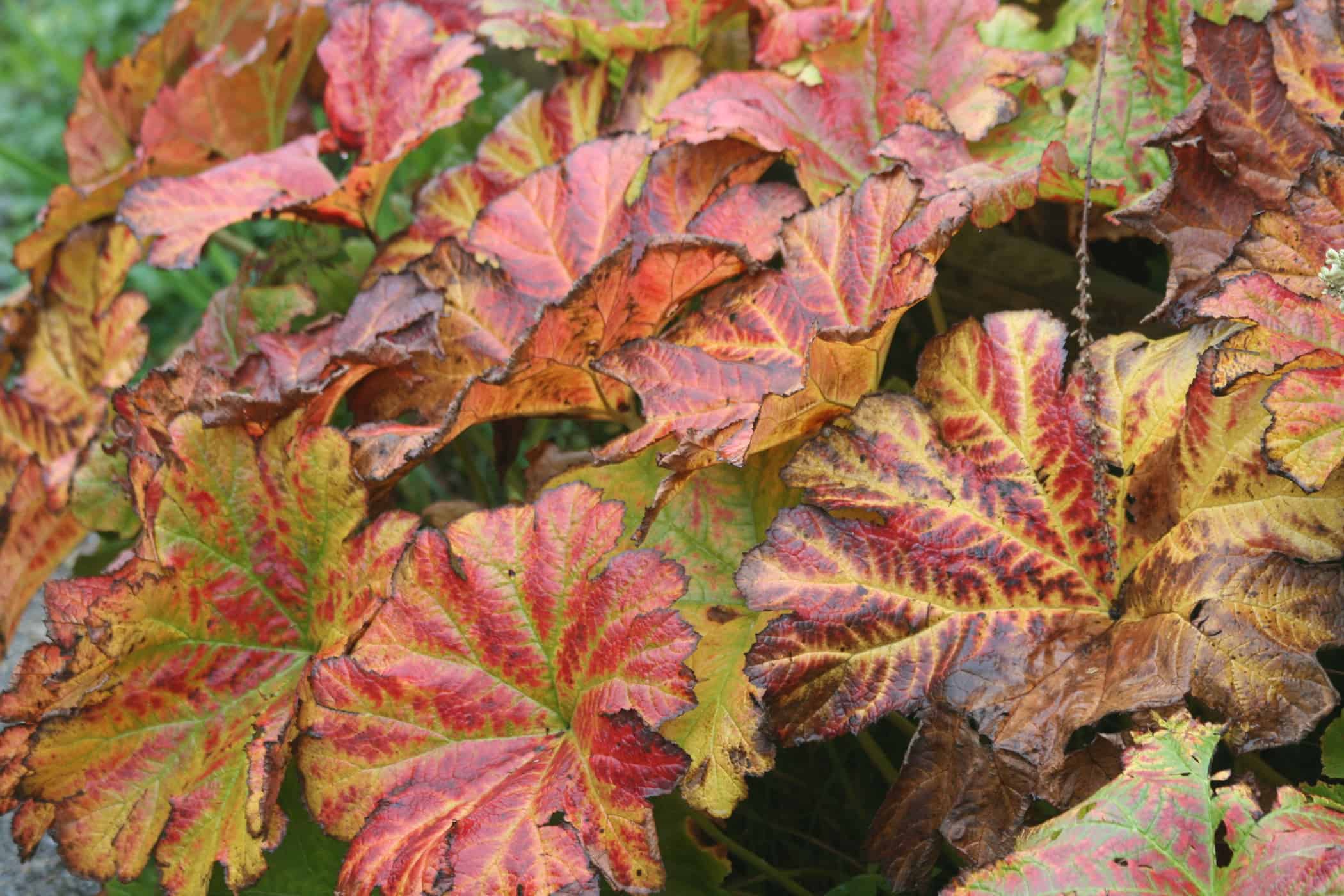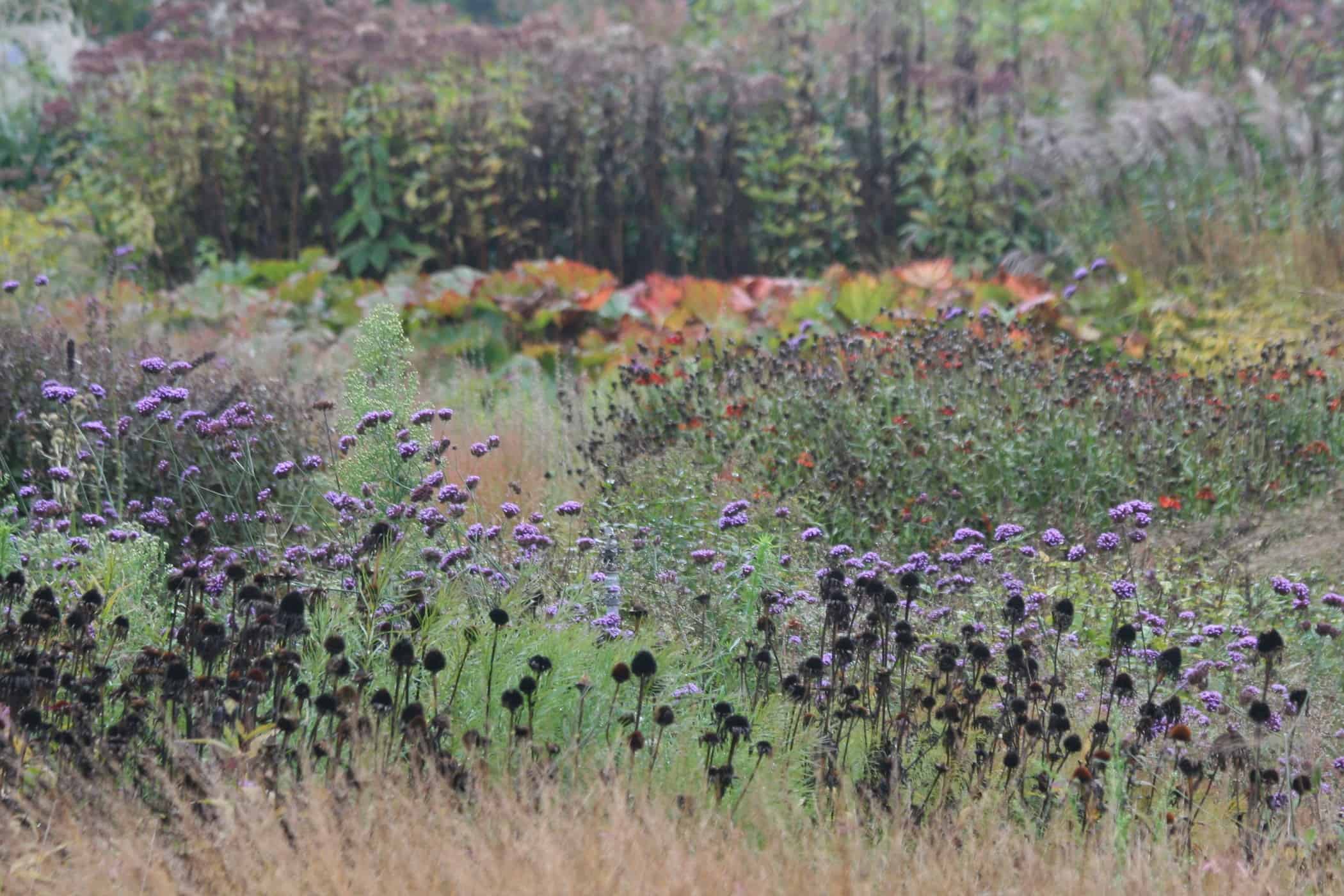 Glowing Amsonia
Amsonia hubrichtii (Hubricht's blue star) has a somewhat luminous autumn foliage colour, and a light feathery quality. On a dull autumn day the fine willow-like foliage really zings, acid-yellow with copper tinges.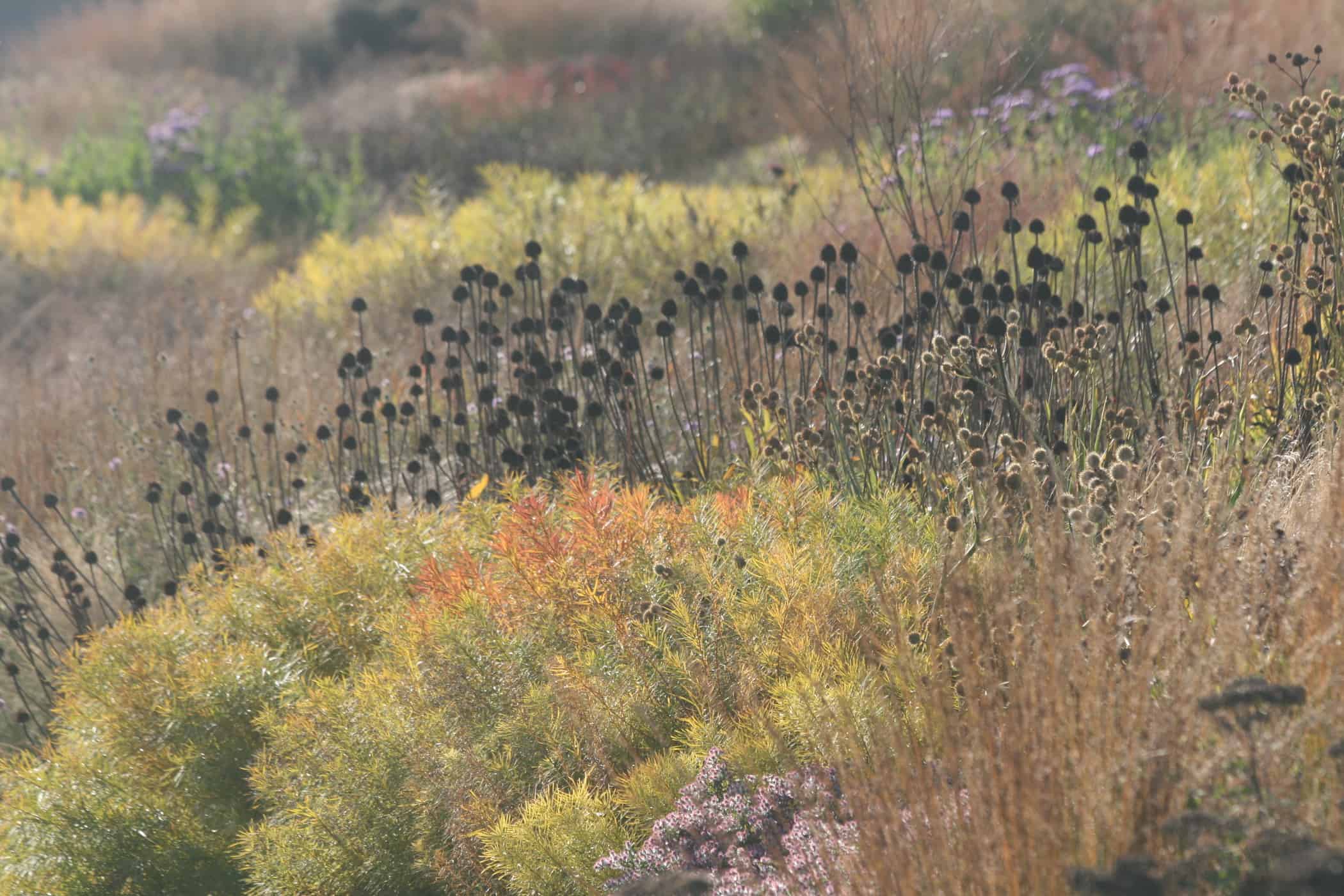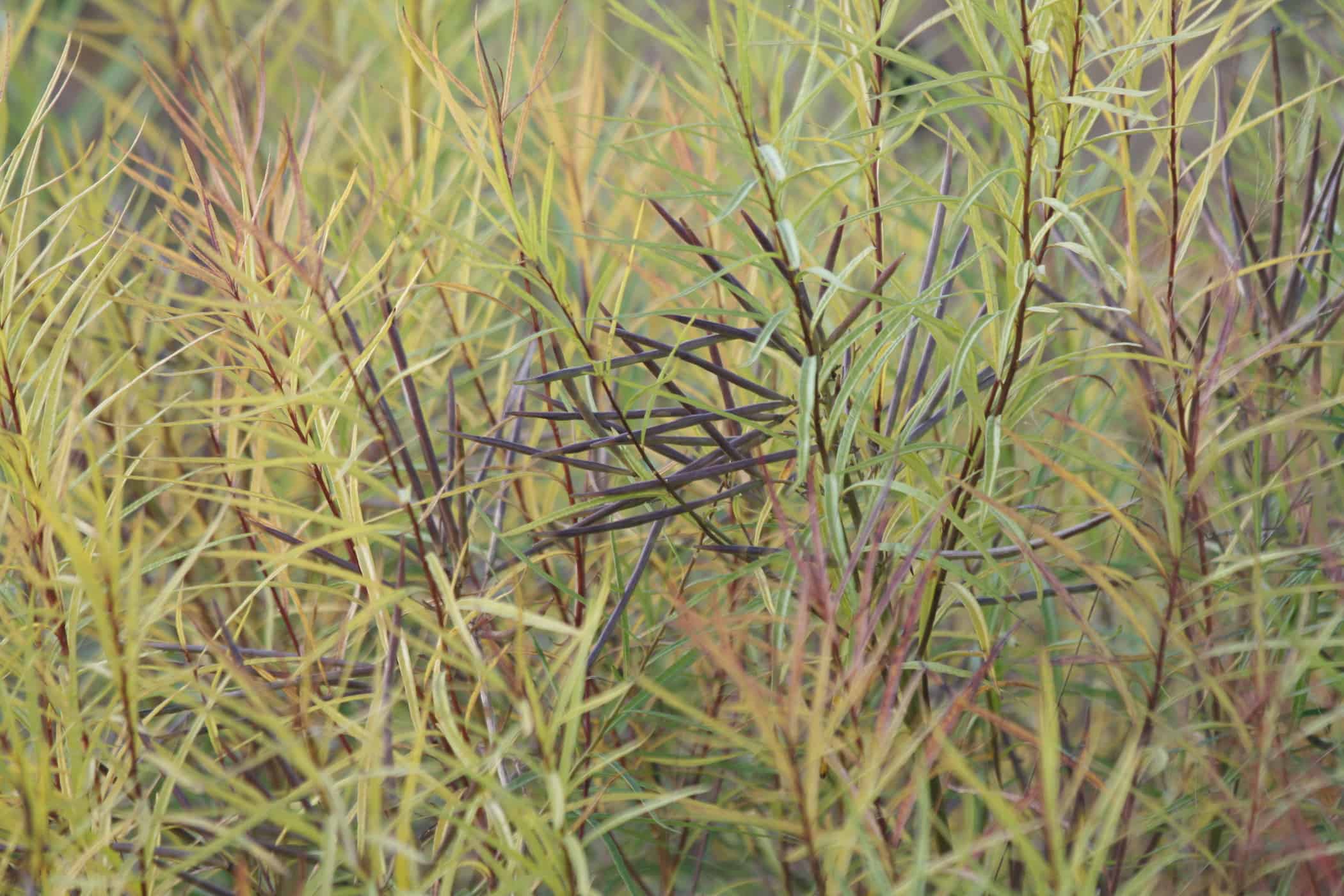 The combination of Amsonia tabernaemontana var. salicifolia (eastern bluestar) with the pinky-white flowers of Actea and dark foliage of Actea creates a real autumn moment in the garden, with the contrasting autumn foliage colour adding layers to the drama, pictured at Trentham Gardens.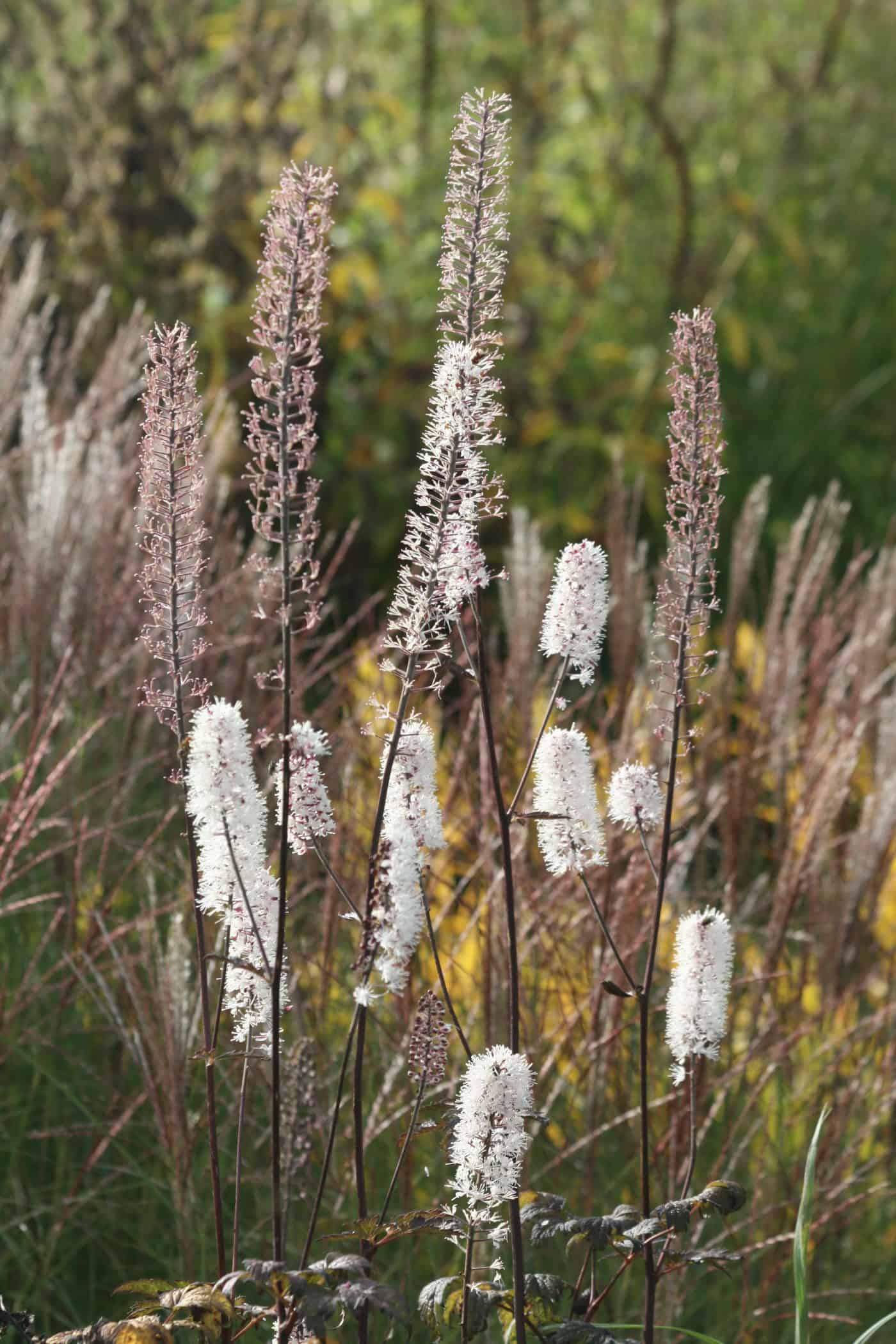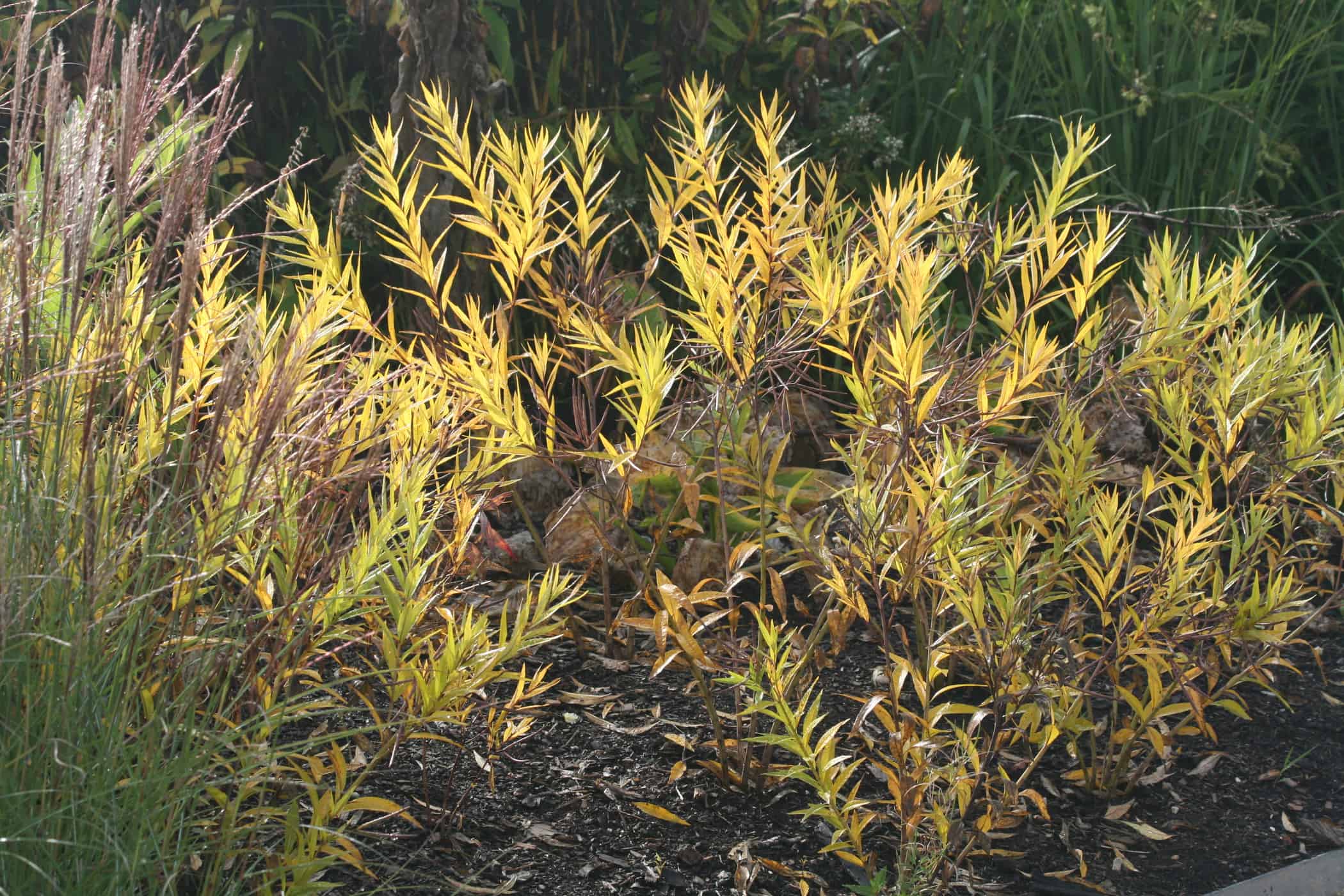 In June, both of these Amsonia species have graceful small star-like pale blue flowers, but they are really a late-season jewel thanks to the intense autumn foliage colour. Planted in drifts, Amsonia provides a bright backdrop for black seed heads of Echinacea, and complements the dusky mauve of late-flowering Michaelmas daisies. 
Autumn foliage colour; fire and ice
The long graceful stems of Molinia caerulea subsp. arundinacea 'Skyracer' are particularly vibrant as they turn from green through yellow and orange to a bright straw colour that lasts through winter. Molinia are native british moorland grasses, performing well on almost any soil type but in the wild this grass has the competitive advantage on damper areas where they form sturdy 'tussocks', used by walkers as stepping stones when crossing boggy land. 'Skyracer' is an upright form derived from the more common Molinia 'Transparent', which arches widely. Here coloured stems are set off perfectly by the late-season blue haze of Perovskia atriplicifolia 'Blue Spire'.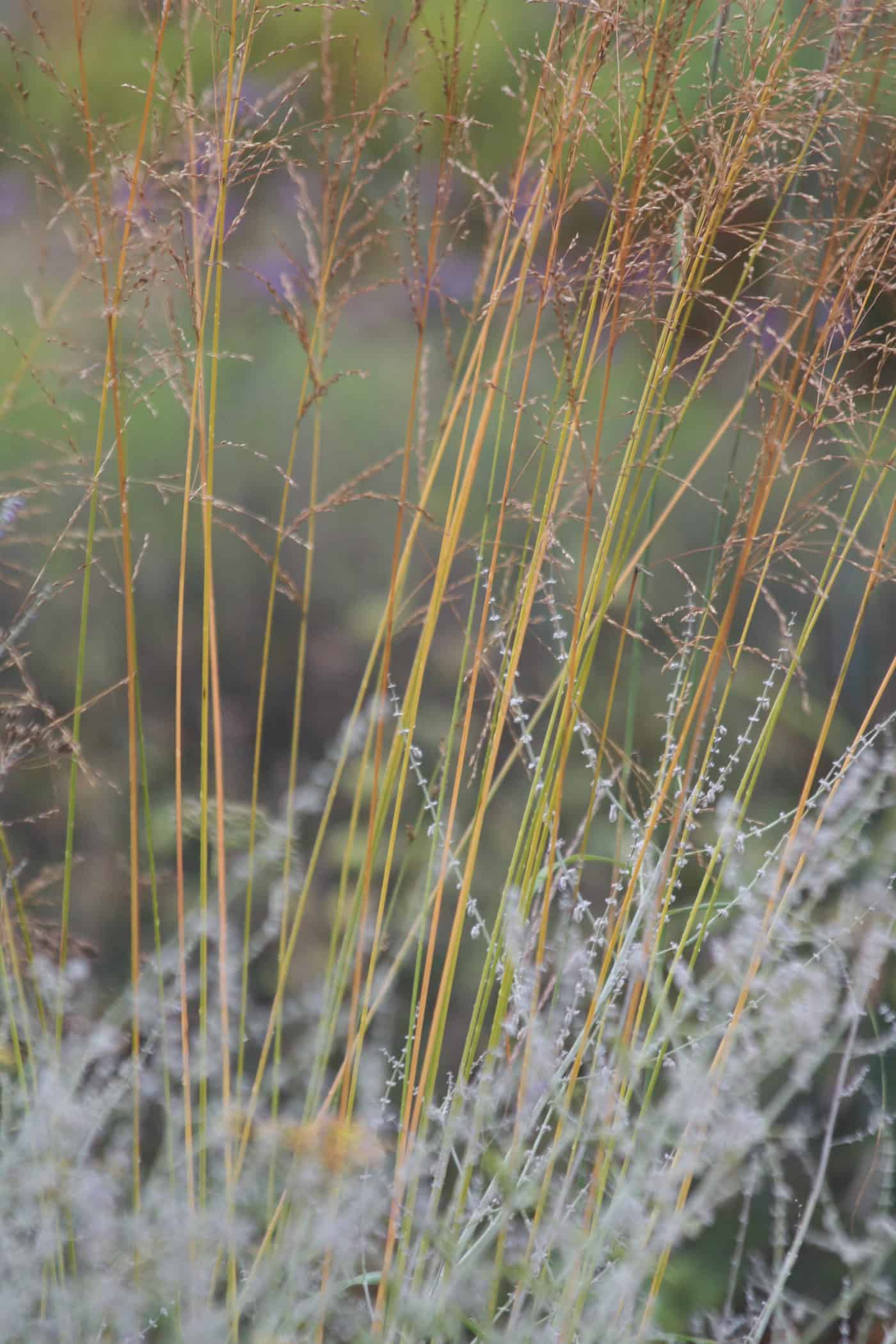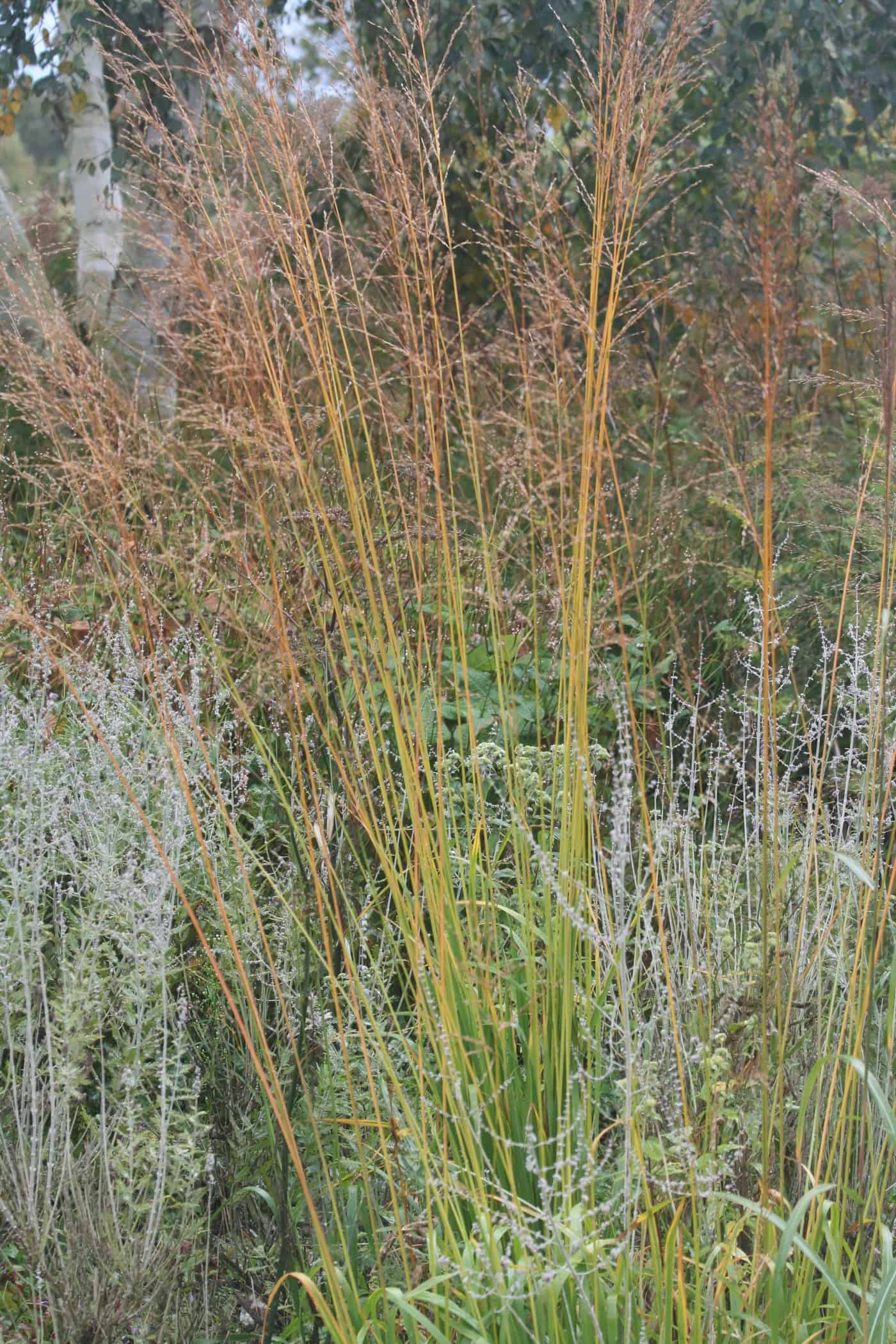 Autumnal embers
Gillenia trifoliata (Bowman's root); as the name suggests this plant has graceful trifoliate leaves, with sprays of delicate white flowers in June. As the plant starts to fade back into dormancy, the autumn leaves slowly turn from green to amber, to firey orange and then to black. This is a plant that holds a good structure through winter, catching the frost on stems and seed heads. Grow away from intense summer stress, in light shade or moisture-retentive soil in full sun.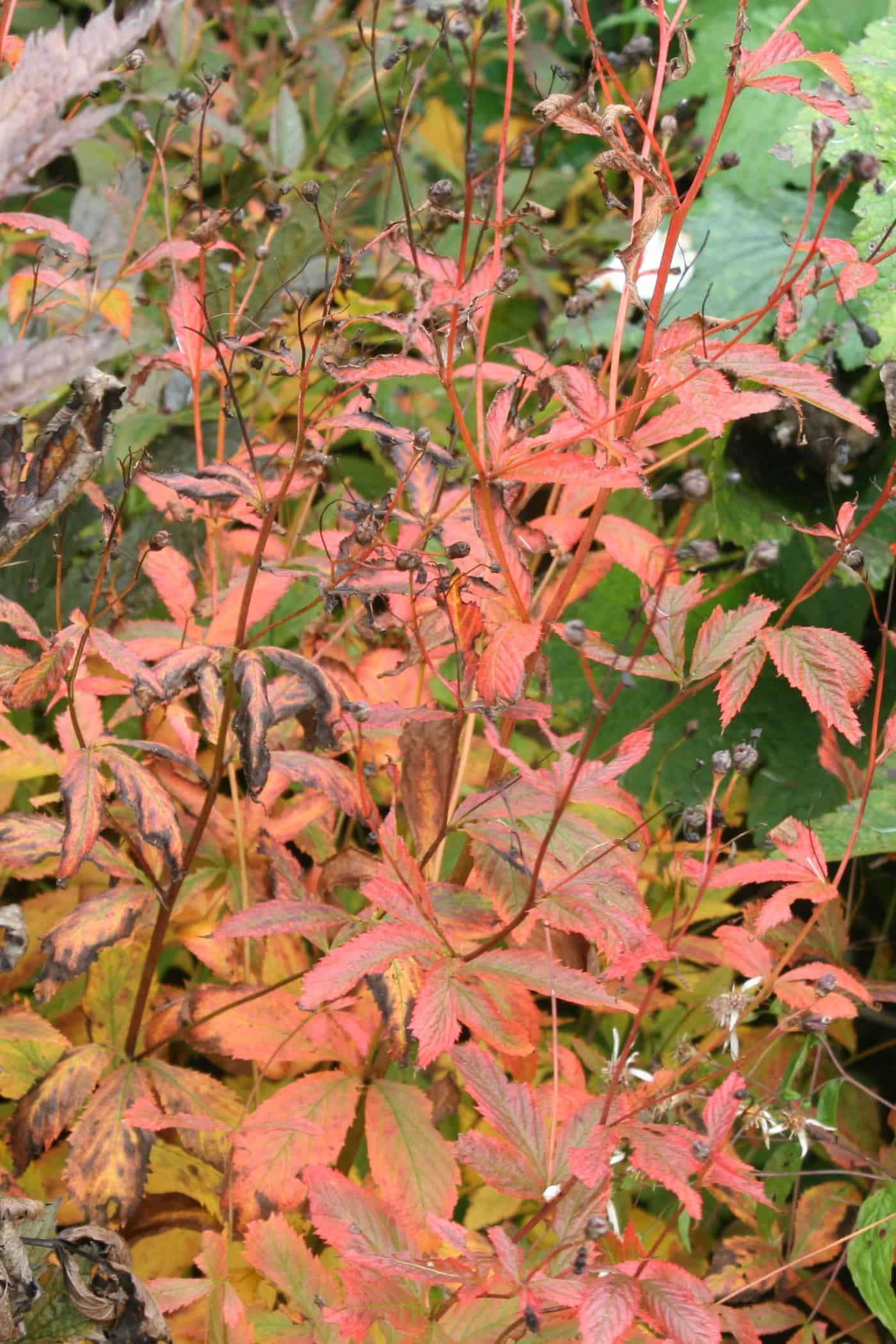 Hot chocolate
The dark-leaved varieties of baneberry such as this Actaea simplex  'James Compton' start with dark-green spring foliage, maturing to dusky olive-black in summer. As the season comes to a close, they take on toasty amber and burnt caramel autumn colour, contrasting well here with the bright blonde tones of Calamagrostis × acutiflora 'Karl Foerster' in the background, pictured at Lowther Castle & Gardens.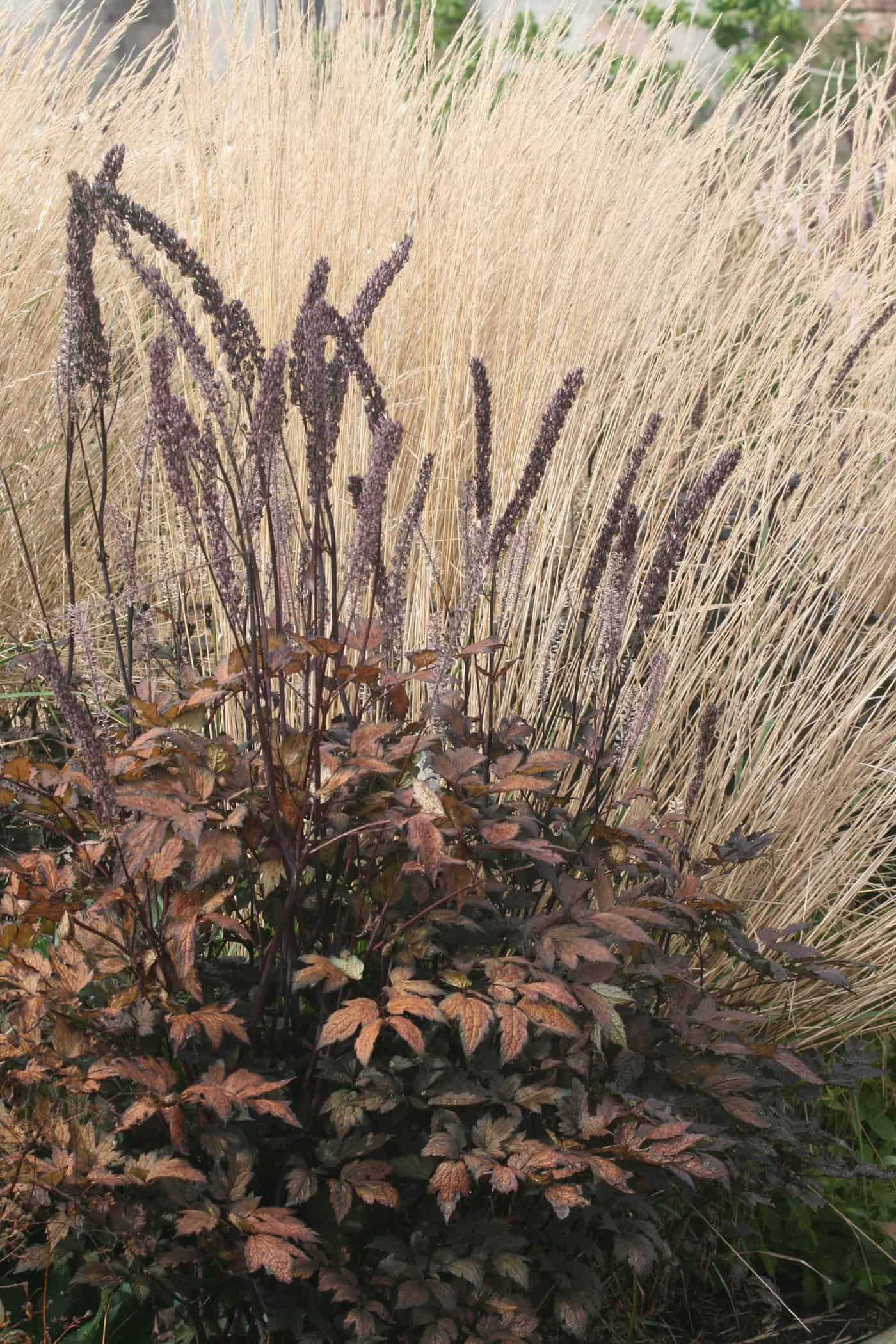 Bring the warmth  of autumn foliage colour to your garden
When it comes to choosing plants for their autumn foliage colour, gardeners typically look no further than a small range of trees and shrubs. With the right knowledge, herbaceous perennials and grasses can also be used for their vibrant autumn tones. Their generally smaller size means that even the smallest gardens can be a warming scene in autumn. many of the plants noted here are not generally available in your local garden centre, but our list of the best nurseries for unusual plants will certainly help you track them down.
---

Owen joined the Bestall & Co planting and aftercare team in spring 2019. He is an RHS qualified horticulturist, holding a full Level 3 Diploma in Horticulture, and recently came in the top 3 at the Northern Regional Final of The Young Horticulturist of the Year 2019. After first doing a foundation diploma in Fine Art, he went on to gain a degree and masters in Plant and Soil Science from the University of Sheffield in 2014. Owen worked as a researcher on various field research projects in Alaska, Panama and Borneo. When not away in the field, he became obsessed with visiting gardens and nurseries across the British Isles and the Netherlands, developing his own garden, and then taking on a walled allotment garden as a personal project. He realised his true passion was in horticulture, and so moved away from academia and into the world of specialist plant nurseries and professional gardening.
Owen is now studying the Wisley Diploma, but continues to write articles for us on a monthly basis, and we're delighted to maintain contact with such a passionate and knowledgable plantsman.
All author posts