Witch-hazels; charismatic stars of the winter garden
In February, I visited Chris Lane's magnificent Witch-Hazel Nursery in Kent, to see the national collection of
Hamamelis
in its full winter floral glory. Chris walked us through the 125 cultivars he has growing side-by-side, sharing his favourite varieties and the stories behind them. For 30 years he has passionately collected and selected the best clones. From zingy yellows, through fiery oranges to deep reds, here are 10 that really stood out that day.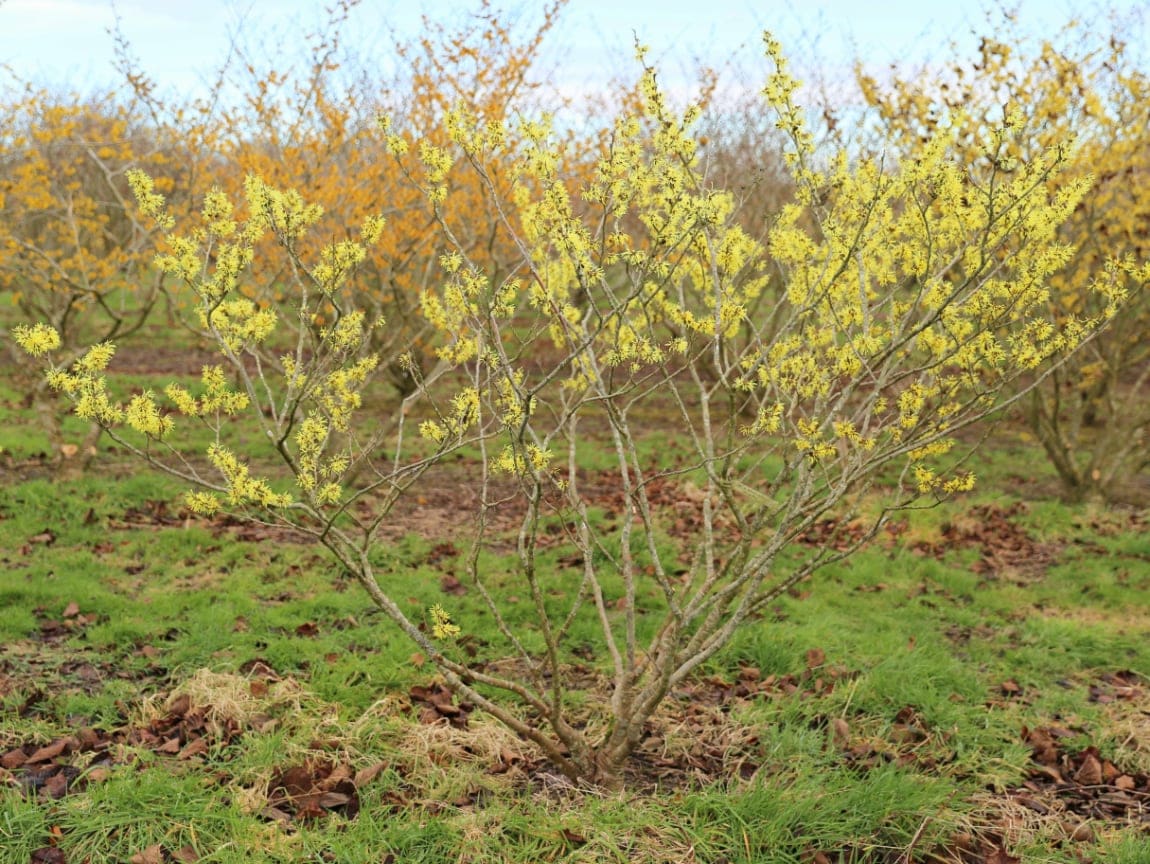 Despite being in cultivation since the start of the 1900s, witch-hazels are still uncommon and relatively unknown to many home gardeners. Skin-soothing witch-hazel water is perhaps more familiar, distilled from the leaves and bark of the north american native Hamamelis virginiana, which flowers in autumn.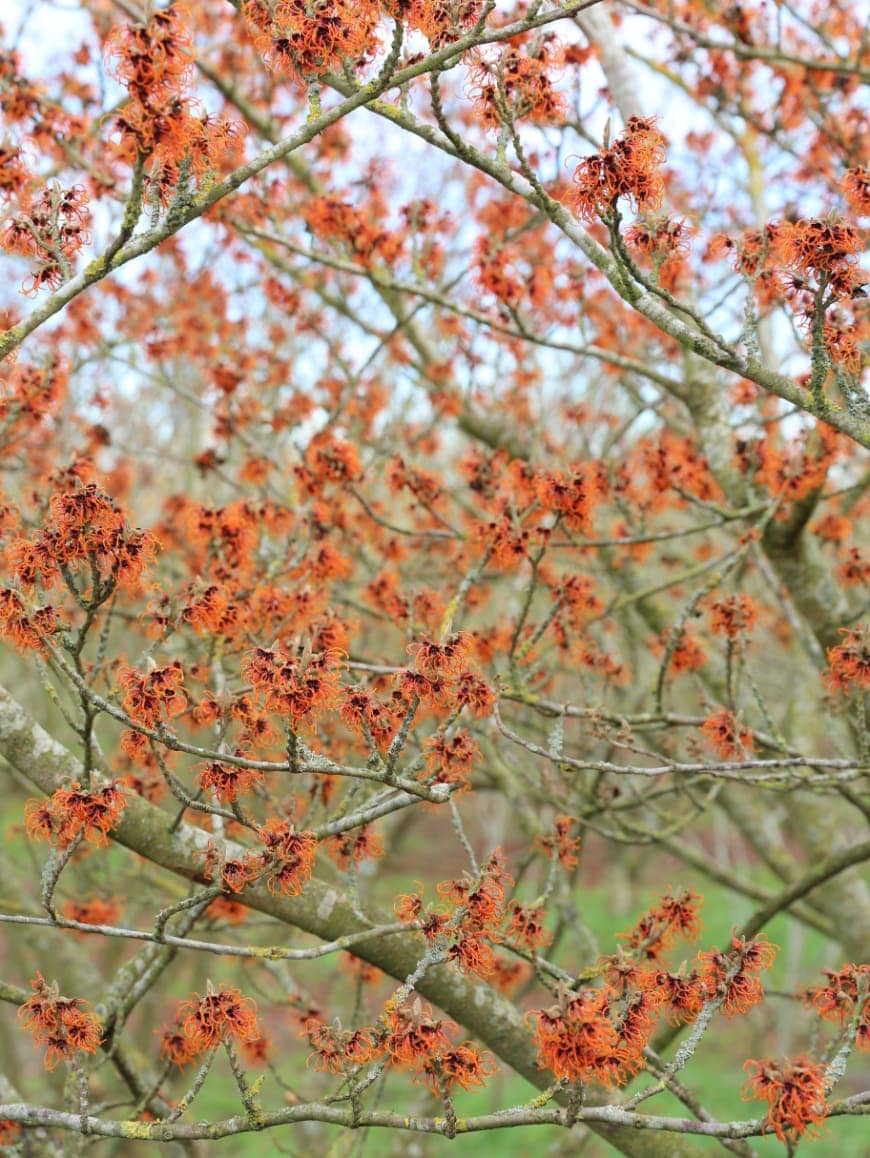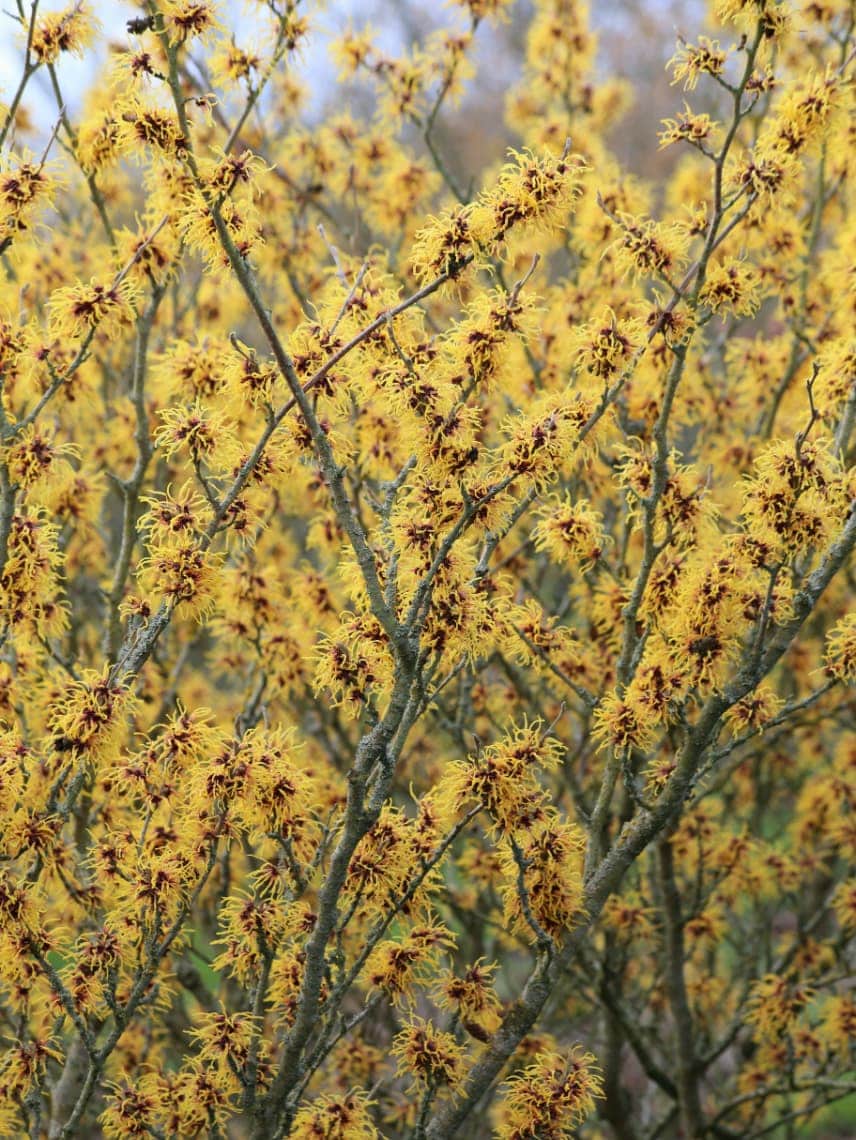 Chris explained that as the climate of the south-east sees drier summers with climate change, witch hazels are becoming less suited to that climate. In the north and west of the country, summer rainfall is expected to stay similar while the climate warms, making those regions increasingly good for growing witch hazels. These are shrubs that like damp summers, without stressful droughts.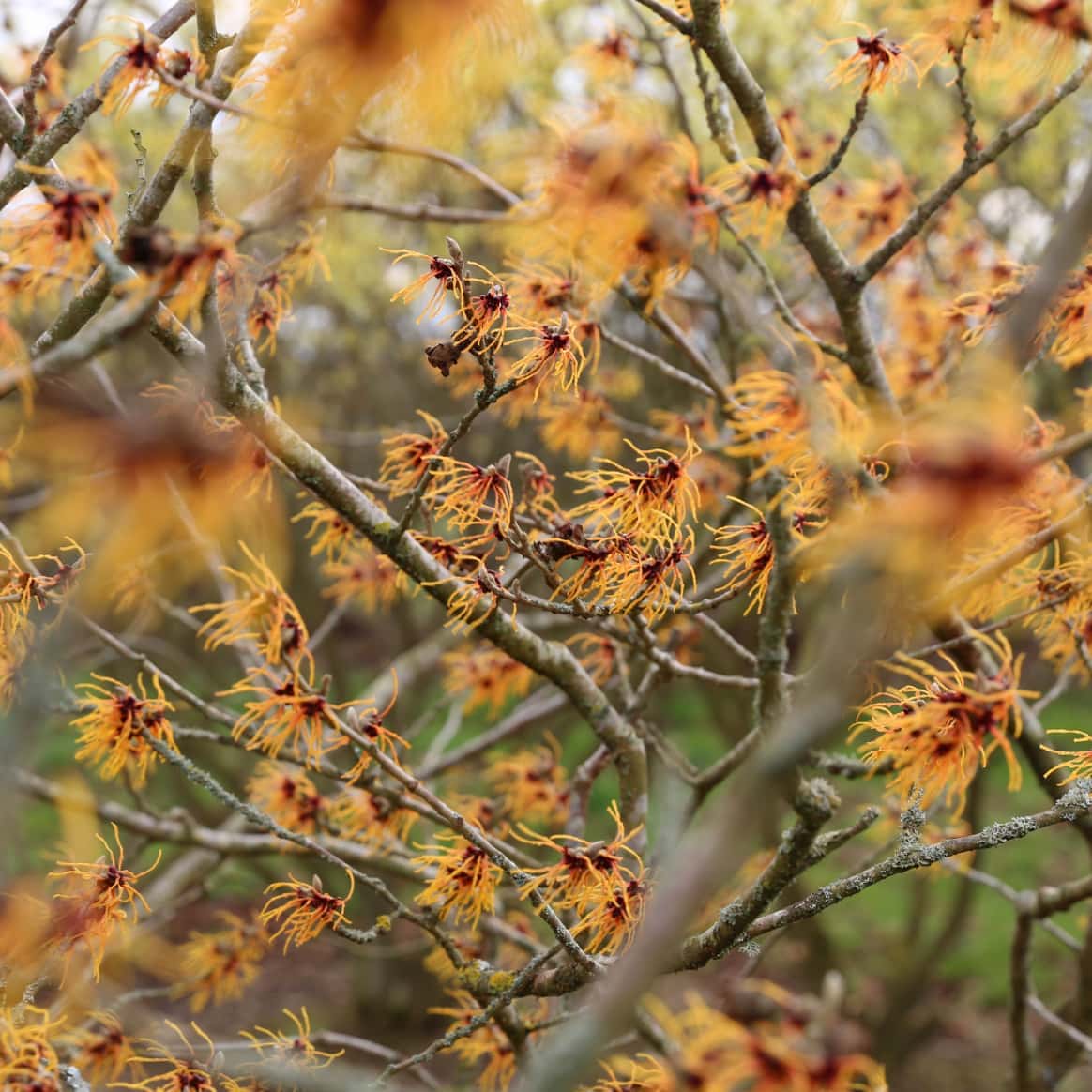 The leaves and branches of witch-hazels do look similar to true hazels (Corylus), which are in the Betulaceae family alongside birch and alder. Witch-hazels (Hamamelis) are in a different family altogether, the Hamamelidaceae. Corylopsis and the Persian ironwood (Parrotia) are two other fantastically classy woody genera from that family worth exploring if you are unfamiliar.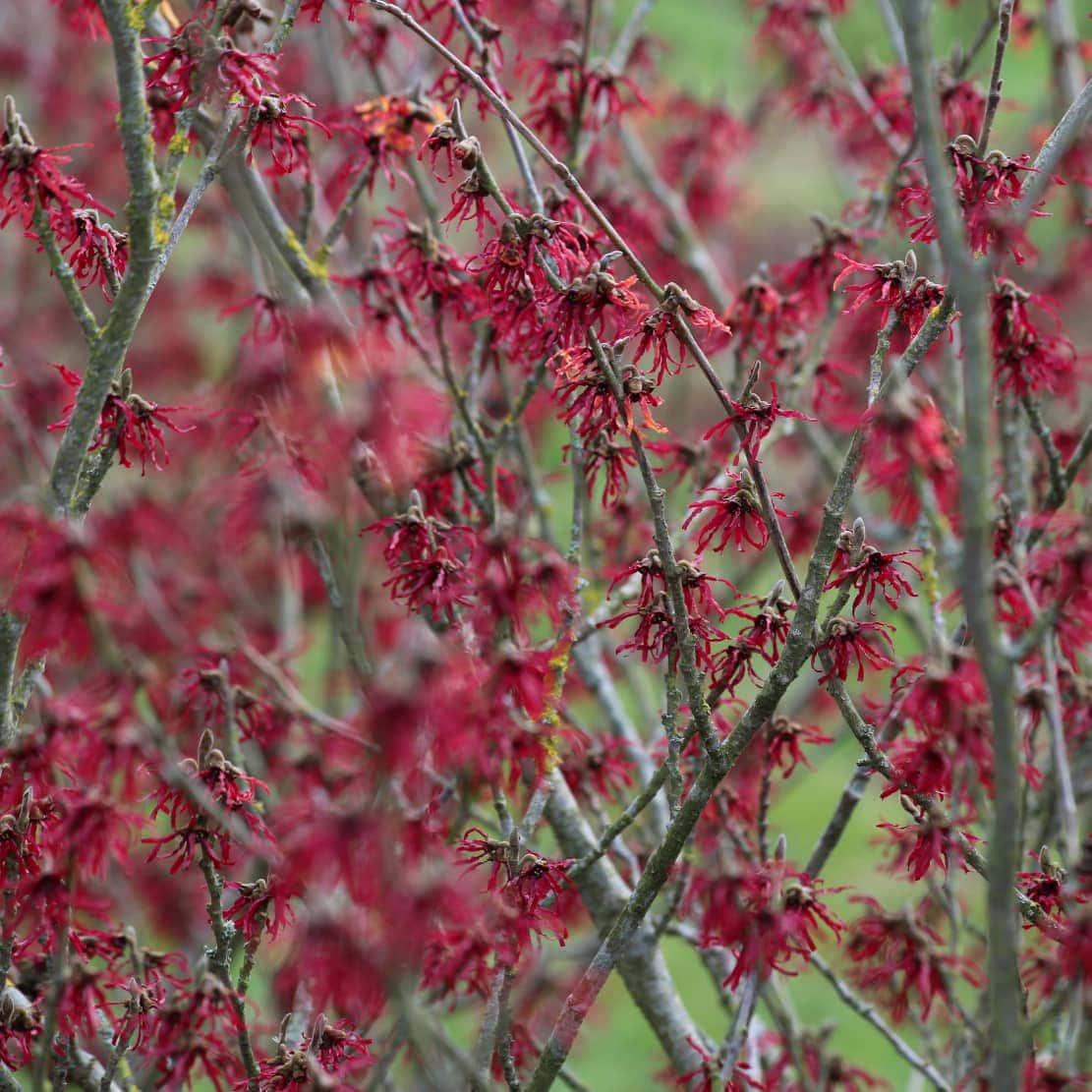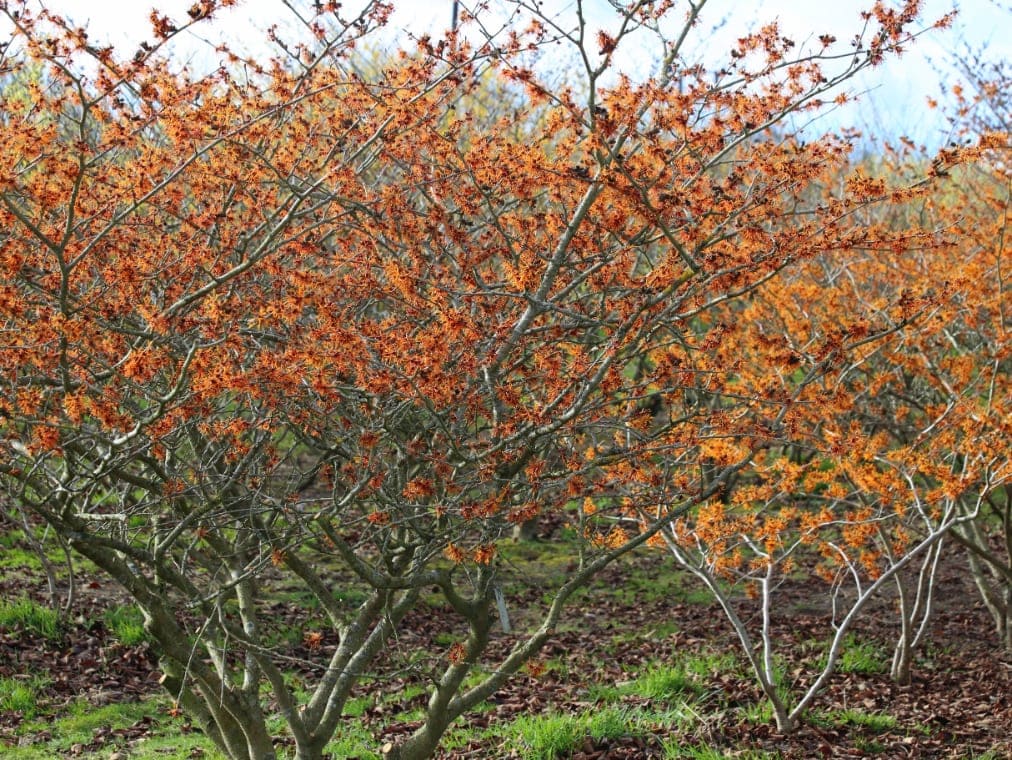 The most widely available cultivars are hybrids between the two asian native species, Hamamelis japonica and Hamamelis mollis. Their hybrids, known as Hamamelis × intermedia, have become fiercely shining stars of the winter garden. Their winter flowers are scented, from spicy through to sweet. In hard frosts the filamentous flowers can droop, but come through totally unscathed once the frost passes.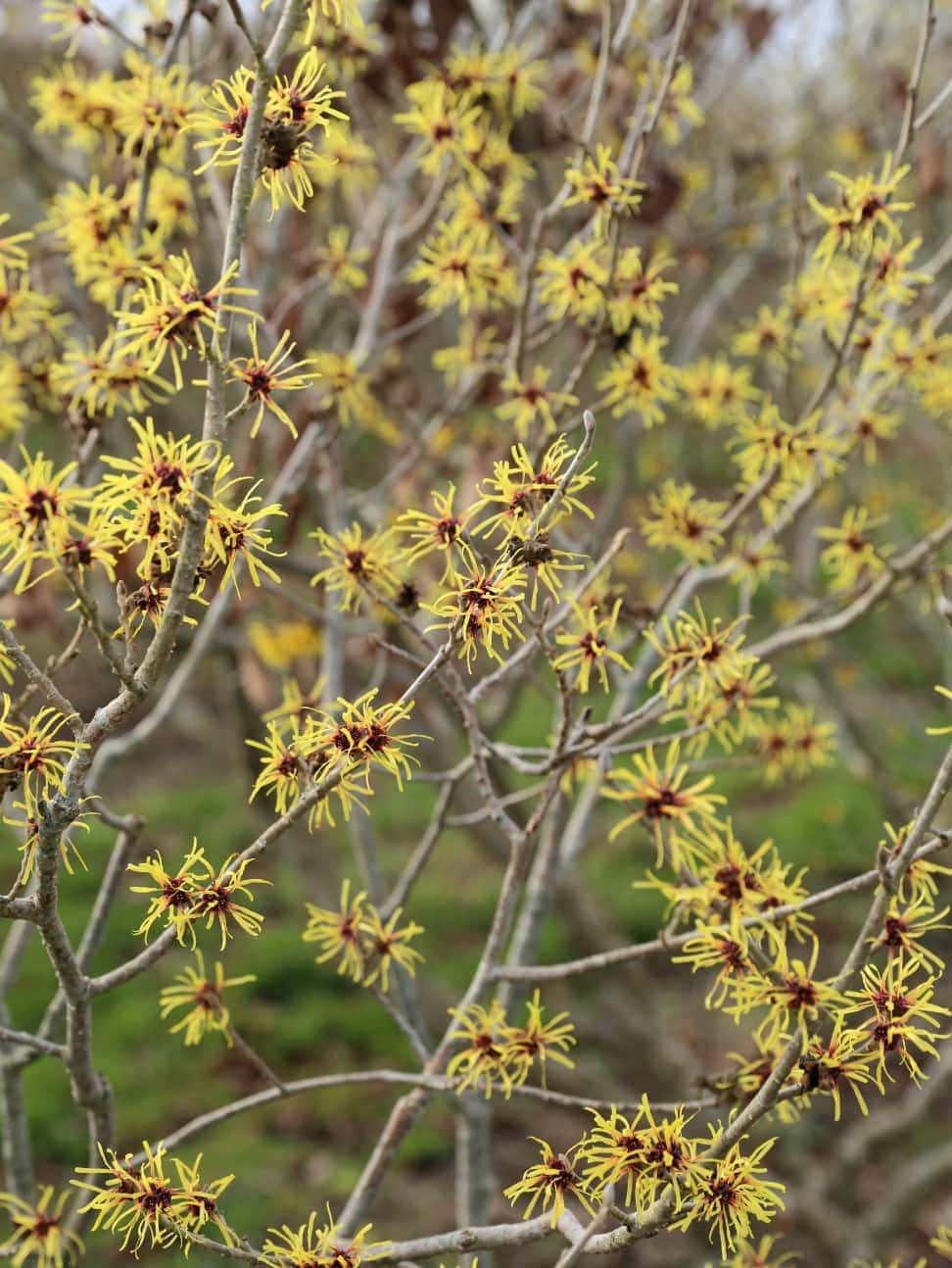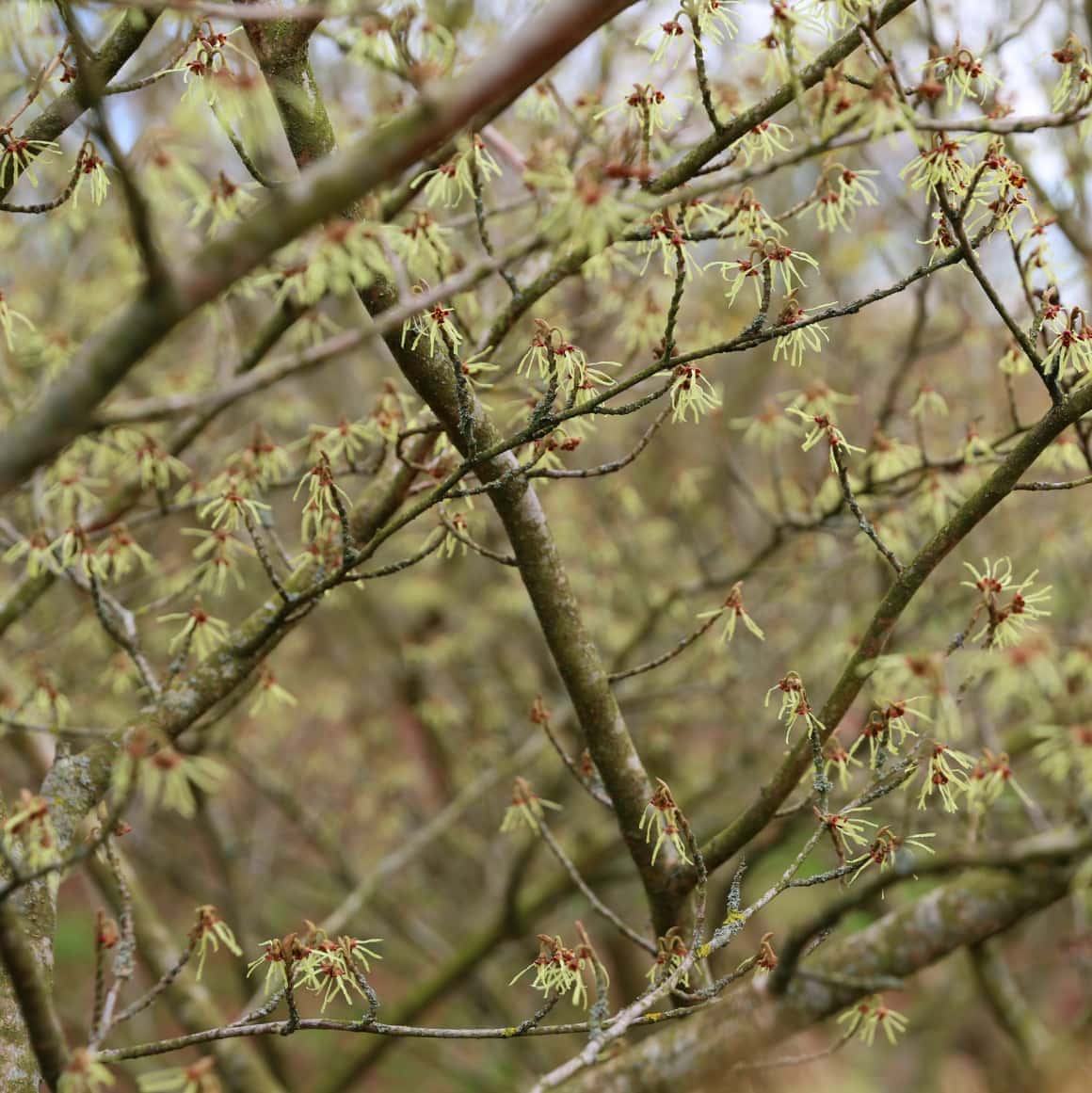 Witch-hazels tend to grow with a strong conical shape, branching outwards from the base, with an open centre. They can grow fairly upright at first, widening and becoming more horizontal in time as the branches lower under their own weight. In full sun, their growth is denser and flowering is more intense, while under shadier conditions their branch structure is more open and flowers more sparse. Read my blog from last month, which features a few examples of this. Autumn brings a wash of warm vivid colour to their fading foliage, with the best show seen on plants that receive plenty of sunlight.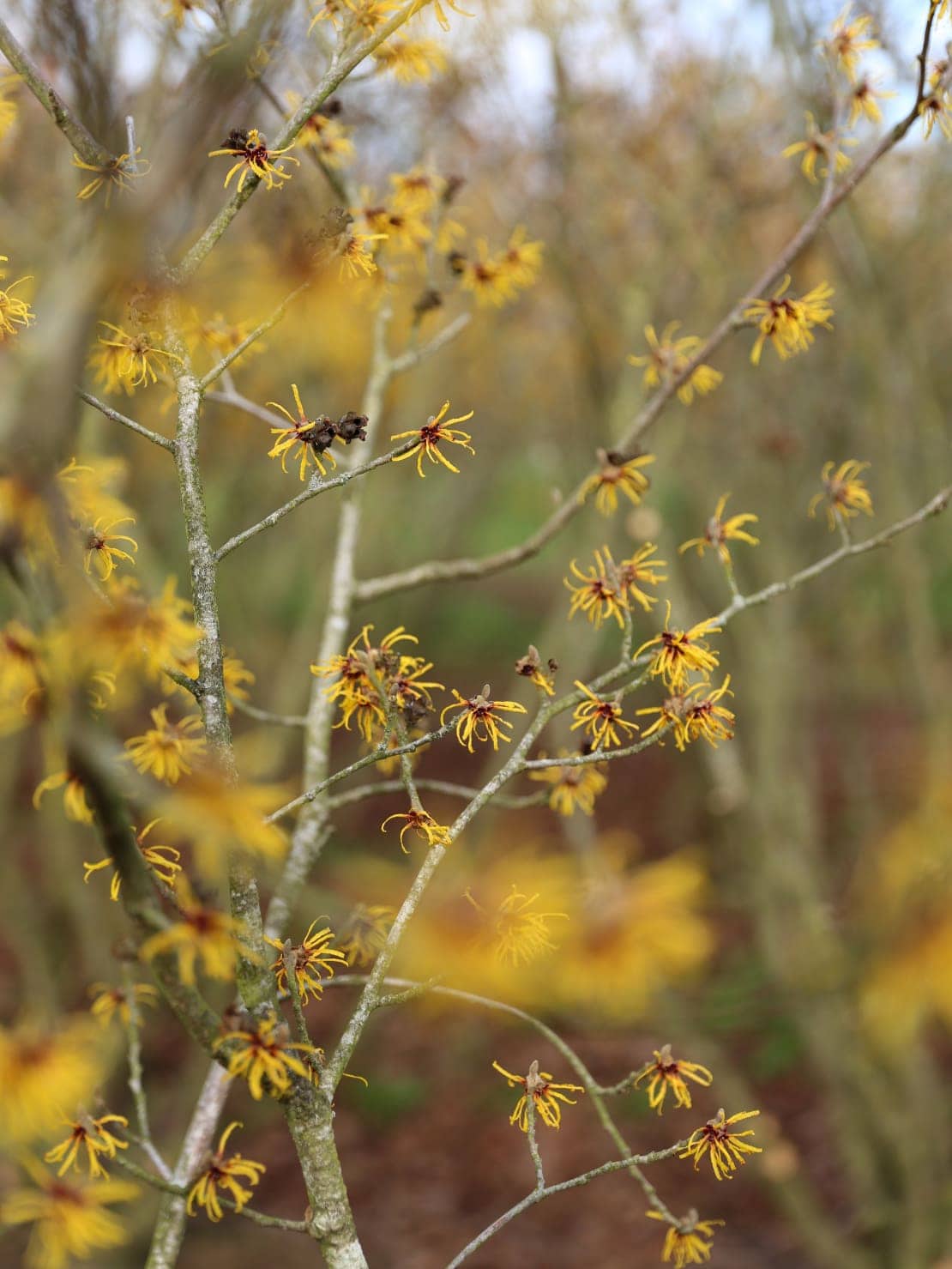 It's not just the unrivalled collection of Hamamelis on show at Witch-Hazal Nursery, we will certainly be returning in spring to see his colossal collections of flowering cherries and Wisteria, lined out in fields where cultivars can be compared alongside each other.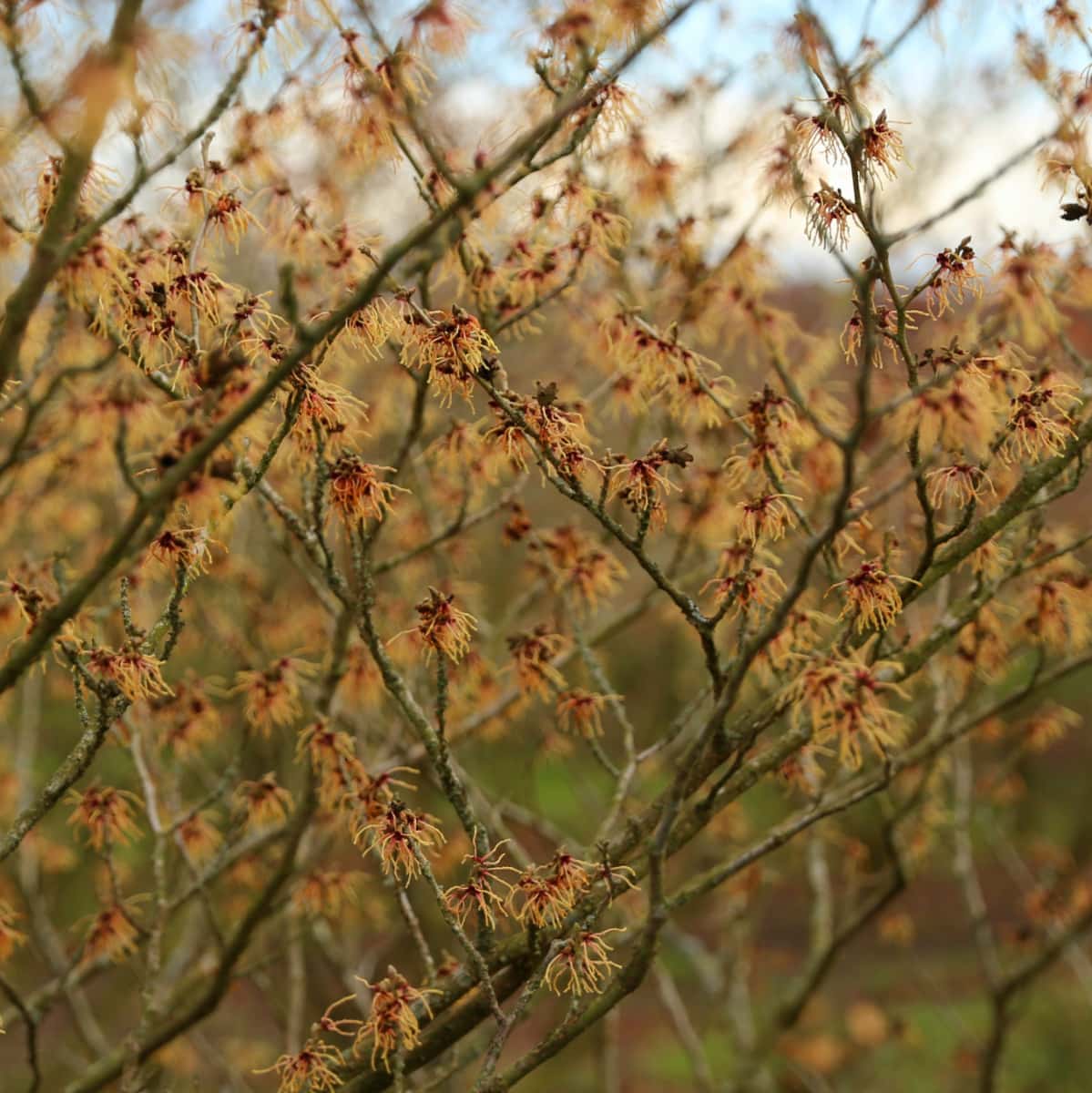 It's really worth a trip to Kent to visit the nursery. It's not generally open, but they hold open days, with plants available to buy. He is slowly replacing and replanting the collection, as many of the trees have out-grown their spot, so get down soon.
Photography by Owen Hayman. Thanks Jack Aldridge for organising the visit.
---

Owen joined the Bestall & Co planting and aftercare team in spring 2019. He is an RHS qualified horticulturist, holding a full Level 3 Diploma in Horticulture, and recently came in the top 3 at the Northern Regional Final of The Young Horticulturist of the Year 2019. After first doing a foundation diploma in Fine Art, he went on to gain a degree and masters in Plant and Soil Science from the University of Sheffield in 2014. Owen worked as a researcher on various field research projects in Alaska, Panama and Borneo. When not away in the field, he became obsessed with visiting gardens and nurseries across the British Isles and the Netherlands, developing his own garden, and then taking on a walled allotment garden as a personal project. He realised his true passion was in horticulture, and so moved away from academia and into the world of specialist plant nurseries and professional gardening.
Owen is now studying the Wisley Diploma, but continues to write articles for us on a monthly basis, and we're delighted to maintain contact with such a passionate and knowledgable plantsman.
All author posts