Marvelous midwinter berries, flowers and fragrance
From the subtle calming wonders of seedheads and bleached-out grasses, to cheery winter berries, frost-hardy flowers and powerful fragrance, plants can elevate our mood in winter. Here's a few delights that are shining in the darkest months.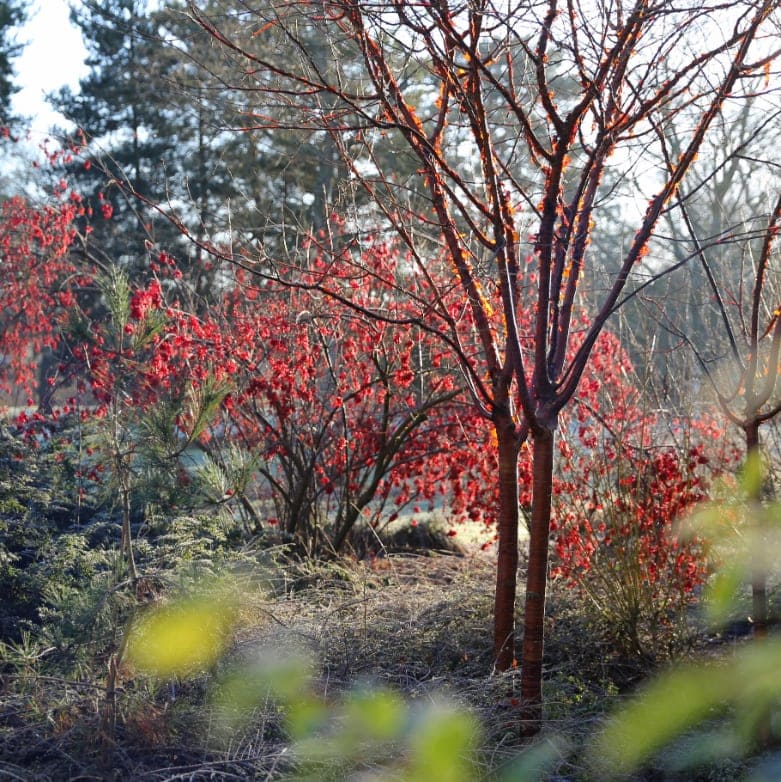 On the Winter Walk at RHS Garden Wisley, the birch-leaf viburnum (Viburnum betulifolium) has been dripping in ruby berries all winter long, besides tibetan cherry (Prunus serrula) with peeling bark that catches the low winter sun. Something about Viburnum betulifolium means the birds hold off eating the berries all winter long, making for a display that goes on and on.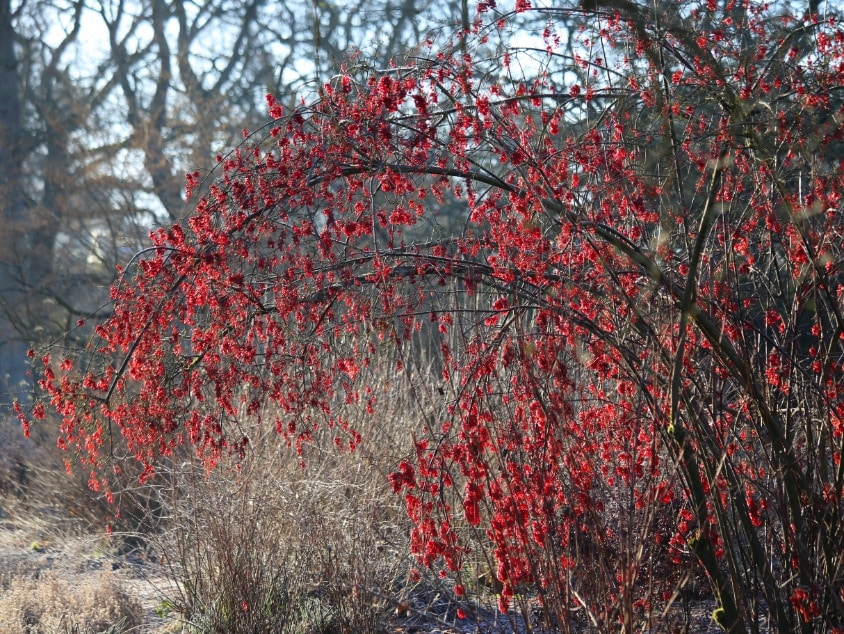 Some plants do not seem to pollinate reliably, and it can take them some years to flower too. However, a particularly good form is one collected by Ernest Henry Wilson, the notable British plant collector and explorer. Thankfully, one of his clones is still available in nurseries today. Planting several in a group from different sources also helps ensure good fruiting, and it really is worth it.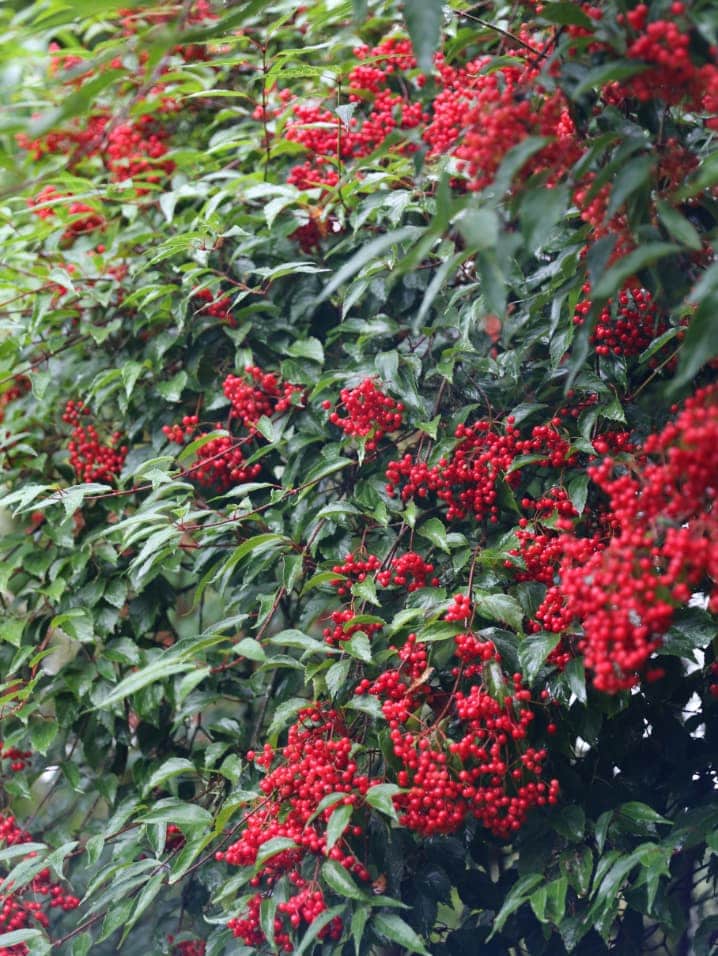 Back in September, the ethereal lace-cap flowers of Hydrangea aspera Kawakamii 'Lishan' were twinkling beneath oak trees on Battlestone Hill at RHS Wisley.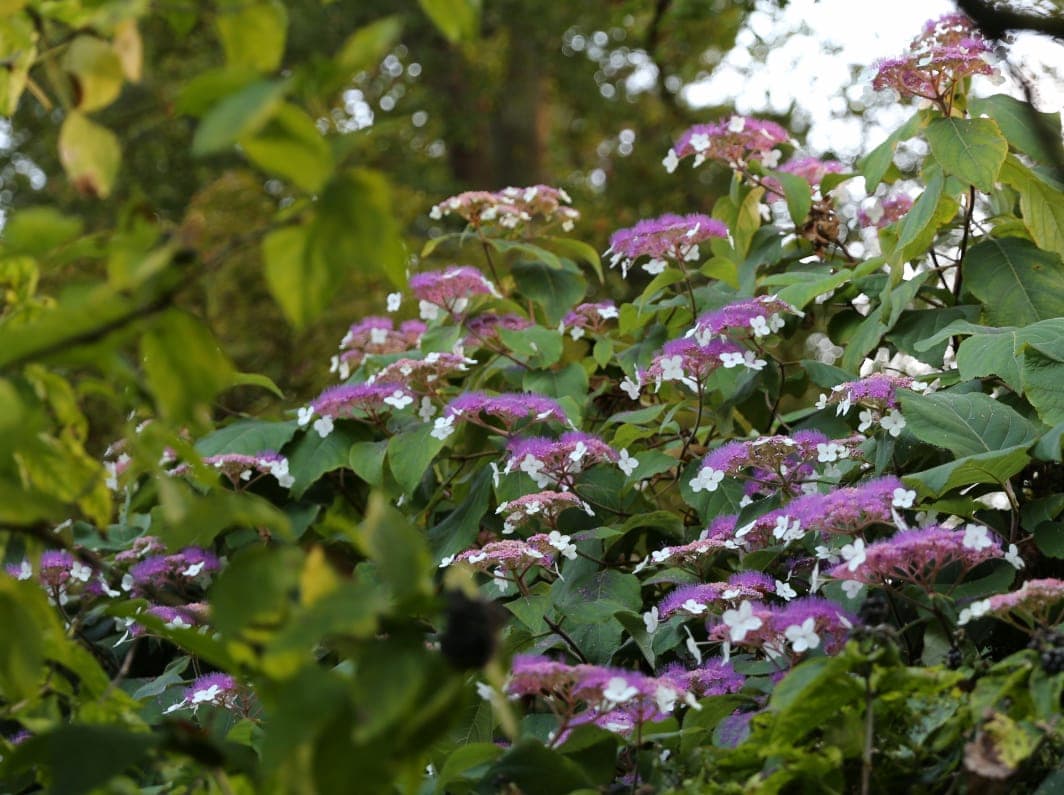 Now in midwinter, their dry seed-heads and sepals provide interest through until spring, while offering some frost protection to spring buds.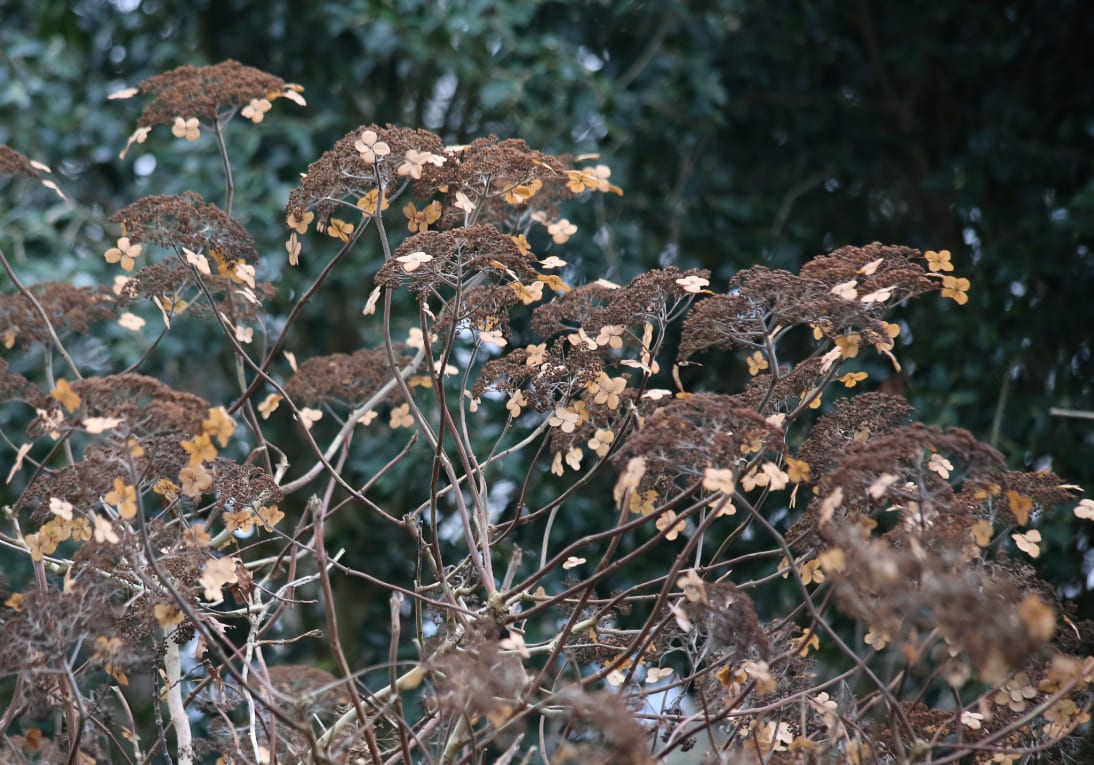 The Kamaamii group are all particularly late to flower, but as a species Hydrangea aspera is highly diverse, in terms of form, foliage, flower colour and shape. Their peeling papery bark and downy foliage add to the sensory appeal. I have the velvety purple-leaved variety 'Hot Chocolate' at home, but even deeper in colour is 'Koki'. In the wild they grow between the Himalayas and Taiwan, across southern China.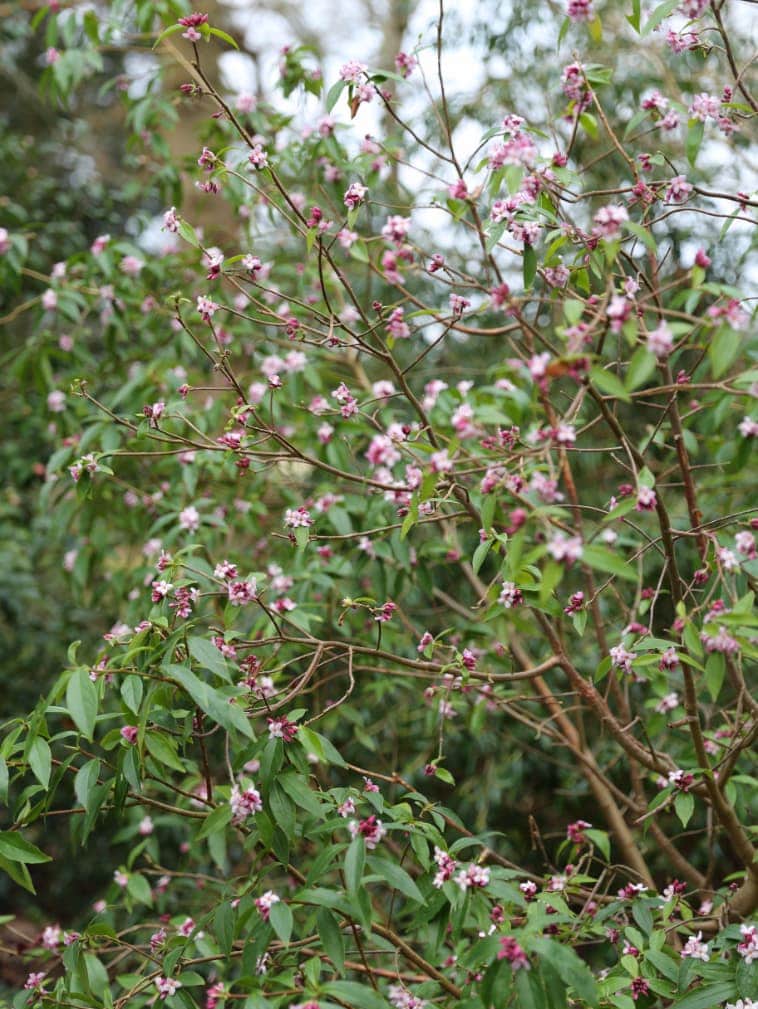 The daphnes around the garden are pumping out their delicious scent, caught on the fresh winter air. Broadly speaking, Daphne odora is seen as the most fragrant, while Daphne bholua are generally more vigorous and healthy, with great scent too. Both need a sheltered spot, and pretty much all daphnes struggle to tolerate any kind of root disturbance, so plant them where they'll stay and don't tease out the roots.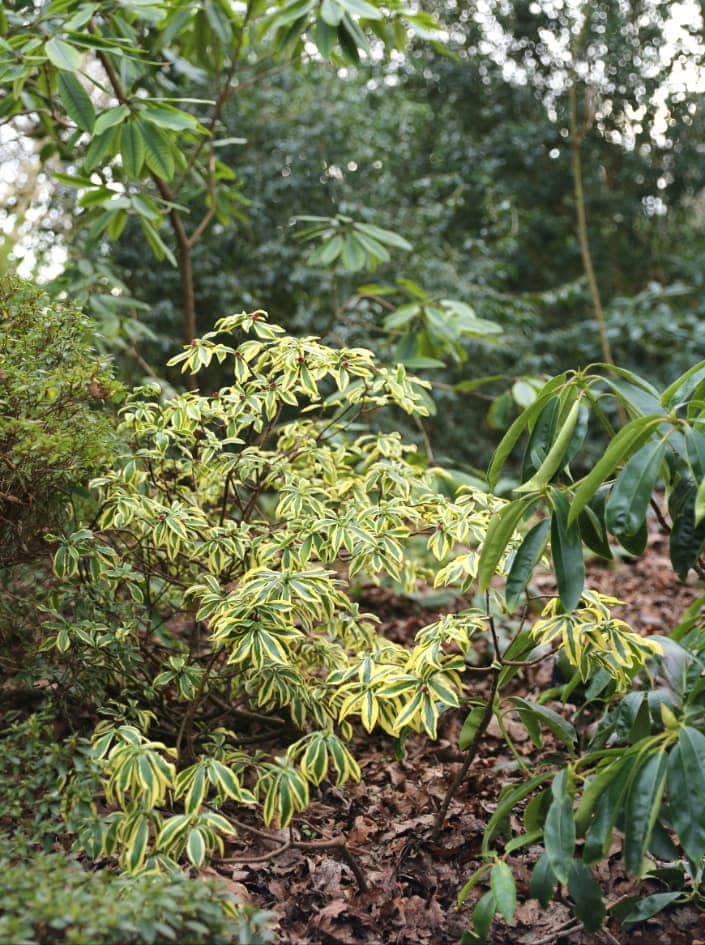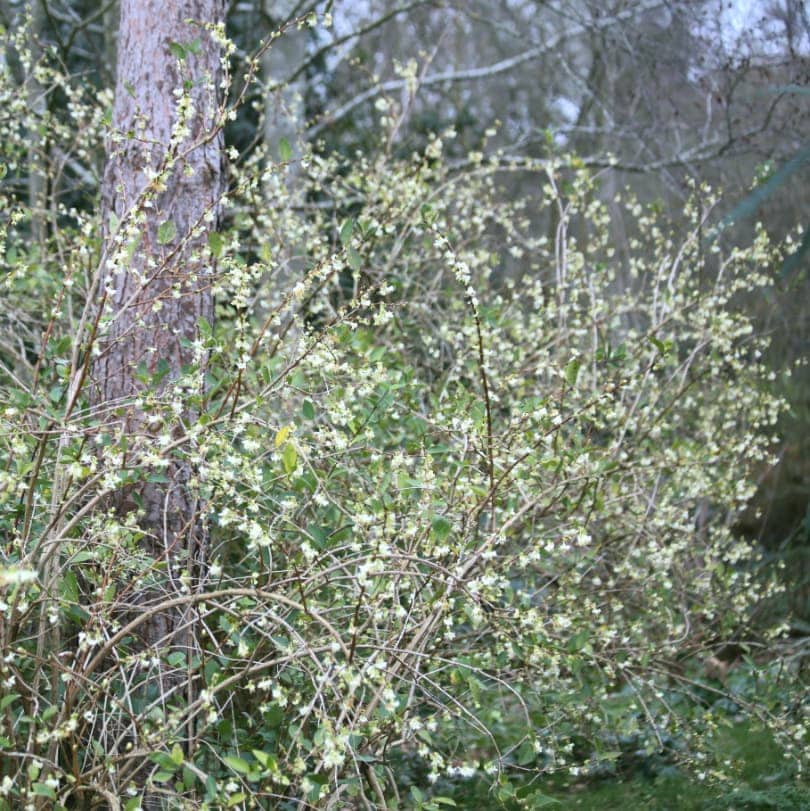 The many winter-flowering shrubby honeysuckles have been providing plentiful sweet fragrance since December, and many will continue through to April. Lonicera x purpusii is a cross between L. fragrantissima and L. standishii, with 'Winter Beauty' being one of the best cultivars.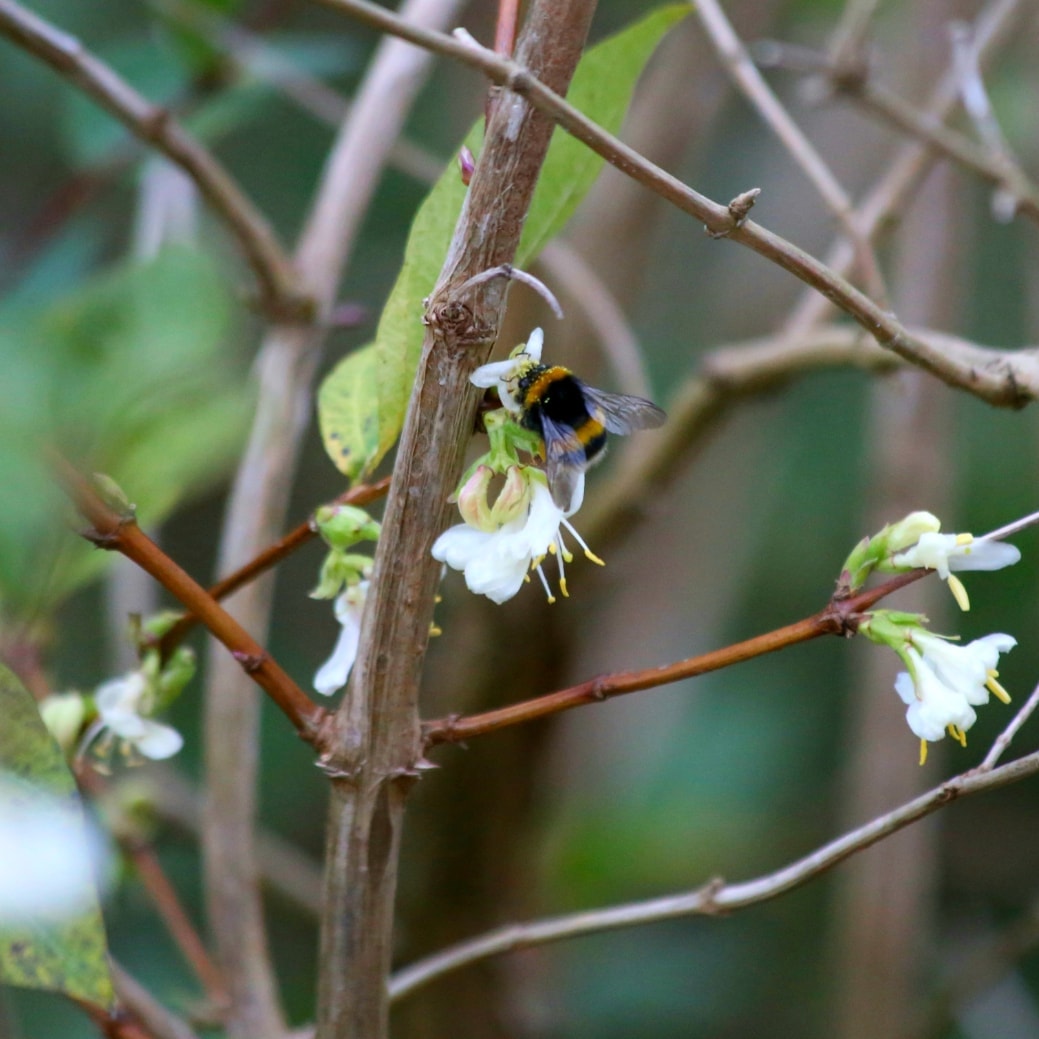 Of the orange-flowered witch-hazel varieties, 'Jelena', 'Aphrodite', 'Vesna', and 'Orange Peel' are all fantastic. However, it seems the biggest flowers with the longest glowing filaments are found on Hamamelis x intermedia 'Harry'. The autumn colour of witch-hazels interestingly aligns with their flower colour, meaning these varieties tend to provide a warming orange display. These are plants that prefer reliable summer rainfall, and flower best if grown in full sun.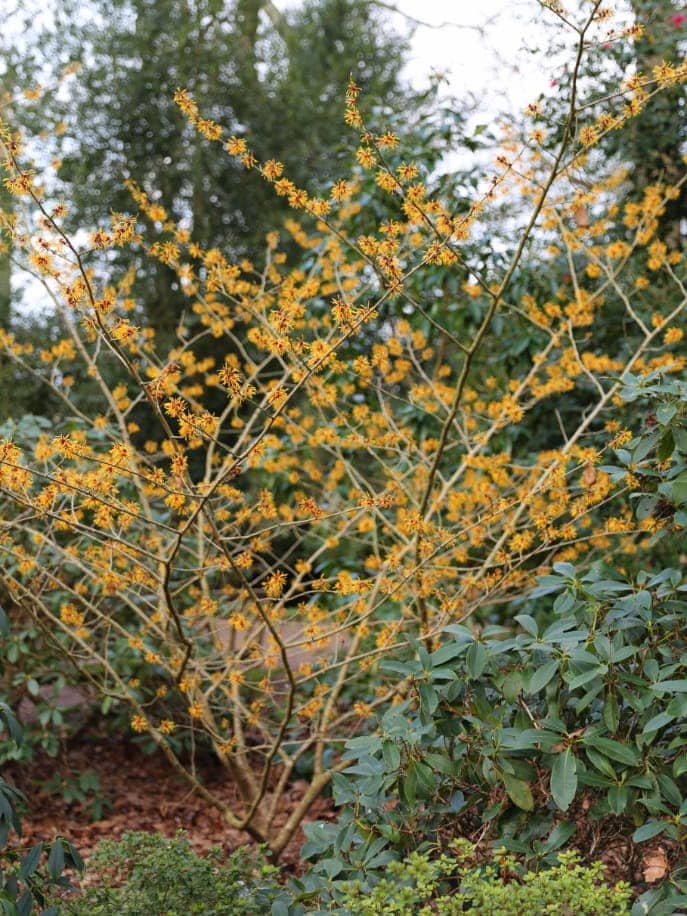 The most commonly available witch-hazel is Hamamelis 'Pallida', and the original seedling from which all other plants of this clone are derived can be seen on Battleston Hill, showing the magnificent form these large shrubs take under a woodland canopy.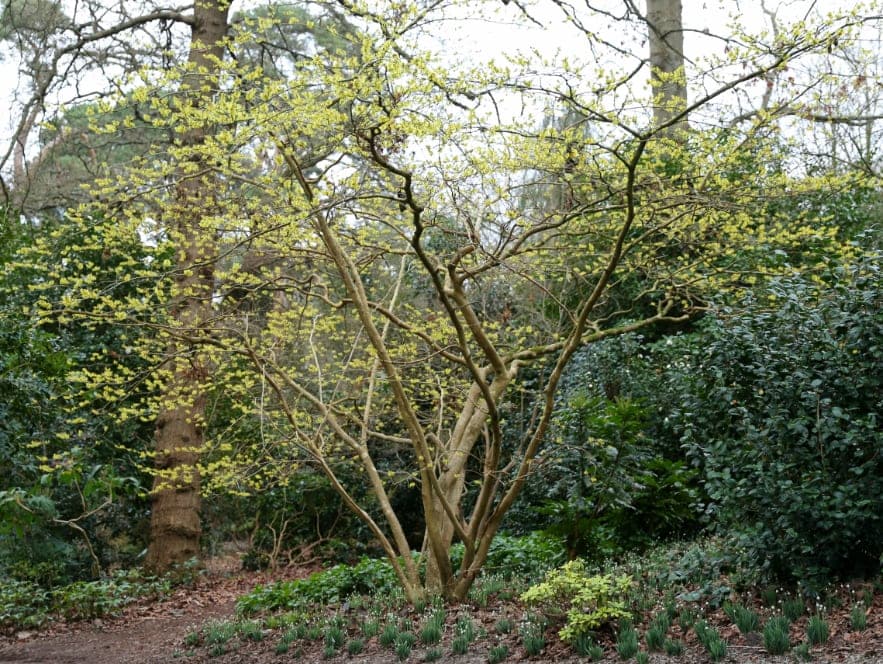 Down on the winter walk, different hamamelis varieties are planted in single-variety blocks and ribbons. They are closely planted, and even though witch-hazels are typically not routinely pruned, in these block plantings their new growth is tipped back to a few new buds before spring. This keeps them small and bushy for a concentrated flowering effect.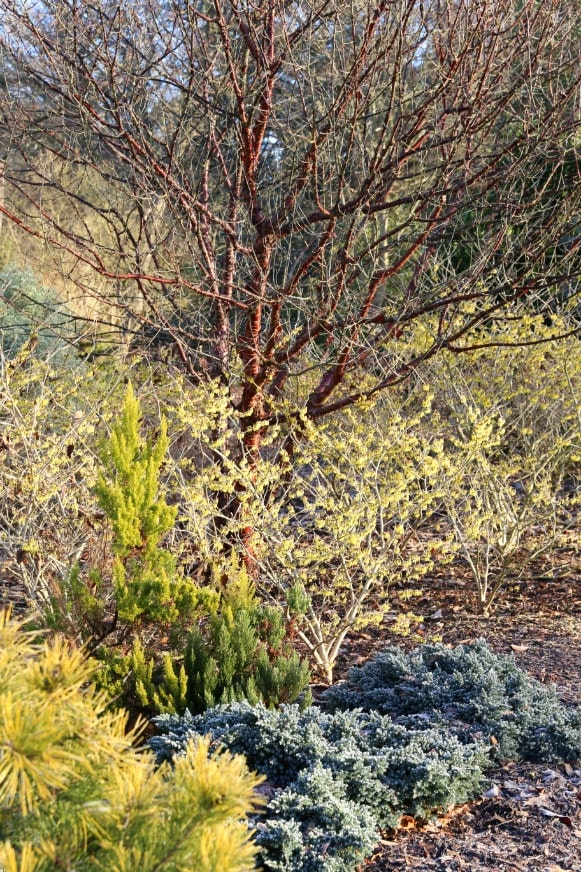 The phenomenon of winter gardens has really taken off in the recent decades. Cambridge Botanic Gardens and nearby Anglesey Abbey have particularly good winter gardens, as do the Hillier Gardens. And of course RHS gardens Hyde Hall, Harlow Carr and of course Wisley have great winter areas to explore.
All photos taken by Owen Hayman
---

Owen joined the Bestall & Co planting and aftercare team in spring 2019. He is an RHS qualified horticulturist, holding a full Level 3 Diploma in Horticulture, and recently came in the top 3 at the Northern Regional Final of The Young Horticulturist of the Year 2019. After first doing a foundation diploma in Fine Art, he went on to gain a degree and masters in Plant and Soil Science from the University of Sheffield in 2014. Owen worked as a researcher on various field research projects in Alaska, Panama and Borneo. When not away in the field, he became obsessed with visiting gardens and nurseries across the British Isles and the Netherlands, developing his own garden, and then taking on a walled allotment garden as a personal project. He realised his true passion was in horticulture, and so moved away from academia and into the world of specialist plant nurseries and professional gardening.
Owen is now studying the Wisley Diploma, but continues to write articles for us on a monthly basis, and we're delighted to maintain contact with such a passionate and knowledgable plantsman.
All author posts